Article by: Zhang Ruichen
Edited by: Pan Tan
The new energy vehicle industry has been bustling recently on March 2, 2023. In the morning, Tesla held a grand but elusive Investor Day, followed by the Ideal Cars Spring Media Communication Conference, where Ideal Cars CEO Li Xiang talked about many future "Ideal" plans.
Now, it has been two full months since 2023 has arrived, and Li Xiang believes that Ideal Cars faces the following two pressures regarding first-quarter sales:
Due to the official reduction of the 2023 national policy, Ideal Cars' sales in December 2022 overdrawed some orders in January of this year.

Following in Tesla's footsteps, some competitors in the new energy vehicle market have implemented price cuts to promote sales. In response to this, Li Xiang stated: "Price cuts may not necessarily increase sales but can certainly strike at others."
In Li Xiang's view, to ensure sales and hence reduce product selling price is already a normal practice for survival in the industry. But now few automakers can compare to Tesla and even BYD. Even if they adopt large-scale price cuts, they can still maintain a 20% gross profit margin. This 20% gross profit margin is essential to driving healthy and sustainable development of enterprises. Without it, it is impossible to guarantee long-term investment in research and development, and delivery of more products.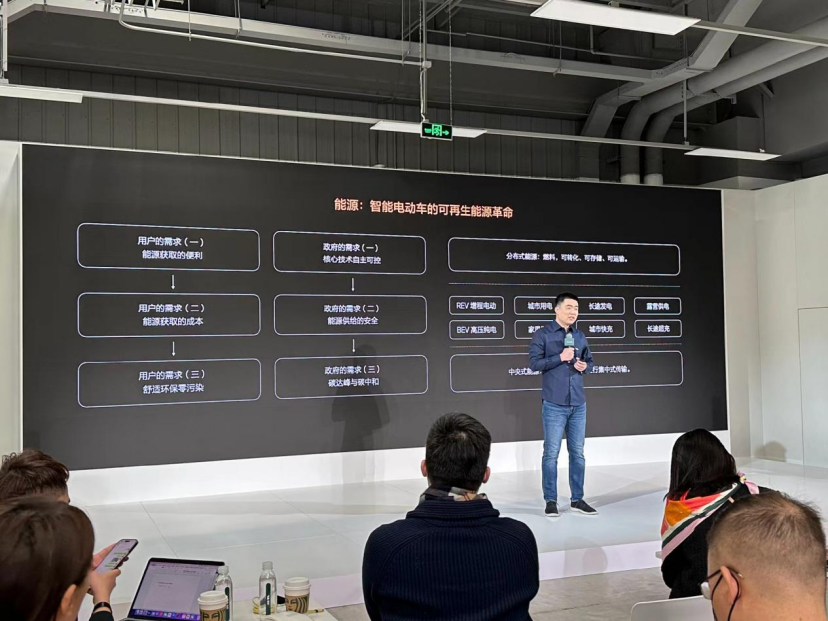 The focus of the Ideal Cars Spring Media Communication Conference was Li Xiang's vision for the future of Ideal Cars.
Li Xiang said, "By 2027, Ideal Cars will occupy 35% of the market share for passenger cars priced over RMB 200,000. In 2030, it will become a leading global artificial intelligence enterprise and compete with Tesla and Apple."
Firstly, let's take a look at the fact that Ideal Cars will account for 35% of the passenger car market priced over RMB 200,000 by 2027. When this statement is made, it is like splashing water, as there are still about four years to test the practical results. I do not know if Li Xiang misspoke in this sentence if he missed a new energy source or if he gave the wrong specific value for the market share.
Let me give you an example. Mercedes-Benz delivered a total of 752,000 passenger cars in China in 2022, and the total annual passenger car deliveries in China in 2022 was 23.563 million. The cumulative sales of A-class cars was 9.688 million. Therefore, the sales volume of passenger cars priced above RMB 200,000 was approximately 13 million. This means that Mercedes-Benz only accounted for 5.78% of the market share for passenger cars priced above RMB 200,000 in 2022. For Ideal Cars to achieve 35%, Ideal Cars' sales volume may need to be even greater than that of the combination of BMW, Benz, and Audi. This goal is probably too ambitious, and even Tesla's CEO Elon Musk may not dare to say it out loud.
Next, by 2030, Ideal Cars aims to become a leading artificial intelligence enterprise, benchmarking Tesla and Apple. While it's good to aim high in the artificial intelligence domain and follow in the footsteps of Tesla and Apple, isn't it ideal to focus on making actual products and step by step progress towards profitability? Ideal Cars clearly understands the importance of gross profit margin, as it's fundamental for a company to move forward while not making money.
Although Ideal Cars indeed leads the new energy vehicle industry, there is still a considerable gap between it and Tesla, which leads the global pure electric new energy vehicle sales, and Apple, which will soon enter the new energy field.
In addition, Li Xiang mentioned that the L7, which starts at RMB 319,800, will focus more on the stock market and seize the BBA's stock market. Li Xiang said: "If we sell a car, they will sell one less." Specifically, Ideal Cars will reserve about 10% to 15% of the cars in stock for customers who come to the store to check whether there are in-stock vehicles available.
This article is a translation by ChatGPT of a Chinese report from 42HOW. If you have any questions about it, please email bd@42how.com.