Author: Michelin
A new Model 3 facelift? A new affordable model priced at $25,000? A new-generation product platform? Robotaxis?…
I woke up at 5 a.m. Beijing time to follow the "Master Plan, Part III" of Tesla's Investor Day. Unfortunately, none of the anticipated announcements were made.
In the first chapter of the "Master Plan" introduced by Tesla in 2006, the goal was to build a low-volume but expensive model to accumulate technology, develop a moderately priced model with the earned money and accumulated technology, and finally offer a cheaper model with sustainable energy.
Ten years later in 2016, Tesla released the second chapter of the "Master Plan," which focused on a solar panel solution, electric vehicle product lineup expansion, and the development of self-driving capability through large amounts of driving data. Autonomy was to be used to enable car-sharing services.
At present, the goals of the first and second chapters have been completely or partially achieved. Perhaps because the "blown away" promises from back then have mostly been fulfilled, there is significant anticipation for the third chapter.
Compared to the first and second chapters of many years ago, the third chapter is quite ambitious. The opening keynote of the press conference set the tone by calling our "energy economy dirty and wasteful." For Musk, the real goal of the third chapter is to "completely eliminate fossil fuels," and the new models, new platforms, and new technologies are just the means to achieve it.
Sixteen speakers took turns presenting at the three-hour conference, showcasing Tesla's current and planned areas of focus.
Therefore, even though Tesla did not announce new models, platforms, or products at the regular press conference, each sentence was basically related to a new product. Everything about Tesla's "disruptive innovations" for the next decade were disclosed at this press conference.
"Completely Eliminating Fossil Fuels"
According to Tesla's data, over 80% of global energy usage currently comes from fossil fuels, with only one-third being effectively utilized. Tesla aims to convert half of that into sustainable energy. From a specific numerical standpoint, this means achieving 240TWh of energy storage, 30TWh of renewable energy, an area of less than 0.2%, and continuous investment of $10 trillion in the manufacturing industry to achieve this goal.
To achieve this goal, Tesla's job is not just to sell cars, but to change the world. Musk has divided this ambitious goal into five parts to achieve:
Develop the use of renewable energy to drive the existing power grid through large-scale deployment of solar energy. This part can reduce the use of fossil fuels by 35% and develop 24TWh energy storage.

Completely transition to pure electric vehicles. This part can reduce fossil fuel usage by 21% and develop 115TWh energy storage. In Musk's view, to achieve this goal, annual production of electric vehicles needs to reach 85 million, while global new car sales in 2022 were 80.6 million.

Use heat pumps extensively in residential, commercial, and industrial sectors to transfer external energy to the interior of buildings, reducing building heating energy consumption to one-third of its current level. This part can reduce fossil fuel usage by 22% and develop 6TWh of energy storage.

Electrification of high-temperature heat transfer and hydrogen industry. This part can reduce fossil fuel usage by 17%. However, Musk's long-term vision for hydrogen energy does not include hydrogen-powered cars, as he believes hydrogen energy is more suitable for industrial use.

Drive airplanes and ships with sustainable fuels, including Musk's SpaceX. This part can reduce fossil fuel usage by 5% and develop 44TWh of energy storage.
In Musk's view, if these goals can be achieved by 2030, the annual output of Tesla automobiles will increase to 20 million, and by 2050 the earth will be able to achieve 100% sustainable energy (the small goal of producing 20 million vehicles per year has emerged).
If the other four parts of these five parts are still not clear enough, then for the automotive industry we are familiar with, Tesla's future goals are as clear as they can be: to produce more cars that are as efficient and low-cost as possible, and to produce more sustainable energy as much as possible.
"Reduce Vehicle Costs by Another 50%"
Over the past few years, Tesla's strength as a "cost butcher" and its efficient production capacity have taught the entire industry a lesson. At the investment day, Zhu Xiaotong, who was promoted to global vice president of Tesla, announced on site that Tesla had just completed the production of its 4 millionth car that day. It took Tesla less than a year to go from 3 million cars to 4 million cars. Tesla's next goal is to produce one car every 45 seconds.
Behind this goal is the driving force of Tesla's platform and model replacement: to improve efficiency and reduce costs.
Reshaping the Manufacturing Process
According to Tesla's description, the first-generation product Model S basically follows the process of "design-engineering-manufacturing."
In the second-generation product represented by Model 3, automation was added. Although Model 3 once encountered a production hell, the addition of automation has reduced its cost by 30%. In the new generation of products represented by Cybertruck, the late-stage engineering and manufacturing have been considered since the initial design.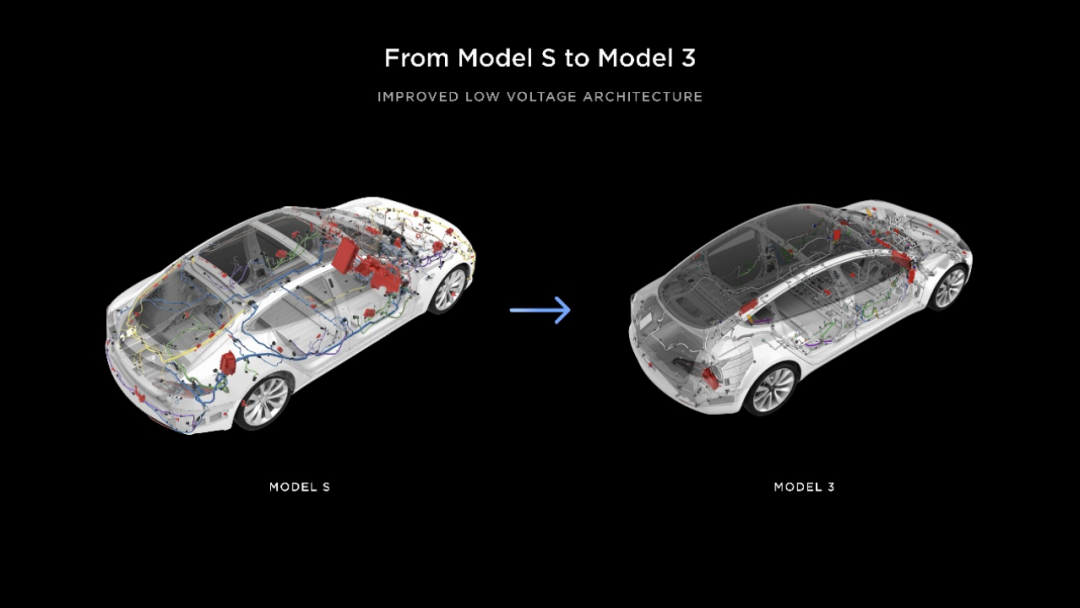 Currently, the automotive industry basically follows the linear process of "die-casting-body-painting-final assembly". The delay of each manufacturing node in this linear mode will affect the entire production process. Therefore, Tesla has improved the process into a combination of series-parallel assembly. After each part completes its own process such as die-casting and painting, the final assembly is completed. The sharp-edged stainless steel body of the Cybertruck does not require painting and stamping, so the intermediate process can be skipped, and each part can be assembled directly from die-casting.
In the future, Tesla will adopt more integrated die-casting body structures. Improvements in the manufacturing process can not only improve production efficiency, but also increase the operating density of production lines. Taking Model 3 as an example, after the improvement, the operating density increased by 44%, the space-time efficiency increased by 30%, and the production cost was reduced by 50%. The next generation platform and new products in the future will also adopt this kind of recombination manufacturing process.
As Tesla's Vice President of Vehicle Engineering, Lars Moravy said: factories faster with less capex and more output per unit dollar.
Full Vertical Integration Capability
Whether it is Tesla, BYD in the past, or an increasing number of automakers who have joined the field of independent research and development, they are telling everyone through their actions: only with the vertical integration ability of the supply chain can they truly have the weapon to lower costs.
Starting from Model S, Tesla has started to develop its own vehicle controllers. Model S began to be developed independently, Model Y is now independently developed by 61%, and Cybertruck is independently developed by 81%. In the next generation of products, the vehicle controller will achieve 100% independent development.Except the upgrade of the whole vehicle controller, in Tesla's future products, including the next generation of vehicles, Cybertruck, and Optimus Prime robot, the low-voltage platform in the electronic electrical architecture will be upgraded from the current industry-standard 12V to 48V. Similar to the boost of the 800V high-voltage platform, the upgraded low-voltage platform will reduce the electric current, shrink the diameter of the wiring harness, and accordingly reduce the cost and weight of the copper wire.
The new platform will also adopt a fully self-developed electric drive system, reducing the use of silicon carbide by 75%, and making it compatible with all electrochemical systems. The electric drive will no longer use any rare earth materials. This can not only reduce the factory area of the vehicle by 50%, but also decrease the cost of the electric drive system by $1,000. This means that for the rumored $25,000 affordable model in the next generation of vehicles, the electric drive system alone can save 4% of the cost of the entire vehicle.
In addition to self-developed innovative technology to enhance vertical integration capabilities, AI innovation cannot be separated from artificial intelligence. At last year's AI Day, Musk said that he would use Optimus Prime robots in the super factory. At this press conference, he emphasized that Tesla's AI is not "just for show," but rather real-world AI.
On one hand, in the autonomous driving section, AI solves complex planning problems. Currently, automatic labeling technology can achieve speed and quality of labeling that manual labeling cannot provide. On the other hand, in the production and manufacturing section, the Optimus Prime robot can accomplish some fine work that current industrial robotic arms cannot perform, such as making itself.
Finally
In addition to the long-term vision of eliminating fossil fuels and the plan for ultimate expansion of vehicles, this press conference also confirmed the news that the fifth super factory will be located in Mexico and that the Cybertruck will be mass-produced and delivered within this year. As for the specific measures of these "grand plans," and even the details of the body cast technology that appeared in the poster background that everyone studied with magnifying glasses, none have yet been revealed."`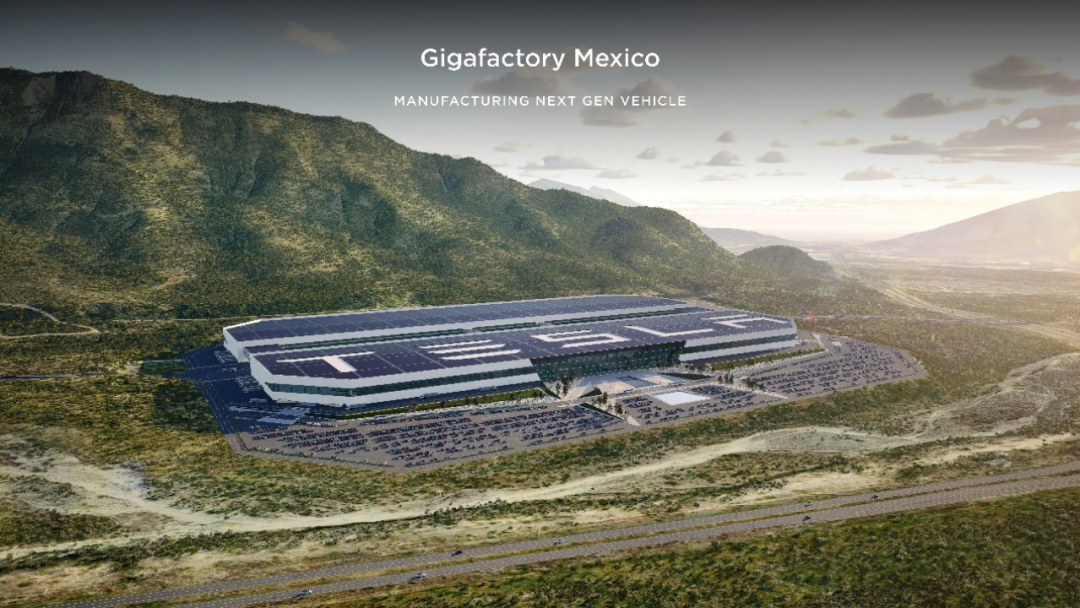 Perhaps it was the lack of details, along with a three-hour long event, that caused Tesla's share price to plunge after hours. After all, everyone has been waiting for rumors of Tesla's new cars for too long.
However, under the optimization of production efficiency and cost, the prototypes of Tesla's next-generation platform and new models have been basically revealed. As for when to announce them, it depends on when Musk finds the right "time."
After all, Tesla admits that "reducing costs is the key to making electric cars more affordable and to the continuous growth of the market." As for this point of view, I believe that electric vehicle peers who have been engaged in fierce price wars in China recently deeply understand this.
"`
This article is a translation by ChatGPT of a Chinese report from 42HOW. If you have any questions about it, please email bd@42how.com.