The price of the second generation Haval Big Dog has been officially announced, which introduces both hybrid and gasoline versions. The hybrid version features a DHT transmission with a 1.5T engine, with a system maximum power of 240 kW and maximum torque of 530 N·m. The gasoline version comes in two types: 2.0T (9 DCT) and 1.5T (7 DCT), with prices ranging from 13.58 to 15.68 thousand yuan for the gasoline version and 16.28 to 17.58 thousand yuan for the hybrid version, including models with a 50 km electric range and a 105 km electric range with a 19.27 kWh battery.
Highlights of the second generation Haval Big Dog include its positioning as a light off-road vehicle suitable for both city commuting and suburban camping, with a hybrid version WLTC energy consumption of just 5.92 L/100 km. The 105 km model supports fast charging at up to 33 kW, with 22 minutes required to charge from 30% to 80% capacity. The vehicle also supports reverse discharge at 220 V, with a power of 3.3 kW. Other features include a 9-inch HUD, a 14.6-inch touchscreen with 1000-nit brightness and 7H hardness, mosquito-repellent lights, 50W phone fast charging, double-layer sound-insulating glass for the front row, and dual pre-tension safety belts.
Comparatively speaking, the price and size of the second generation Haval Big Dog have a certain cost-effectiveness, as gasoline cars with 2.0T/1.5T engines are becoming cheaper with the trend of new energy development. The exterior dimensions of the Haval H-DOG are 4,705mm in length, 1,908mm in width, and 1,780mm in height, with a wheelbase of 2,810mm, making it the largest model in the Haval "Dog" series.Compared with the Dahua Big Dog, the appearance design of the Haval H-DOG is more exaggerated and tough, with more lines highlighting the "muscle sense" and a more mecha style, as opposed to the straight lines of the Big Dog. The taillights of the Haval H-DOG are also not designed to be through-style, with independently segmented areas on both sides that give it a more individualistic look.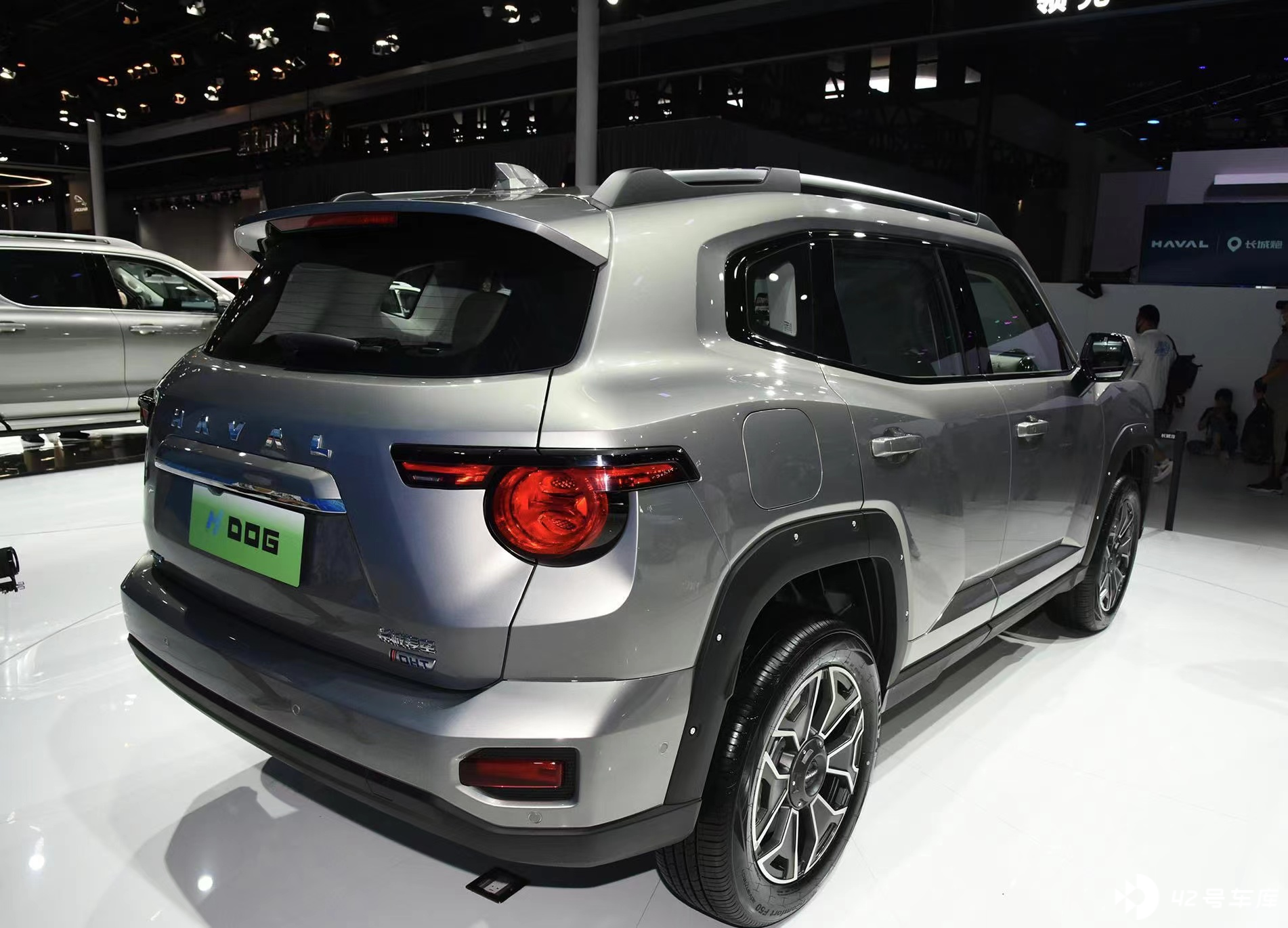 The Haval H-DOG has an approach angle of 24°, a departure angle of 30°, a longitudinal pass angle of 19°, a minimum ground clearance of 200mm, and a wading depth of 560mm, with a certain degree of mild off-road capability.
In terms of the interior, the Haval H-DOG's intelligent cockpit is equipped with the latest generation of Coffee Intelligence System, which uses the Qualcomm Snapdragon 8155 chip. The voice assistant supports quick wake-up in 250ms and can execute consecutive commands. In addition, the second-generation Big Dog is equipped with a 9-inch HUD + 14.6-inch hollow screen with a brightness of 1000nits, full lamination technology, and a Mohs hardness of 7H.
At the same time, the Haval H-DOG is equipped with an L2 level assisted driving system, which has 12 ultrasonic radars, 2 millimeter-wave radars, and 5 cameras.
In terms of safety, the key parts of the Haval H-DOG have a steel plate strength of 2000MPa, with high-strength steel accounting for 74.2%, a torsional stiffness of 20352 Nm/°, and it is equipped with safety airbags."`

From the release of Haval H-DOG, it can be seen that the cost of this powertrain is reduced through downward coverage by DHT technology. With a price range of 162,800-175,800 yuan and the size of a mid-size SUV, this car also has considerable cost performance.
"`
This article is a translation by ChatGPT of a Chinese report from 42HOW. If you have any questions about it, please email bd@42how.com.