Chery Mars Architecture – Super Hybrid Platform and the First Model of the New Platform, Tiggo 9, Launched with a Starting Price of 160,000 RMB and will be Available in Q2 This Year.
As the third generation hybrid platform of Chery, the new platform integrates Chery's latest technology, which can use both hybrid and fuel power, and uses CTC battery technology in hybrid models to support whole-vehicle FOTA.
The Mars Architecture-Super Hybrid Platform also has certain compatibility, with bandwidth covering a wheelbase of 2700-2900 mm, a minimum ground clearance of 120-180 mm, and a car length ranging from 4600 to 4950 mm.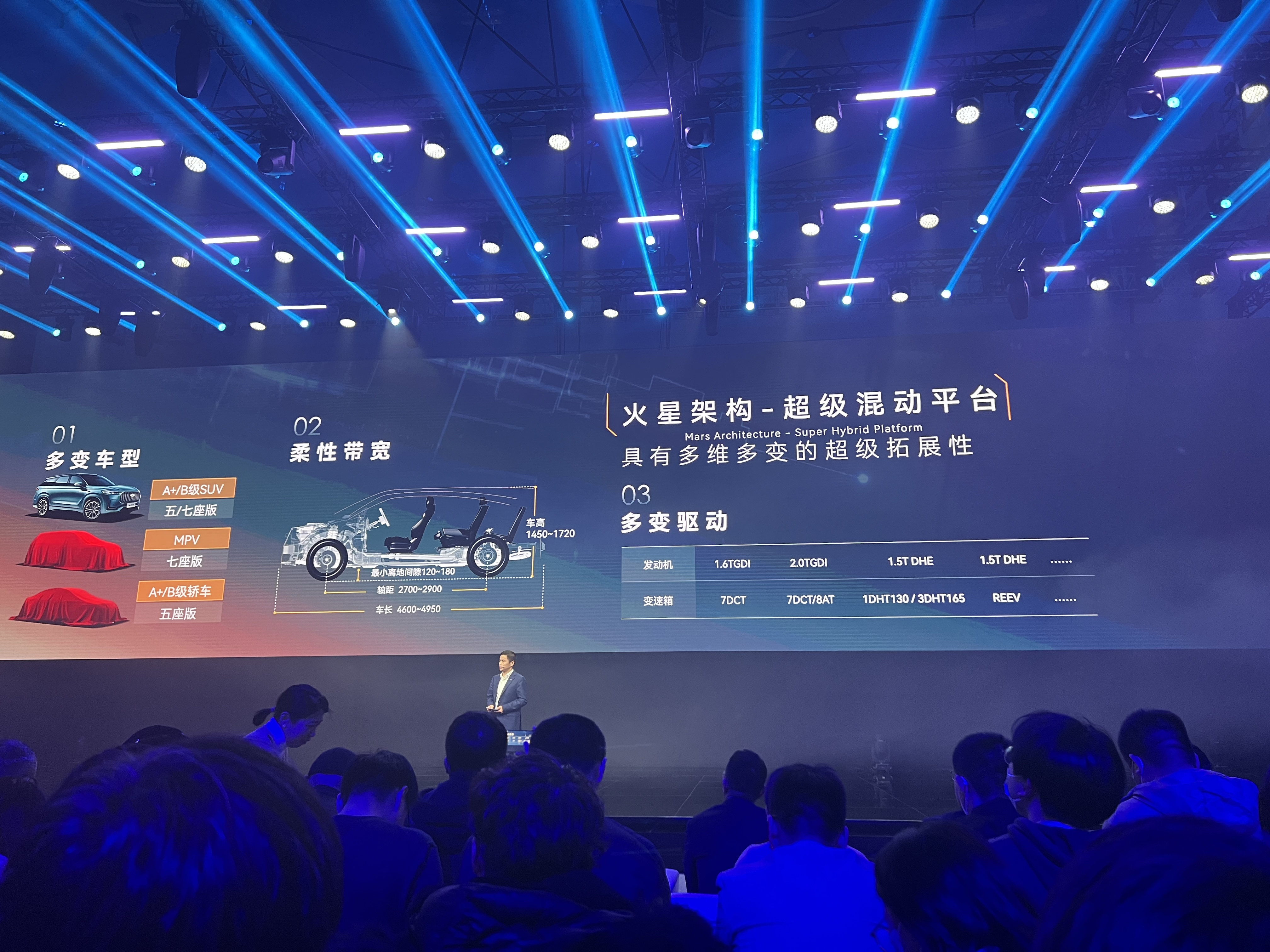 In addition, the new platform adopts the EEA electronic architecture, and the domain controller covers four major domains: cockpit, power, intelligent driving, and chassis.
Now let's take a look at the first model on the new platform, Tiggo 9.
Tiggo 9 is 4,820 mm in length, 2,820 mm in wheelbase, 1,930 mm in width, and 1,710 mm in height, belonging to the size of a mid-size SUV.
The power is equipped with the Kunpeng Power 2.0T engine, and a Kunpeng Super Smart Hybrid version will also be available in the later stage. The hybrid version supports 60 kW plug-in fast charging, and can replenish energy from 30% to 80% in 18 minutes.
On the chassis configuration, the Tiggo 9 is equipped with CDC, which is the first time for this price range.
In terms of intelligent cockpit, the Tiggo 9 is equipped with the 8155 chip and 5G gigabit network, SONY surround sound system, dual screens + 50-inch AR-HUD, and 50W wireless fast charging technology.
On intelligent driving, Dr. Gu Junli personally explained that the Tiggo 9 is equipped with the Chery Pilot auxiliary driving system with 28 sensors, which will achieve high-level assisted driving in the future.
In terms of safety, the Tiggo 9 is equipped with rarely seen remote safety airbags, which were previously installed in Tesla Model 3/Y and NIO NT 2.0 models. The Tiggo 9 is the first to be equipped with remote safety airbags in the price range.
It can only be said that the appearance of CDC and remote safety airbags in the 200,000 price range came too quickly. The configuration of the Tiggo 9's cabin and intelligent driving has also elevated its level from the 300,000 price range of two years ago directly to the 200,000 price range.
As said at the press conference, "Cars with high prices and low configurations will never return to the Chinese market."
This article is a translation by ChatGPT of a Chinese report from 42HOW. If you have any questions about it, please email bd@42how.com.