Author: Tao Yanyan
In 2023, we will start to sort out intelligent monthly reports, tracking the development and localization of automotive industry chips, focusing on the main chips of intelligent cockpit, intelligent driving, gateway, perception and more. Before that, we will track the development and changes of global automotive chip enterprises in 2022 as one of the preparations for the intelligent monthly report.
Infineon: With the hot market of power semiconductors, its automotive business has grown rapidly.

NXP: The proportion of its automotive business has reached more than 52%.

ST: The shipment of power semiconductors has made a significant contribution to the company's growth.

TI: The strategic cooperation with Tesla is of great significance.

Renesas: As a Japanese semiconductor company, it is currently mostly used by Japanese automakers.

Onsemi: Due to the low base, its growth rate is very fast, and it has made a great contribution to SiC power devices.
Of course, we also noticed that the global large automotive chip enterprises, their automotive business accounts for only about 50% at most, and they still rely on revenue from other fields to balance the overall demand fluctuations.
We found:
In 2022, the automotive chip market was in a state of rising quantity and price, especially for Infineon, ST, and ON Semiconductor that produce power semiconductors. Almost all automotive power chip companies are expanding production. The main driving force for the subsequent growth of the automotive chip market will come from power semiconductors, especially the use of SiC.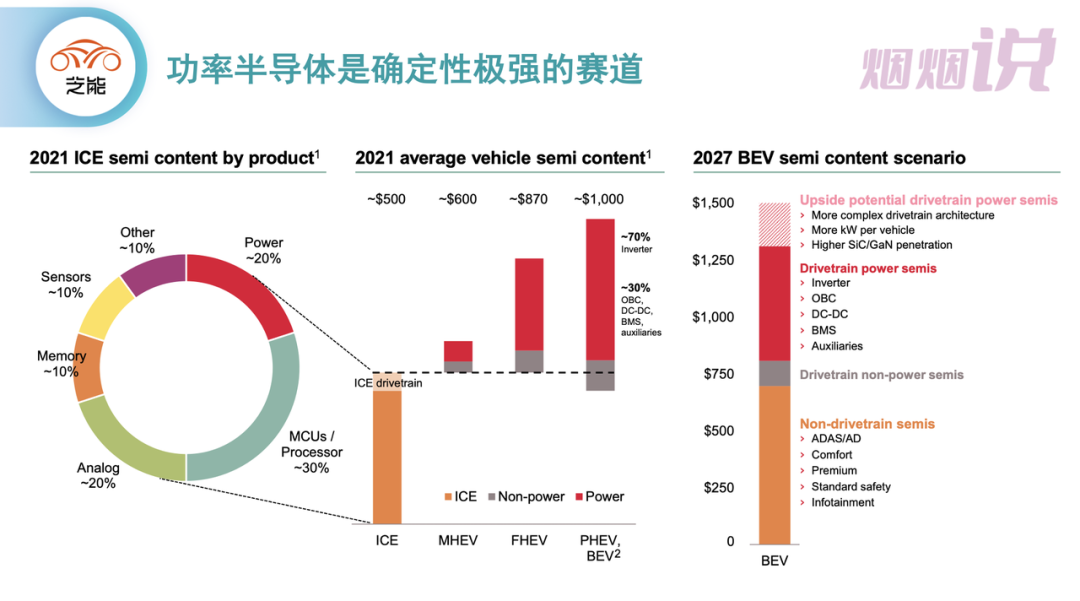 The growth difference between SiC and GaN market shares is significant (Figure 4), and the demand for traditional Si-based IGBT in cars may gradually slow down. It is predicted that by 2027, with the decrease in cost of SiC, the increment of the power semiconductor market will almost all come from SiC.
Automotive chip companies are at their best point of profitability, and we generally see high growth and high gross margin.
In the chip market, traditional MCUs and low-computing SoCs are beginning to be replaced by Nvidia and Qualcomm.
In the chip market, there is also an obvious trend towards head concentration: even if the price of Qualcomm's cockpit chips is as high as 60-100 US dollars, car companies have not given up because they think it is expensive, they use it when they need to; Nvidia's Orin has also been favored by China's new automobile manufacturers. With the development of AI, the application of high-computing chips will become more and more common.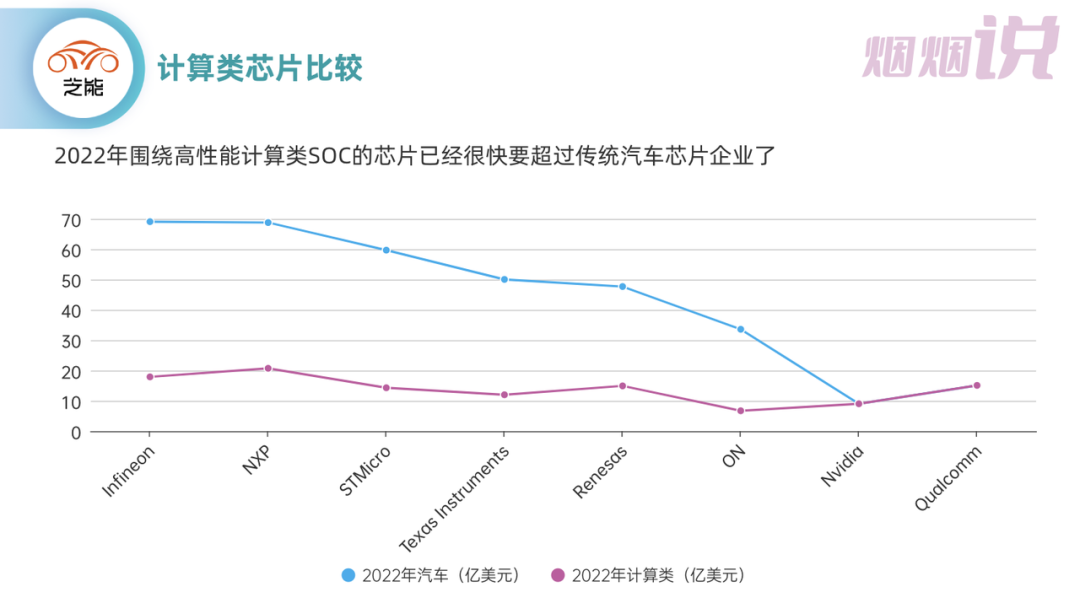 For SoCs, we can see the rapidly growing demand of Qualcomm and Nvidia, and a large number of functions begin to move up from the MCUs.
Decomposition and Tracking of Chips
Our next research method is relatively simple, after dissecting a car, Zhineng Auto will organize statistics and analysis work, tallying up how many ECU modules a car company has, which SoCs, MCUs, power chips, and other chips are used, and then archiving all electronic parts of a car.We want to interpret the latest trends in chip changes in China's automotive industry.
Combining with the current disassembly of the cockpit cloud, we will continue to bring some hardcore tracking to everyone.
Conclusion: This is an index and start of our research on the chip industry. In the future, Zhineng will deeply track the automotive chip field and make some small contributions.
This article is a translation by ChatGPT of a Chinese report from 42HOW. If you have any questions about it, please email bd@42how.com.