Today, there is news indicating that NIO plans to build a battery factory with a capacity of 40 GWh in Hefei.
According to previously released information, in the May 2022 Shanghai Environmental Impact Assessment report, NIO plans to build a lithium-ion cell and battery pack research and trial project in Anting Town, Jiading District, Shanghai, with 31 research laboratories, 1 lithium-ion cell trial production line, and 1 battery pack production line.
At the same time, during the Q1 2022 earnings conference call, CEO William Li stated that NIO has formed a battery-related team of over 400 people, deeply involved in the research and development of battery materials, cells, entire pack design, battery management systems, and manufacturing industries.
NIO's long-term strategy is to integrate self-production with external procurement, and its new cars in 2024 will be equipped with an 800V high-voltage battery, which is expected to start production in the second half of 2024.
NIO advocates self-development, from software, intelligent driving, and motors to seats and batteries. The core of its self-development of the former is that useful products cannot be found on the market, while the self-development of batteries is more about obtaining cost control capabilities.
Meanwhile, there are also reports that the cylindrical battery model to be put into production at the new battery factory may be the 4680 and 4695 models.
Regarding the 4680 battery, according to the exclusive report from Late Auto in August, NIO is independently developing lithium iron phosphate and 4680 batteries, among which lithium iron phosphate will be used for the vehicle models under the sub-brand Alpine.
However, there is currently no further information on the 4695 battery.
Regardless of the strength of self-developed products, in order to have a cost advantage, the premise is to have a sufficiently large quantity. Just like integrated casting, only with a sufficient quantity bringing productivity improvements can cost reduction be achieved. The same applies to batteries.
40 GWh means that it can meet the demand for batteries for 400,000 to 600,000 new vehicles. NIO sold 122,000 vehicles in 2022.
The all-new battery may be developed for NIO's third-generation platform vehicle models, and it is currently unclear whether existing models can be upgraded to use them via battery swapping, as the batteries are completely different.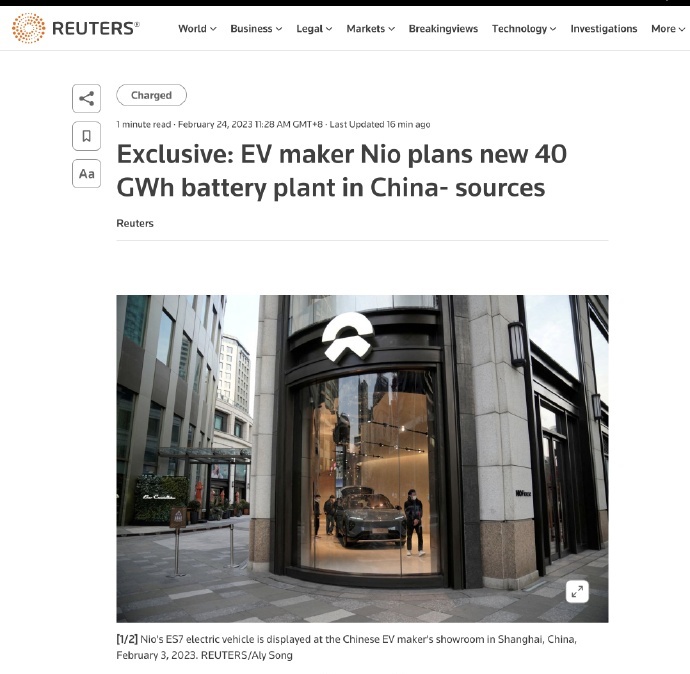 This article is a translation by ChatGPT of a Chinese report from 42HOW. If you have any questions about it, please email bd@42how.com.