Writing by: The Chief of EVs
The charm of Mercedes-Benz's star emblem is best interpreted here.
Hello everyone, I am the Chief of EVs.
Today's video was recorded on Valentine's Day in 2023. I couldn't spend it with my loved ones, so I came to Hulunbuir to experience ice and snow driving.
This is the most fun, professional, and passionate ice and snow experience I have ever had. Because it's the 10th anniversary of Mercedes-Benz Ice and Snow Challenge.
7 AMG performance cars and 3 EQ models, at this moment, regardless of whether you are a fuel party or an electric fan, the form of energy is no longer important. What we want to feel is the heritage of Mercedes-Benz that has been around for a century, the passion and blood that the inventor of automobiles has brought to all driving enthusiasts. I hope everyone can click on the video and take a look.
On the vast ice field, 12 square kilometers of land are "contracted" by Mercedes-Benz. 16 ice-covered tracks, 20 kilometers of extreme driving. Between acceleration and extreme turning, although we cannot tell the story of the unceasing soul and charm of Mercedes-Benz in a few minutes, we are still conquered by the "luxury" and driving control in the snow and ice.
If every car fan has his/her different "heart's desire", then Nurburgring can be said to be the common carrier of everyone's love. This time, Mercedes-Benz has replicated this kind of bearing in Hailar.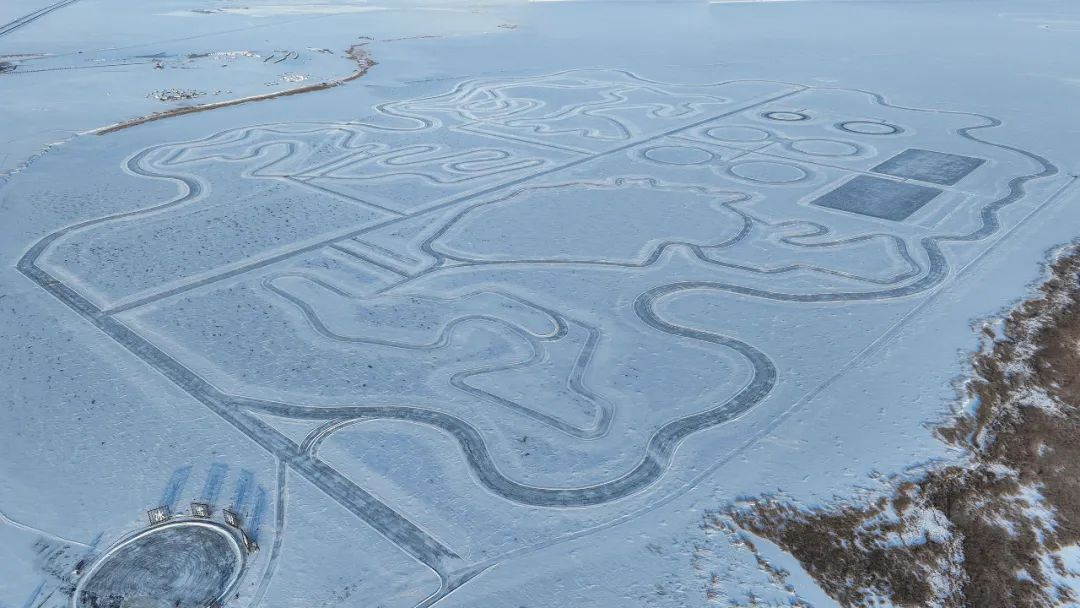 The classic continuous S-bend, high-angle hairpin bend, high-speed S-bend and long straight of the "Ring of Truth" track can only be experienced through the screen. This is also the first time I have felt the true charm of the AMG GT family.When 410 kilowatts, 680 N·m of power is instantly unleashed, the essence of the era of internal combustion engines melts between the seconds of the roaring throttle – this is the AMG 4.0-liter V8 twin-turbocharged engine, this is the AMG GT C, this is the charm of 2 million RMB. With the top down, we may not be the most handsome one in Hailar, but we are definitely the most electrifying here.
Of course, what I love more is the more "affordable" AMG GT 50 4MATIC+ four-door coupe, after all, the price in the hundred-thousands seems to have a better chance of reaching, with a maximum output power of 270 kilowatts and a peak torque of 500 N·m, it is enough for us to be unstoppable on the track.
On a classic straight track, with the retractable wing automatically deployed and the virtual race engineer data provided by the car itself, it really satisfies our need for speed.
Driving out from the "Nürburgring", we arrived at the Bahrain International Circuit. As the opening venue for the Formula One Grand Prix, the Bahrain International Circuit is known for its classic design of high-speed straightaways leading into tight corners.
Here, we experienced the Mercedes-AMG A 45 S 4MATIC+ and the Mercedes-AMG CLA 45 S 4MATIC+, although the price is further reduced, the experience we can get is really priceless.
Both cars are equipped with the strongest mass-produced four-cylinder engine in the world – the AMG M139 2.0T inline four-cylinder turbocharged engine. With peak power of 310 kilowatts and peak torque of 500 N·m, high-performance intelligent four-wheel drive system and speed-sensitive steering, the charm of merging a small gadget with a car is also more suitable for us to commute in the city.
When we arrived at the ice rink, we had to try drifting. Many people say that drifting is an art of "controlling the uncontrollable", and my adrenaline, along with my photography teacher's, soared in this art.
You can see in the footage on the circular and figure-eight racetracks how, when power is distributed between the front and rear axles in a 50:50 ratio, the rear end swings, the steering wheel turns, and both the person and the car are challenging their limits, but there is also an air of ease in everything being under control.
Mercedes-Benz's tenth anniversary ice and snow duel is a milestone and a new starting point.
During this event, we also drove the Mercedes-EQ family onto the ice for the first time. In addition to the EQS, which we have experienced multiple times, the more explosive AMG EQS 53 4MATIC+ came to the 8-kilometer speed trial, with a peak torque of 560 kilowatts (761 horsepower) and a 0 to 100-kilometer acceleration time of only 3.5 seconds. We flew over the ground in the freezing wind.
All worries and sorrows were left behind, and I also believe in that sentence:
All AMGs are meaningful.
When we released our video, the new EQS pure electric SUV had also been officially launched.
Before this, we had already experienced this flagship pure electric SUV in Sanya in the tropics, and this time, we did something even more challenging – off-road.The brand-new EQS all-electric SUV is the first SUV model born on the EVA all-electric platform. It is equipped with front and rear dual permanent magnet synchronous motors, with a peak power of up to 265 kW and a peak torque of up to 800 Nm. Under CLTC working conditions, the maximum cruising range can reach up to 742 kilometers.
What's most interesting is that this is an all-electric car with an exclusive "off-road mode," perhaps a testament to the unique confidence and expertise of Mercedes-Benz. We drove it across frozen meadows and riverbeds.
Beyond the smooth ice surface lay real potholes, undulating roads, and intersecting axes, as far as the eye can see with no signs of civilization. The rear-wheel active steering system enables the vehicle to maneuver through various bends, with refined power distribution that significantly suppresses wheel slippage, even with long-distance, large-angle slopes.
This may be a very bizarre scene in the history of Chinese electric vehicles. Over a dozen electric vehicles traveled together on the frozen grasslands of Inner Mongolia. Was it boring? Were we just killing time?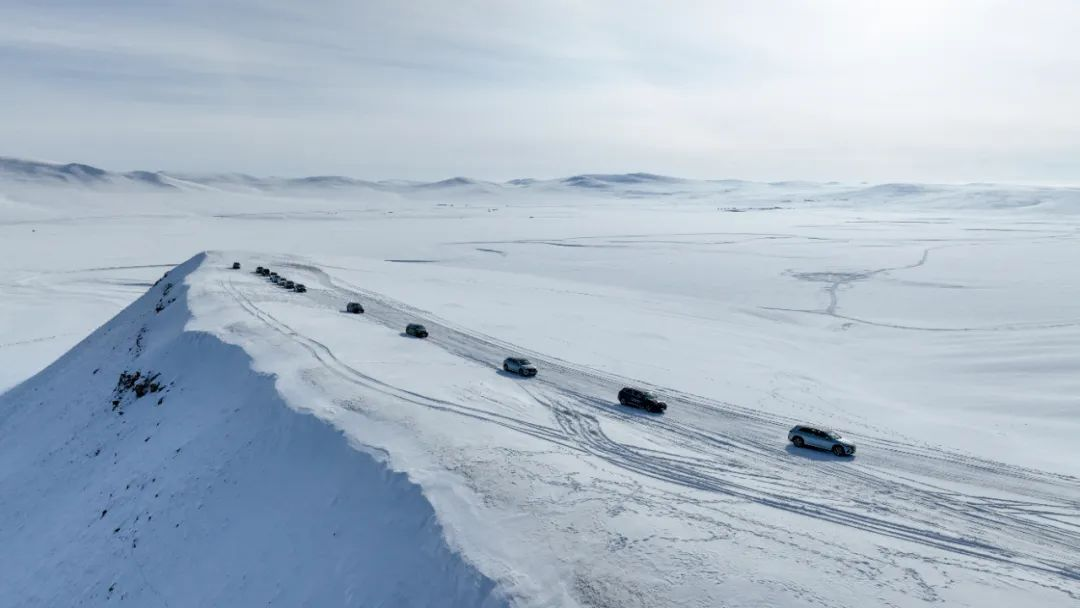 I don't think so. Minus 40 degrees Celsius in a frozen world test not only the vehicle's off-road performance but also the electric energy performance of electric vehicles in winter. Based on the EVA all-electric platform and Mercedes-Benz's successful development of the three-electric system with luxury craftsmanship, it provides good NVH performance, with a comfortable 25 degrees inside the car, and an infinite minus 30 degrees outside the car.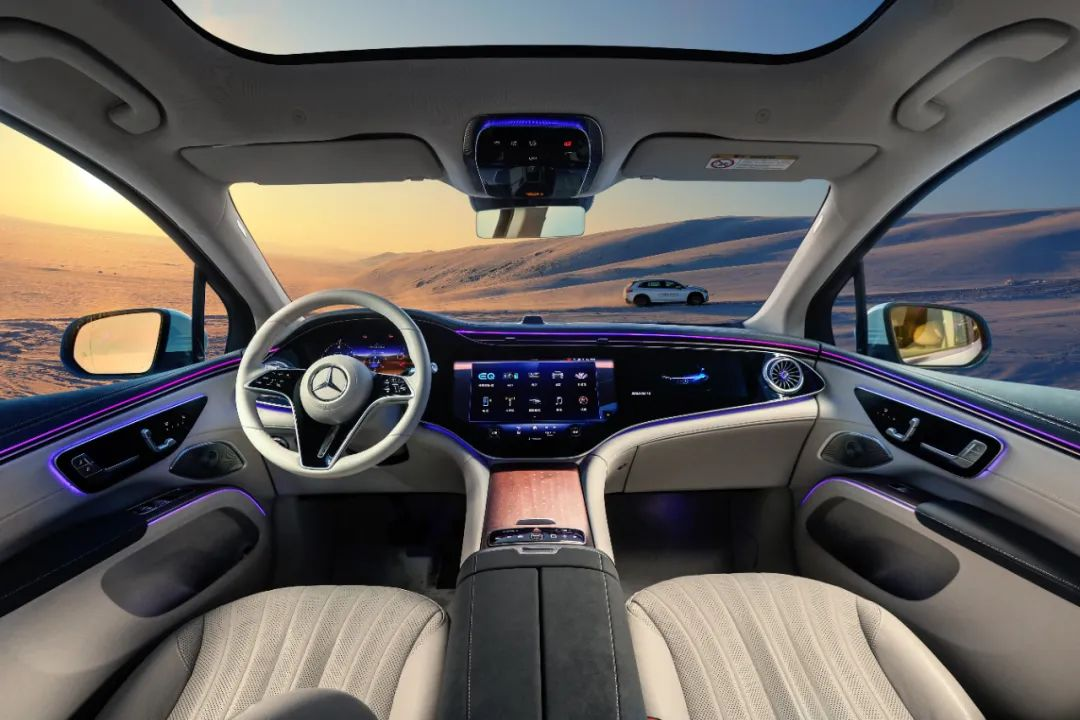 This is the result of the global public road durability test, extreme cold weather testing, and millions of kilometers of bench-top pure electric system testing for the all-new EQS all-electric SUV. It has its own unique charm. Everyone should try the latest Mercedes-Benz and see how different it is.We have participated in many ice and snow test drives and have visited Inner Mongolia many times. But when we returned to the warm city of Guangzhou and looked back on this test drive, I always wondered, what is it about Mercedes-Benz that makes it so good?
To be honest, I rarely drive pure gasoline cars anymore — I believe many people are the same, especially young people who will buy cars in the future. So in the face of the trend, whether it is gasoline or electric, AMG or standard models, luxury always has a definition. In today's article, I think it is "extreme driving pleasure".
In life, we pursue boundless freedom, which is perhaps difficult to achieve. But in every departure and every journey, we enjoy "driving". When the soul of a car enthusiast is touched, I realized that our pursuit of luxury has not dissipated. This is the attractive star charm.
This article is a translation by ChatGPT of a Chinese report from 42HOW. If you have any questions about it, please email bd@42how.com.