Author: Tao Yanyan
Starting from January 2023, our Zhineng Monthly Report will be officially launched, mainly divided into five parts: Vehicle, Battery, Charging, Electric Drive, and Intelligence.
Because the competition in the battery field is the fiercest, we will split it into three sections: domestic, overseas, and energy storage. Hope to bring readers a new reading experience.
Overview of Power Batteries
In January 2023, due to demand and the Spring Festival factor, China's power battery industry experienced a significant decline. The actual data for January 2023 is as follows:
The cumulative output of power batteries was 28.2GWh, a year-on-year decrease of 5.0% and a month-on-month decrease of 46.3%.
The installed capacity of power batteries was 16.1GWh, a year-on-year decrease of 0.3% and a month-on-month decrease of 55.4%.
Power battery exports by power battery companies totaled 7.9GWh.
In 2023, the demand for power batteries in the industry clearly went from a high point into a low valley. The production of power batteries in January 2023 dropped suddenly from a high point of over 60GWh to 30GWh. From the past few months (Q1 2023), this is the time to sell off inventory, including the inventory of battery companies, the battery inventory purchased by car companies, and inventory from last year's rush to install cars.
The installation of power batteries is, in fact, a reflection of the production of electric vehicles. The installation data of power batteries reflects the actual status of the entire vehicle enterprise. Even if the Spring Festival factor is removed, this data will need to increase significantly by April. Because of a subsidy deadline in 2022, the demand for installation was increasing. However, with the added factor of the Spring Festival, the actual installed capacity of power batteries in January 2023 suddenly fell back.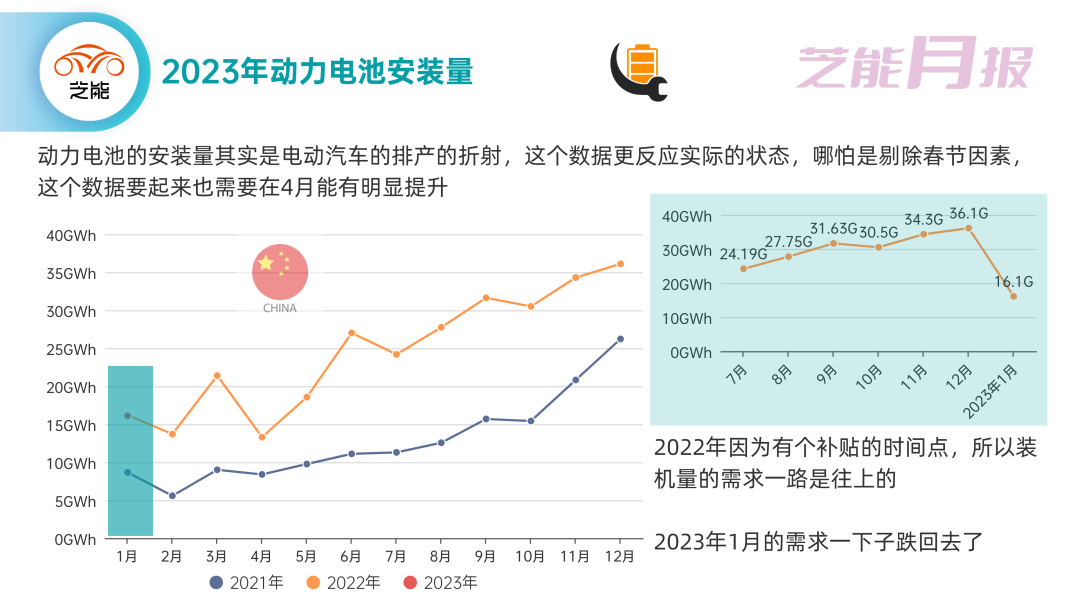 From the export perspective, the demand from overseas is also not stable:
Considerations on power battery chemistry system and usage direction classification
From the perspective of chemistry system, the price competition triggered by Tesla's price reduction has accelerated the arrival of China's new energy vehicle industry. For mid-to-low-end pure electric vehicles, choosing ternary is a wave of clearance. Currently, half of the ternary power batteries produced in China are for export to European car companies. In other words, the next ternary plan for domestic car companies will quickly become high-end, similar to the demand for large SUVs and MPVs.
Due to the current charging facilities, subsidy decline, and high battery prices, coupled with Tesla's price reduction strategy not yet ended, 2023 will be a difficult year for all independent brands in the pure electric vehicle market. Starting in 2023, plug-in is basically something that even joint ventures have to quickly promote, and the expected demand is power energy type power batteries with a power of 30Ah-100Ah.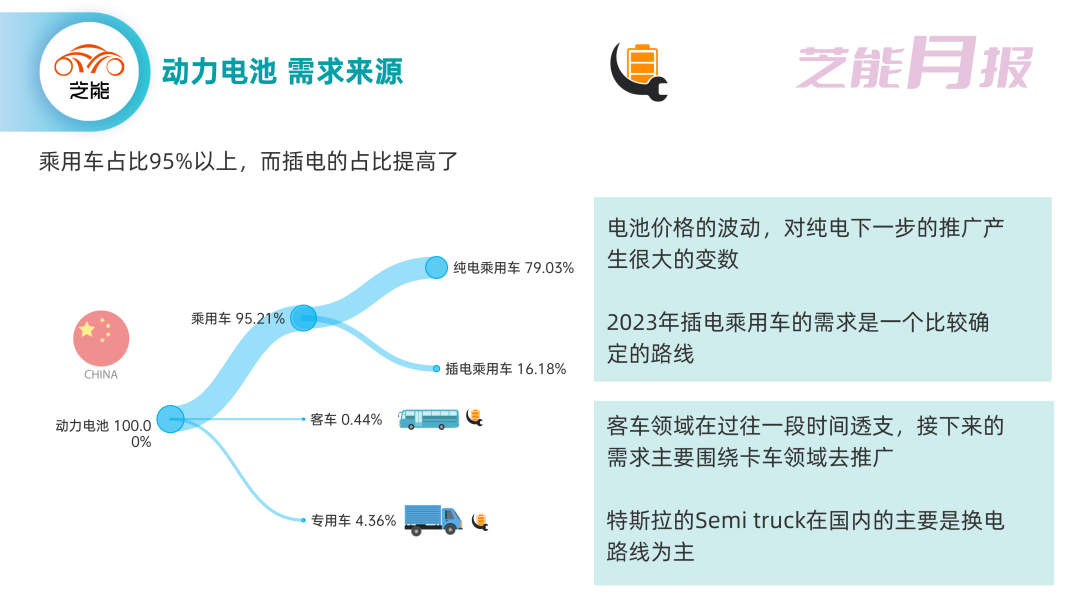 Competition pattern of power batteries
From the current perspective, CATL and BYD rank first and second, and the gap between them and the second tier is huge. But is this pattern sustainable? How will it evolve? We usually expect the second tier to go for a share of the market dominated by CATL and BYD. However, what we have seen is the further increase of industry concentration, and it is the automobile companies that are starting to consolidate in this industry.
The market pattern of power batteries has already entered a crowded market. From TOP10 to TOP5, and then to TOP2, this funnel chart has become square when visualized. Furthermore, in terms of market pattern, the first two, CATL and BYD, account for 78.5% domestically and over 90% overseas.
Power Battery Company Inventory
Here we select representative companies for tracking and evaluation.
King CATL
CATL's installation volume was also affected. Tesla's strength in Q4 2022 did not continue in Q1 2023, and the price reduction instead caused other customers of Ning King to wait and see. The installation volume of batteries mainly depends on the demand of automobile companies. At present, the price-cost transmission mechanism of batteries and the linkage of whole vehicle prices through orders are not matched.
The demand in November and December 2022 was obviously disturbed by the subsidy and panicked factors. The recovery from February to April should be benchmarked against the off-season demand for the whole vehicle from July to August.
Vertical integration BYD
The linkage mechanism between Fudi Battery and BYD, due to the order reserves on the whole vehicle side, has a relatively small disturbance on BYD's current installation volume, but the cost pressure brought by Tesla is relatively large. Lithium iron phosphate is mainly promoted to low-range and more popular products. In this regard, there is not much difference between Ning King and Di King, which also deepens our thinking about the future competition pattern. Under the clearance of China's ternary batteries, there is still a possibility of major changes in the competitive pattern of power batteries, and we should think from the perspective of vertical integration as a whole.
Productive Capacity Master AVIC Innovation
AVIC also switched to iron lithium battery quickly according to customer needs. This wave of monthly data can show the whole switching process. AVIC still obtained a large time window in the process of putting into production in 2022, and may be restricted in the next step of structural innovation of iron lithium.
– King of Short Knives – Honeycomb Energy
Honeycomb Energy has always revolved around innovation in its development process. The key focus in 2023 is still on lean and expansion under the premise of innovation. Good news is that Honeycomb Energy is forward-looking in power and energy balance type batteries for plug-in hybrid demand, and even short knives can reach mass production.
Large Cylindrical Battery – EVE Energy
The 46 series of EVE Energy's large cylindrical batteries is the backbone of domestic research on cylindrical battery engineering development. EVE Energy has excellent product design, production layout, and customer matching. It is steadily advancing, and the road ahead is long and the strength will be shown.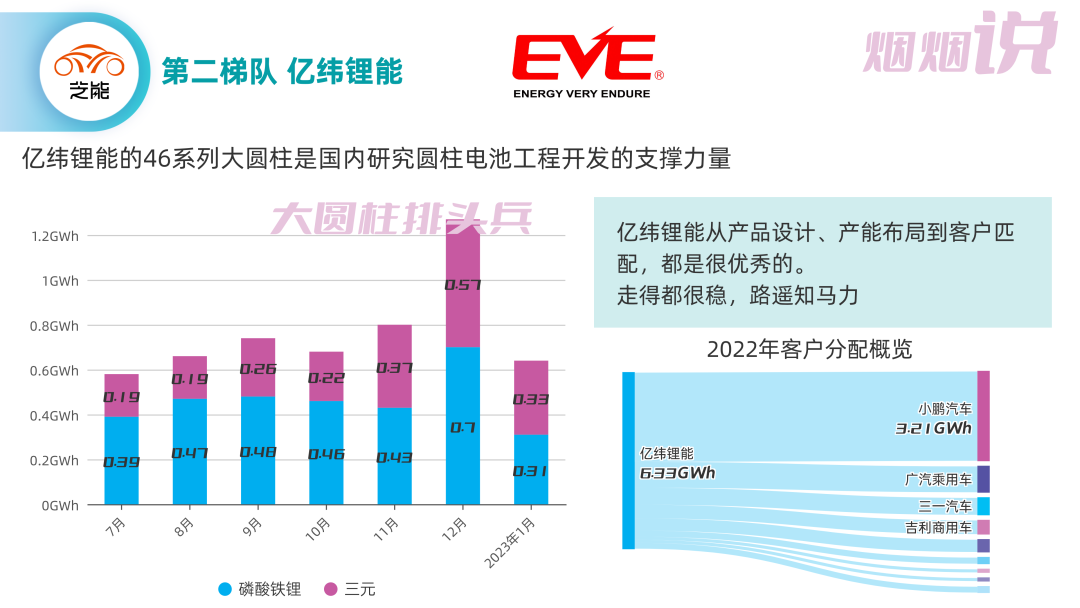 Focus on Soft Pack – Funeng Technology
Funeng Technology currently needs to bring out its SPS soft pack technology as soon as possible and match it with the latest designs. In the design of lithium iron phosphate for soft packs, a larger size is required. Through the integrated structure of CTP, stacking technology still has advantages to compete with other enterprises.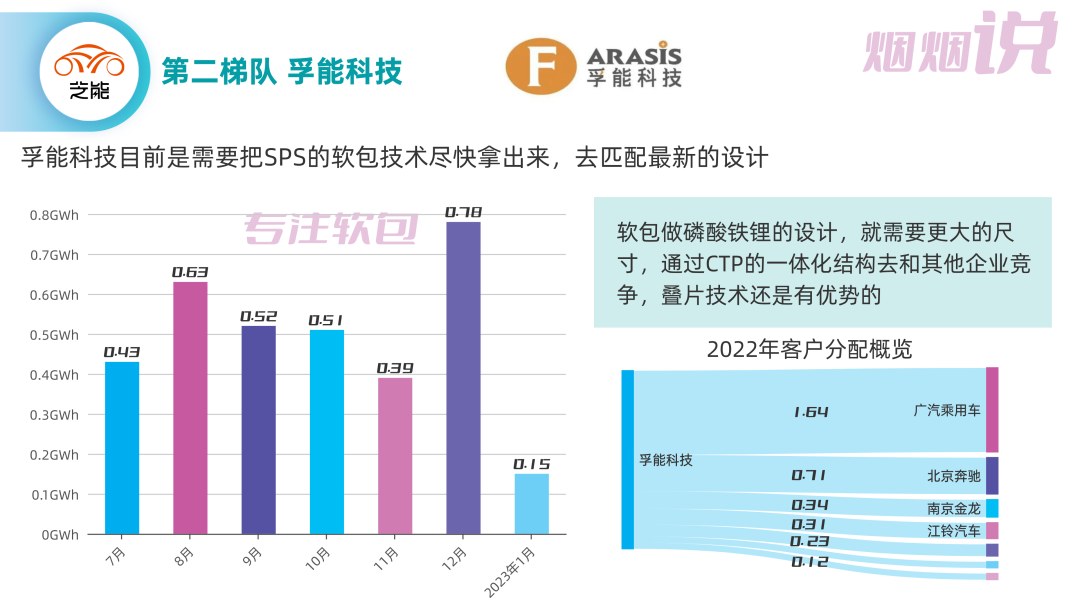 Summary of January Power Batteries
January is the trough of 2023, and the overall output of 2023 will slowly climb:
The power battery industry is facing the problem of capacity utilization rate, and cost compression has become the greatest competitive factor.

The price transmission mechanism of the upstream of the battery industry chain and the price mechanism of new energy vehicles do not match.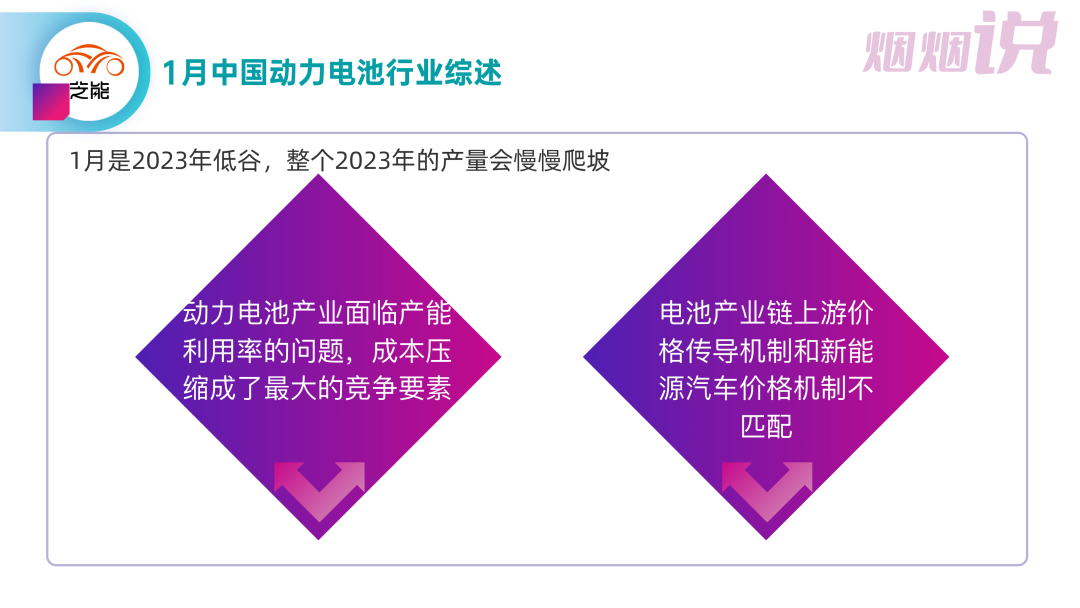 This article is a translation by ChatGPT of a Chinese report from 42HOW. If you have any questions about it, please email bd@42how.com.