Author | Lingfang Wang
Editor | Kaijun Qiu
Europe is just one step away from the ban on the sale of fuel cars.
On February 13, the European Parliament officially passed a law that will prohibit the sale of new gasoline and diesel cars within the European Union from 2035, aiming to accelerate the transformation to electric vehicles and address climate change.
The European Union executive body, the European Commission, proposed that by 2030, the carbon dioxide emissions from cars will be reduced by 55\% compared to 2021, much higher than the current target of 37.5\%. New light commercial vehicles must reduce their carbon dioxide emissions by 100\% by 2035, and reduce their emissions by 50\% compared to 2021 by 2030.
In October last year, the EU's countries and legislators reached an agreement on this issue, but it still needs to be officially approved before the rules take effect. It is expected that the European Council will finally approve the plan in March.
If the Council also passes this legislation, from 2035 onward, new plug-in hybrid and hybrid models will also be prohibited from being sold in Europe.
Data shows that in new energy vehicle models, Europe's plug-in hybrids account for 38\%, much higher than China (22\%) and the United States (19\%). This demand will be completely transformed into pure electric vehicle models by 2035, demonstrating the determination and strength of Europe's transformation.
However, even by 2035, the total sales volume of new electric vehicles in Europe is likely to still be lower than that in the Chinese market. But Europe's comprehensive "ban on fuel vehicles" may be a major opportunity to reshape the automotive industry chain for China's well-developed new energy automobile industry.
Radical Sales Ban Policy
Europe is tough, leaving no room for fossil fuels, and plug-in hybrids and conventional hybrids will be banned.
The EU Commission proposed in the draft law that carbon dioxide emissions will be reduced by 100\% by 2035, which will make new fossil-fuel-powered cars unable to be sold in the 27 EU countries.
This means that from 2035, only pure electric and hydrogen fuel cell vehicles will be authorized for sale.
The legislation includes limiting the carbon emissions of new cars starting in 2030, seeking to reduce carbon emissions based on 2021. The final agreement reached also includes some flexibility, for example, small car manufacturers with an annual output of less than 10,000 units can negotiate to achieve lower goals by 2036.In addition, heavy trucks and buses are also not included in the legislation. These vehicle types will also gradually reduce carbon emissions over time, but fossil fuels will not be completely banned.
Compared to Europe, China and the United States have a higher tolerance for hybrid vehicles.
(1)China leaves room for the development of hybrid vehicles
In 2020, according to the "Development Plan for the New Energy Vehicle Industry (2021-2035)" (hereinafter referred to as the "Plan") issued by the State Council, by 2025,…the sales of new energy vehicles will account for around 20% of the total sales of new vehicles …, and by 2035, pure electric vehicles will become mainstream in new vehicle sales, electric vehicles will be fully used in the public sector, and fuel cell vehicles will achieve commercial applications, effectively promoting energy conservation, emission reduction, and improvements in social operating efficiency.
It can be seen that China has tolerance for the existence of hybrid vehicles, as long as the mainstream vehicle type is pure electric.
In December 2019, Ouyang Minggao, Academician of the Chinese Academy of Sciences and Vice Chairman of the China Electric Vehicle Hundred People's Association, predicted that the sales of plug-in hybrid vehicles will continue to rise in the next five years, reaching a peak of development in 2025, and the entire boom period will last for about 10 years.
In terms of sales, plug-in hybrid and extended-range electric vehicles, represented by BYD and Ideal, are still growing. Recently, the growth rate of plug-in hybrid vehicles in China has been far higher than that of pure electric vehicles.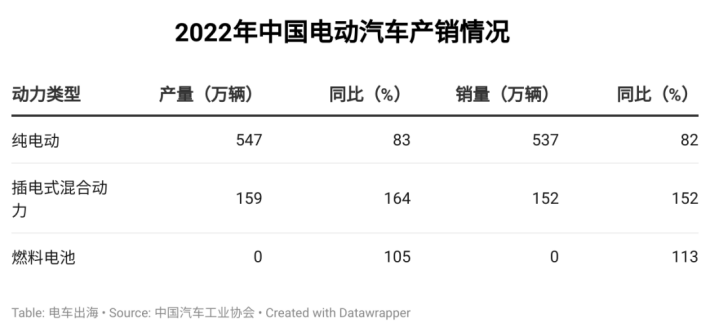 (2)The United States enhances tax deductions for plug-in hybrids
The United States also does not exclude plug-in hybrid vehicles in promoting new energy vehicles, and even increases the tax deduction for hybrid vehicles.
According to the "2022 Inflation Reduction Act" launched by the US Congress, hybrid vehicles with a battery capacity of 7 kWh or more will be eligible for a tax deduction of up to $7,500, which is more than double the amount of the previous law.
It can be seen that China and the United States have a tolerant attitude towards hybrid vehicles. In terms of the ban on the sale of fuel vehicles, Europe is the most radical.## Comparison of New Energy Vehicle Sales in China, Europe and the United States
Let's take a look at the basic development and financial support situation of new energy vehicles in the three regions.
(1) China and Europe move faster while the United States is slow
According to Cui Dongshu, the Secretary-General of the China Passenger Car Association, the proportion of China's new energy passenger cars in the global market is expected to reach 63% by 2022.
In terms of sales growth, China and Europe are in a phase of rapid growth, but there is a significant gap between Europe and China. The United States is developing at a relatively steady pace.
By September 2022, the penetration rate of new energy passenger cars in China had reached 31.8%. By the end of 2022, the penetration rate of new energy passenger cars in China had reached 27.6%. The industry has already achieved its goal (20%) three years in advance.
According to the "S-curve" theory, the development of emerging industries often goes through stages such as the importation period, the high-speed growth period, and the mature development period. China's new energy automotive penetration rate is increasing rapidly. It only took one year to go from breaking through 20% to breaking through 30%, which means that the industry is entering an accelerated stage of the S-curve. New energy vehicles will continue to grow rapidly in the future.
(2) Pure electric vehicle models are dominant in the three regions, with the highest proportion of plug-in hybrids in Europe
In terms of vehicle models, pure electric vehicle models are dominant in China and the United States, accounting for 81% and 78%, respectively, with plug-in hybrids accounting for 22% and 19%. The European market has a higher proportion of plug-in hybrids. The market structure of pure electric and plug-in hybrids in Europe is obvious, and pure electric vehicles are stronger in countries like Norway that do not produce automobiles.
It can be seen that the proportion of plug-in hybrid vehicles in Europe is the highest in the world, reaching 38%. The transformation pain of phasing out hybrid and plug-in hybrid vehicles in the European region by 2035 can be imagined.
Plug-in hybrid vehicles are relatively popular in Europe, perhaps because the construction of charging stations lags behind the growth of electric vehicle sales. According to statistical data from the International Energy Agency, the number of electric vehicles in Europe increased from 103,000 in 2013 to 5.483 million in 2021, with a compound annual growth rate (CAGR) of 55.6%. However, during the same period, the number of public charging piles in Europe increased from 28,000 to 334,000, with a CAGR of only 31.88%.According to a report from McKinsey to the European Automobile Manufacturers Association (ACEA) in 2022, the current ratio of charging piles to electric vehicles in Europe is 1:13, while the corresponding ratio is 1:2.7 in China (according to data released by the China Electric Vehicle Charging Infrastructure Promotion Alliance).
This shows that if Europe wants to truly achieve a ban on fossil fuel vehicles, it needs to invest heavily in the construction of charging stations.
In response to this weakness, the plan mentions that by 2025, Europe will build more than one million charging stations, and by 2030, it will build 3.5 million. One charging station must be installed every 60 kilometers on highways, and one hydrogen refueling station must be installed every 150 kilometers.
The European Commission expects that by 2040, EU countries will need to spend 80 to 120 billion euros (approximately 95 to 142 billion US dollars) on public and private charging facilities to promote the rapid development of pure electric vehicles (and fuel cell vehicles).
Under such a radical policy, can new energy vehicles in Europe surpass China?
By calculating, based on the European car sales of 11.2869 million units in 2022 and assuming all sales are transformed into pure electric vehicles by 2035, the total sales volume will be between 11 million to 15 million units. In 2022, China's car sales were 20.54 million units, and according to the plan, pure electric vehicles will become the mainstream of new sales vehicles by 2035, accounting for 80%, the corresponding volume will be approximately 16 million units. This means that China is still likely to be higher than the European market in terms of pure electric vehicle models.
Differences in financial and tax support policies
The purpose of financial and tax support policies for new energy vehicles is to promote the development of the industry. When the development speed and scale of the industry reach a certain level, the exit of financial and tax policies becomes inevitable.
At present, in Europe and China, where new energy vehicles are growing fastest, the financial subsidies for them are constantly being reduced, while the United States is still increasing its subsidies.
(1) China's "national subsidy" exits, and the market takes over
In 2023, China's "national subsidy" will officially exit the stage of history, and market mechanisms will take over as the driving force behind the development of new energy vehicles.
Currently, China's obvious financial support for new energy passenger cars is reflected in the exemption from vehicle purchase tax. On September 26, 2022, the Ministry of Finance, the State Administration of Taxation, and the Ministry of Industry and Information Technology issued a notice on "Continuation of the Policy of Exempting Vehicle Purchase Tax for New Energy Vehicles." The notice clearly stated that new energy vehicles purchased from January 1, 2023 to December 31, 2023 shall be exempted from vehicle purchase tax.In the public domain, China may still have some financial support. Recently, the Ministry of Industry and Information Technology and eight other departments issued a notice on organizing pilot projects for the comprehensive electrification of public sector vehicles (hereinafter referred to as the Pilot Notice) to accelerate comprehensive electrification through public sector vehicles, with a subsidy amount expected to exceed RMB 20 billion.
(2) European subsidies are continuously being cut, and PHEV subsidies are basically cancelled
Countries in the European Union are also continuously reducing subsidies for new energy vehicles, with the number of countries providing subsidies decreasing from 20 to 17.
In Germany, the subsidy for electric vehicles that was originally scheduled to end in 2021 has been extended to 2025. For cars priced between €40,000 and up to €65,000, the government will provide a subsidy of €3,000 for new electric car purchases (less than the previous €5,000). Electric cars and plug-in hybrid electric vehicles priced over €65,000 will no longer receive subsidies. In addition, starting from September 1, 2023, only private individuals will be eligible for the plan—company cars and other vehicles used for commercial purposes will no longer be eligible.
Germany's subsidy program will be further revised on January 1, 2024, when the maximum net price limit of electric vehicles will be set at €45,000, with a government subsidy of €3,000. Germany also provides tax breaks, but only for private individuals who use electric cars. Electric cars and plug-in hybrid electric vehicles registered for the first time before December 31, 2025 are exempt from motor vehicle tax until December 30, 2030. Electric vehicles and plug-in hybrid electric vehicles used for company purposes are also encouraged through special regulations for non-cash benefits.
France's subsidy for pure electric vehicles has been reduced from €6,000 to €5,000, and plug-in hybrid electric vehicles will no longer be eligible. Italy and Spain retain subsidies for existing pure electric and plug-in hybrid models, and provide additional scrappage bonuses. The UK and Sweden will see the largest reduction in financial support. From 2023, hybrid and electric cars will no longer receive any bonuses.
Norway's preferential policies for pure electric cars will continue until 2025, but starting from 2023, Norway will introduce two new taxes, weight tax and value-added tax, for pure electric cars. Subsidies for pure electric cars in the Netherlands and France are also declining year by year, and new energy vehicle subsidies in Italy have increased, mainly because the penetration rate of new energy vehicles in Italy is still low.(3) Increased US Fiscal and Tax Subsidies
In March 2021, Biden announced a $174 billion plan to support electric vehicles (EVs), including $100 billion in consumer EV tax credits, $15 billion in EV infrastructure, $20 billion in EV school bus funding, $25 billion in EV public transit funding, and $14 billion in other EV-related tax incentives.
Specifically, EVs assembled in North America are eligible for a federal EV tax credit of up to $7,500, consisting of two parts: $3,750 for battery components made in North America and $3,750 for "critical minerals" in the battery sourced from the US or countries that have a free trade agreement with the US.
Vehicles assembled outside North America can still qualify for commercial vehicle tax credits, provided they are leased and not purchased.
However, the incentive will phase out once an automaker sells over 200,000 EVs. Both Tesla and General Motors have already passed this threshold.
Opportunities for China and the US
Overall, Europe's "ban on fossil fuel vehicles" law will put enormous pressure on automakers that have been slow to transition to EVs. For example, Ford will cut about 3,800 jobs across Europe, mainly in Germany and the UK. Ford is phasing out legacy gasoline-engine models, including the Fiesta and Focus, and plans to sell only a few electric cars in Europe by 2030.
Last year, the president of the Volkswagen Group said that the company will produce only EVs in Europe starting in 2033, which is a year earlier than its previous goal of 2035.
The law would have negative consequences for Japanese automakers given that Toyota and Honda are better at hybrid vehicles and have been slower to transition to pure EVs.
China and the US are expected to benefit the most from this law.
Since 2021, the European region has claimed the largest share of China's new energy vehicle exports. Data shows that from 2018 to 2020, China's exports of new energy vehicles increased year by year, with Asia being the largest export region. In 2021, exports to Europe increased significantly, totaling 285,000 vehicles for the entire year, while exports to Asia fell to second place at 244,100 vehicles. In 2022, China's exports of new energy vehicles reached 629,000, with new energy vehicles exported to Europe accounting for 49\% of the total, exceeding 300,000 vehicles.The development of new energy vehicles in Europe cannot be achieved without the Chinese supply chain. As the world's largest producer of power batteries, China has a well-established supply chain and globally leading manufacturing capabilities and costs. For example, in the smelting of metal materials required for batteries, China is at the forefront of the world, refining 58% of the world's lithium metal and two-thirds of the world's cobalt metal.
Therefore, the supply chain represented by Chinese power batteries is also accelerating its expansion overseas. Enterprises such as Contemporary Amperex Technology Co. Limited (CATL), Guoxuan High-tech, Funeng Technology, and SVOLT Energy Technology, are leading upstream industrial chains to build factories in Europe.
Of course, American car companies, represented by Tesla, are also expected to gain greater sales volume and market share.
According to "Electric Vehicle Observer", this is a significant opportunity to change the world's automotive industry landscape for Chinese car and battery companies. Moreover, Europe not only has huge annual sales, but also as a region with a high concentration of automobile powers, it can provide not only the market but also endorsement of product competitiveness for Chinese companies.
This article is a translation by ChatGPT of a Chinese report from 42HOW. If you have any questions about it, please email bd@42how.com.