Jikr Auto Raises USD750 Million, IPO is Coming Soon
Author: Chen Nianhang
Jikr Auto recently raised USD750 million in a new funding round, with a total financing amount of USD1.25 billion. With the support of Geely Group, its valuation has been raised to USD13 billion, far exceeding the current market value of Xiaopeng Auto (about USD8.2 billion), while the market values of NIO and Li Auto are USD17.2 billion and USD26.7 billion, respectively.
From the currently disclosed financial data, Jikr Auto achieved a revenue of CNY2.868 billion with a net loss of CNY1.01 billion in 2021, and achieved a revenue of CNY8.828 billion with a net loss of CNY759 million in the first half of 2022. Its control of losses is significantly better than that of NIO, Xiaopeng Auto, and Leapmotor, and is at a similar level with Li Auto and Lantu.
Regarding this funding round:
What should we pay attention to?
Jikr Auto's current total delivery volume is over 80,000 vehicles. How can it support its USD13 billion valuation?
This article will attempt to answer these two questions.
USD750 Million Raised, IPO of Jikr Auto is Soon
Jikr Auto, incubated in Geely Group in March 2019, will soon celebrate its second anniversary.
In nearly two years, Jikr Auto has launched three models, including the well-received hunting-style coupe Jikr 001, the redefined MPV Jikr 009, and the soon-to-be-released and listed A-class pure electric SUV Jikr X.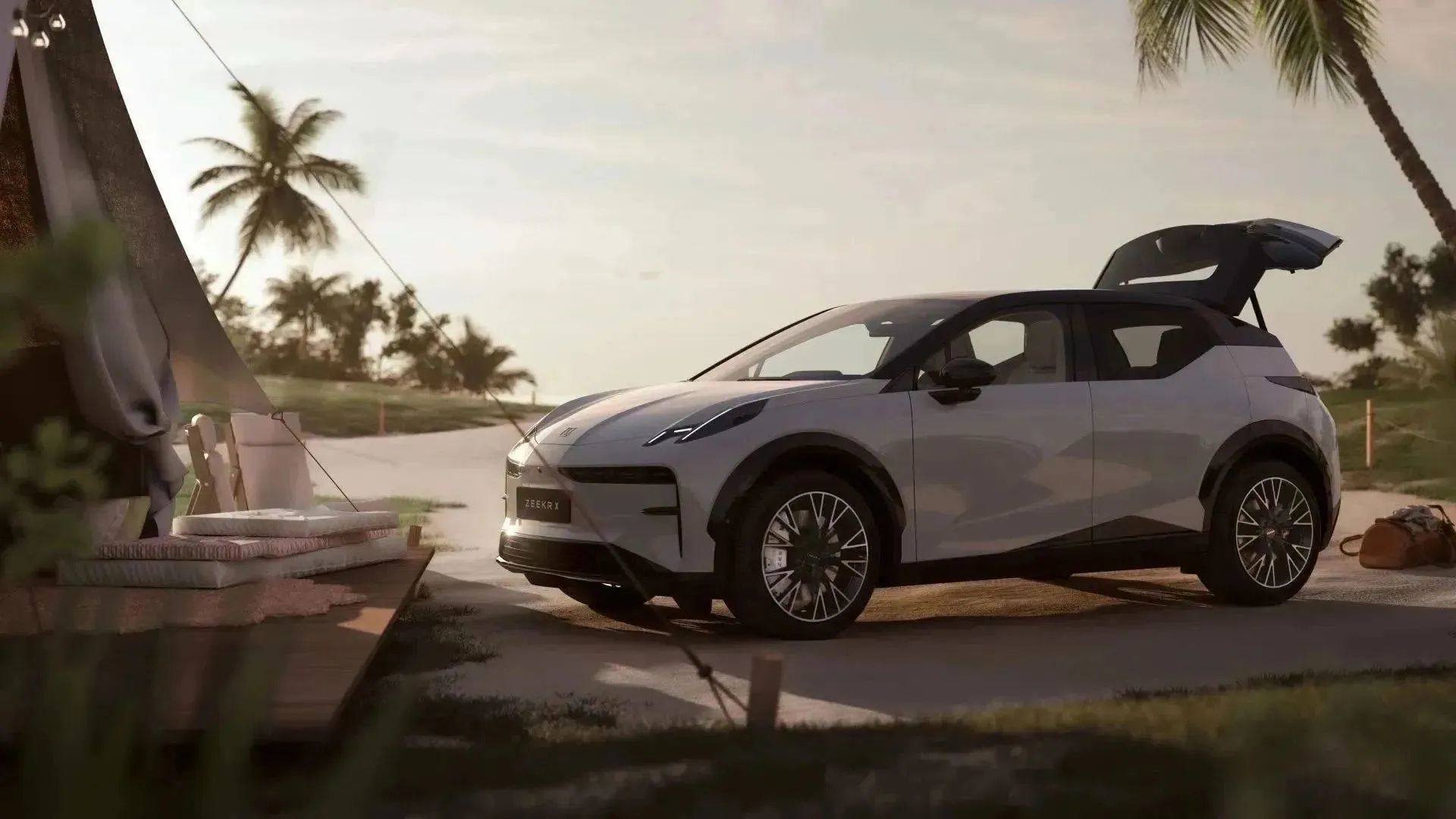 As of January 31, 2022, Jikr Auto has delivered a total of 81,064 new cars. Currently, both Jikr 001 and Jikr 009 are in the delivery phase, with an average order amount of CNY336,000 and CNY527,000, respectively.
Jikr Auto has become a core player in the high-end intelligent electric vehicle market in China. This year, Jikr Auto is also going to Europe with its peers, NIO, and Xiaopeng Auto, to explore the international market.
Against this background, on February 13, Jikr Auto officially announced the latest funding round of USD750 million. Combined with the USD500 million raised in August 2021, the overall post-investment valuation of Jikr Auto now stands at USD13 billion, surpassing Xiaopeng Auto's current market value (about USD8.2 billion), while NIO and Li Auto have market values of USD17.2 billion and USD26.7 billion, respectively.To know, both "WEY Xiao Li" and "WEY Coffee" have surpassed 200,000 total deliveries. Currently, Ji Ke still has some gap, and its sales target for 2023 is 140,000 vehicles.
In this round of financing, Ningde Times continues to follow up; Professor Amnon Shashua, Mobileye CEO, is also involved, with an unknown investment amount. Mobileye is also listed on NASDAQ with a market value of more than $34 billion. The other investors include Tongshang Fund and Xin'An Zhizao Fund, which are local funds in Zhejiang Province, and Yuexiu Industrial Fund, which comes from the Guangdong-Hong Kong-Macao Bay Area, investing in technology companies, including Cambricon, Yuncong Technology, SenseTime, among others.
So far, Ji Ke's investors include:
Intel Capital
Ningde Times
Bilibili
HSH
Boyu Capital
Yuexiu Industrial Fund
Tongshang Fund
Quzhou Xin'An Zhizao Fund
Mobileye CEO Professor Amnon Shashua
It covers power battery giants, major capital, industrial funds, autonomous driving partners, and other roles.
With a total financing of $1.25 billion and Geli Group as a guarantee, the latest estimated value is $13 billion. The IPO of Ji Ke is only a matter of time.
Previously, there was news that Ji Ke had applied for an IPO in the United States, planning to raise over $1 billion and seeking a valuation of over $10 billion.
Now, the valuation has risen to $13 billion.
There are two special points in this financing: Professor Amnon Shashua's participation and Ningde Times' continued support.
First, Mobileye CEO Professor Amnon Shashua participated, which although cannot be compared with directly investing in Mobileye, still indicates that the cooperation between Mobileye and Ji Ke has been further strengthened.
Putting aside the cooperation, Professor Amnon Shashua has invested in many companies before, some of which have successfully listed. He has a unique vision and it is not difficult to see that this top entrepreneur has a high opinion of Ji Ke.
Mobileye needs high-growth vehicle companies like Ji Ke to promote the landing of its autonomous driving technology, and Ji Ke needs suppliers like Mobileye before its self-research capabilities are cultivated. Even if it develops self-research abilities in the future, it can still use Mobileye as an external supplier to maintain self-research and external supply in parallel. The mode of cooperation can also be diverse.The cooperation between Jidu Auto and Mobileye has a long history.
In September 2020, Geely Auto and Mobileye reached a cooperation agreement, targeting ADAS and autonomous driving systems. At that time, Mobileye's SuperVision system had not been launched for long, and Geely became the pioneer. Jidu Auto had not yet been established. The first model of the collaboration between the two parties was the Zero Concept, a pure electric concept car from Lynk & Co, which later became the Jidu 001.
In January 2022, Jidu Auto announced to deepen its strategic cooperation with Mobileye. At that time, the two parties planned to launch the world's first consumer-grade intelligent electric vehicle with L4 level autonomous driving capability in 2024. The vehicle will use 6 EyeQ5 chips as its computing platform and cooperate with Mobileye's algorithm technology to create a Robotaxi that can be purchased by individual users.
Later, the plan was adjusted. For example, the 6 EyeQ5 chips were replaced with 3 EyeQ6H chips. The time for the mass production to launch the autonomous vehicle is expected to be in 2025. The designed goal of autonomous driving capability for the vehicle is "Hands-off" and "Eyes-off", enabling fully automatic driving on rural roads, main roads, and highways.
I am very excited and looking forward to such a fully automatic driving vehicle that can be purchased by consumers.
You can basically think that Jidu Auto hopes to collect massive road data by creating such models to serve the iteration of the fully automatic driving system in the future, just like Tesla, Xiaopeng, and other new car-making companies need to launch their own robotaxis.
Although there are doubts about Mobileye's mass production capability for autonomous driving solutions, and criticisms of the poor experience of Mobileye's SuperVision on the Jidu 001, as a $34 billion tech giant, the determination to adjust after seeing the problems should not be underestimated. Whether Mobileye can deliver, we can wait for another two years to see.# Translation
The recent SuperVision's high-speed navigation-assisted driving system is the way to prove its quality.
Secondly, the giant battery firm, CATL, has once again invested in Jike Automobile.
CATL, not only did it make batteries, but it is also an expert in investment, especially in the investment of electric vehicle companies. It is willing to invest heavily in companies such as Aiways, Avatar, NIO, Seres, and BAIC Blue Valley.
Based on these current targets, Jike can be considered a very promising company. By investing in Jike, CATL's power batteries also have better shipping guarantees, and CATL will also give more advanced battery technology to Jike, such as the latest Kirin battery, future solid-state batteries, sodium-ion batteries, and so on. Therefore, Jike will also benefit from these technologies.
Jike 009 and Jike 001 currently have optional Kirin battery configuration, which has a range of over a thousand kilometers.
Although Jike Automobile has raised a lot of external financing, its largest shareholder is still Geely Group. Backed by this tree of capital, technology, talent, and resources, Jike has ample nutrient supply. As an independent operating entity, Jike has the flexibility of a start-up company and can better adapt to China's highly competitive intelligent electric vehicle market.
So, is the valuation of $13 billion USD behind this new car maker, which has only delivered just over 80,000 vehicles, overstated?
This still needs to be viewed from the perspective of Jike's products and technology. These products and technologies include the planning of complete vehicle products and intelligence in the future.
Imagination behind the $13 Billion USD Valuation
Gradual completion of vehicle models
In terms of complete vehicle products, by 2023, Jike will have a restyled Jike 001, MPV Jike 009, A-level SUV Jike X, and a sedan Jike at the end of the year. In addition, it is uncertain whether Jike 001's LiDAR version will arrive within this year.
Regarding the Jike 001 LiDAR version, the author believes that it should arrive in 2024. Why is this thought?
First, in the financing announcement, Jike said it will launch two new products this year, one is Jike X, and the other is estimated to be the Jike sedan at the end of the year.
Secondly, the restyled Jike 001 just went on the market in January this year and needs to have an established presence in the market. Therefore, the LiDAR version may be delayed.
In addition to these mass-produced passenger cars, Jike also has the M-Vision L4 concept car jointly developed with Waymo. This car was planned for mass production in 2024. This car also allowed Jike to rub shoulders with the concept of Robotaxi and unmanned driving travel services, which will help boost Jike's valuation.Looking ahead to 2025, the consumer-grade L4 autonomous driving vehicles jointly developed by Xpeng and Mobileye will be put into mass production. This is a new and promising field, and therefore, it is equally important for the company's valuation.
Let's take a closer look at Xpeng's current product lineup:
In January of this year, the 2023 Xpeng 001 was launched. The appearance, interior design, comfort features, performance, and range have all been upgraded. It emphasizes the dual-motor four-wheel drive performance experience, and users have the option to install Nio's 140-degree Kirin battery for a range of over 1,000 kilometers.
It can be foreseen that Xpeng 001 will still be its main model in 2023, and its estimated full cycle will exceed 200,000 units.
Also in January of this year, Xpeng 009 was also delivered. Next, we will see how well this car sells. In January, the top two domestic MPV sales were the Toyota Sienna with 6,621 units and the Nio D9 DM-i with 6,216 units.
Looking ahead, we can expect Xpeng X.
This A-class SUV still emphasizes performance, with acceleration from 0 to 100 kilometers per hour in about 3 seconds. It uses Weirui electric motors with a power of 115 kW at the front and 200 kW at the rear, and is equipped with four-piston fixed calipers, which should have excellent braking performance.
In terms of dimensions, the Xpeng X is 4,450mm long, 1,836mm wide, 1,572mm high, and has a wheelbase of 2,750mm. It has four or five seats to choose from, with privacy glass in the rear, and features avant-garde designs such as frameless doors, door handles, and borderless rearview mirrors (the same as the Polestar).
Xpeng's expectations for this car are to continue to increase sales volume. Next, we will see if the pricing can reach a satisfactory level. We will have a detailed review of this car at the Shanghai Auto Show.
By the end of 2023, Xpeng's sedan is expected to be launched, which is known to be equipped with lidar, frameless doors, and positioned as a mid-size pure electric sedan.
The product planning for 2024 is coming up, including the laser radar version of Jixie 001 and more SUV models on the road. Additionally, if all goes well, the Jixie and Waymo collaboration on L4 level autonomous driving vehicles, M-Vision, will start production that year. Waymo's involvement in the Robotaxi fleet operation and the size of the fleet they will order from Jixie remains to be seen.
Forecasted for 2025, Jixie and Mobileye will launch a consumer-level L4 autonomous driving vehicle. By then, we should see Jixie's market value increase significantly.
To sum up, Jixie will have a diverse range of products as early as 2023, such as hunting-style sedans, premium MPVs, A-level SUVs, and pure electric sedans. In 2024, the Jixie SUV line-up is expected to have its prime year. By 2025, the boundless imagination brought by autonomous driving technology will be realized.
Therefore, Jixie's autonomous driving strategy must be reiterated.
The Imagination Brought by Intelligence
The Jixie 001 is equipped with Mobileye EyeQ5H chips, a long-range millimeter-wave radar, twelve ultrasonic radars, and fifteen high-definition cameras in its hardware for its driving assistance system. Such hardware configuration is considered state-of-the-art in the industry.
Currently, with the Mobileye SuperVision software, Jixie's ZAD has achieved functions such as LCC, ACC full-speed active cruise control, and so on. These functions can greatly alleviate driving fatigue and are favored by most users. Additionally, the ZAD also includes passive safety and warning functions such as AEB forward collision mitigation, LDW lane departure warning, FCTA forward cross-traffic warning.Translated Markdown text with HTML tags:
The "Gazelle Avoidance" function is highly praised by the Jike Kon official as a feature of the Jike Kon car. It automatically slows down or avoids obstacles in the lane, such as pedestrians, non-motorized vehicles, or stopped cars with open doors, providing drivers with sufficient reaction time to prevent accidents. After multiple iterations, the assisted driving function on the Jike Kon 001 has evolved from being criticized by consumers to being available and ready to use.
Of course, this alone is not enough to satisfy the curiosity of today's tech-hungry consumers, so Jike Kon is continuing to evolve. According to Jike Kon's plan, its NZP high-speed autonomous navigation assistance system, built in partnership with Mobileye, will soon be available to users, and is currently undergoing advanced testing on high-speed NZP.
In addition to working with Mobileye, Jike Kon has also established its own autonomous driving R&D team, led by former Huawei executive Chen Qi as Vice President of Autonomous Driving R&D, currently developing related systems based on NVIDIA's autonomous driving computing platform, and has already announced using NVIDIA's highly powerful Thor chip with a monolithic power of 2000T around 2025.
If Jike Kon can deliver a functional self-developed autonomous driving system as planned, the company's valuation will likely dramatically increase thanks to its autonomous driving team. Of course, these are all future prospects.
To summarize, Jike Kon's imagination in the field of autonomous driving includes:
Continuing to work with Mobileye to promote SuperVision technology and quickly release the NZP system;

Launching a consumer-level L4 autonomous driving car in cooperation with Mobileye, and competing with Tesla's FSD;

Jointly developing an L4 autonomous driving Robotaxi with Waymo, which could also potentially become a profitable business if it goes into mass production.- The AK Robotics autonomous driving team has made a breakthrough and created a next-generation intelligent automotive system that overturns the existing electronic and electrical architecture, based on the NVIDIA Thor super intelligent car central computer.

consumers are also looking forward to AK Robotics equipping models with LiDAR, including this year's sedans and future LiDAR-equipped AK Robotics 001. As early as November 2021, AK Robotics had found its LiDAR supplier, Suzhou SL Tech, and it can be confirmed that AK Robotics' upcoming LiDAR models will use SL Tech's sensors.
In addition to autonomous driving, intelligence also includes an intelligent cabin.
Although the intelligent cabin of AK Robotics 001 was "criticized" for a long time after it was launched, fortunately, AK Robotics provided a good solution by upgrading the 8155 intelligent cabin chip for free to restore its reputation. In addition, through software upgrades and tuning, the cabin system has gone from unusable to usable.
Next, AK Robotics imagines integrating Meizu's car operating system and car system into AK Robotics' infotainment system.
Please enjoy this idea.
With such rich product planning and imaginative prospects for autonomous driving and the intelligent cabin, is AK Robotics' $13 billion valuation still absurd?
This article is a translation by ChatGPT of a Chinese report from 42HOW. If you have any questions about it, please email bd@42how.com.