Author: Su Qin
The Bolivia EDL (Direct Lithium Extraction) bidding plan, which lasted nearly two years, has finally come to an end and CATL is the winner.
According to the La Paz (capital of Bolivia) EFE report on January 20th, Yacimientos de Litio Bolivianos (YLB), the Bolivia state-owned lithium mining company, signed a cooperation agreement with CATL at the La Paz government building.
The Bolivia Energy Department stated in a statement that CATL will establish two factories that use lithium direct extraction technology in the Uyuni Salt Flat in Oruro and Potosi regions of the Andes mountainous area in Bolivia. The total production capacity of the two factories for lithium carbonate is 50,000 tons per year.
In terms of funding, CATL will invest $1 billion in the first phase, and the amount of subsequent investments has not yet been disclosed.
CATL later confirmed the above news to the media.
According to data from the United States Geological Survey, Bolivia's salt lakes have the largest lithium resource reserves in the world, with reserves of about 21 million tons.
Despite possessing the world's largest lithium reserves, Bolivia has been ridiculed for decades as "empty mountains and rivers", unable to fully take advantage of its resources. In the face of such a dilemma, a visionary in Bolivia decided to change everything, and he is the current president of Bolivia – Luis Arce.
On November 8, 2020, Luis Arce officially took office as the President of Bolivia for a term of 5 years. Arce stated at an energy department press conference, "Industrializing lithium is our government's top priority."
According to Franklin Molina, Bolivia's Energy Minister, Arce ordered the acceleration of Bolivia's lithium industry development after taking office and hoped it would become the country's economic pillar.
On April 30, 2021, the Bolivia EDL bidding plan emerged, with the aim of advancing the industrialization of Bolivia's lithium industry with the lowest environmental impact.
There is currently a lot of controversy within the industry about direct lithium extraction technology. Supporters believe that it will completely change the production of lithium materials, while detractors argue that the technology requires a lot of fresh water and electricity and has not yet formed an effective business model.Although there is controversy over the direct lithium extraction technology, as of May 31, 2021, Bolivia has received a total of 20 bids.
Of these, eight companies were shortlisted: Energy X, Lilac Solutions, CATL, CITIC Dameng, EnerVest, TBEA, Uranium One and TecPetrol.
In October and November 2021, Bolivia signed a memorandum of understanding and a confidentiality agreement with the above-mentioned eight companies.
As of May 15, 2022, Bolivia confirmed that six companies have entered the next round of the bidding process. On June 15, 2022, Bolivia publicly announced the list of these six companies.

According to reports, Energy X and TecPetrol failed to enter the next round, with the former having been disqualified by Bolivia and the latter failing to submit any documents within the specified time.
The Economic and Commercial Counselor's Office of the Chinese Embassy in Bolivia disclosed that from January 4th to 5th, 2023, Liu Xiaofeng, the commercial counselor of the Chinese Embassy in Bolivia, led a delegation to visit the Bolivian Salt Lake Industrialization Project in Uyuni.
During the visit, Liu Xiaofeng visited the lithium chloride plant and lithium carbonate pilot plant of the Bolivian state-owned lithium company and had a detailed understanding of the development of the lithium resources industry in the salt lake in Bolivia. In addition, Liu Xiaofeng held on-site meetings with representatives from CITIC Dameng, CATL, and TBEA to discuss how to participate in the international bidding project in Bolivia for direct lithium extraction.
As for this cooperation, Bolivia has confirmed signing a contract with CATL. Alvaro Guillermo Arce, the Minister of Economic Development of Bolivia, announced that CATL defeated the other five companies and won the contract.
As for the other five companies, although they lost to CATL in this bidding process, it is not ruled out that they will establish new cooperative relationships with Bolivia in the future. Alvaro Guillermo Arce stated that "Bolivia is still negotiating with other foreign companies for possible future cooperation. These companies include Lilac Solutions from the United States, Uranium One Group from Russia, and three other Chinese companies."
The cooperation with CATL has attracted great attention from Bolivia. On January 20th, both President Arce and Minister Molina attended the signing ceremony and made speeches.
Arce said this is a "historic day" for Bolivia, as it marks the beginning of Bolivia's industrialization of lithium.
Molina said that the state-owned lithium mining company in Bolivia will supervise and play a core role in this project.
The role of the Bolivian state-owned lithium mining company is similar to that of the Chinese side in joint ventures in the Chinese automotive industry. In 2019, the Bolivian state-owned lithium mining company signed a lithium factory cooperation agreement with TBEA, holding a controlling stake of 51% in the joint venture company.
The cooperation between the Bolivian state-owned lithium mining company and CATL may also adopt a similar joint venture model.
Arce said, "CATL will make an initial investment of US$1 billion in the first phase, to create favorable conditions for building factories in Uyuni Salt Flat, Potosi, and Coipasa Salt Flat, Oruro."
Uyuni Salt Flat is currently one of the world's largest lithium mines.
Regarding this US$1 billion investment, it will involve investments in roads, electricity, and infrastructure. In other words, CATL may also need to invest in the construction work of the two factories and their production lines in the later stages.
According to the cooperation agreement, the carbonate capacity of the two factories is 25,000 tons per year, with a total of 50,000 tons per year and a purity of 99.5%.
Arce emphasized that the Bolivian state-owned lithium mining company will actively participate and control the entire production chain from lithium extraction to by-product sales.
According to the report of the BNAmericas website, in the first half of 2022, the export value of Bolivian state-owned lithium mining company's carbonate and potassium chloride was BOB 243 million (USD 35 million), which is 27% higher than the BOB 191 million in the whole year of 2021.
In the first half of 2022, the sales volume of Bolivian state-owned lithium mining company's potassium chloride was 18,700 tons and carbonate was 400 tons, of which carbonate was mainly exported to Russia and China.
Arce also revealed that "by the first quarter of 2025, Bolivia will export lithium batteries made from domestic raw materials." This means that the cooperation between Bolivia and CATL will not only produce lithium carbonate but also batteries.
If CATL produces batteries in Bolivia, where will they sell them?
At present, CATL has limited business in South America, but there is potential for future business development. Meanwhile, brands such as Ford and Tesla are eagerly looking forward to using CATL's batteries in North America. Shipping batteries produced by CATL in Bolivia to North America would be a feasible option.
According to EV Observer, in addition to Bolivia, CATL is also considering another country, Chile, which is located in the "lithium triangle". Compared to Bolivia, Chile has a very long coastline, making shipping by sea incredibly convenient.
Some industry insiders have expressed doubts about CATL getting involved in lithium mining. After all, CATL is a battery manufacturer, not a mining company. However, CATL has already made preparations for entering the mining industry.
To cooperate with Bolivia, CATL has formed a consortium that includes Guangdong Bangpu Recycling Technology Co., Ltd, a leading domestic power battery recycling company, and the mining giant Luoyang Luanchuan Molybdenum Co., Ltd.
It is worth noting that CATL is the major shareholder of Bangpu Recycling and the second-largest shareholder of Luoyang Molybdenum. These two subsidiaries are the "powerful assistants" for CATL's entry into the mining industry.
On April 11, 2021, CATL's indirectly-controlled subsidiary, Ningbo Bangpu Times New Energy Co., Ltd., signed a strategic cooperation agreement with CMOC Limited, a wholly-owned subsidiary of Luoyang Molybdenum, to co-invest in the Kisanfu project. The goal is to build it into a world-class large-scale copper and cobalt producer.
As one of the world's highest-grade copper and cobalt mines to be developed, the Kisanfu copper-cobalt mine has a mineral resource of 365 million tons, containing over 6.2 million tons of copper metal and over 3.1 million tons of cobalt metal. It can provide CATL with long-term stable, reliable, clean, and responsible cobalt metal raw material supply.
On April 15, 2022, Puqin Times, a subsidiary of Bangpu Recycling, signed a tripartite agreement with PT Aneka Tambang and PT Industri Baterai Indonesia of Indonesia to jointly establish a power battery industry chain project, including nickel mining and smelting, battery materials, battery manufacturing, and battery recycling.
It can be seen that Luoyang Molybdenum and Bampu Circulation have the experience and strength in mining. With the help of these two professional companies, there will be no project execution problems in Ningde Times Bolivian lithium mining project.
"Electric Force" found that Bampu Circulation is recruiting a "civil engineering project manager (Bolivia)", and the salary looks good?
At the 2022 World Battery Conference, Zeng Yuqun said, "Unlike petroleum, most of the materials in batteries can be recycled. Currently, our nickel-cobalt-manganese recovery rate has reached 99.3%, and the lithium recovery rate has exceeded 90%."
Ningde Times previously stated that it will officially mass-produce sodium batteries in 2023.
With a lithium recovery rate of over 90% and mass production of sodium batteries this year, why is Ningde Times still short of lithium?
First of all, the industry continues to boom, and as the industry leader, Ningde Times should be prepared for strategic resource reserves.
According to SNE data from South Korea, the global power battery installation in January-November 2022 reached as high as 446GWh, a year-on-year increase of 74.7%.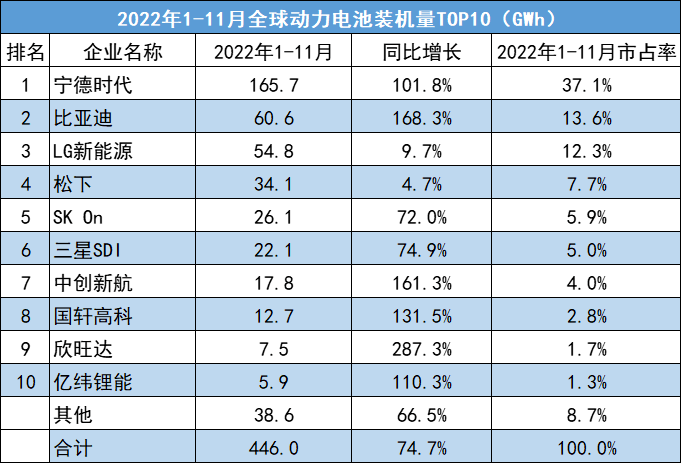 Second, although it has won the global power battery sales champion for "6 consecutive years", Ningde Times' upward pace has not slowed down.
In the TOP10 global power battery installation rankings from January to November 2022, Ningde Times won first place with an absolute lead of 165.7GWh, and its growth rate also reached 101.8%, surpassing the industry growth rate of 74.7%. Its market share also increased from 32.2% in the same period of 2021 to 37.1%.
As early as January 16, 2021, at the 2021 China Electric Vehicle Hundred People Forum, Zeng Yuqun proposed, "In the long run, the lithium-ion industry market will usher in an explosion in the next five years, rapidly entering the TWh era. High efficiency and high-quality delivery are important core competitiveness."Entering the TWh era is no longer a boast, but a soon-to-be fact. What's more, CATL has become even stronger.
As the leader of the industry, we should not, and cannot tolerate any layout loopholes.
The recent "battery shortage" in the past two years has awakened many new energy companies, and the upstream raw materials of battery production have become a realistic choice for some powerful companies (including automakers, battery manufacturers, and even other companies).
The direct result of this change is that the original vertical industry pattern has been broken, and the new industry pattern has become more complicated, making the cooperation between each other more delicate. How to handle this kind of relationship is the most urgent task for each enterprise.
This article is a translation by ChatGPT of a Chinese report from 42HOW. If you have any questions about it, please email bd@42how.com.