Author: Zheng Senhong
"For Tesla, 2022 is a wonderful year. In every aspect, it's the best year we've ever had." Despite falling short of Musk's goal of a 50% increase in sales and having the largest inventory ever recorded (67k vehicles), Tesla's financial data showed nearly across-the-board growth, making Musk very profitable.
On January 26th, Tesla released its earnings report for Q4 2022 and the entire year.
Here are the numbers:
Q4 revenue was $24.318 billion, up 37% YoY, with a net profit of $3.707 billion.
For the whole year 2022, Tesla's revenue was $81.5 billion, a YoY increase of 51%, with a GAAP net profit of $12.6 billion.
According to Tesla's official summary, Q4 2022 was another record-breaking quarter, as well as a year of record creation. In the last quarter, Tesla saw its highest quarterly revenue, operating income, and net income ever. Its GAAP net income for the year more than doubled YoY.
But that's not enough.
During the earnings call, the keyword "factory expansion" was repeatedly mentioned. Musk said that Tesla's goal remains a 50% compounded annual growth rate in vehicle sales through 2023, with a minimum of 1.8 million units sold and an ultimate goal of 2 million.
Alongside the sales target, Tesla also announced its plans for autonomous driving software and new vehicle models in 2023.
Net profit of $12.6 billion sets a new high, exceeding BYD's by more than five times.
In Q4 2022, Tesla continued to see significant growth in production and deliveries.
Specifically, Tesla produced 439,701 vehicles and delivered 405,278, up 44% and 31% YoY, respectively.
The production volume of Model S and Model X was 20613, a year-on-year increase of 57\%, and the delivery volume was 17147, a year-on-year increase of 46\%.
The production volume of Model 3 and Model Y was 419088, a year-on-year increase of 43\%, and the delivery volume was 388131, a year-on-year increase of 31\%.
Looking at the whole year, Tesla's production and delivery volume exceeded the one million mark. In 2022, the production volume reached 1.36 million, an increase of 47\%, and the delivery volume reached 1.31 million, an increase of 40\%. However, this data is still far from Musk's goal of 50\% growth.
In Musk's view, achieving the above goals is not easy.
"In 2022, we delivered over 1.3 million cars and achieved a profit margin of 15.41\%, the highest of all car manufacturers. Although 2022 was a very challenging year due to forced closures, high interest rates and many delivery challenges, the Tesla team achieved these records."
What is the concept of a 15.41\% net profit margin?
For comparison, BYD's net profit margin is 3.73\%, Toyota's is 6.89\%, and General Motors' is 6.78\%. Tesla's net profit margin is 4.13 times that of BYD, 2.23 times that of Toyota, and 2.27 times that of General Motors.
This also allowed Tesla's automotive business revenue in 2022 to reach 71.462 billion US dollars (4848.34 billion yuan), and the total revenue reached 81.462 billion US dollars (552.6 billion yuan).
In comparison, the automotive business of traditional luxury brands Mercedes-Benz, BMW and Audi in 2021 was 109.648 billion euros, 111.239 billion euros, and 53.68 billion euros, respectively. Therefore, Musk's statement "We proved that electric cars can be more profitable than gasoline cars" is not just empty words.
The super-high net profit margin is based on the gross profit margin. In 2022, Tesla achieved an astonishing gross profit margin of 25.3%.

However, compared to the past gross profit margin, Tesla has experienced a continuous decline in gross profit margin for five consecutive quarters (30.6%, 32.9%, 27.9%, 27.9%, 25.3%).

The reason why the gross profit margin is lower than the market expectation may be due to two reasons:

1. Tesla chose to lower the price for promotion in October last year, which was a decision made due to insufficient demand and to some extent hurt the gross profit margin.

2. In December last year, Tesla's demand dropped significantly, and it decided to shut down the Shanghai factory. The decrease in sales volume means that the profit also decreased, which led to a decline in gross profit due to the increasing cost.

However, Zachary Kirkhorn, Tesla's CFO, believes that the continuous decline in profit margin is mainly affected by three factors:

- The raw materials and inflation caused by lithium prices;
- The early efficiency issues of the Austin, Berlin, and internal battery production factories;
- In 2021, more of Tesla's vehicle portfolio shifted to Model Y, which has a slightly higher cost premium than Model 3.

To partially offset these impacts, Tesla will continue to implement controllable cost-cutting strategies, gradually achieve regional balanced vehicle manufacturing, and accelerate improvements in new factories in Austin and Berlin by reducing accumulations of logistics, acceleration, material buffers, part premiums, productivity, and indirect costs.

In Kirkhorn's view, Tesla's automotive gross profit margin will be higher than 20% in 2023, with an average selling price higher than $47,000, and the gross profit margin is also confident in maintaining a level above 20%.

In 2022, it is a year full of uncertainty for the global electric vehicle industry.

Musk believes that to become a manufacturer of millions of electric vehicles, improving product affordability is a must. Price changes have a significant impact on ordinary consumers, and affordability is very important - Tesla's goal has always been to make it possible for as many people as possible to afford to buy its cars.

"`
Tesla has been able to lower its average selling price by half from 2017 to 2022 through persistent cost control and innovation, while continuing to increase its operating profit margin from about -14% to 17%.
By introducing lower-cost car models, building more efficient localized factories, reducing vehicle costs, and managing leverage, Tesla is still striving for the ultimate goal.
Impacting 2 million annual sales, Model 3/Y cost continues to decline
2022 is a big year for new energy vehicles.
"NIO", XPeng's G9, Ideal's L9, and Nio's three new models, including the delivery of the ET7, ET5, and ES7, have been completed successively.
In China, the electric vehicle market is growing at a visible speed.
But for Tesla, expanding production capacity is the core of its decision-making in 2022, especially without new car releases.
In April 2022, with the official start of production at Tesla's super factory in Austin, Texas, the company now owns six factories across three continents.
Among them, Fremont, Shanghai, Berlin, and Austin factories are responsible for complete vehicle manufacturing, while Nevada and New York factories are responsible for the production of battery packs, charging piles, and solar roofs.
As of the end of Q4 2022:
The new factory in Austin, United States, and the Model Y production at the Berlin factory have a weekly output of more than 3,000 units, with an annual capacity of over 500,000 units;
The Shanghai factory is still Tesla's main export center, supplying vehicles to most markets outside of North America, with an annual capacity of over 750,000 units for Model 3/Model Y;
The Fremont factory has an annual production capacity of 100,000 units for Model S/Model X, and 550,000 units for Model 3/Model Y.
Tesla's total production capacity has reached 1.9 million units, and full production capacity can reach 2 million units (40,000 units per week).
"`According to Musk, Tesla's internal production potential will actually reach nearly 2 million vehicles by 2023, but the external goal announced is 1.8 million vehicles. If there is no supply chain interruption or other influences this year, Tesla may actually produce 2 million cars this year, which is a milestone achievement.
BMW's global sales in 2022 were 2.39 million units, and Mercedes-Benz's were 2.04 million units. This means that Tesla, as a pioneer in the production of pure electric vehicles, has approached the production level of traditional automakers.
In accordance with the plan, Tesla's electric truck Semi has entered large-scale production at the Nevada factory, and the electric pickup truck Cybertruck is expected to start production in Texas in 2023 and to be mass-produced in 2024, with a production capacity goal of 250,000 vehicles per year.
However, Musk is not satisfied and continues to build and expand factories.
On January 25, Tesla announced that it will expand a 4680 battery factory and a specialized semi factory in northern Nevada, with a total cost of 3.6 billion U.S. dollars.
The 4680 battery factory plan is to continue to increase the battery capacity of Gigafactory 2, which has a current battery capacity of 100 GWh, equivalent to 1.5 million Model 3/Y vehicles. The combined capacity of the two-phase factories will exceed 130 GWh/year, enough to supply the estimated 1.8 million Tesla vehicles.
By the end of the fourth quarter of 2022, the Tesla 4680 team had achieved a production speed of 1,000 vehicles per week, with one of the four production lines at Giga Texas in the production stage, and the remaining three in the debugging and installation stage.
According to the plan, Tesla plans to provide cost-effective 4680 production capacity before the Cybertruck, focusing on improving the quality of mass-supplied mechanical parts and maximizing the yield of factory processes. If these key goals can be achieved smoothly, Tesla will usher in an important "4680 year" in 2024."`
"Second-phase battery factories are not all for Semi trucks, some future products will also use 4680," Musk revealed details of new products in advance during the conference call.
As for the new product plan in 2023, Kirkhorn revealed:
"Tesla will continue to ensure that funds are prioritized for our long-term roadmap, including expanding internal battery production, pushing Cybertruck to the market, developing our next generation car platform, expanding our manufacturing footprint and developing our energy business. Details of these plans will be discussed in more detail at the Investor Day in one month (March 1)."
It can be certain that Tesla is not currently developing a so-called " $25,000″ low-cost Tesla, because Musk has more important things to do.
In Musk's view:
"In 2022, the efficiency improvement of Giga Texas, Berlin factory and 4680 brings great cost reduction space to Tesla. In terms of raw materials and inflation, lithium is the main driving factor, which is a meaningful cost increase source for Tesla. We must always pay attention to the trend of lithium prices. Although we are not completely affected by the price of lithium, I think the lithium cost per car in 2023 will be higher than that in 2022."
"We are collecting a lot of data from the sold Model 3/Y to understand how we can expand our profit sources. Therefore, in terms of powertrain, Tesla will continue to reduce costs in 2023, removing some configurations that pay for performance or are not necessary for consumers, so as to bring significant cost reduction. Tesla not only relies on supply, but also conducts design activities to reduce costs," Musk added.
In short, whether it is the optimization of business models or the innovation of production methods, Tesla has found its position in the new field of intelligent cars and become the definer (open source and integrated die casting methods have become the source of imitation by the outside world) and leader of industry rules based on its leading advantages.
## HW4 on board this year, software still hard to make money
In 2022, Tesla has also made many technological advancements.
In this year, the FSD update speed of Tesla has been greatly improved. The number of test vehicles participating in FSD beta testing has increased from 2,000 in 2021 to 160,000 in 2022, achieving 80 times growth in one year. The total mileage outside the highway reached 100 million miles (about 160 million kilometers).
markdown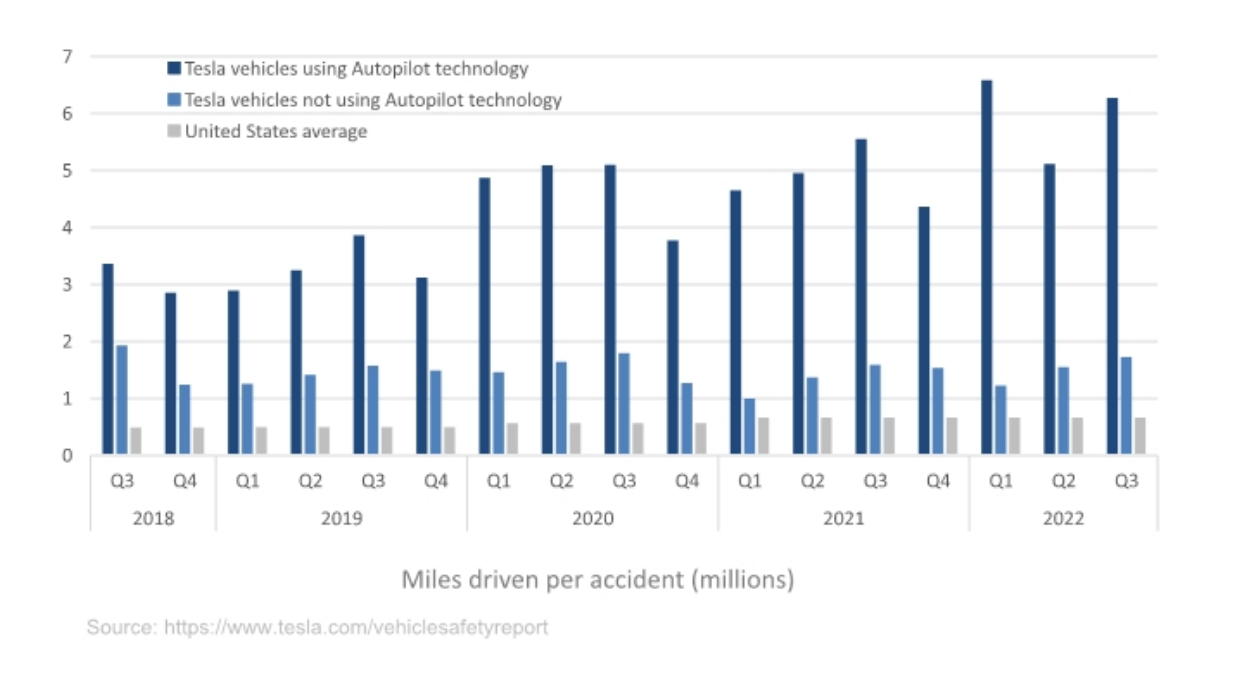 At the same time, Tesla has pushed a new FSD test system to almost all FSD owners in the United States and Canada (about 400,000 people), and every North American owner can experience the latest features of assisted driving.
In Tesla's words, this is "an important milestone for the company".
According to Tesla's North America website, the latest price for FSD is $15,000. Based on this price, these 400,000 users will bring Tesla more than $6 billion in revenue.
In Musk's view, Hardware 3 is still the most efficient autonomous driving computing platform in the world, despite the fact that it has been 5 years since its development began. However, with the arrival of Hardware 4, especially Hardware 5, FSD will make a significant leap.
At the earnings conference call, Musk also revealed that the Cybertruck will be equipped with HW 4 when it goes into production, and the supercomputer Dojo platform that was showcased at AI DAY may also be put into use this year.
For Tesla, it was once thought to have two ways to form an ecosystem similar to Apple:
In the field of electrification, it is the charging network.
In the field of intelligentization, it is the autonomous driving service (FSD).
However, Tesla has already opened up its own Supercharger to other electric vehicle brands in 2022. Therefore, another comparable to the "closed loop" of tech products and regarded as Tesla's key moat is the FSD service.
Anxin Securities predicts that Tesla's cumulative cash income from FSD's subscription model will reach $1.26 billion. It is expected that by 2030, subscription service income will exceed $16 billion annually.
The financial data shows that Tesla's FSD brought in $324 million in the fourth quarter, but compared to the total revenue of $71.465 billion for the year, the proportion of software income is still negligible.
"""
Official data shows that since 2014, Tesla's quarterly FSD revenue has remained at around $300 million, accounting for less than 5% of the total annual revenue.
Although Tesla's monthly sales volume in China is nearly 30,000, officially disclosed, less than 2% of Chinese users will pay for FSD, and it is still a "futures product".
Therefore, although the climbing rate of Tesla's FSD activation is a major trend, looking at the global market, regional policy influences and consumer education are still the two important factors affecting the value upgrading of Tesla's autonomous driving software.
In March 2022, Musk tweeted: "Even some of the best AI software engineers in the world are not aware of Tesla's advanced level of artificial intelligence."
Compared with car manufacturing, Musk is more confident in Tesla's AI capabilities, and the most important and valuable field of AI application is undoubtedly autonomous driving. Whether Tesla can truly achieve technological breakthroughs, achieve fully automated driving, and then improve the proportion of software revenue, remains to be seen.
But at least it is certain that Tesla is making more and more money, occupying the top position in the field of new energy vehicles, and still leading the transformation of the entire automotive industry.
"`
This article is a translation by ChatGPT of a Chinese report from 42HOW. If you have any questions about it, please email bd@42how.com.