Ranking of Plug-in Hybrid Vehicles in December 2022
Author: Kaijun Qiu
Editor: Kaijun Qiu
An interesting phenomenon appeared on the ranking list of plug-in hybrid vehicles in December 2022: DENZA (a Chinese new energy vehicle brand) ranked 6th, one place higher than Mercedes-Benz.
Less than a year after the acquisition of DENZA's shares held by Mercedes-Benz and the comprehensive control of the DENZA brand by BYD, DENZA surpassed Mercedes-Benz in the plug-in hybrid category.
This is a data that makes DENZA team and BYD proud. On January 11, DENZA Automobile held the "Let's Make Good Things Happen – DENZA Automobile Communication Day 2023" event at its headquarters in Shenzhen. DENZA Automobile's General Manager and Chief Co-creation Officer, Changjiang Zhao, was full of confidence. He revealed that the first car of the DENZA's reborn, D9, has sold more than 10,000 units and become the fastest high-end MPV in terms of reaching this milestone.
How did DENZA achieve this "counterattack"?
D9 Reshapes DENZA
Compared to other new energy vehicle brands, DENZA can be considered a veteran brand.
In 2010, BYD and Mercedes-Benz jointly established this brand focusing on new energy vehicles. However, the brand image and product attributes of DENZA were not outstanding before. Despite the support of Mercedes-Benz, the product was still not powerful enough.
However, on May 16, 2022, DENZA changed. BYD announced to be the absolute major shareholder of DENZA by occupying 90% of the shares and launched the new car, D9, after the rebirth of the brand.
First of all, D9 changed the tepid image of DENZA's previous models and became a popular and hot-selling model.
Zhao Changjiang revealed at the communication day that since the launch of DENZA D9, the cumulative orders have exceeded 50,000, and it has sold more than 10,000 since the end of October, becoming the fastest high-end MPV to reach this milestone.
Secondly, BYD reshaped DENZA's brand image through D9, and its position as a high-end brand was established.Zhao Changjiang revealed that D9 users are very high-end. "More than 50% of users are originally from BBA's luxury cars, and there are also users from traditional fuel MPVs, many of whom come from Alfa Romeo."
Of course, BYD's "iron-plate" users are also included, "as well as BYD users who have always relied on BYD technology and quality for upgrades and purchases."
D9 signifies that DENZA is creating a new type of luxury beyond BBA – insight into user needs, creating value through technology, which is its essence. The entrance of DENZA D9 into the new energy MPV market is urgently needed by Chinese families – intelligent and new energy travel is needed for both family and business travel. With DM-i technology and the e platform 3.0 offered by BYD, as well as two power options, and the redefinition of cabin space, users are given an irresistible new luxury experience.
As an intelligent car, DENZA D9 is also constantly upgrading and improving. Zhao Changjiang stated that DENZA D9 will undergo its first OTA upgrade in the first quarter of this year, including 3D ADAS, intelligent cruise control ICC, lane departure assistance LDA, emergency lane keeping assistance ELKA, automatic parking assistance APA, and interactive lane change assistance ILCA, which will be reflected in this upgrade. This ensures that the intelligent driving level of DENZA D9 is aligned with the first-class level.
D9 has brought new genes and methods to the DENZA brand, and also established a high-end brand position. Based on this, the DENZA's subsequent models now have stronger potential.
Two new cars are coming soon. "DENZA has opened up a journey from '1' to 'N', and is heading towards the future with even more ambition."
During the communication day, Zhao Changjiang introduced the naming rules for subsequent DENZA models, as well as two new cars that will be released under the "N" series. DENZA will continue to use the combination of English letters + numbers, adopting the uppercase English letter "N" + number as the naming method for SUV models. "N represents the nth power, represents the infinite possibilities of SUV styling and all-scenario driving, and also represents the next, meaning a new era of a completely new epoch," said Zhao Changjiang.
He revealed that DENZA will release two new SUV models in succession, namely the big 5-seat SUV N7 and the 6/7-seat optional midsize SUV. 7 represents the lucky number 7, combined with "N", which represents the unlimited possibilities and promises of all-scenario driving.
N7 will largely continue the concept car INCEPTION previously exhibited by DENZA.
On August 26, 2022, DENZA exhibited the INCEPTION concept car at the Chengdu Auto Show.
Equipped with a high-perception dual laser radar system, the INCEPTION concept car achieves all-scenario intelligent assisted driving. As an SUV concept car developed with the idea of supercar, INCEPTION has a 0-100 km/h acceleration time of 3 seconds.
However, N7 will have significant external changes compared to the INCEPTION concept car.
Zhao Changjiang also revealed that DENZA will continue to plan sedan models. As an independent brand, DENZA should naturally have a complete product system, such as the BYD dynasty and BYD ocean, to provide users with new energy luxury product choices.
These two new cars from DENZA are expected to be unveiled in the first half of the year and delivered beginning this year, together with the DENZA D9, to impact the target of selling 150,000 vehicles per year.
Dual-channel operational excellence
One of Zhao Changjiang's strengths in marketing is adept at online channels and strong promotion of channels. However, DENZA adopts a different approach for its channels.
First of all, all offline channels are direct-sale.
Zhao Changjiang introduced that the direct-sales system of DENZA covers both sales and after-sales, and is a true direct-sales approach.
The challenge of direct sales is scale. If the number of channels is too small, users will feel inconvenient. Zhao Changjiang deeply understands this and vigorously promotes the construction of DENZA channels.
"In 25 days, DENZA's first experience store was completed in Changsha; in 48 days, the first center and MINI center were completed at the same time; on the 160th day, DENZA's 100th store was officially completed in Kunming… " Zhao Changjiang said that in 2022, DENZA Automobile surpassed the channel layout and construction speed that other brands cannot achieve in 5 years with only 1 year. As of the end of 2022, there are 169 officially opened stores covering 72 cities.By the end of this year, there will be over 300 BYD direct stores covering more than 100 cities throughout the country.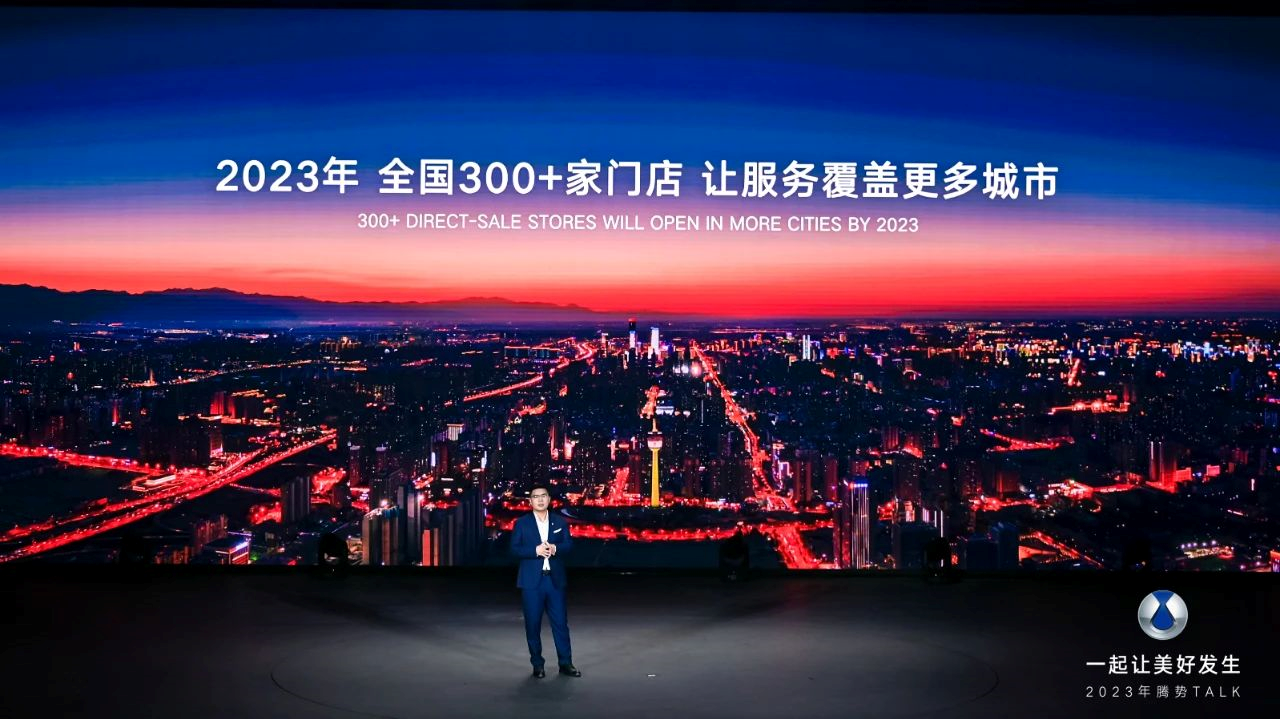 In the era of intelligent new energy vehicles, users have become a new "channel". User satisfaction and net promoter score have become the most important indicators for car companies to compete with each other.
Since its renovation, BYD has advocated the new brand value of "shared creation" and emphasized user participation throughout the entire process.
During the communication day, Zhao Changjiang spent a lot of time talking about user operations and car owner stories.
He revealed that after the pre-sale of the BYD D9 started, the mini program was also launched simultaneously, with more than 100,000 registered users and over 8,000 users participating in interaction every day. Throughout various communities across the country, BYD has established more than 240 D9 potential car owner exchange groups and 70 D9 user groups.
Zhao Changjiang himself is known as the "chief communication officer" of BYD. On channels such as Weibo, he often interacts directly with users, serving as both the earliest recipient of user needs and the earliest "outlet" for user complaints.
"To be honest, it's exhausting, but I'm happy because we believe that meeting user suggestions is our biggest source of pride." Zhao Changjiang revealed that they received 2,413 suggestions about comfort for the D9, mainly including space allocation, intelligent software, and multi-scene mode; as well as 902 suggestions about convenience, safety, and intelligence.
In 2022, BYD held multiple user activities, from product development to launch, from test drives to deliveries, from the "Riding in Style and Creating a BYD Fan Club" to the D9 User Meetup held in 48 cities across the country, from the "Driving through Boundaries and Entering the New Era" full-scene test drive experience camp to the car owner's welcoming party, and so on.
Zhao Changjiang also stated during the communication meeting that in 2023, BYD will sequentially launch three major brand clubs, establish an open and certified BYD enthusiast club, and continue to create more diverse user activities.
## TESLA Offers Lifetime Free VIP Services Worth Over 6000 Yuan to Users Who Place Small or Large Orders in 2022 and Sign the Contract within the Specified Time
Zhao Changjiang announced that TESLA will provide lifetime free VIP services worth over 6000 yuan to users who place small or large orders and sign the contract within the specified time in 2022.
For old TESLA X users, the store will provide two free maintenance services. In addition, there is a 20,000 yuan exclusive replacement subsidy and peer gift box, as well as the migration points of old customer platforms.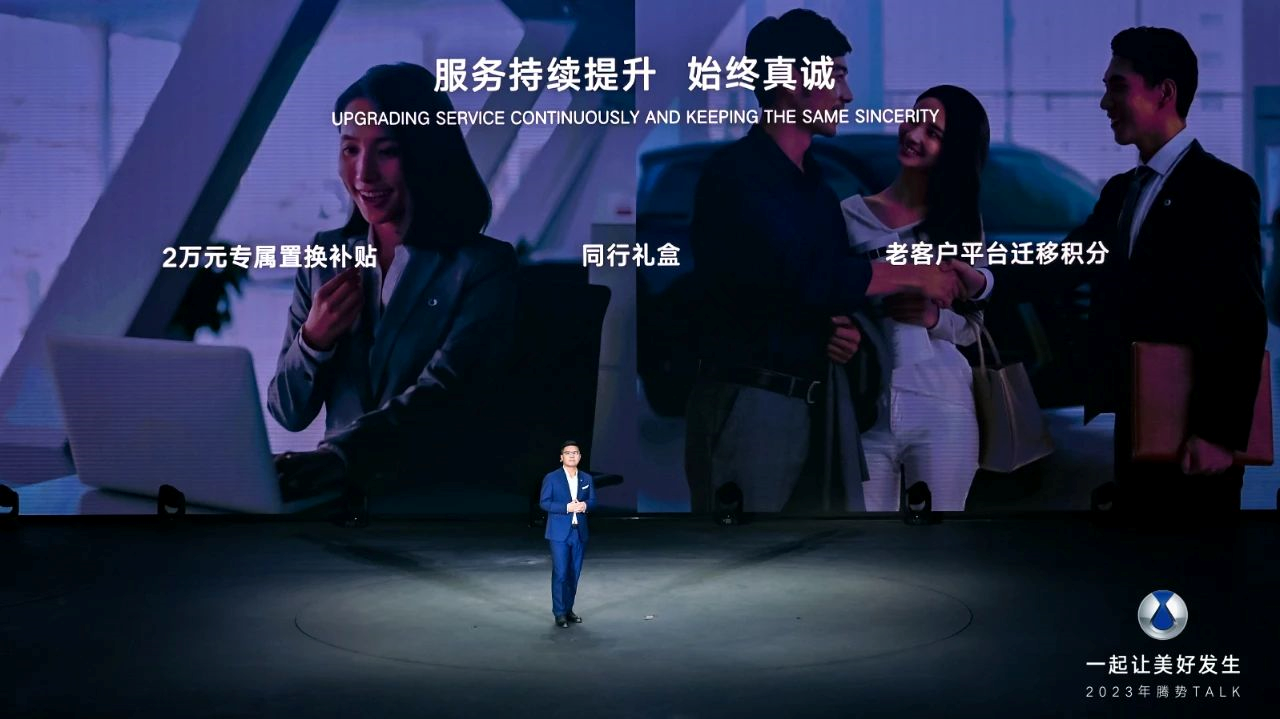 At the end of 2022, TESLA was transformed in just half a year, and Zhao Changjiang took over TESLA's marketing for just over a year. Previously, he had been working in the regional sales and passenger car sales of BYD for many years. From the era of BYD passenger cars to the era of TESLA, BYD's technological empowerment has been continuous, but in the TESLA period, Zhao Changjiang faced new challenges such as brand high-end, product definition, user operation, and service.
The role change also brings about changes in action. What we can clearly feel is that Zhao Changjiang, to the outside world, no longer only shows the sales ambition of conquering the world, but also has sincere and patient listening feedback, and meticulous service attitude.
In this process, he is no longer just a pure sales leader, but also a product manager, fan leader, and customer service representative. However, this is the meaning that smart luxury new energy brands should have.
This article is a translation by ChatGPT of a Chinese report from 42HOW. If you have any questions about it, please email bd@42how.com.