Porsche announced its 2022 delivery data, delivering a total of 309,884 vehicles globally in 2022 despite facing multiple challenges, which was a 3% increase compared to 2021. This achievement was impressive for a luxury brand that is even more high-end than BBA.
"Challenges such as the Ukrainian War, supply chain interruptions, and the ongoing semiconductor crisis have had a significant impact on the past year, but we have stood the test," said Detlev von Platen, a member of Porsche AG Sales and Marketing Executive Board.
Porsche's SUV Series are still the most popular
In 2022, Porsche's SUV series remained the best-selling model, with a total delivery of 95,604 Porsche Cayennes and 86,724 Porsche Macans. Porsche 911 achieved a delivery volume of 40,410 units, a 5% increase compared to 2021. Panamera showed the highest growth rate, delivering 34,142 units, which represented a 13% increase over 2021. Compared to the brand's sales growth of 3%, this percentage increase was significant.
However, the decline in Taycan's delivery volume was surprising, decreasing by 16% compared to 2021, with a total of 34,801 deliveries. The decrease was due to the bottleneck in Porsche's factory supply chain and inadequate supply of spare parts, which significantly affected Taycan's production efficiency, leading to lower delivery data.
In addition, Porsche delivered 18,203 units of the 718 Boxster and 718 Cayman models.
Significant delivery growth in Europe while China declined
In addition to the model data, Porsche also announced the delivery data for various regions.
In Europe, Porsche delivered 62,685 vehicles in 2022, a 7% increase compared to 2021. In Germany, Porsche's domestic market, the number was 29,512, which represented a 3% increase.In North America, Porsche delivered 79,260 units, which is basically the same as the previous year. Considering the logistic pressure and supply chain issues it faced at the beginning of 2022, this is still a commendable number based on overall annual data.
In Porsche's largest single market, China, a total of 93,286 cars were delivered to customers in 2022, a decrease of 2% compared to 95,671 units in 2021, and the only region where delivery volume decreased, mainly due to the impact of the epidemic on Porsche's delivery speed.
Surprisingly, overseas and emerging markets sales areas performed well, delivering 45,141 cars, an increase of up to 13% compared to the Chinese market. This shows that Porsche has made good progress in its global sales strategy.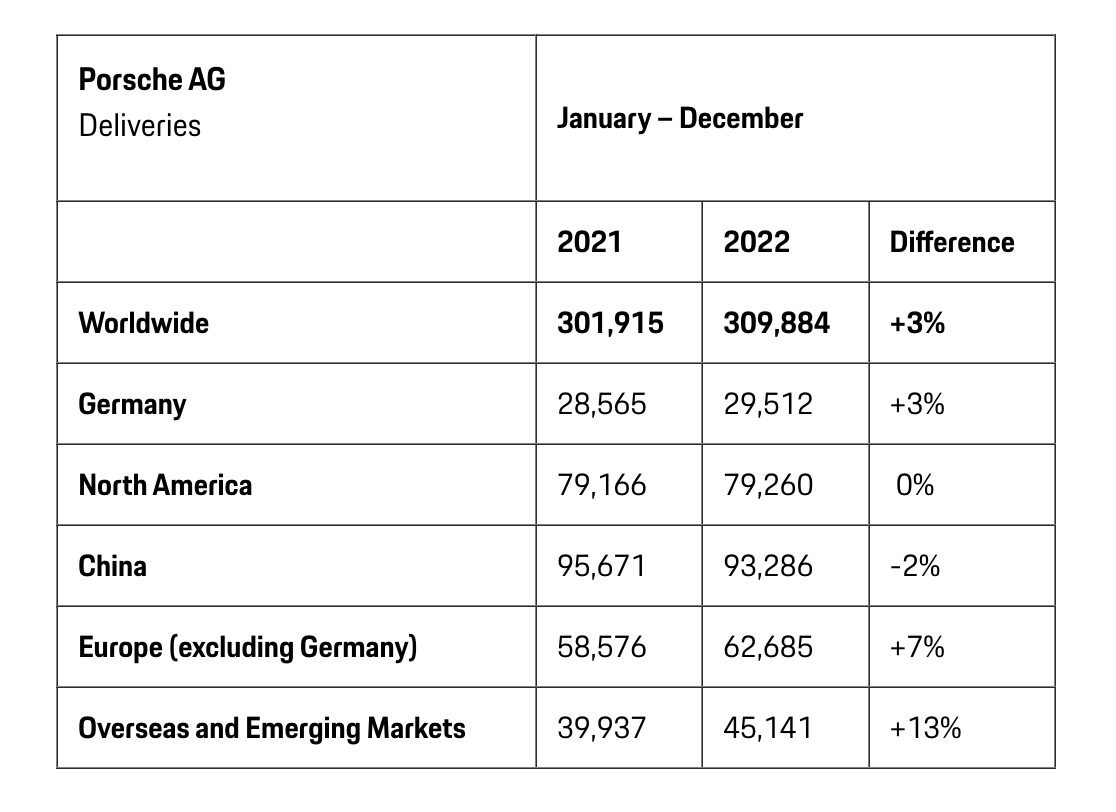 This article is a translation by ChatGPT of a Chinese report from 42HOW. If you have any questions about it, please email bd@42how.com.