On January 12, 2023, ZHENGZHOU ZEWO NEW ENERGY VEHICLE CO., LTD. (Lingzhi) held a media forum on the theme of "sincerity, openness, and co-creation" for the company's overall self-research. The attendees included CEO Zhu Jiangming, who was in charge of the battery architecture, Song Yin-ing, in charge of the electric drive architecture, Wu Cun, in charge of the overall vehicle architecture, Cao Li. It also included Wang Yaonong, who was in charge of intelligent driving.
This forum will also demonstrate Lingzhi's core competencies in 2023 in terms of technology, new products, and the market.
New Products
Q: 2023 may be a year of the SUV boom. What are the plans for the B-series new car next year?
Zhu Jiangming: Our B-series will also have various models such as 5-seaters, 6-seaters, and so on, which are also worth looking forward to. The B-series products we are releasing in the second half of the year hope to use the latest generation of Lingzhi technology. The B-series products are born from a new architecture and will be worth the wait in terms of batteries, electric drives, central domain control, electric control, intelligent cabin, and intelligent driving.
Q: The new platform model will have a revolutionary upgrade in ACC. What specific changes will it have?
Zhu Jiangming: In autonomous driving, we will create some standout features. Before ACC's official launch, we won't say more about what we want to do. We hope our team can present a bright ACC at the B11 launch, and we're currently in the confidential stage.
Q: When other car companies are working hard to control battery costs for range extenders, why is Lingzhi still pursuing large battery solutions?
Zhu Jiangming: For example, BYD's DM-i has a low entry price for the small battery version. It doesn't offer good long-term performance. With a range of less than 100 kilometers, it's not practical.
Therefore, we believe that at least we need to get close to 200 kilometers. We have two versions: 285 km, and 170 km, which the user can choose. But we believe that a longer-range version is more practical overall.>Q: Around when will the push of high-end assisted driving for the current model be available?
Wang Yaonong: The time point should be around June 2023. We will upgrade the existing functions based on user feedback, including the highly anticipated highway navigation assistance function. Currently, the limit of the Lingyuan 01 chip may only be limited to highway navigation, and it may not be feasible for city-level navigation.
Technology
Q: Zero Run is about to launch a 25,000 rpm motor that supports 800 V-1,000 V voltage. Will it use flat wire winding?
Wu Cun: Flat wire technology is definitely required for the 25,000 rpm electric drive. As for whether it will use 6 layers, 8 layers, or 10 layers, we have already applied for related flat wire combination technology patents. Because this product involves infrastructure, we cannot reveal too much right now. You can look forward to our technology launch event at the end of the second quarter.
The electric drive of our B platform, which we will release this year, is lighter in weight, but has better efficiency, noise, and reliability. The core improvement lies in lubrication and cooling technology. The heat exchange efficiency of our B platform electric drive will be 20%-30% higher than that of the first generation oil-cooled electric drive.
Q: Is evaluating energy density as a core indicator of integration disadvantageous to CTC?
Song Yining: When we made the announcement at the Ministry of Industry and Information Technology, because it was non-packaging of batteries, it was different from everyone else. In fact, if our battery pack is separated from the entire vehicle, it cannot be tested. So we cut the entire unit and added dozens of kilograms to it to measure energy density.
Q: What are Zero Run's considerations for the internal combustion engine in the extended-range of the All-area self-developed system?
Zhu Jiangming: Because we cannot make engines anymore, and the production capacity for that is already very excessive, it is certainly not possible to invest in this. We are still looking for more cooperation. Our current generator is developed by ourselves, and all we need is an engine. Now, in addition to Dong'an, several other companies are in designated cooperation with us.
Market
Q: How can self-developed modules truly translate into user value or market competitiveness?
Zhu Jiangming: We hope that every self-developed module has competitiveness. If I have no advantage in terms of cost, performance, reliability, etc., why bother self-developing it? It's just asking for trouble!
But this must have a process. On this most difficult road, we will definitely persist and have already seen the light at the end of the tunnel. Each module is better than the previous one, and we have to correct our shortcomings. It's a clear path, and it's through our all-area self-development.反之,我们确实也有很多不足,但也有很多进步,I have at least reached the first echelon, and I have spent much less money than other new players have spent. Even if I add up their financial statements over the years, I have not even reached half of their money, let alone 1/4. However, the core technology we have developed and the sales we have achieved make Zero run a success from this perspective.
Q: When did Zero run start using this kind of Amoeba operating mode, such as independent settlement between teams? How do you consider this issue?
At the beginning of 2023, we adjusted the entire Zero run architecture, the three parts of the product line are independently accounted for, from R&D to delivery end-to-end, warehouse, finance, HR are all independently accounted for in the form of Amoeba, hoping that each unit will be competitive and become the long board of the company rather than the short board.
From the current virtual situation, our battery department has already made billions of profits because of its high price. 48% of the entire car BOM is the battery, which has a 10% gross margin and 6-7 billion in sales, which is a profit of 600-700 million. It was the first department to be profitable in 2022. The electric drive may be slightly unprofitable, but it has supplied 110,000 units, and I believe there will be more than 200,000 units in 2023, which will definitely be profitable. The electronics department remains stable with at least 100,000 units. I believe that our three departments can be balanced compared to outsourcing.
Of course, in order to do OTA, to do platforms, and to do vehicle system software adaptations, we need several hundred people. The 800-person team of intelligent driving, intelligent cockpit, and domain control all need to be efficient to compete. Self-researching can bring these efficiencies.
Q: Cost-effective is a double-edged sword for brands. Will it affect the development of high-end products in the later stage?
Zhu Jiangming: From a brand perspective, Zero run is very clear, we are based on cost pricing, not brand pricing. Originally, some car companies had some cases that were not very successful. I think if I can create a better brand, I can add a premium, and it may not necessarily sell well.
I want to create a brand like UNIQLO, but my products will definitely not be inferior. From materials to workmanship, to shopping environment, to service, I want to achieve an unprecedented height, but what I need is scale.
I position myself as serving the public, making products seriously, working hard to reduce costs, improve product performance and functionality, so that everyone can buy cost-effective products. This is Zero run's positioning, nothing else.> Q: Should market competition be more comprehensive product strength, rather than one particular point that stands out? How does Leapmotor consider this?
Zhu Jiangming: At this stage, everyone may feel that intelligent driving and intelligent cockpit are similar. We believe that this is an important part where Leapmotor will exert its force in the future to surpass competitors. This is what we will strive for in the future. Competition is indeed fierce, but first of all, we must see hope.
We have also adopted many strategies and measures, and we will launch many competitive things to seize the market in March next year.
Q: Besides technical selling points, does Leapmotor have any other selling points to attract users and markets in its future market planning?
Zhu Jiangming: We will strengthen our service in 2023. In 2023, we will increase more outlets while enhancing these capabilities. We also always feel that user recommendation and satisfaction are very important. This will be the main assessment criteria for our entire service team and product team in 2023. Ultimately, there will be a process of quantitative change to qualitative change.
Q: Have you considered expanding to the north in terms of marketing?
Zhu Jiangming: We use a dual-power architecture. For future product releases, we will simultaneously develop our extended range and pure electric series. Original models like C11 and C01 will also have extended range versions. In February, we will also announce our entire range of extended range strategies, including the launch of extended range products.
This is more conducive to meeting the needs of the north. It can satisfy the time period when the north is particularly cold with fossil fuels as the dominant energy source and has better experience and overall economy. This is the direction of our entire Leapmotor in the future.
Q: Recently, Tesla has launched another round of price reductions, plus BYD's Seagull. How will Leapmotor deal with the attack?
Zhu Jiangming: In early March, Leapmotor will restart and announce the prices and configurations of all our 2023 models. I hope you can look forward to it and be satisfied with our products that are still the king of value.
Conclusion
In 2023, Leapmotor will embark on its extended range product line. In addition to the extended range version of C11 and C01, there will also be 23 regular models. Leapmotor claims that the 2023 C11, whether it is chassis control, infotainment function, overall performance, has greatly improved.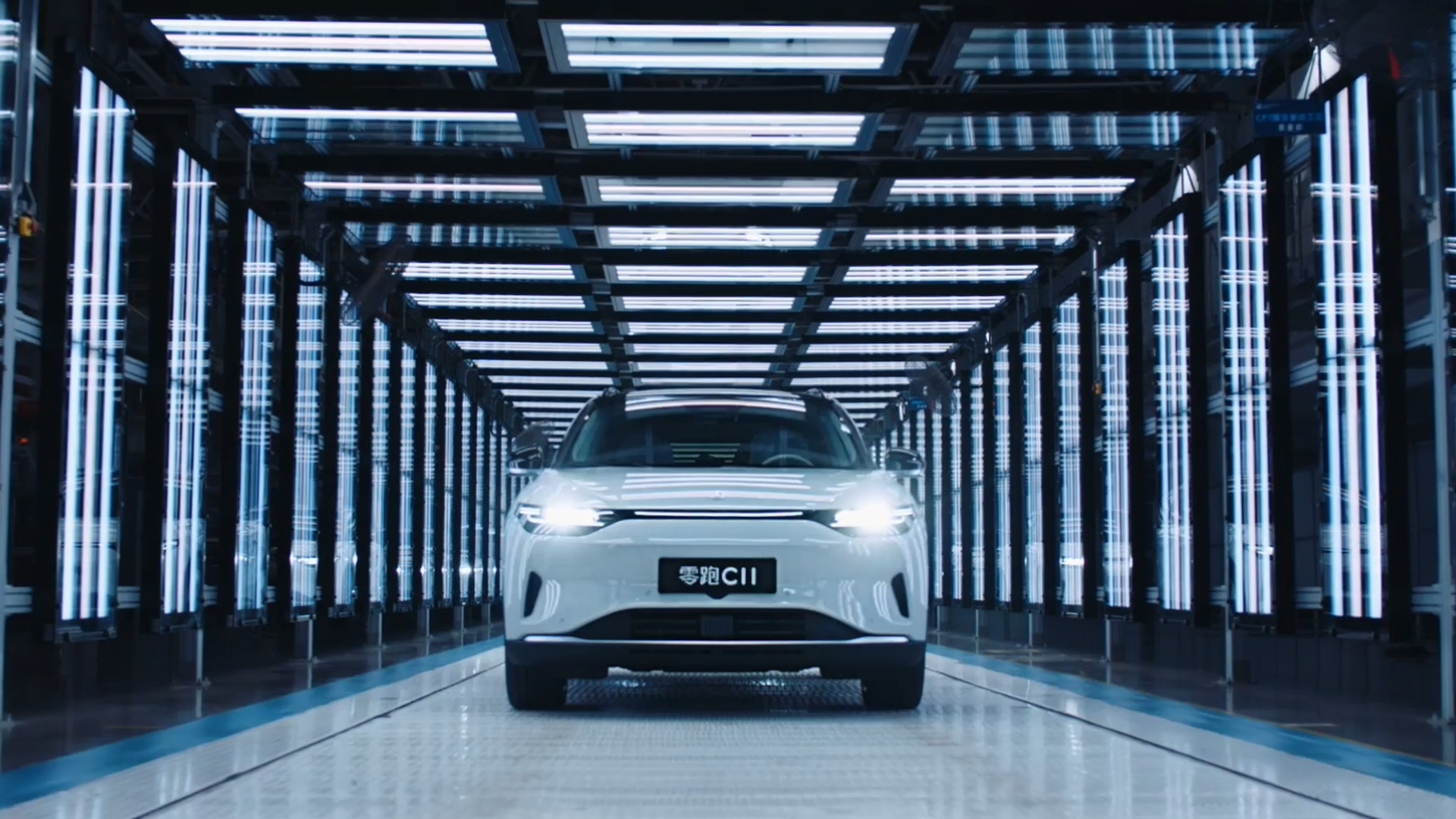 In addition, the pure electric models of B platform have adopted CTC 2.0, a brand new generation of oil-cooled electric drive, a brand new central electronic architecture, including the whole vehicle system centered on 8295 and innovative driver assistance.
Although at present, zero run has not set a clear sales target for its new products, we can still see that zero run still has great confidence in the extended range and new cars of B platform.
However, now everyone is competing in a low-margin and stockpiling market. Zero run's self-developed products can bring advantages, and service system and product highlights have become the focus of zero run's efforts in the next stage, which is also the key to achieving extreme competitiveness for zero run.
Source: Zero Run official website
This article is a translation by ChatGPT of a Chinese report from 42HOW. If you have any questions about it, please email bd@42how.com.