Author: Rezz
The Super Bowl of the global tech industry – International Consumer Electronics Show (CES) 2023, came to a close yesterday.
Although known as a consumer electronics show, CES is not just a technology event in the tech world. Since Ford became the first car company to participate in 2007, CES has become a leading automobile technology event.
This year's CES had 2400 exhibitors (including 480 Chinese exhibitors, accounting for 20%), and in addition to IT giants such as Qualcomm, AMD, LG, and Sony, automotive and supplier giants such as Mercedes-Benz, BMW, Volvo, Volkswagen, Honda, Peugeot, and Hyundai (275 in total) also brought cutting-edge product technology.
In fact, over half of the press conferences at this year's CES were in the field of transportation, and the CEOs of BMW and Stellantis Group were even invited as guests to give exclusive speeches at the themed forum, showing the high level of attention paid to smart cars.
If we were to summarize the car companies, the three major German automakers, BBA, would come first:
BMW presented the i Vision Dee emotional interaction concept car;
Audi also showcased the "Experience rides" VR in-car entertainment system developed with Holoride;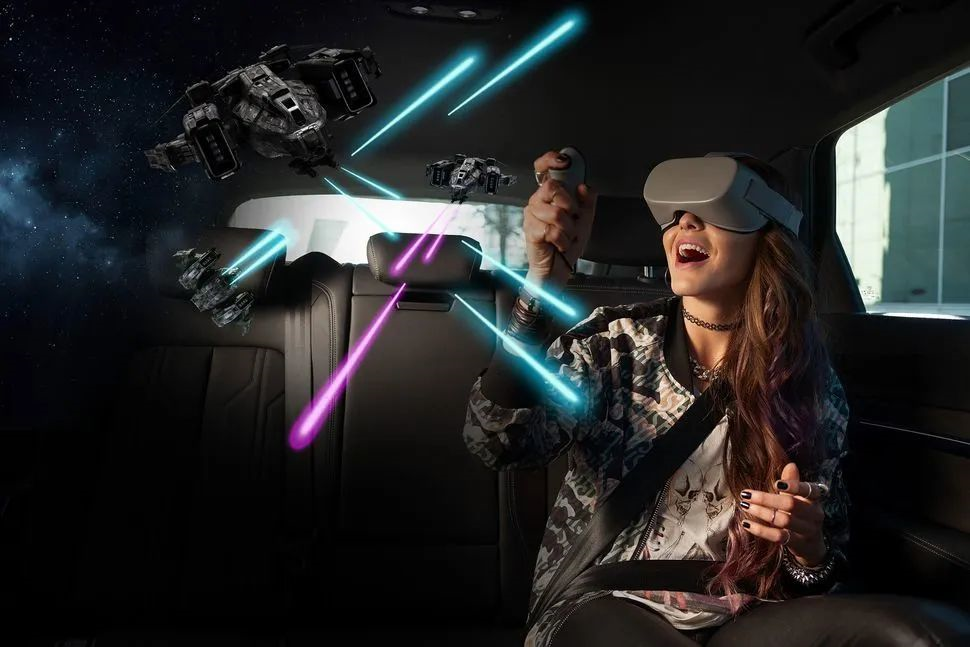 Although Mercedes-Benz did not release any specific models, it brought heavyweight news, that is, to build a high-power charging network worldwide, which is bound to match its luxury experience identity.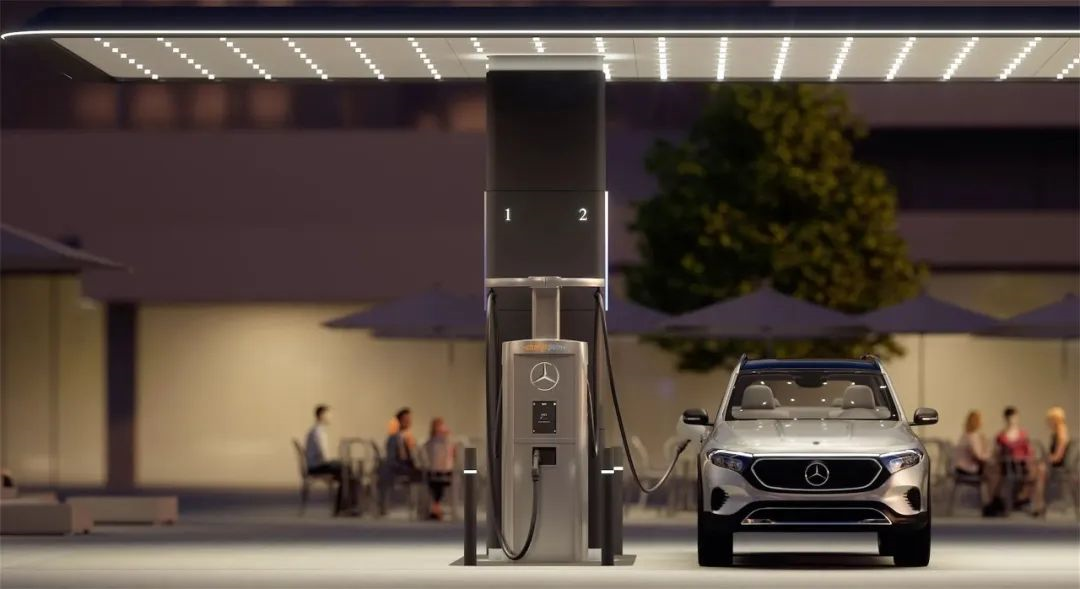 In addition, Sony Honda's new car AFEELA, Volvo EX90, Volkswagen ID7, and Peugeot and Dodge's concept electric vehicles have also appeared one after another.
Interestingly, FF (Faraday Future), which has been silent for many years and has not participated in the exhibition, also reappears on the stage this year, does it mean that the day when Jia Yueting returns next week and FF 91 goes into mass production is getting closer and closer?
It is proud that Jike also brought the ZEEKR M-Vision concept car to the CES2023, becoming a force of China at the CES2023.
Unlike automakers, CES, as the world's largest technology event, has always been a great stage for component suppliers to showcase new technologies. Bosch, Continental, ZF, Valeo, Faurecia, NVIDIA, and other giants have focused on the transformation of electric intelligence and showcased intelligent product-related services.
NVIDIA announced a joint venture with Foxconn to develop electric vehicles, and GeForce NOW cloud gaming has landed in BYD, Polestar, and Hyundai;
Bosch released RideCare travel solution, and ZF released ProConnect telematics platform, which can be connected to cloud servers and traffic facilities;
There is also ZF's energy-saving contact-type heating safety belt, which can increase the winter endurance mileage of electric vehicles by 15%.
Bosch's smart products include:
Extra Collision Detection Zone Exploration, the new generation Vehicle Dynamic Control System 2.0, intelligent Cockpit Domain Controller, Long-Distance LiDAR for L4 Autonomous Driving, In-Car Monitoring System, eAxle Electric Bridge System, and intelligent portable charging service.


Continental Group focused on showcasing two sustainable tire models, a panoramic head-up display (HUD), specially designed modules and sensors to support the new type of high-powered electric vehicles.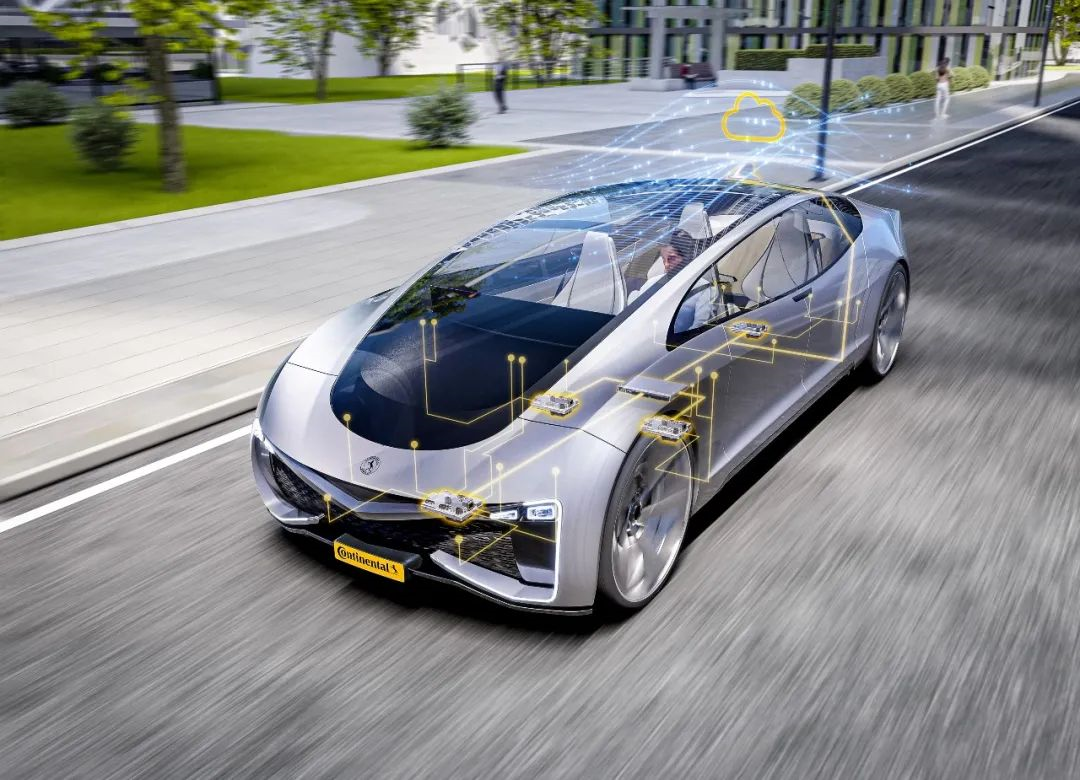 Additionally, the Continental Group integrated the CV3 series artificial intelligence chip from Ambarella Semiconductor into its ADAS Solutions.
Faurecia's solution Pantomime, which applies algorithms to identify weak road users' movements, such as cyclists, made its debut.
Valeo exhibited its combined technology with Hella, including hydrogen storage systems, high-pressure electric vehicle power and thermal management technology, dynamic lighting, and intelligent Lumieres cockpit.
There are also Magna's bendable car body, Toyota Textile's MX221, MOOX Concept Cockpit, etc., which all indicate the direction of the automotive industry in the future.
LG
For the first time, LG Display set up a dedicated exhibition hall for car displays, showcasing next-generation automotive displays to global auto parts manufacturers and customers. It features core technologies such as plastic OLED (P-OLED) and LTPS LCD, with large size, low power consumption, high brightness, differentiated design, and other characteristics.
The P-OLED panel adopts a flexible plastic substrate instead of the glass substrate previously used, which can present excellent picture quality while achieving a more ergonomic curved design with its lightweight and bendable characteristics.
Among the current LCD panels, LTPS LCD has an unparalleled advantage in large size and high resolution.
In addition, LG Display showcased a naked eye 3D dashboard, angle control technology, and a car audio solution that won the CES 2023 Innovation Award to enhance the in-car entertainment experience.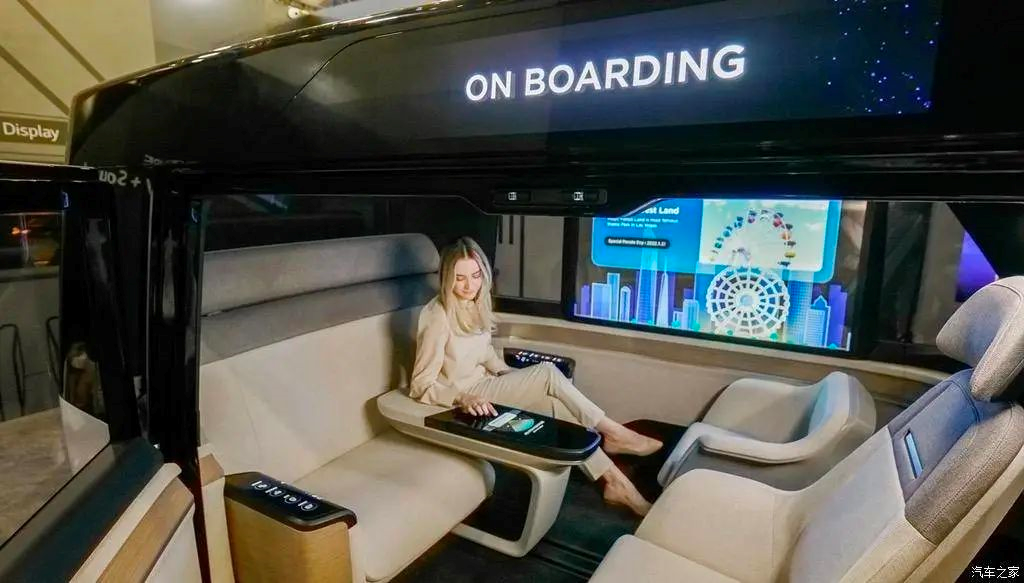 This solution is an exclusive film-based exciter developed by LG Display, built into display panels or various automotive interior materials, acting as a vibration plate to emit sound while remaining invisible, and presenting ultra-high sound quality.
smart and Ecarx
Backed by Geely, the automotive intelligent tech start-up Ecarx, which went public half a month ago, has completely achieved "weaning" on the financing level.
During this CES, Ecarx joined forces with smart to launch a flagship immersive automotive intelligent cockpit computing platform powered by AMD technology.
The next-generation intelligent cockpit car computing platform will be deployed on smart's pure electric vehicle model slated for launch in 2024. It is the first car computing platform designed and developed by Ecarx based on AMD technology, following their global strategic cooperation announced by Ecarx and AMD in August 2022.
Using AMD Ryzen™ V2000 Processor and AMD Radeon™ RX 6000 Series GPU, provides leading computation power and gaming console level visual image rendering capability.
Visteon
As the automotive industry continues to develop towards electrification, connectivity and software-defined, Visteon follows the trend of the times, especially digital cockpit technology.
Visteon is trying to create a complete cockpit solution by leveraging the latest chip technology and visual function integration to realize car digitization.
This display solution creates an immersive user experience, integrating consumer technology, active privacy, and readability in sunlight.
At the same time, the power consumption is extremely low. These features are reflected in Visteon's Lightscape panorama screen and Command & Control display, which won the CES Innovation Award this year.
Lightscape panoramic screen is a multi-screen from A-pillar to A-pillar, which can achieve excellent image quality and interaction;
Command & Control command and control display is a driver-centric, technologically advanced display concept that integrates the lower display screen with the surrounding material when the display screen is not working. When the user's hand approaches, it wakes up and transforms into a fully reconfigurable display surface;
One-watt display screen provides higher display perception quality and saves power;
Active Privacy technology restricts the driver's distraction to the cockpit content, and is compatible with the content management system;
TrueColor image enhancement technology can dynamically adjust the screen image to improve the image quality, overcome brightness and glare, and improve the readability of safety information;
SmartCore cockpit platform architecture represents the transformation of electric vehicle architecture to a computing platform, with various chip options, equipped with driver and surround-view monitoring to improve safety, adaptive and personalized user interface, multi-screen entertainment and games, and AI-based voice assistants and enhanced reality navigation functions.# AllGo Connected Services
AllGo Connected Services provide a cloud-based software service including software OTA updates, subscription management, and an automotive application store.
Hesai
Hesai Technology showcased its FT120 solid-state LiDAR for ADAS applications at CES, featuring solid-state and wide-angle characteristics. This LiDAR is the masterwork of Hesai's chip-making technology accumulation for years.
As a genuinely solid-state LiDAR solution, FT120 contains no moving components. All the functions of laser transmission and reception are accomplished through chips, which improves the product's reliability, manufacturing efficiency, and production consistency, which is tailored for large-scale production of OEMs.
FT120 carries Hesai's solid-state electronic scanning technology (E-Scanning), enabling a single chip to integrate an array of tens of thousands of laser channels.
Based on the chip-based integrated construction, FT120 has excellent performance and a compact size, making it flexible to fit into the vehicle's styling based on clients' requirements. As a short-range blind spot filling LiDAR, FT120 can form a complete VLS LiDAR solution with the long-range semi-solid AT128.
Worth noting is that Hesai has already delivered over 100,000 LiDAR sensors, earning the well-deserved title of the "Delivery King" in the global automotive LiDAR industry in 2022.
Qualcomm
When both autonomous driving and intelligent cabins become automotive necessities, how many SoCs are needed?
Qualcomm confidently answers that one is better than eight.
Qualcomm, the leading chipset maker for vehicles, brought a concept vehicle to showcase its Snapdragon Ride platform's digital chassis solution, indicating how the platform integrates various companies' technologies."`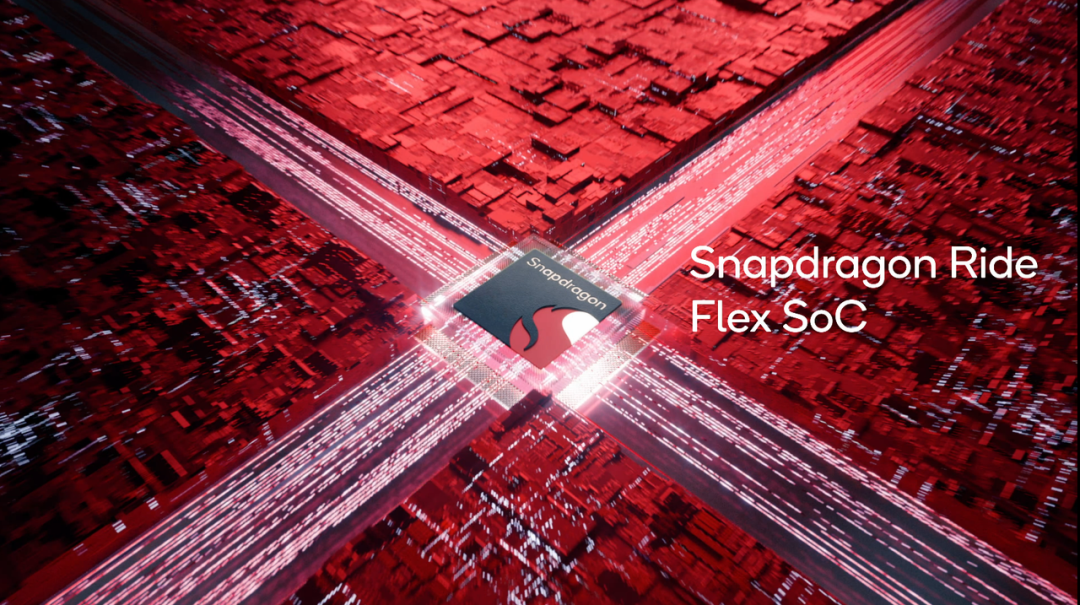 By leveraging Qualcomm Snapdragon Digital Chassis, the Qualcomm Vehicle-to-Cloud (V2C) service platform, and the Snapdragon Ride Flex System-on-Chip (SoC), automakers can extend these experiences across multiple levels of their product portfolio and provide OTA updates.
Snapdragon Ride Flex SoC supports digital cockpit, ADAS, and AD in a single SoC, with a stronger emphasis on software-defined compared to its predecessor.
The smart cabin provides rich personalized services. The vehicle can recognize each passenger and automatically adjust the cabin based on individual settings, such as seat position and air conditioning temperature. At the same time, the most recently used applications and favorite entertainment content are displayed on the corresponding screen.
Under the integrated face and biometric recognition, traffic payment functions can be easily realized. There are also highlights in interactive assistance, where each passenger can adjust the seat, play music, or complete payment through a dialogue-style virtual assistant working in the specific audio area inside the vehicle.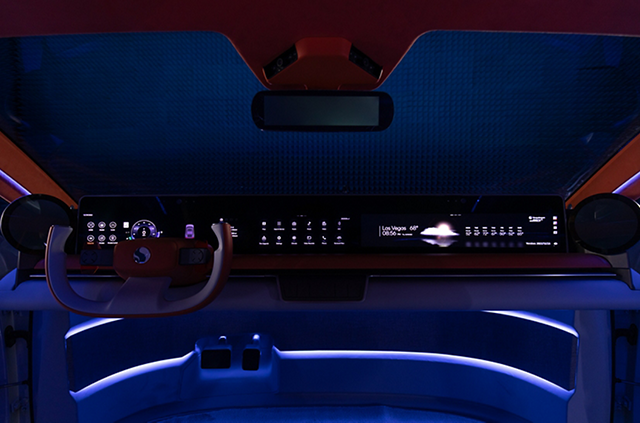 The front row of the vehicle is equipped with a 55-inch display and 5G network, and the rear row also has a display with graphic image enhancement function, optimizing the visual experience.
In addition, real-time 3D maps and location services will be supported, which lays the foundation for better driving assistance; when an accident occurs, the situation around the vehicle will be recorded and saved to the cloud, providing convenience for accident handling.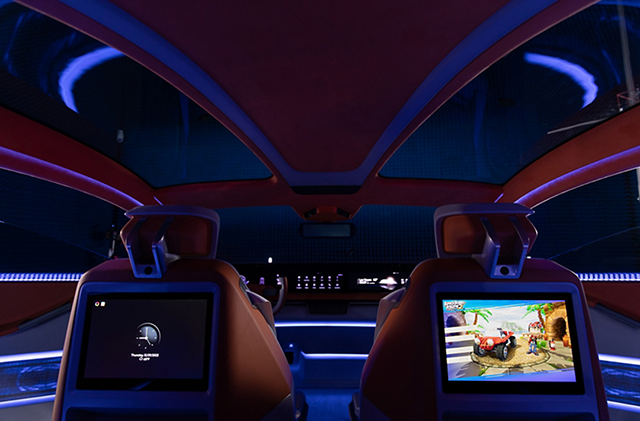 "`### Key Words
Overall, this is the grandest tech "Spring Festival Gala" since the outbreak of the pandemic. Not only did the world's first fully automated driving bus from the German auto parts supplier, Bosch, that meets recognized standards make its debut, but also in terms of in-car gaming experience, BYD, which has always been focused on the three-electric system and "simplicity is the ultimate sophistication" for car entertainment, surprisingly displayed a car with NVIDIA GeForce NOW cloud gaming service. During parking or charging, users can run cloud games without having to wait for the entire file to download to the system.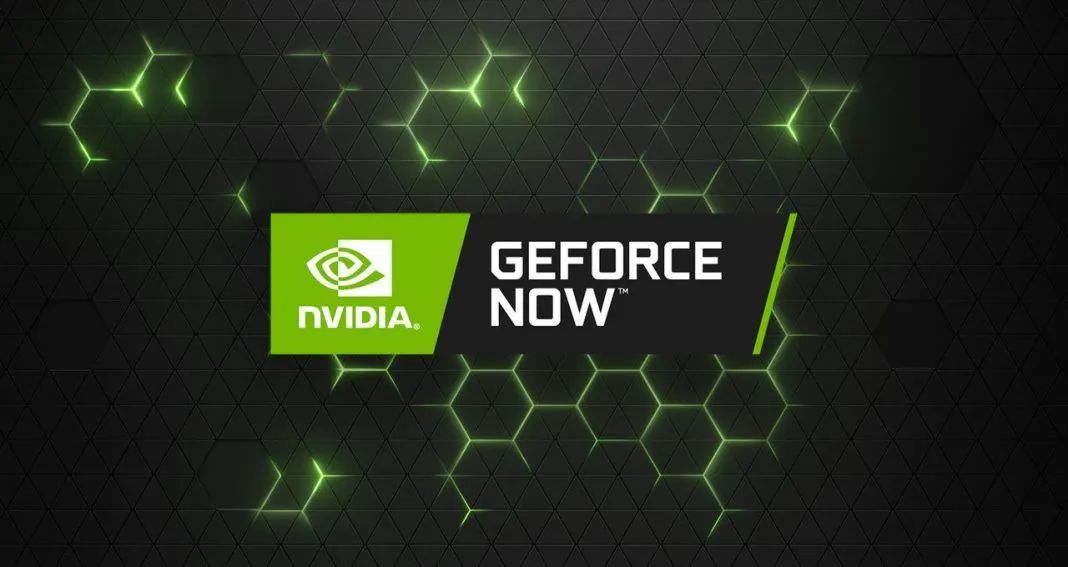 The wave of autonomous driving has not faded away, but rather the trend has become more practical. The shuttle bus for unmanned driving has once again become a hit at CES.
Volkswagen and BMW have redefined digitalization and emotional interaction inside and outside the car; this year may still be the eve of the outbreak of lidar, and the interaction experience between the in-car cabin and the exterior car light has taken another step forward, but the most important keyword is still "software-defined car."
At every CES, we can see products aimed at the future, which bring us more convenience for our future travel and life.
As in previous years, the technology of the automotive industry is still the focus of the 2023 CES, whether it is Volkswagen's first flagship model ID.7, or BMW's global debut of the i Vision Dee concept car, or BYD's use of NVIDIA GeForce NOW cloud gaming service technology.
Without exception, all of these are closely related to "software first," "electric intelligence," and "meta-universe emotional interaction."
Any automaker or manufacturer hopes to occupy the high ground of future technology first, but ultimately, the final beneficiaries of the Consumer Electronics Show are still us, the vast consumers. We hope to see more Chinese manufacturers participating in the exhibition to make China's innovation and manufacturing reputation spread far and wide.# 汽车保养方法指南
常见问题
如何保养发动机?
答:使用高质量的机油,定期更换机油和机油滤清器,保持空气滤清器干净。
如何保养轮胎?
答:定期检查气压和轮胎磨损程度,轮胎磨损过度时及时更换。
如何保养车身?
答:定期清洗和打蜡,避免长时间暴露在阳光下或恶劣的天气条件下。
排放标准
根据环保要求,我们的车辆满足国家 V 排放标准,这意味着它们比旧车更加环保,减少了排放物的排放。
This article is a translation by ChatGPT of a Chinese report from 42HOW. If you have any questions about it, please email bd@42how.com.