Author: Jaz
The global automotive industry is undergoing a major transformation that has not been seen in a century, and is taking giant strides into the era of intelligent automobiles.
The first half of this era of change is electrification, followed by the second half of intelligence.
At the 20th Guangzhou International Auto Exhibition, this change was evident at first sight.
Last week, more than 65 automotive brands gathered at the Guangzhou Auto Show. It can be seen that gasoline-powered and electric-powered cars are no longer the standard for distinguishing cars. Instead, the ability of automotive electrification and the level of intelligence are the new standards.
Joint venture brands and domestic independent brands no longer emphasize "new energy," but are competing around the two core parts of intelligent cabin and automated driving.
The Guangzhou Auto Show is being held at the intersection of 2022 and 2023, which is the final battle and a new begining for car manufacturers.
Although Baidu has not set up an independent booth, it is "everywhere."
It is reported that during the Guangzhou Auto Show, almost 100 models collaborating with Baidu Apollo appeared, including Tank 500, GAC Aion V Plus, LX Plus, Ora Lightning Cat, Lynk & Co 09 and other models that have installed Baidu Apollo's automotive intelligent solutions.
However, the culmination of the Baidu Apollo high-level intelligent driving system still depends on Jidu.
On December 30th, Jidu ROBO-01 and ROBO-02, both of which applied Baidu Apollo's high-level intelligent driving capabilities, appeared at the auto show, and both made their offline debut.
The Future of Intelligent Automobiles
The goals of Jidu towards intelligentization are very clear. Xia Yiping made it clear at the auto show:
"Our goal for Jidu's entry into the game is not to compare electric motors and batteries with others in electrification. What we want to do is to make full use of the existing intelligent capabilities of cars with intelligent systems. That's why we think Jidu's entry time is just right."
Timing is crucial for automobile intelligence, as the road to automobile intelligence cannot be rushed or delayed. Being too hasty may compromise quality, while being too slow may result in the loss of home-field advantage.
Jidu is the concentration of Baidu Apollo's technology capability, but searching for it within Baidu, we find that Baidu's ambition in the automobile industry is even greater:
To become the new professional local Tier1 required by automobile intelligence, and to enter the intelligent automobile mass production competition field with leading products in "Driving, Cabin, and Map," thus helping China's automobile industry go beyond the curve.
In the face of the intelligent wave, many automakers are developing their own intelligent driving one by one, but high R&D thresholds and huge investments make this path difficult.
Not all automakers are suitable for full-stack development of intelligent driving, so teaming up with local Tier 1 intelligent service providers may be the most suitable strategic route for current automakers.
A smart car as a commuting tool should not only be energy-efficient, but also an intelligent mobile space, in which AI drives intelligent work and entertainment into the car.
In the upcoming era of automobile intelligence, AI-driven features such as intelligent driving and smart cabins are gradually becoming a focus of consumer attention.
The story that happened at the intersection of electrification and intelligence will bring three huge changes to the automobile industry.
Firstly, the attention of carmakers will shift from focusing on power to focusing on intelligence. In the past, traditional fuel vehicles focused on engines, gearboxes, and chassis. However, in the intelligent automobile stage, the focus is on intelligent driving systems and smart cabins. The former determines whether the car is smart or not, and how fast it responds, while the latter determines whether the car has a good user experience.
Secondly, the requirements for the driver's driving skills will become more relaxed. With the development of intelligent automobiles, drivers will become more rule-conscious and not just drivers.
Finally, the automobile industry chain will also undergo tremendous changes. In the past, the automobile industry chain was a chain-style transmission structure. Nowadays, traditional supply chains cannot meet the individualized requirements of automakers for intelligent automobiles, and the chain has become a "friend circle". Automakers have also started to develop core chips and components, and Tier1 can accurately meet automakers' needs.With the rapid development of vehicle intelligence, it brings new opportunities for domestic autonomous driving companies represented by Baidu Apollo.
According to International Data Corporation (IDC), the global shipment of autonomous vehicles is expected to reach 50 million units by 2025, while the sales of L2 and above intelligent vehicles in China will exceed 10 million units and the penetration rate of intelligent vehicles will reach 50 percent.
In March 2021, Baidu initiated and Geely strategically invested in Jidu, an intelligent driving startup company, with a focus on "intelligence".
In terms of core intelligent driving, Jidu has concentrated Baidu's intelligent driving technology capabilities through its high-level intelligent driving software and hardware integrated product solution, ANP3.0, which provides safety, familiarity and good experience.
Based on ANP3.0, Baidu and Jidu jointly developed the Jidu Intelligent Driving System for the next generation of intelligent vehicles.
Currently, Jidu is the first to fully apply Apollo's high-level intelligent driving capabilities and safety system, achieving "three-domain fusion" of urban area, high-speed area, and parking area.
Last month, Baidu Apollo released a road test video of ANP3.0 from Baidu Building to Badaling Great Wall on its official website, which basically proved the strength of ANP3.0.
In this road test, the parking, urban, and high-speed scenarios are all available, and ANP3.0-equipped vehicles can achieve a series of functions such as high-speed efficient lane change, tunnel passage, large curvature devil's elbow passage, and autonomous ETC passage.
The video begins with a one-touch parking summon, and the vehicle moves seamlessly from the parking space to the pick-up point.
When encountering delivery vehicles and two-wheeled vehicles on urban roadways, ANP3.0's high dynamic perception and real-time planning capabilities are demonstrated.
Unlike other intelligent driving systems, Baidu ANP3.0 can directly and automatically pass through ETC after entering the highway section, which is the first intelligent driving system to achieve this function in all public road test videos.Meanwhile, during high-speed driving, ANP3.0 can easily avoid and respond to other vehicles' high-speed violations.
According to autohome.com.cn, ANP3.0 of Baidu will be applied on Jidu and other models in mid-2023.
The specific abilities of Baidu ANP3.0 can be experienced on ROBO-01, which will be delivered this year.
Standing on the Shoulders of Giants, Becoming the Benchmark of Intelligent Cars
There is an interesting story about the name of Jidu.
Jidu's name was "thought" out by Baidu's AI algorithm. At that time, Baidu AI provided more than 100 names, and after several rounds of screening, Jidu was chosen.
In addition to highlighting the meaning of cooperating with Geely, the deeper meaning is the "convergence of Baidu's AI capabilities."
Jidu has confidence in becoming the benchmark of intelligent cars, supported by three factors:
Firstly, Jidu has the strong AI capabilities accumulated through the support of Baidu;

Secondly, Jidu's innovative business model aims for mass production in 2023;

Thirdly, Jidu's advanced design language.
Let's talk about the first point. Although established at the beginning of 2021, Jidu can still become a "master" of intelligent driving with the support of Baidu.
Jidu is the first to fully apply Apollo's advanced intelligent driving capabilities and safety system, achieving the integration of the "three domains" of urban, high-speed, and parking scenarios.
Based on users' advanced intelligent driving demands in more scenarios, Jidu and Baidu have jointly re-integrated and developed Apollo's advanced intelligent driving capabilities for more users to enjoy an easier and more pleasant driving experience.
Jidu's practice of advanced autonomous driving capabilities is largely due to the technical innovation capabilities and road-tested data of Baidu Apollo.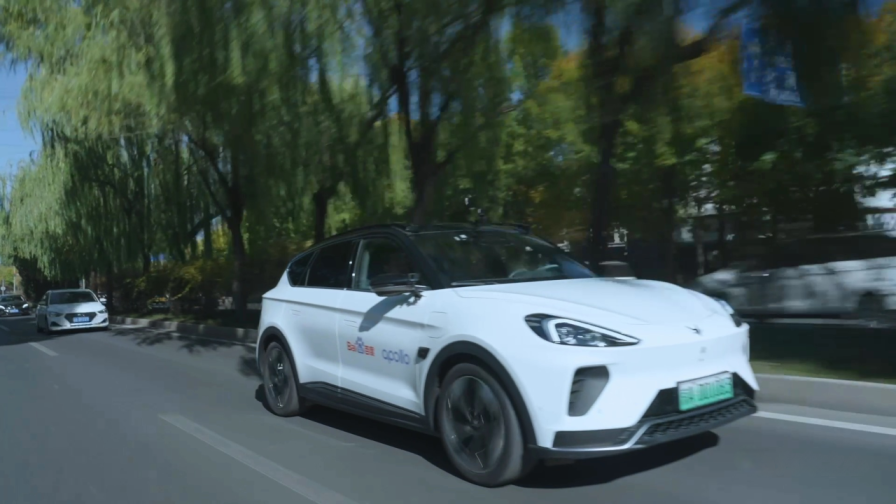 Currently, Baidu has accumulated more than 40 million kilometers of L4 automatic driving operation and testing mileage, 3477 patents of autonomous driving, and has ranked first globally for four consecutive years.In other words, the circumference of the Earth's equator is 40075 kilometers, and Baidu Apollo's testing mileage can already travel more than 1000 laps around the Earth's equator.
As the world's most active open platform for autonomous driving, Baidu Apollo's open-source code has exceeded 750,000 lines of code.
Therefore, it can be said that behind the powerful autonomous driving capability of Baidu Apollo is the code and formulas developed by their research and development engineers, which have been tested through the use of vehicles.
Currently, Baidu Apollo's advanced intelligent driving system is undergoing training in "point-to-point autonomous driving," "driving style simulation," and "commuting route self-learning."
Secondly, Baidu Apollo has innovated the SIMUCar mode which guarantees the reliability and safety of its vehicles while improving the speed of intelligent automotive R&D.
SIMUCar is a software integrated simulation car. Baidu Apollo adjusts the basic electronic and electrical architecture of the chassis system by simulating the traditional car's three-electric and chassis systems in an approach close to the real vehicle environment, and develops intelligent cabins, intelligent driving and other functions in advance.
In simpler terms, Baidu Apollo first develops the most important "brain" of intelligent cars, and then designs the three-electric and chassis systems of the vehicle based on the "brain".
Usually, the R&D cycle of traditional cars is about 5 years, and the shortest R&D cycle for simple structure new energy vehicles without excessive transmission systems can be achieved in 2 years.
However, intelligent cars with a "smart brain" require rich data, rigorous algorithms, and large and small chips and corresponding hardware.
As Baidu Apollo CEO Xia Yiping put it, "Making a car is just the tip of the iceberg; there is not a single easy thing below the iceberg."
Making a car is difficult, and making an intelligent car is even more challenging. Baidu Apollo's goal is to develop innovative intelligent vehicles, and the R&D cycle is naturally full of uncertainties. But Baidu Apollo has achieved efficient development through the innovative SIMUCar mode.
To summarize Baidu Apollo's car development timeline, they have basically maintained a "monthly update speed."
-In March 2021, Baidu Apollo was established, and in June, the team reached 100 people and entered the 3D modeling R&D stage.
-In August 2021, the ROBO-01 vehicle design scheme was determined.
-In December 2021, Baidu Apollo launched SIMUCar.
-In April 2022, Baidu Apollo confirmed its autonomous driving technology solution.- The first car robot, ROBO-01, will be formally released in June 2022.
In 2023, two models will be officially unveiled at the Guangzhou Auto Show. ROBO-01 is about to enter final delivery.
Finally, Jidu has applied advanced design language from appearance to electronic and electrical architecture.
Jidu's self-developed JET electronic and electrical architecture is a fusion of leading intelligent technology and Geely SEA vast architecture. Its function is to connect intelligent driving and intelligent cockpit, support system-level safety redundancy when the intelligent driving system fails.
For example, under the JET architecture, in the extreme case of the intelligent driving of the car failing, the redundant computing power of the intelligent cockpit can take over the driving task, allowing the vehicle to automatically complete parking in a safe location.
Few car companies have the ability that Jidu possesses.
At the same time, Jidu's car design language is very bold.
Jidu's car robot, ROBO-01, uses a 3D borderless integrated ultra-clear screen, making the human-machine interaction seamless. At the same time, the entire cockpit cancels physical buttons, which emphasizes the technological sense of the car robot. The steering wheel can also be replaced with a foldable U-shaped steering wheel, instead of the usual circular shape.
Innovation is not about big fish eating small fish, but fast fish eating slow fish.
In the Baidu Apollo's acceleration of Jidu, the era of car robots is approaching fast.
The "disruptor" in the car intelligent market
Baidu Apollo, standing behind Jidu, is not only an accelerator for Jidu but also a promoter of China's car intelligence wave.
In the second half of 2021, Baidu Apollo officially formed its intelligent car business unit, aiming to become a new, professional, and local Tier 1.
This positioning is based on Baidu's technology dimensionality reduction, applying the fully accumulated L4 level automatic driving technology to L2+ level intelligent driving assistance, and releasing the commercial and practical application capabilities of intelligent driving with the major automakers.
By now, Baidu Apollo's strategy has emerged.
The "local" attribute is self-evident. As China's earliest company to study automatic driving, Baidu has not only trained a group of automatic driving talents but also accumulated a massive amount of automatic driving data.
The "new" means that Baidu must have rich technological accumulation, as well as strong algorithm capability, software and hardware system integration capability, and coordination and cooperation ability with automakers.
And this is not difficult for Baidu, which is supported by the "car and road cloud map" collaboration. In the process of cooperating with automakers, Baidu Apollo fully utilizes the technology accumulation of L4 autonomous driving to further reduce costs and improve consumer driving experience.
"Professional" is reflected in Baidu Apollo's high-standard mass production delivery process.
According to autohome.com.cn, Baidu has currently passed the ASPICE CL3 (Automotive SPICE process improvement and capability determination) evaluation and certification, marking that Baidu has the industry-leading project delivery process management and organizational capabilities, and can steadily and continuously deliver high-quality products and services for OEMs.
At present, Baidu Apollo has formed a "cabin + driving + map" matrix of intelligent automotive products, constantly satisfying various needs of well-known domestic and foreign automakers in the process of intelligent upgrading, and has already demonstrated the posture of Tier1.
According to autohome.com.cn, Baidu has a full range of AVP, ANP2, and ANP3 products in the field of intelligent driving.
Baidu's AVP parking system was fully launched in April 2021, and is currently cooperating with more than 10 models from multiple automakers.
The cost-effective ANP2.0 navigation assistance driving has completed the first mass production and delivery in October 2022.
In the third quarter of last year, Baidu had a deep cooperation relationship with a large Chinese automotive technology company to apply Baidu's ANP, AVP, and high-precision map in a mainstream model.
Such partners will continue to grow in the future.
According to autohome.com.cn, in the next five years, the load-bearing capacity of Baidu Apollo's intelligent driving products will maintain an average annual growth rate of 100%.
In terms of intelligent cockpit, Xiaodu Car OS helps automakers achieve a whole-package solution for cabin intelligence quickly, which includes Baidu's intelligent cabin-related AI capabilities.
Currently, Xiaodu Car has cooperated with more than 70 automotive brands, covering nearly 600 models.
In terms of intelligent map, in addition to onboard navigation maps and high-precision maps, Baidu Apollo has realized the mass production of human-computer shared driving maps, and is expected to be available on more models in 2023.
In fact, Baidu's "cabin + driving + map" product strategy extending from the automotive industry is in line with the changes in automotive consumption patterns, new applications, and demand scenarios under the popularity of intelligent automobiles.To clarify these changes, we can establish a coordinate system in our minds, with vehicle ownership on the y-axis and autonomous driving capability on the x-axis.
As autonomous driving capabilities continue to expand and grow, the portion of individuals who own vehicles and personally drive them will gradually shift towards those who own vehicles that are driven by intelligent systems.
As a Tier1 player, Baidu serves as a catalyst and currently, individual car owners who drive their own vehicles remain the "majority" in the current Chinese automobile market.
Regarding this large group of car owners, Baidu collaborates with carmakers to promote the popularity of L2+ autonomous driving technology. This will enhance user awareness and acceptance of vehicle intelligence, transforming this group of users into intelligent vehicle users.
Whenever there is new supply, technology, or supply chain, together with new demand, market, and customers within an industry, there is a possibility of completely disrupting the past business model.
Vehicle intelligence is the biggest variable in the disruption of business models, and with its "Cabin, Drive, Map" full-stack ability and Tier1 role, Baidu Apollo has emerged in the second half of the intelligent automotive industry. It continues to provide OEMs with intelligent automotive products steadily and reliably, extending its tentacles to the various ports and links of supply, technology, and supply chains.
Perhaps we can expect Baidu Apollo to become an "activating fish" that stimulates market innovation, accelerating the mass production and implementation of intelligent vehicles, and expanding the boundaries of the automobile industry through its Tier1 role.
This article is a translation by ChatGPT of a Chinese report from 42HOW. If you have any questions about it, please email bd@42how.com.