Author: Tao Yanyan
Hello everyone, I'm Yanyan. Today, let's talk about car companies building their own fast-charging network.
At CES 2023, Mercedes-Benz announced its plan to establish a global electric vehicle (EV) charging network, which is also one of the few large automotive companies that invest directly in charging infrastructure. The plan is to install about 10,000 high-power EV charging stations worldwide, starting in the US and Canada in 2023. After the network is built, Mercedes-Benz customers can book charging space on their own cars, but the charging network will also be open to other vehicle owners with compatible technology. By 2027, the North American network is expected to reach over 400 charging centers with 2,500 EV charging stations.
Currently, Tesla's charging network and others are in the following state:
Are they open to the public? Yes, they are.

Do they have plans to build their own? —— Tesla, Mercedes-Benz, General Motors (Ultium Charge 360), Ford (BlueOval™), Hyundai (E-CSP), Volkswagen (Elli), Stellantis (Europe), and in the Chinese auto industry, NIO (now expanding globally), XPeng Automotive, all are taking action.

Will the fast-charging network be the core competitive advantage in the future? —— I think so. This is part of brand added value.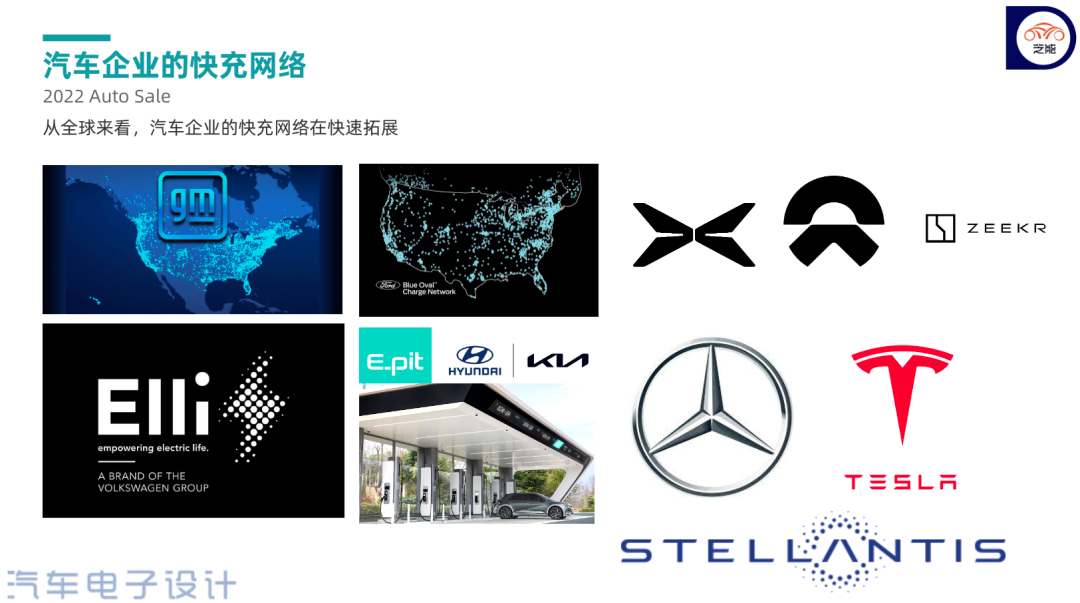 Existing Expansion Plans
Let's first list the situations of various auto companies, and we won't talk too much about Tesla.
● General Motors Ultium Charge 360
Offers charging access in collaboration with third parties. General Motors has now signed agreements with seven major charging suppliers, and EV customers can view real-time information about 60,000 charging plugs in the US and Canada.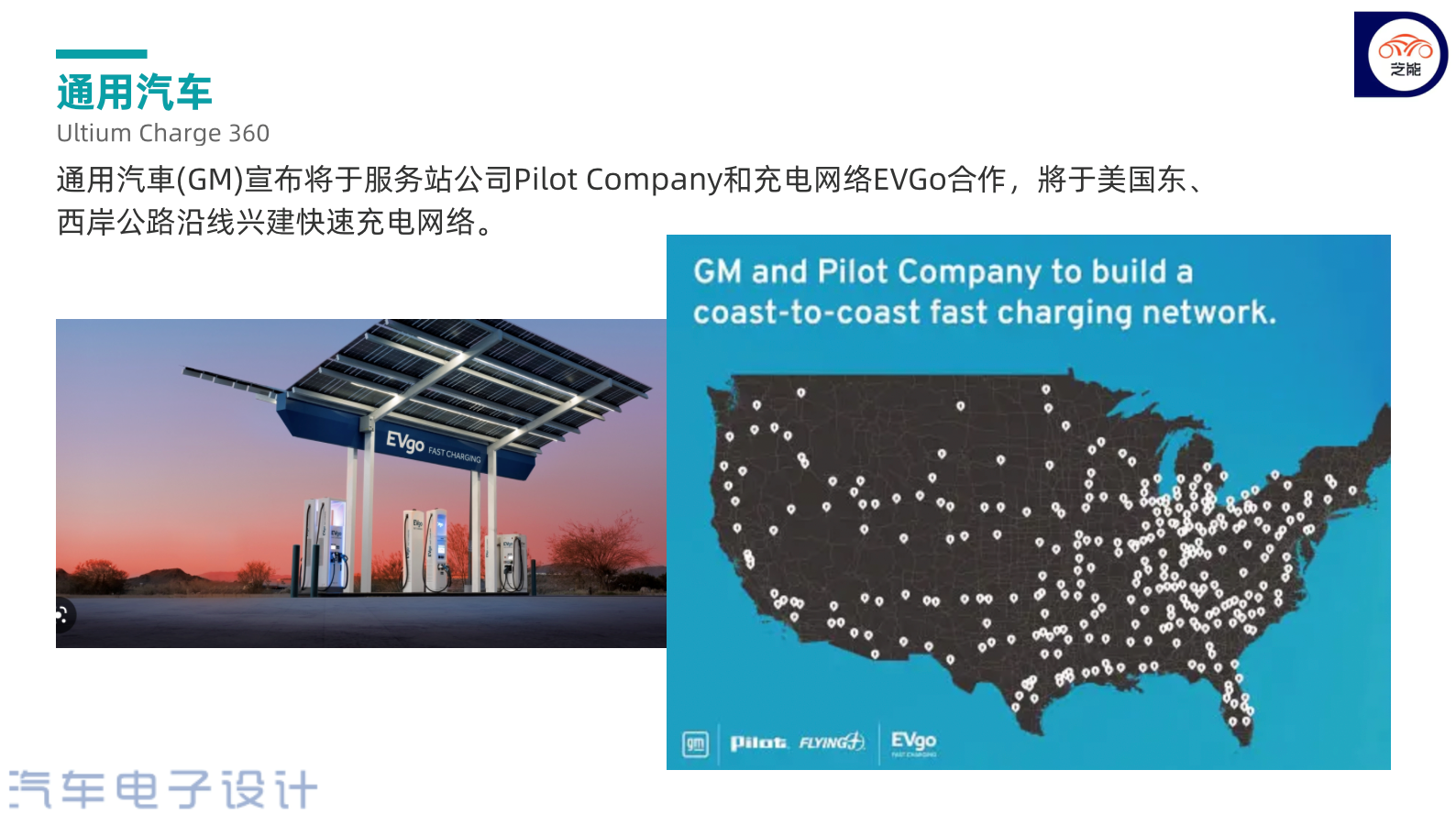 SAIC-GM
SAIC-GM is also deploying a multi-level energy supplement system in China. According to SAIC-GM's plan, it is estimated that by the end of 2023, the number of self-built charging terminals will reach 1,500, and the number of third-party charging terminals cooperated with mainstream charging operators will be over 400,000.
Ford
BlueOval™ has established a charging network with over 19,500 charging stations in the United States, and there are over 300,000 chargers available in Europe through the Ford Pass application.
Stellantis (Europe)
Stellantis has reached an agreement with TheF Charging to expand the public charging network in Europe: 600 electric vehicle charging points have been installed in 50 Vigen Parks in Italy, and more than 1,000 public charging points have been confirmed for the future.
Volkswagen (Elli)
Volkswagen's subsidiary Elli has 400,000 charging points and currently operates the largest charging network in Europe, with more than 800 suppliers in 27 countries/regions. In the past 18 months, the network has doubled in size, adding about 200,000 charging points. Recently, Elli has expanded its network in Western and Northern Europe by partnering with Swedish energy company Vattenfall and Dutch fast charging expert Fastned.
Hyundai Motors (E-CSP)
Hyundai Motors plans to open 12 E-pit electric vehicle charging stations at highway service areas in Korea by the end of 2022, and popularize 72 ultra-high-speed charging piles. Eight E-pit charging stations will be built in the core areas of urban centers, including 48 ultra-high-speed charging piles.● NIO
Although NIO is vigorously promoting battery swapping service (there are currently 1,011 battery swap stations nationwide), as of July 2022, NIO has also deployed 1,681 charging stations, 9,603 charging piles, and connected over 520,000 third-party charging piles.
● XPeng
As of the end of November 2022, XPeng has launched over 1,800 charging network sites, including 9 S4 super-fast charging stations, over 1,000 self-operated charging stations, and over 800 third-party sites (with free rights), covering all prefecture-level administrative regions and municipalities in China.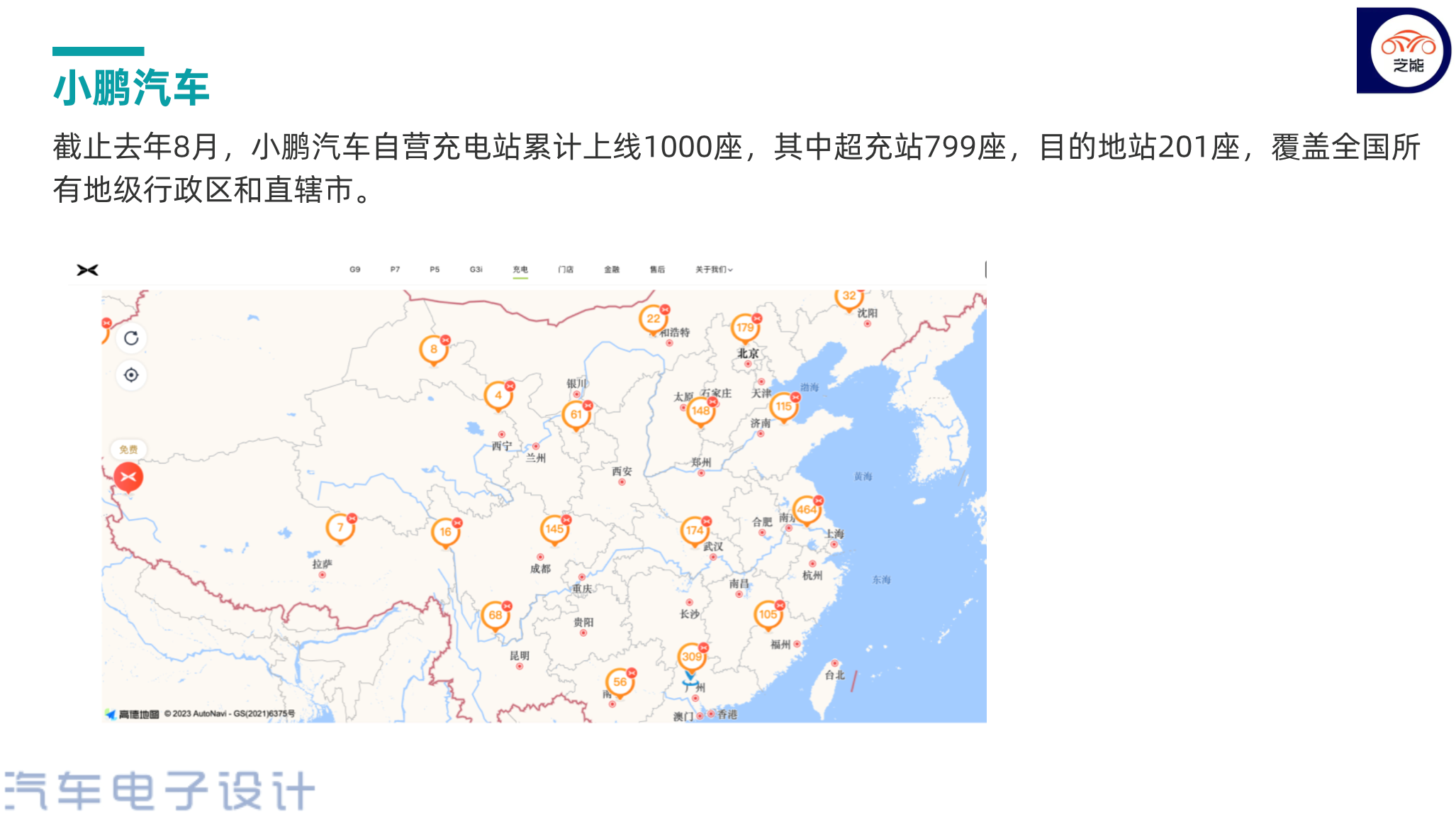 What does the charging network of car manufacturers provide?
There are some viewpoints that we agree with when answering the criticism of the range extender technology. Before the energy supplementation measures required for pure electric vehicles are resolved, they cannot dominate the market. Therefore, Ideal thinks that range extenders will still be the best solution for new energy vehicles in the next five years. If Ideal wants to do pure electric, fast charging network must be done well.
The construction of charging supporting facilities in China needs to rely on time if the number of fast-charging stations cannot keep up with the extension of power grid planning and distribution capacity.
However, from a global perspective, if you do not build supporting measures in the United States and Europe and rely on selling low-priced products to allow your users to use other people's public fast charging network, this is indeed a little unacceptable.We see two current strategies:
◎ Self-built network, time-consuming and requiring own team
◎ Negotiation with energy giants like Shell for cooperation, similar to the model of "You give me assurance as a car owner" (not suitable for 800V fast charging)
◎ Joint venture to establish a charging network, similar to Ionity
I believe that the charging network established by car companies provides users with confidence and assurance, especially regarding issues of sensitivity when it comes to crowded and queue situations. From the perspective of subsidy policy and support, the construction of charging facilities should focus on helping high-speed charging stations to land as soon as possible, and achieve a healthy and sustainable business practice. Due to the concentration of travel, there is a supply-demand contradiction in high-speed charging, as well as a tide-like effect that's shown during holidays such as May Day, National Day, New Year's Day, and Chinese New Year.
Currently, the satisfaction that Tesla, Xiaopeng Motors and NIO car owners experience from the high-speed fast charging network provided by these companies during holidays is something that external charging network brands cannot provide. It's only possible to queue at State Grid charging stations, and this sense of humiliation is most apparent during peak hours. Open during idle time, with the focus on user care when others don't provide it, is what my users can have as a basis.
Conclusion: Recently, we have been discussing that if we replace the P7, we actually also want a Xiaopeng vehicle, mainly because we have exclusive Xiaopeng fast charging stations both in the company and outside of the city. This type of user experience is difficult to give up for me, as a user who cannot install a home charging station. I think that car companies must create exclusive networks (since luxury brands without product differentiation would have poor performance, BMW is expected to catch up soon, as it needs one). How much to build, and where to build, needs to revolve around learning and users.
This article is a translation by ChatGPT of a Chinese report from 42HOW. If you have any questions about it, please email bd@42how.com.