Weekly Index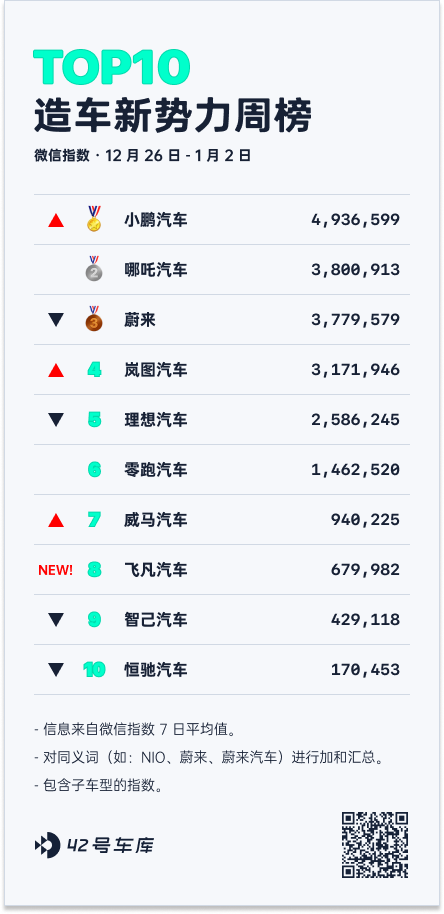 Weekly News
Guangzhou Auto Show opens, many new cars debut
Jidu showcases ROBO-01 and ROBO-02 at Guangzhou Auto Show
On December 30, 2022, Jidu's ROBO-01 made its debut at the Guangzhou Auto Show. Its four main body colors were released to the public for the first time. At the same time, Jidu's second model ROBO-02 was unveiled, positioned as a pure electric coupe. With this, Jidu's family design language has been established."`

The ROBO-01 has a body size of 4,853 × 1,990× 1,611 mm and a wheelbase of 3,000 mm. The main colors of this release are Milky Way Purple, Starry Night Gray, Starlight Orange, and Morning Star White, which will be unveiled at the Guangzhou and Haikou Auto Shows respectively.
The second model of Jidu, ROBO-02, is positioned as a pure electric sports car, and its design language is inherited from Jidu's first concept car, ROBO-01.
ROBO-02 also adopts the design without external car door handles, and the overall body is very wide and low, with good sportiness and visual perception. The interactive headlights are still retained, the LiDAR is hidden, and the aerodynamic wheel rims and active lifting tail wings together reduce wind resistance.
Jidu fully applies the Baidu Apollo advanced automatic driving system and safety system. Jidu stated that ROBO-02 will also have tailored scenario-based services and stronger intelligent functions in the future.
Wei brand Blue Mountain DHT-PHEV unveiled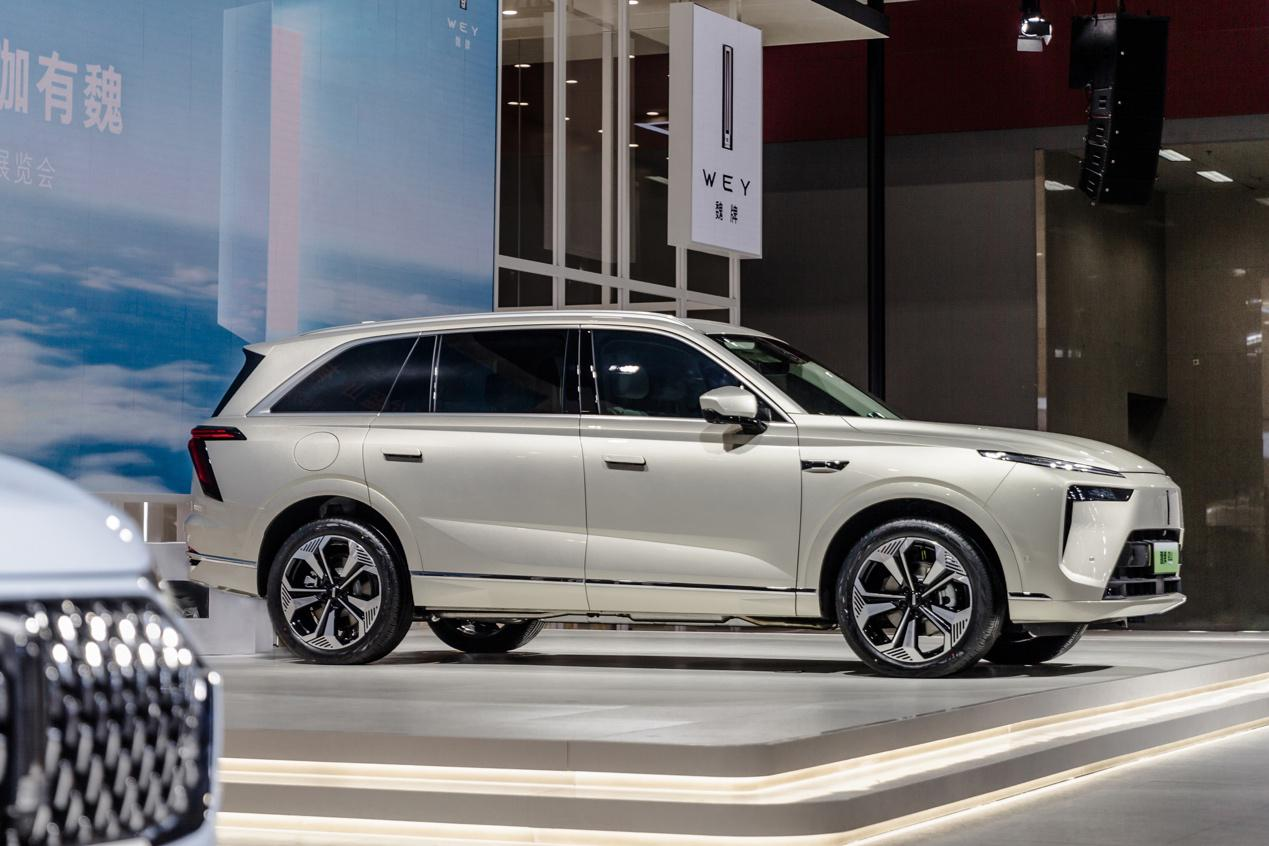 On December 30, 2022, Wei brand unveiled its new flagship six-seater SUV Blue Mountain DHT-PHEV, Mocha DHT-PHEV, and Latte DHT-PHEV with the theme "Have Coffee, Have Wei, Taste Blue Mountains".
Among them, the appearance design of the world's first unveiled Blue Mountain DHT-PHEV comes from the co-creation of Wei brand and users, and Wei brand stated that this demonstrates the innovative change of its comprehensive To-C strategy.
The body size of the Blue Mountain DHT-PHEV is 5,156 × 1,980 × 1,805 mm, and the wheelbase is 3,050 mm. It adopts a 2+2+2 seat layout. Wei brand officials stated that the third-row passenger space has been optimized, and they are looking forward to the actual experience in the future.Blue Mountain DHT-PHEV will also be equipped with DHT technology, with a maximum power of 380 kW, a maximum torque of 933 N·m, and a zero-to-hundred acceleration of 4.9 s. WLTC pure electric range of 180 km and fuel consumption of 6.7 L.
Aiways Hyper GT unveiled
Aiways brought its second model of high-end brand Hyper Hao Bo, the Hyper GT, to this year's Guangzhou Auto Show.
Hyper GT will also be equipped with the brand-new generation pure electric exclusive platform AEP3.0 Starry Sky Architecture, making it very anticipated in terms of intelligent driving and cockpit experience.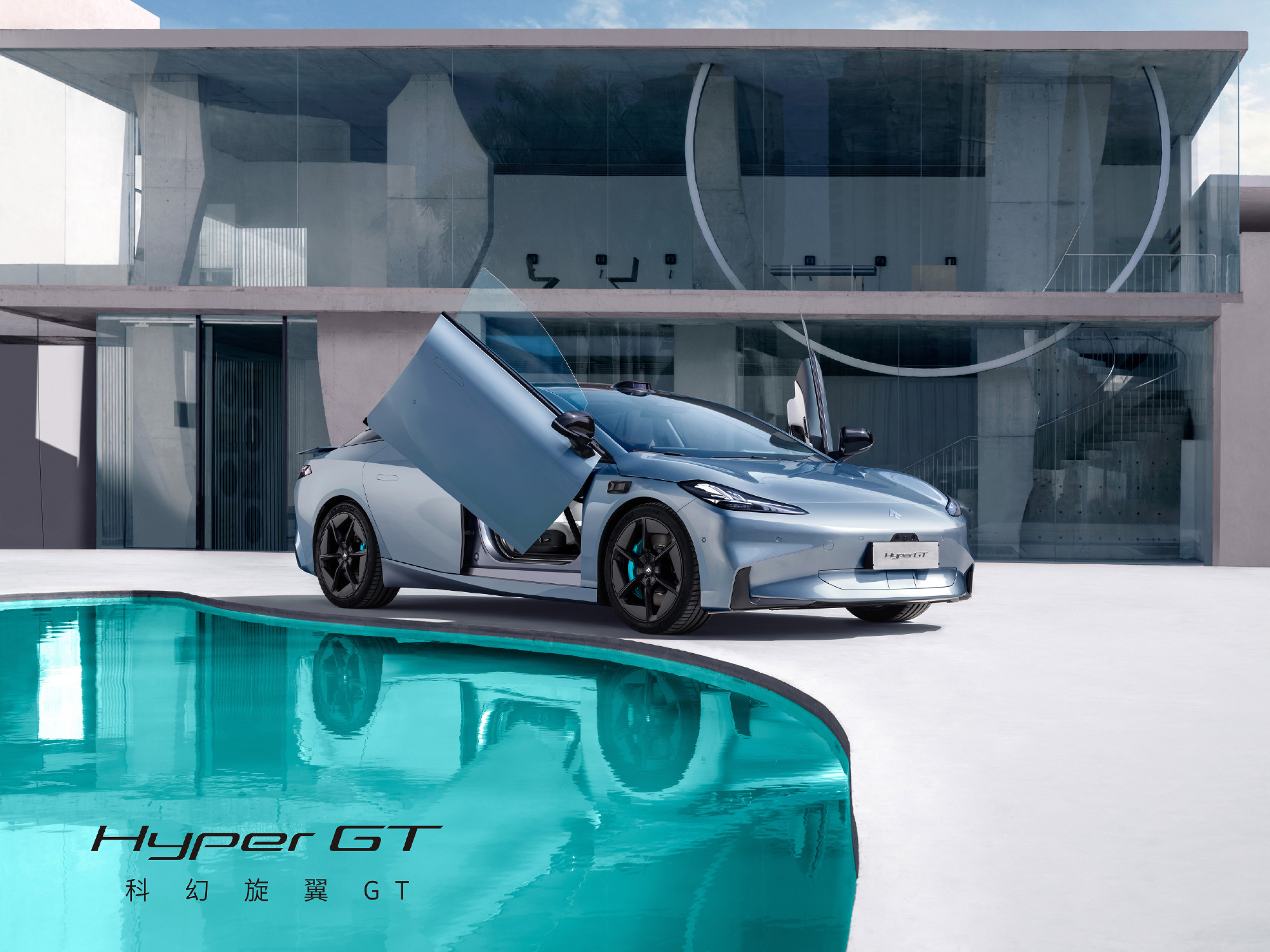 In terms of advanced driving hardware, Hyper GT will be equipped with three second-generation variable-focus LiDARs, located on the roof and both sides of the wing panels.
While maintaining the family design language, Hyper GT has achieved a breakthrough in the coefficient of air resistance, with a coefficient of air resistance of 0.19, which exceeds EQS and becomes the production car with the lowest coefficient of air resistance at present.
Geely Panda mini unveiled
At the Guangzhou Auto Show, Geely's new model Panda mini made its first offline appearance, bringing the Panda mini New Year edition Treasure Bear, limited to 2,023 units at a price of 55,800 yuan.
Based on the top version of Panda mini, Treasure Bear has a DC fast-charging function, with a maximum power of up to 22 kW, and can be charged from 30% to 80% in just half an hour at a temperature of 25°C, and fully charged in only 68 minutes.
At the same time, Treasure Bear is also equipped with a household DC charger with a power of 7 kW, which can be fully charged in 3 hours at normal temperature. If a 220 V/10 A household charging gun is used, the charging power is 2 kW, and it can be fully charged in 8.5 hours.In terms of intelligence, Baozang Xiong has the function of a mobile phone Bluetooth key, supporting contactless entry. At the same time, it can also be remotely controlled through the Geely car owner APP account for unlocking, car status inquiries, remote unlocking, remote air conditioning and trunk opening, etc.
First Auto Works Toyota bZ3 Unveils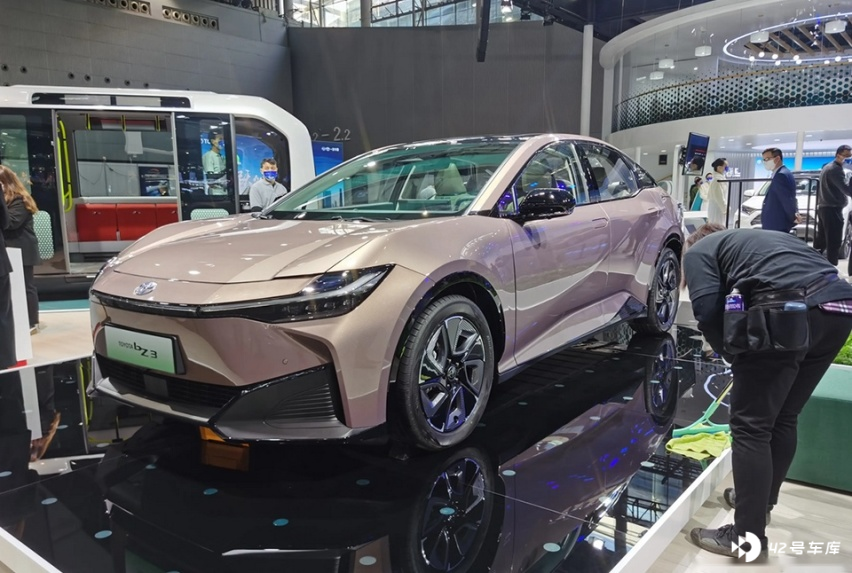 During the 2022 Guangzhou Auto Show, the First Auto Works Toyota bZ3 officially made its debut at the First Auto Works Toyota booth. Prior to this, the new car had already started pre-sales, with three versions and a price range of 189,800 to 219,800 yuan.
The bZ3 is built on the e-TNGA platform. In terms of power, the new car's battery and motor are provided by Fudi, a subsidiary of BYD, with the battery using lithium iron phosphate blade batteries and the motor using a rear single motor, with a maximum power of 135 kW and 180 kW.
In terms of range, according to previous information from the Ministry of Industry and Information Technology, the new car will offer two battery versions of 49.92 kWh and 65.28 kWh, with corresponding CLTC ranges of 517 km and 616 km, respectively.
In terms of appearance, the new car adopts the family design of the Toyota bZ series, with a popular through-type daytime running light design on the front, giving it a mechanized look.
In terms of body size, the length, width and height of the bZ3 are 4,725 x 1,835 x 1,475 mm, with a wheelbase of 2,880 mm, positioning it as a midsize pure electric sedan.
Jike Launches 2023 001
On January 1, 2023, Jike launched the 2023 model of Jike 001, which includes numerous configuration updates and new performance-related optional packages.
Firstly, on the basis of the YOU version's standard induction type frameless automatic door, the ME and WE versions will be equipped with a standard silent electric suction door, which has been specifically optimized for the problem of manual push-assist.
Three new colors have been added: Yuguang Orange, Extreme Blue, and Polar Night Black.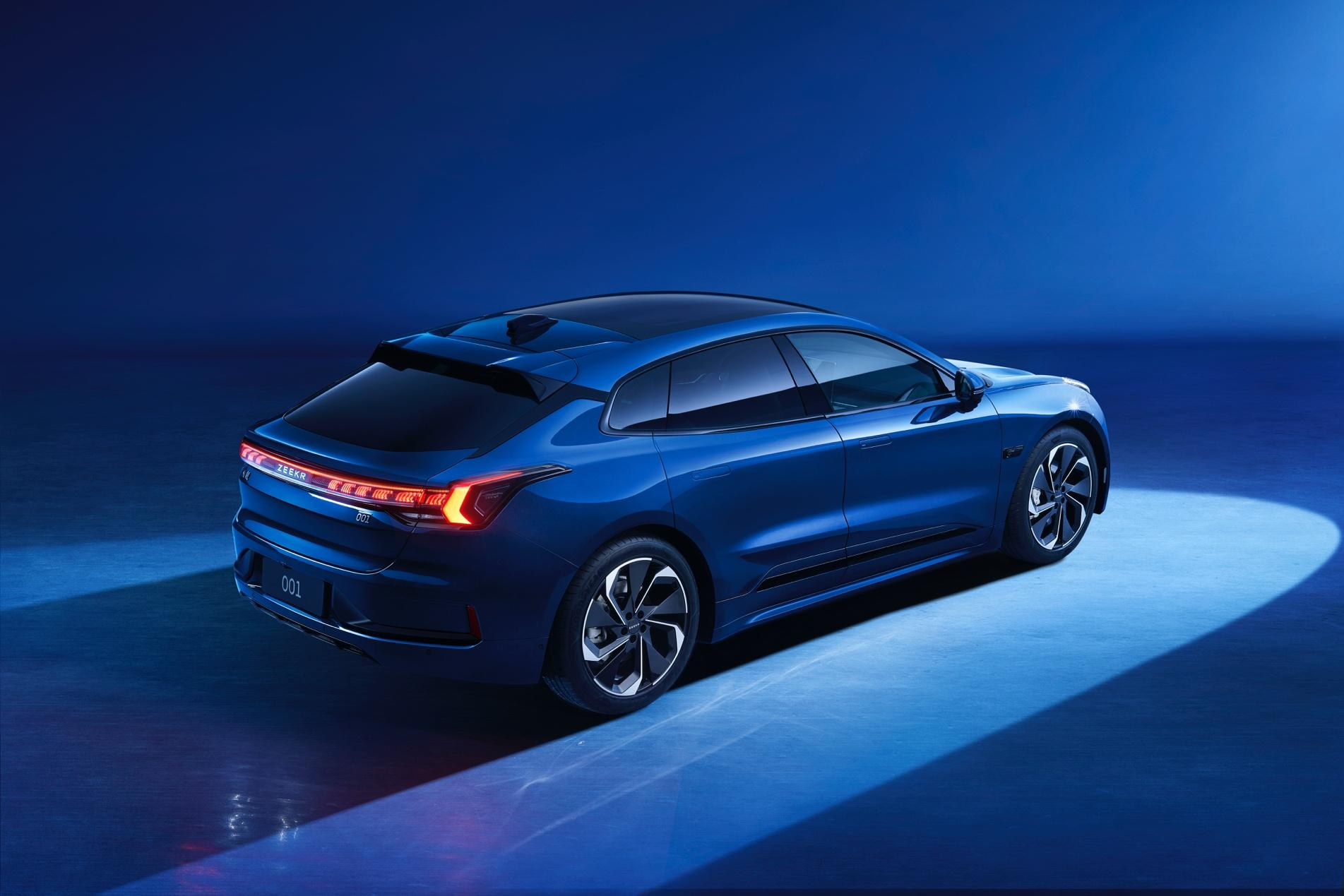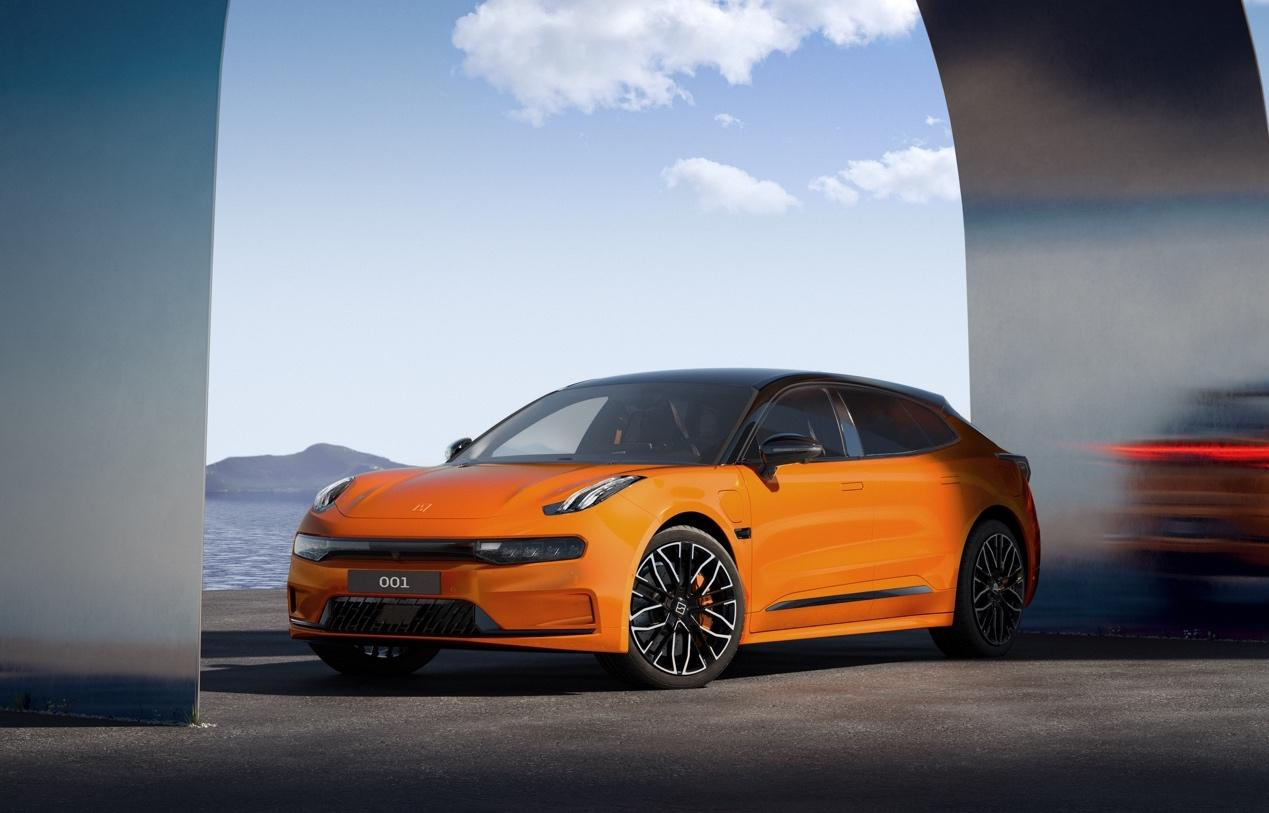 All models are equipped with top-quality full-grain leather that is more advanced than NAPPA, which enhances the softness and comfort of the Monaco NAPPA full-grain leather.
The front row seats in all models come standard with heating, ventilation, massage, and memory functions. The luxury features including fully electrically adjustable seats and intelligent constant temperature air conditioning are also standard across the board.
The WE 100 kWh version will release a limited edition of 1,000 sets of thousand-mile range kits, using the 140 kWh CTP 3.0 Kirin battery. With the application of carbonized silicon technology to the motor, the CLTC cruising range of the whole vehicle will reach 1,032 km, with an optional price of 103,000 yuan.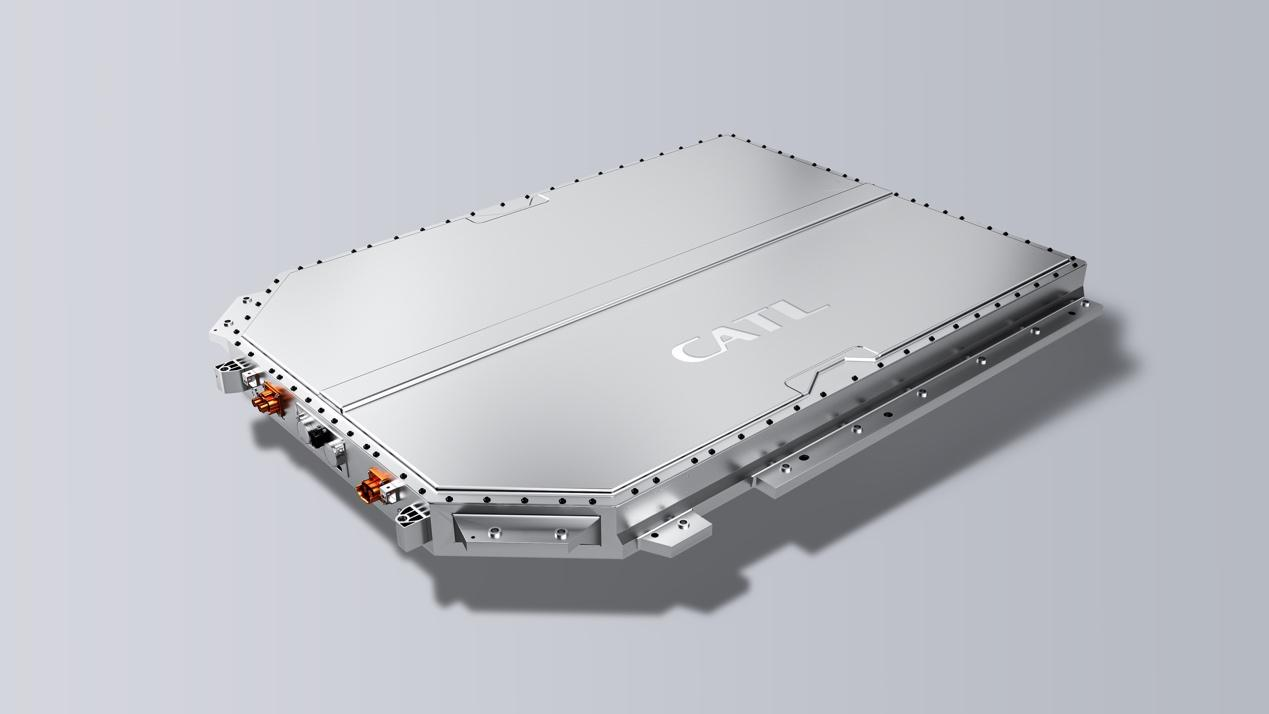 The YOU edition offers the optional Z-Sport sports advanced package for 35,000 yuan. It is equipped with adaptive racing seats, orange-gray Alcantara interior, and harnessing light orange paint with high-performance wheel set.
The high-performance wheel set is available as an option for the YOU and ME editions for 19,000 yuan. It features 22-inch multi-spoke forged sports wheels, Brembo 6-piston calipers, ventilated perforated brake discs, and high-performance tires of the brand.
Quick Review:
At the long-awaited Guangzhou Auto Show, a number of car makers unveiled their new models. What was unexpected was that Jike debuted their second car before the first one was officially delivered after production.
Having delivered more than 10,000 units for three consecutive months, Jike finally launched its minor facelift with some added features, along with the unique performance optional package currently unavailable anywhere else in China, giving Jike more competitiveness in the new year.
In terms of price, the FAW-Toyota bZ3 is indeed a sincere product. But combined with the configuration information, one can also see some shortcomings of this car. The base model has less than 50 kWh of battery and only 135 kW of motor power. Even the top model does not provide a four-wheel drive option in terms of its power. This means that even though this car looks sporty, it won't appeal to true performance lovers.## Ideal delivered over 20,000 vehicles in December, and the delivery data of multiple automakers in December met expectations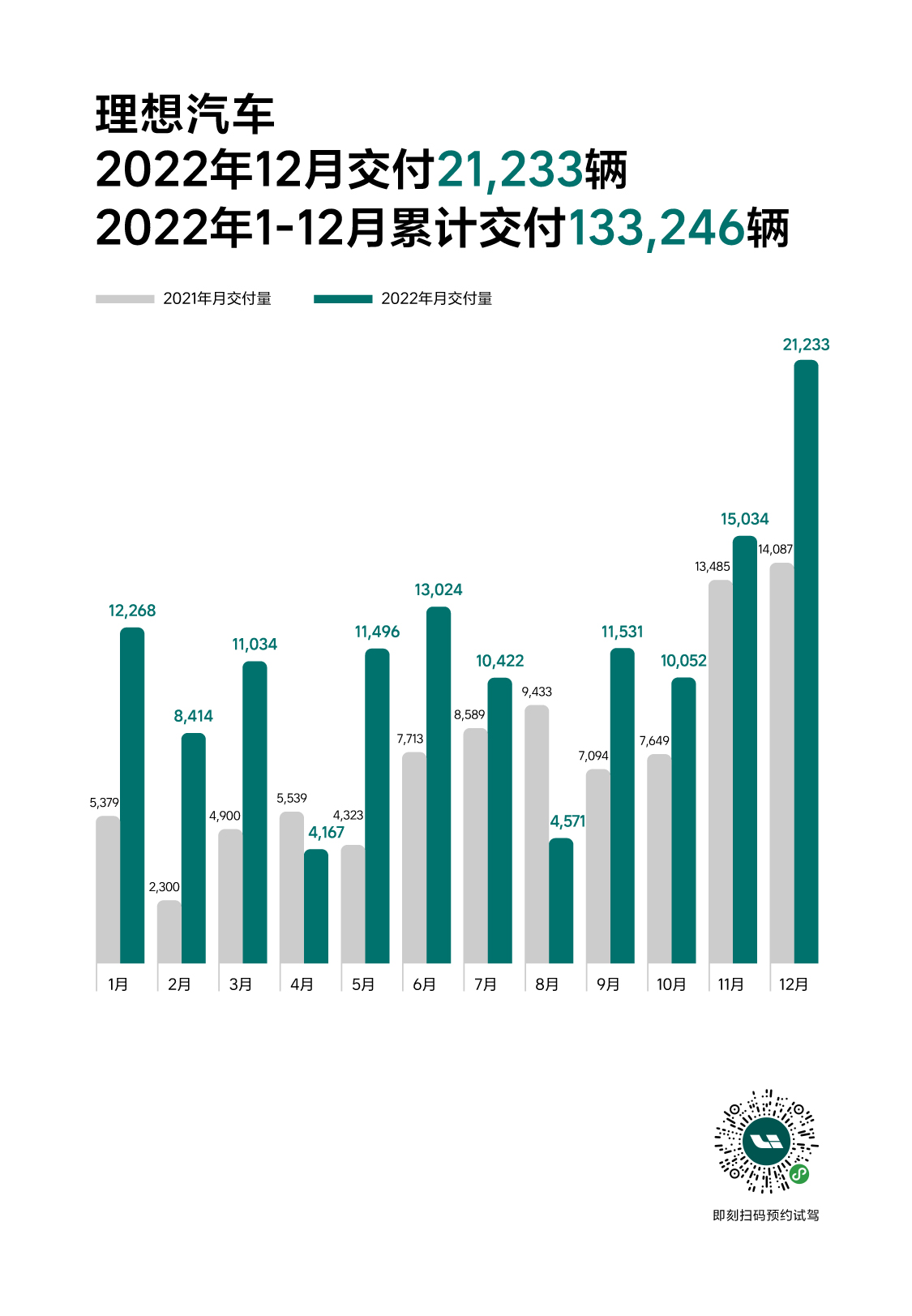 Ideal delivered 21,233 vehicles in December
Among the over 20,000 vehicles, L9 and L8 delivered more than 10,000 vehicles respectively, consolidating Ideal's market position in the 300,000-500,000 yuan price range.
It grew by 50.7% compared to December last year. A total of 46,319 vehicles were delivered in the fourth quarter, a year-on-year increase of 31.5% in the fourth quarter of 2021.
In January to December 2022, Ideal delivered a total of 133,246 vehicles, a year-on-year increase of 47.2% compared to 2021.
As of December 31, 2022, the cumulative delivery of Ideal vehicles was 257,334.
Tesla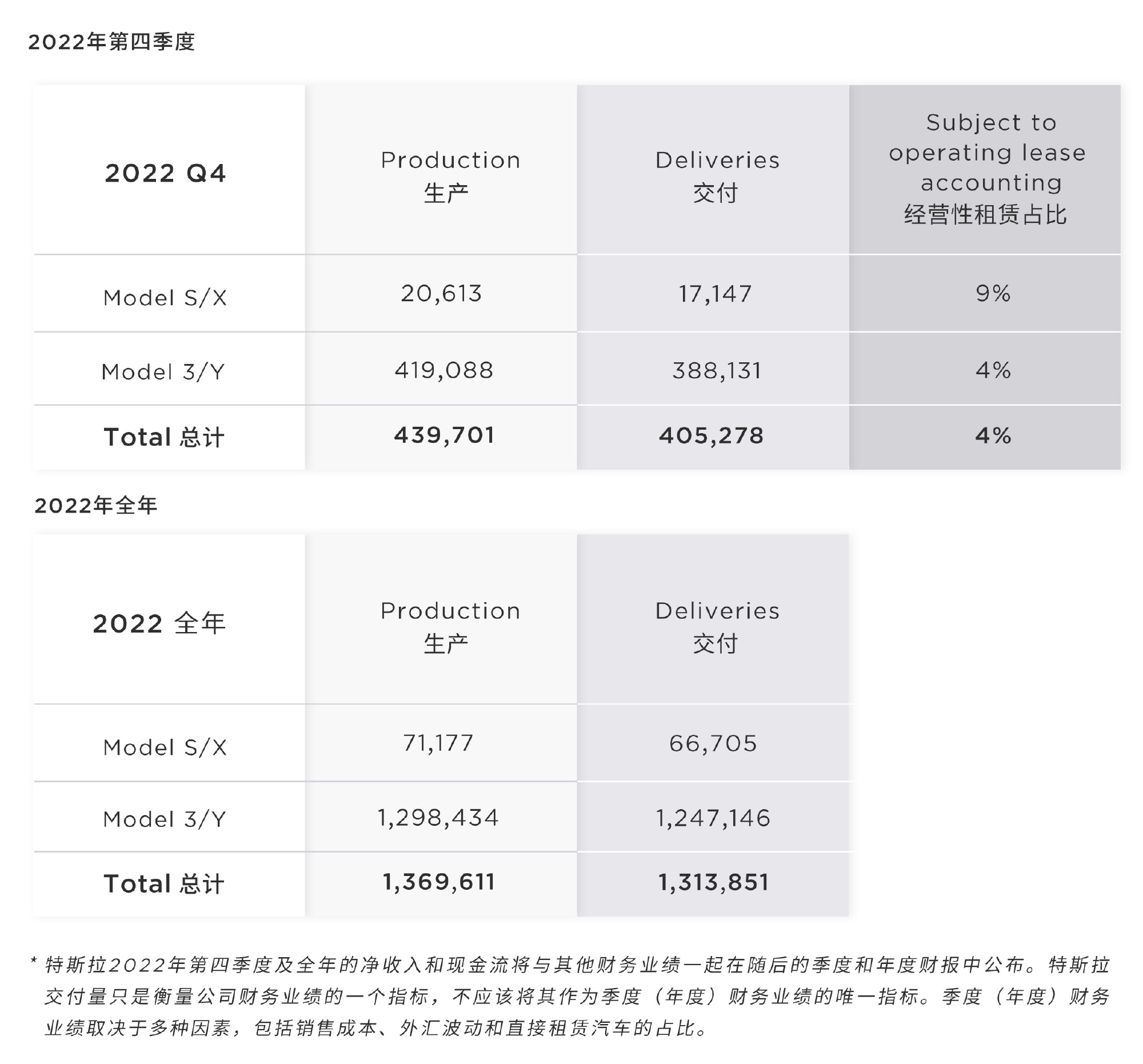 Tesla produced 439,701 new cars and delivered 405,278 in Q4.
A total of 1,369,611 new vehicles were produced and 1,313,851 vehicles were delivered throughout the year.
BYD delivered 235,197 vehicles in December
BYD announced its December 2022 sales, which were 235,197 vehicles. Of these, 109,577 were pure electric vehicles and 125,039 were plug-in hybrid vehicles.
It completed an impressive sales of 1.86 million vehicles throughout the year, with a year-on-year increase of 208.64%.
GAC Aion delivered 30,007 vehicles in December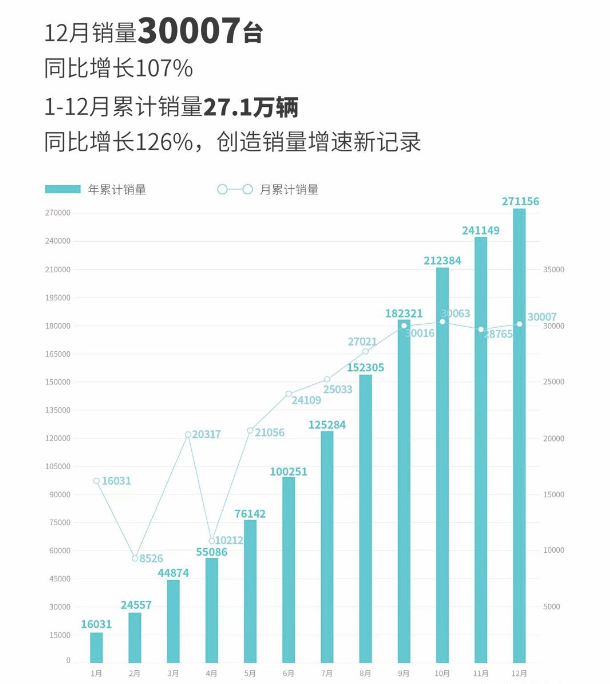 Era announced that its sales in December reached 30,007 units, a year-on-year increase of 107%. The cumulative sales from January to December 2022 reached 271,000 units, up 126% year on year.
NIO delivered 15,815 vehicles in December
In December 2022, NIO delivered 15,815 new cars, setting a new record for monthly delivery and a YoY increase of 50.8%; among which, the delivery of the three models including the second-generation technology platform ET7, ES7 and ET5, increased continuously and reached 13,127 units, accounting for 83% of the total delivery in the month. Specifically, the delivery of ET5, ET7, ES7, and NT1 were 7,594, 1,379, 4,154, and 2,688, respectively.
In the fourth quarter of 2022, NIO delivered a total of 40,052 new vehicles, up 60% YoY, hitting a quarterly delivery record, among which, the delivery of ET7, ES7, and ET5 was 31,093 units, accounting for 77.6%.
XPeng delivered 11,292 vehicles in December
XPeng delivered 11,292 vehicles in December, exceeding 10,000 units of monthly delivery again, with a MoM increase of 94%.
In the fourth quarter, XPeng delivered a total of 22,204 vehicles. The cumulative delivery volume in 2022 was 120,757 units, an increase of 23% over 2021.
As of December 31, 2022, XPeng's historical cumulative delivery has reached 258,710 units, of which the delivery of G9 reached 4,020 units, a MoM increase of 160%.
Jidu Auto delivered 11,337 vehicles in December
Jidu Auto delivered 11,337 units in December 2022, a YoY increase of 198.7%, with a full-year delivery of 71,941 units.The continuous delivery of more than 10,000 units for three consecutive months by GEECR fully demonstrates the market's recognition of the 001 vehicle, and the average order amount has also exceeded CNY 3.36 million.
Changan Blue delivered 11,650 vehicles in December
As a brand established in April this year, Changan Blue quickly surpassed the delivery volume of 10,000 and reached 11,650 units.
Leading Ideal delivered 8,493 vehicles in December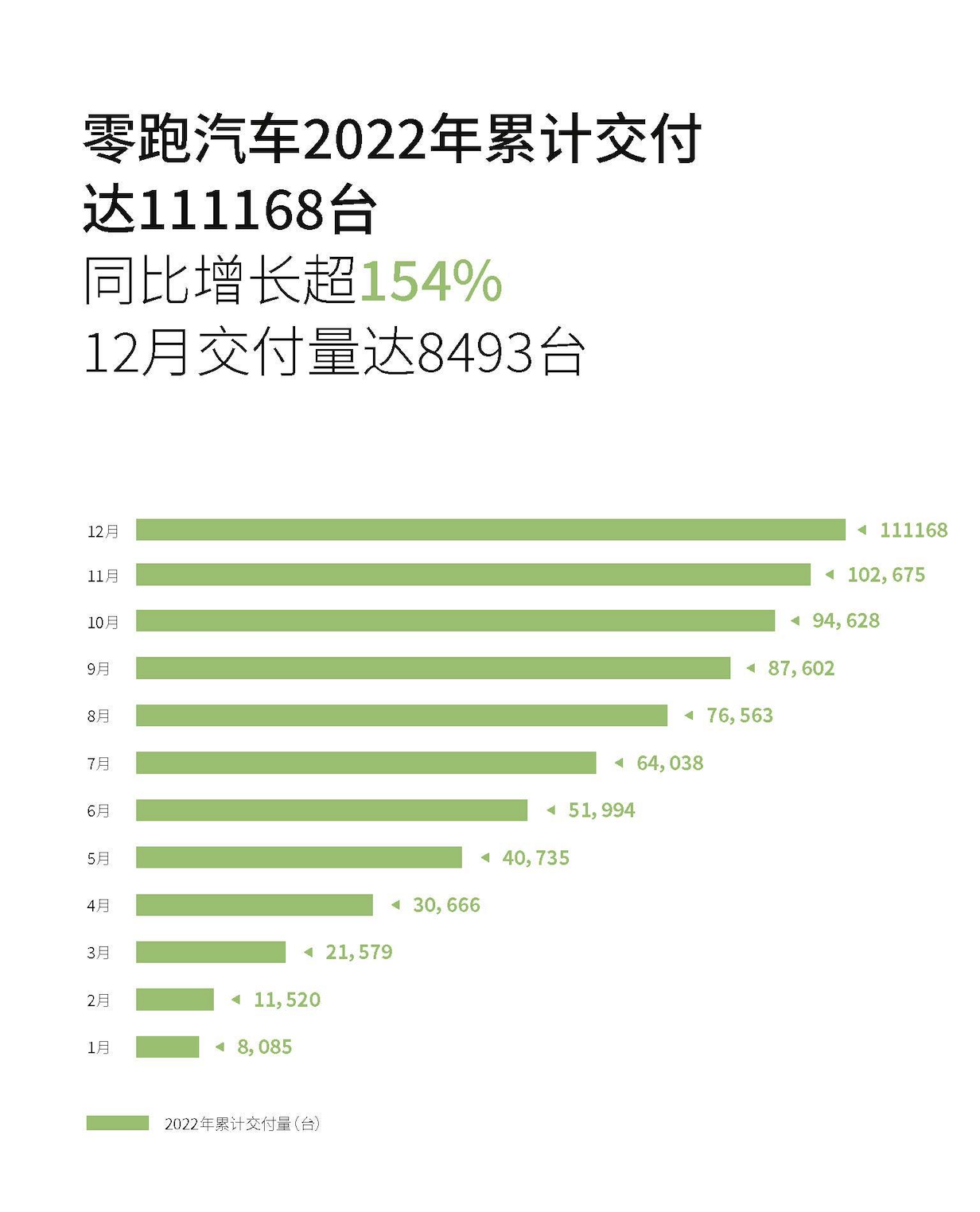 Leading Ideal delivered 8,493 vehicles in December, and the accumulative delivery volume in 2022 was 111,168 units.
FAWSN EV delivered 1,523 vehicles in December
FAWSN EV delivered 1,523 vehicles in December.
Weltmeister delivered 7,795 vehicles in December
Weltmeister announced the delivery of 7,795 vehicles in December.
The accumulative delivery volume for the year was 152,073 units, with 3,456 exported.
51,021 units of the Weltmeister U were delivered, 98,847 units of the Weltmeister V were delivered, and 2,003 units of the Weltmeister S were delivered in December.
AITO delivered 10,143 units of QUEST in December
AITO delivered 10,143 units of QUEST in December. Although it is not the highest number in 2022, it is still not easy to maintain the delivery volume above 10,000 units.#### Delivery of 1,729 units of the Lantu EV in December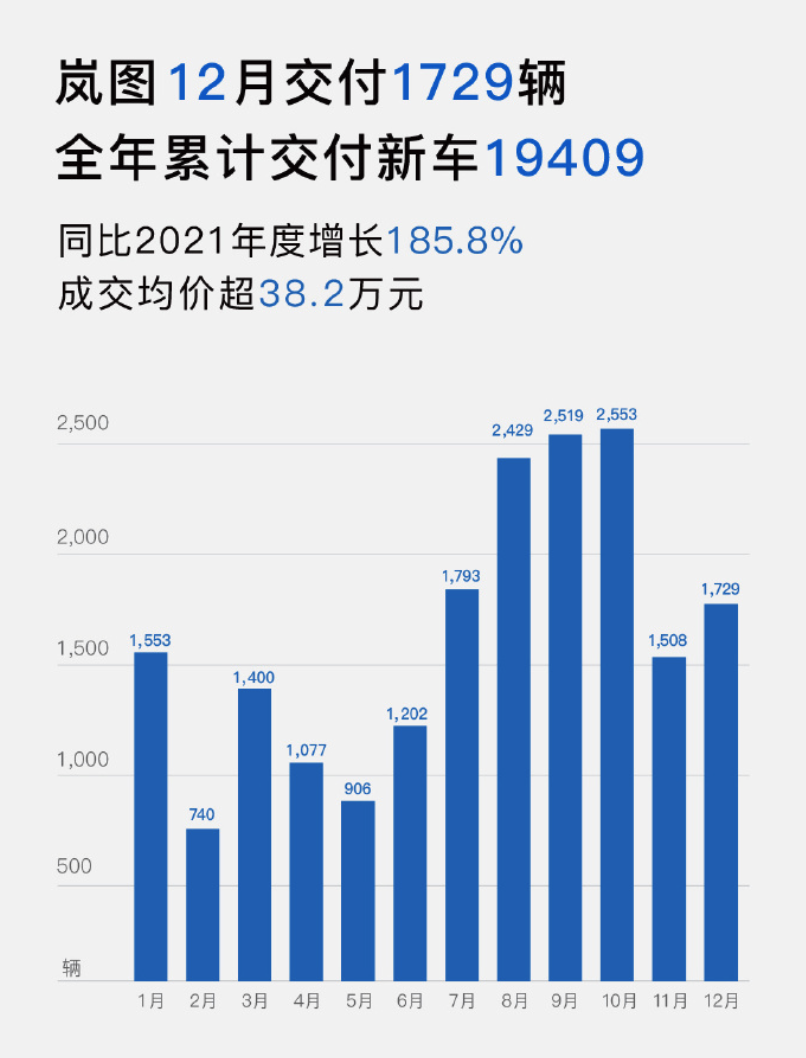 In December, 1,729 units of the Lantu electric vehicle (EV) were delivered, which represents a YoY increase of 185.8% compared to 2021.
Quick Comment:
In 2022, the most critical data for various car manufacturers is the delivery data from the last month, which not only enables them to achieve the annual delivery targets but also serves as a final chance to catch up with the national subsidy for users.
As the first EV manufacturer to deliver over 20,000 units in a single month, Ideal benefited from two models that began to be delivered only in the second half of this year. It is not easy to achieve this figure, especially considering that these two models have a high user overlap.
Xpeng and BYD announce changes in vehicle prices for 2023
BYD has officially repeated its price increase statement previously announced on November 23, 2022. Starting from January 1, 2023, due to the termination of national subsidies for new energy vehicles, the prices of various models will be increased by 2,000 to 6,000 yuan.
However, the specific model price increase information is currently unknown and users need to communicate with their dealers for more details.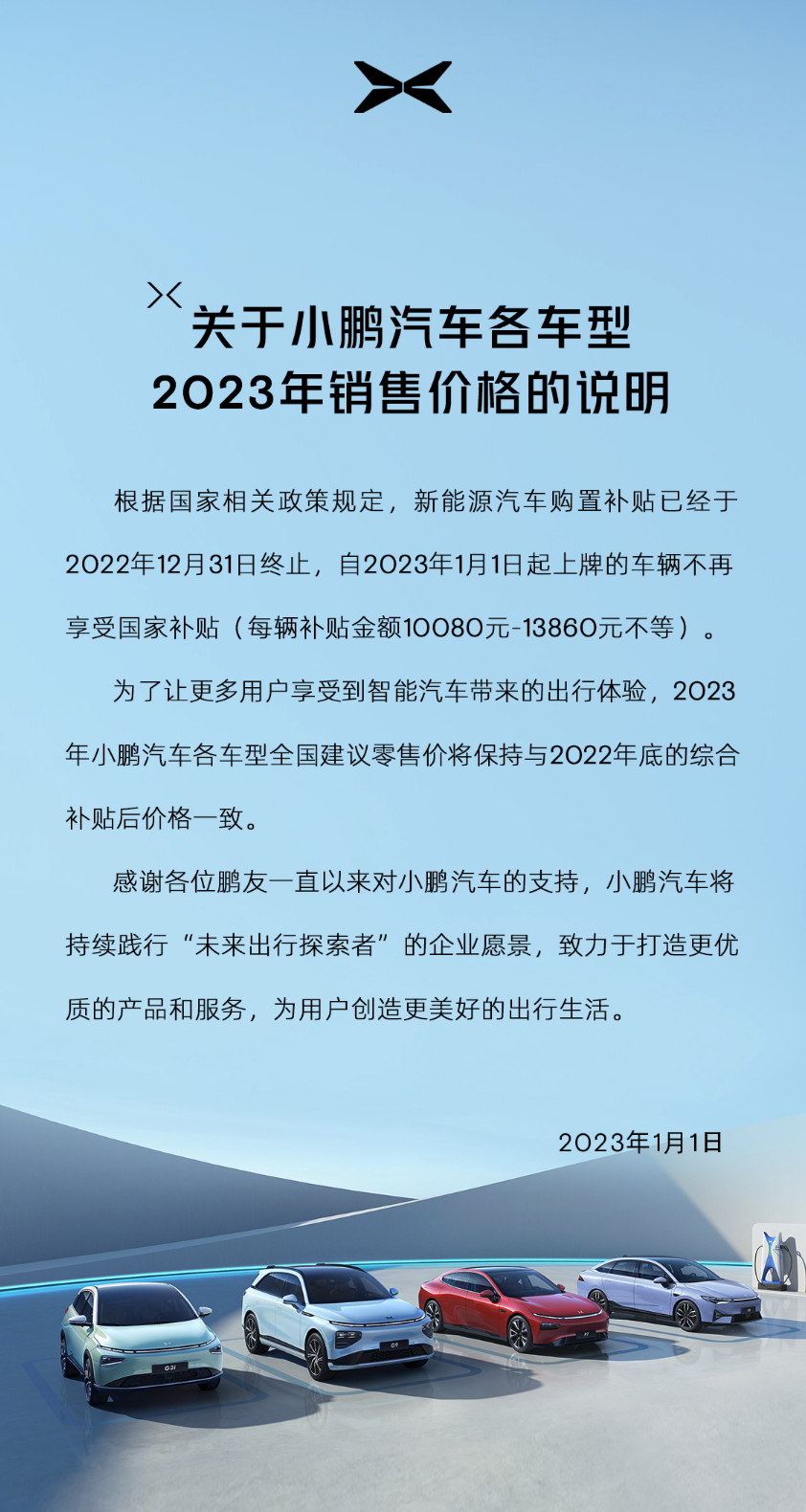 Xpeng's price change is due to the difference caused by the national subsidy, which ended on December 31, 2022. Xpeng chose to keep the price of existing models consistent with the post-subsidy price of 2022 to maintain the final price for users when purchasing cars.
Quick Comment:
Although the national subsidy for new energy vehicles became a thing of the past from January 1, 2023, various car manufacturers have introduced their own downside policies to maintain the interests of their users. Xpeng's decision to keep the post-subsidy price unchanged is very sincere and well-intentioned.
In contrast, BYD's choice to increase prices slightly may be more related to the rising cost of raw materials and cost control.
This article is a translation by ChatGPT of a Chinese report from 42HOW. If you have any questions about it, please email bd@42how.com.