Written by: Wu Jingtao
In the past 2022, new car makers have faced continuous challenges and continual growth.
As the bell for New Year's Eve rang, we waved farewell to the unforgettable 2022 and welcomed the brand new 2023. In the past year, whether it was the overall social environment or our personal life and work, I believe that many new issues and challenges have arisen. As for the domestic new energy vehicle market, these new issues and challenges have become the main theme of the year.
Factors such as global supply chain tension leading to continuous increases in battery raw material prices and chip shortages, repeated epidemic impacts disrupting normal production and supply rhythm, electricity rationing in some areas causing user travel obstacles, and further subsidy policy cuts… all of these factors have continuously presented new manufacturing challenges and new requirements to new energy vehicle companies during the year.
But in addition to facing difficulties, we must also dialectically recognize the changes and opportunities behind them. Having survived the complex and changing 2022, we should have more reason and confidence to look forward to 2023. Perhaps between the challenges and changes of last year, a "great change" unseen in the Chinese automobile industry for many years is slowly unfolding.
Returning to the sales data of new car deliveries in December, "We Xiaoli" achieved the expected results in year-end delivery data, while Zero Run and NIO, which showed strong momentum in the middle of the year, experienced more obvious fluctuations, with detailed sales data to follow.
Here, I wish everyone a happy new year and good health and smoothness in all matters in 2023.
Anti-fraud Guide: BYD and Tesla have not yet released their December sales!
Ideals: 21,233 deliveries in December and a total of 133,246 deliveries for the year.
In December, Ideal Auto delivered 21,233 new cars, a year-on-year increase of 50.72%, securing the first place in the December new car sales ranking.
This is the first time that Ideal Auto has exceeded the 20,000 mark in monthly deliveries, making it the fastest growing brand to reach monthly deliveries exceeding 20,000 among new energy vehicle brands.
Throughout 2022, Ideal Auto delivered a total of 133,246 new cars, a year-on-year increase of 47.2%.
In terms of the delivery volume of specific models, both Ideal L9 and Ideal L8 delivered more than 10,000 vehicles in December. Shen Yanan, Co-founder of Ideal Auto, stated that "these two models have consolidated Ideal's market position in the 300,000-500,000 yuan price range."
Moreover, the delivery data for Ideal's specific models in December also proves that after the launch of Ideal L8, the two models, L8 and L9, did not compete with each other as previously expected, but instead found their own product positioning and differentiated themselves from each other.
At the Guangzhou Auto Show on December 30th, Ideal Auto announced the launch plan for Ideal L7 and released more product details, including the sporty tail design, comfortable queen seat, oversized double bed, and standard Ideal Magic Carpet Air Suspension. Ideal L7 will hold its launch conference on February 8th, 2023, followed by the exhibition and test drive on February 9th.
It is foreseeable that with the launch of Ideal L7, the five-seat flagship SUV, Ideal Auto's sales growth momentum will become even stronger in the new year, continuously pushing for the new goal of delivering 30,000 vehicles per month.
NIO: 15,815 deliveries in December, 122,486 deliveries throughout the year.
In December, NIO delivered 15,815 new cars, a year-on-year increase of 50.8%, and won the second place in the monthly sales chart.
In 2022, NIO delivered a total of 122,486 new cars, a year-on-year increase of 34%.
The specific delivery data of models for November are as follows:
A total of 2,688 ES8, ES6, and EC6 vehicles were delivered on the NT1 platform.
A total of 13,127 vehicles were delivered on the NT2 platform, including 1,379 ET7s, 7,594 ET5s, and 4,154 ES7s.
From the perspective of platform division, NT2 platform models have already taken over the flag from the NT1 platform and become the main force of NIO's current sales. In December, NT2 platform models accounted for 83% of the total deliveries for the month.
In the fourth quarter of 2022, a total of 31,093 ET7, ES7, and ET5 vehicles were delivered on the NT2 platform, accounting for 77.6%.
In 2022, NIO started full model upgrades one after another, delivering three new models based on the NT2 platform: the ET7, ES7, and ET5. NIO also released two new models, the EC7 and the new generation ES8, at NIO Day 2022. In just one year, NIO has basically completed the upgrade and transformation from the NT1 platform to the NT2 platform.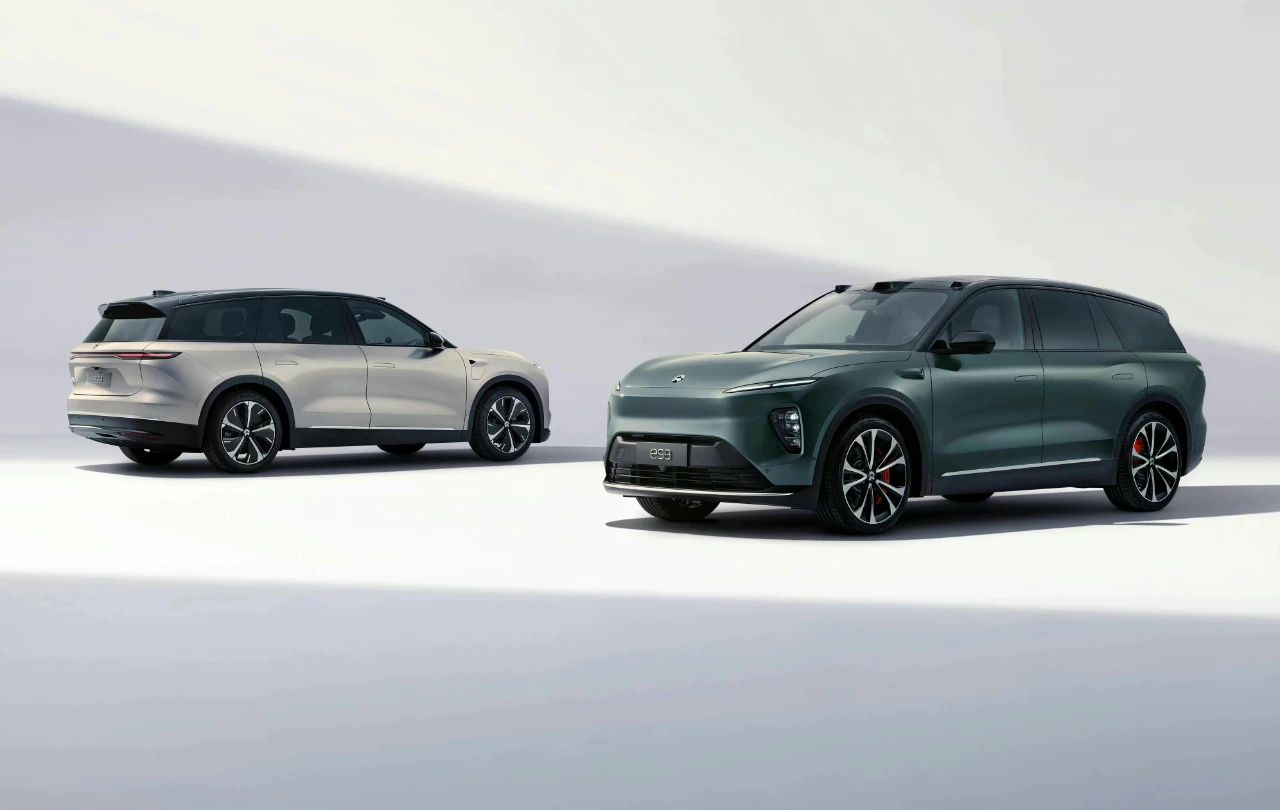 In terms of user experience, the Aspen, Alder, and Banyan intelligent system firmware have added and optimized more than a hundred new features throughout the year. The NOP+ Enhanced Navigation Assistance Beta was also launched this year.
Not only has NIO achieved fruitful results in the domestic market, but in 2022, it also began to provide full-system services in Germany, the Netherlands, Denmark, and Sweden, and started delivering the ET7. At the same time, the ET7 also won awards such as the "Golden Steering Wheel Award" of Auto Bild Germany 2022 and the "Annual Leading Technology" award of Auto Awards 2022 in Denmark. NIO not only entered the European market but also gained the attention and recognition of local users and media.
For NIO, 2022 is a year of double harvests for both brand and product, with increasing recognition in the domestic market and new chapters opening in the overseas market. Having gone through various experiences in the past year, NIO, which stands at a higher starting point, will give us more to look forward to in 2023.
JACO: 11,337 Deliveries in December 2022, 71,941 Total Deliveries in the year
"In December, JACO delivered 11,337 new 001 vehicles, a year-on-year increase of 198.7%, with an average order amount exceeding RMB 336,000."
"In 2022, JACO delivered a total of 71,941 new 001 vehicles."
In the second half of the year, JACO's deliveries showed a clear upward trend. Since delivering over 10,000 vehicles for the first time in October, JACO has delivered over 10,000 vehicles for three consecutive months. This is due to the timely upgrading and improvement of the products based on user feedback, as well as JACO's brand being able to handle challenges in the midst of adversity.
On the same day that the delivery data was released, the 2023 JACO 001 was officially launched, with major upgrades in terms of configurations.
Three new color schemes have been added: Sunburst Orange, Arctic Blue and Midnight Black. The YOU version provides a Z-Sport sports advanced package for users to choose from.
In terms of configuration, all series have upgraded to Monaco NAPPA material for seats, including quiet electric suction doors, front seats with heating, ventilation, massage and memory functions, full electrically adjustable seats and intelligent constant temperature air conditioning suite as standard features.
In terms of range, the WE 100kWh model can also choose the "Thousand-mile Range Package", which is equipped with a 140kWh CATL Kirin battery, and the CLTC comprehensive endurance under working conditions can reach 1,032km. The limited edition of 1,000 units is priced at RMB 103,000.
XPeng: Delivery of 11,292 Units, with a Total of 120,757 Units in 2022
In December, XPeng Motors delivered 11,292 new cars with a MoM growth of 94%.
In 2022, XPeng Motors delivered a total of 120,757 new cars with a YoY growth of 23%.
Among them, the flagship model G9 delivered more than 4,000 units for the first time, reaching 4,020 units with a MoM growth of 160%.
After experiencing a downturn in the second half of the year, XPeng Motors carried out organizational restructuring at the end of November. He XPeng himself also stated that he will focus more on XPeng Motors' strategy, product planning, and R&D.
The effect of this round of adjustment was immediate, with XPeng's delivery volume rebounding in just one month. The 94% MoM growth rate objectively reflects the good results of this round of adjustment.
After stabilizing the situation, XPeng Motors gradually released its 2023 plans to the outside world.
Firstly, in terms of products, XPeng Motors revealed in the Q3 2022 financial conference call that it will launch three new products in 2023, including a revised P7 model, a G7 SUV model with an internal code name of F30, and a mid-to-large-sized MPV model with an internal code name of H93. In addition to the well-known revised P7 model, there is also the latest news about the other two new models in the fourth quarter.
Secondly, in terms of policy, according to previous national policy regulations, vehicles registered after January 1, 2023, will no longer be entitled to national new energy vehicle purchase subsidies.And on the same day as announcing the delivery volume for December, XPeng Motors announced that the suggested retail prices of all XPeng models in 2023 will remain consistent with the post-subsidy prices at the end of 2022.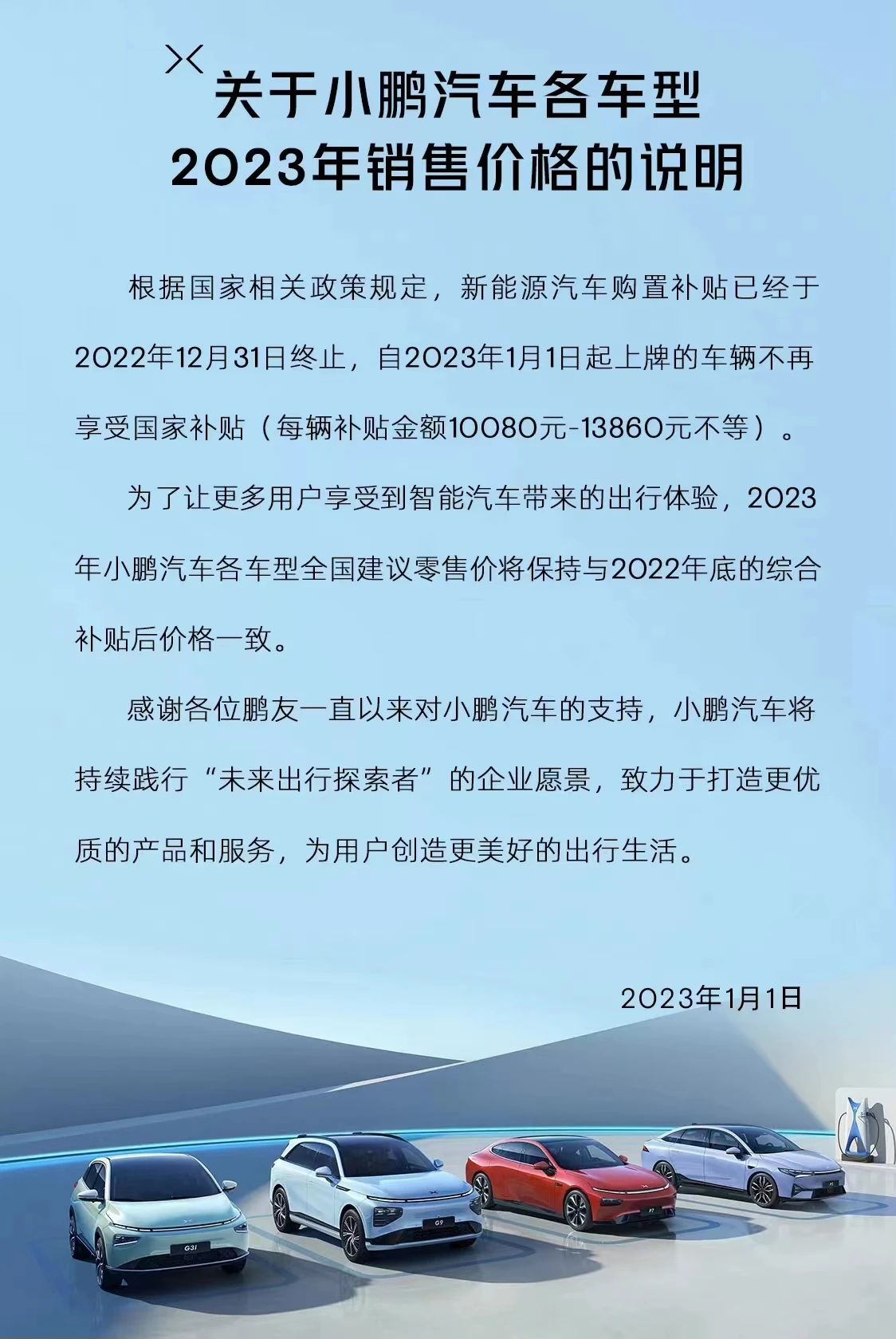 With the steady increase in the delivery volume of the G9, and the active promotion of three new models in the new year, XPeng Motors is gradually emerging from the previous low point. With the stimulating effect of a new round of sales policies, we have reason to believe that XPeng in 2023 will have sufficient ability to once again stand in the "monthly delivery ranking" top tier.
WENJIE: December delivery of 10,143, accumulated delivery of 76,180 for the whole year
In December, the WENJIE series delivered 10,143 new cars, an increase of 22.7% month-on-month, marking the fourth month this year that the delivery exceeded 10,000.
From March to December this year, the WENJIE series accumulated a delivery of 76,180 new cars.
As a new brand, WENJIE series launched three models this year, M5, M7, and M5 EV. With the brand image and channel capabilities of Huawei, the sales performance of WENJIE has surprised many people. It completed the delivery of more than 10,000 cars in just 5 months, breaking the fastest delivery time record of new car manufacturing.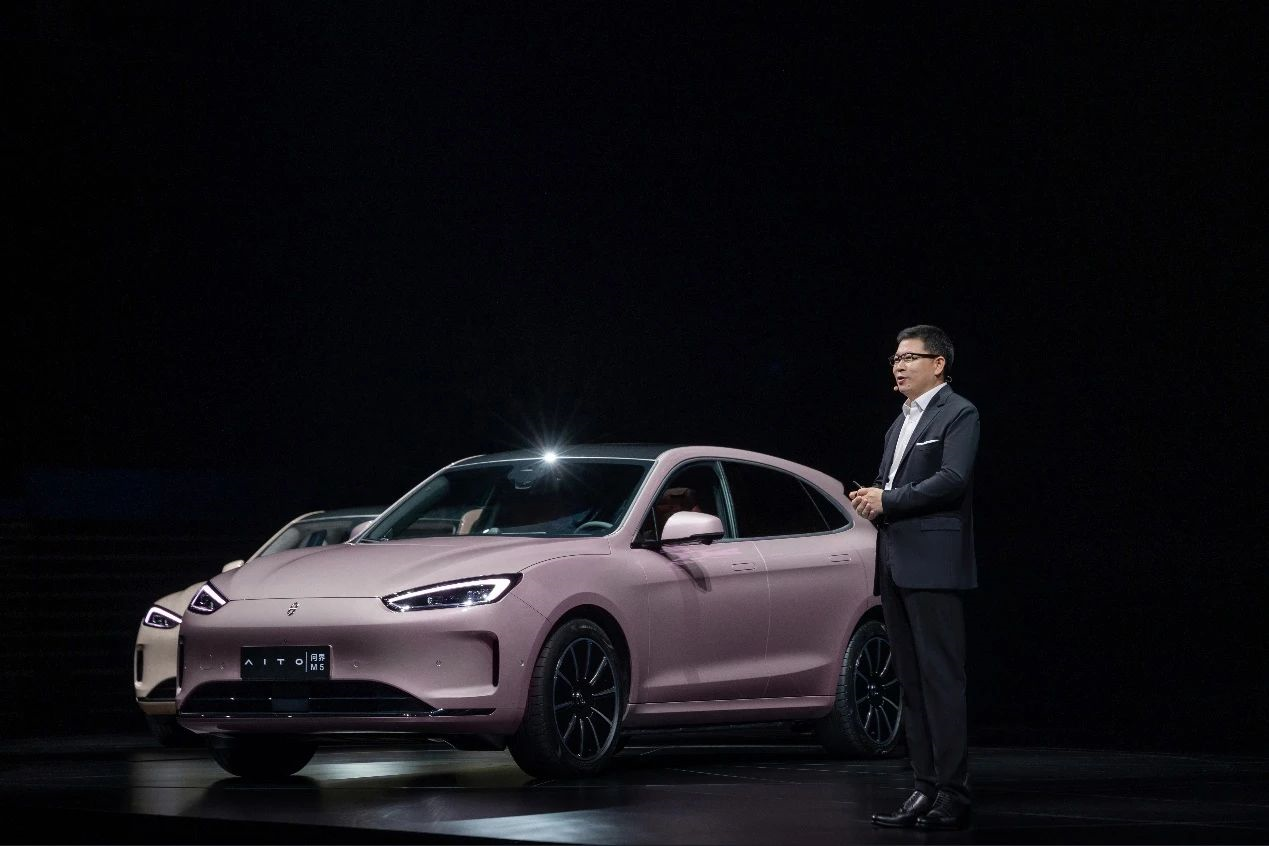 As a "newborn" in new car manufacturing, the performance of WENJIE series in the first natural year can be described as amazing. According to the previously disclosed plan, WENJIE will launch two high-end new cars in 2023. With the marketing level and brand influence of Huawei, WENJIE in the new year may continue to refresh our perception of it.
LEAPMOTOR: 8,493 deliveries in December, and accumulated delivery of 111,168 for the whole year.
In December, LI Auto delivered 8,493 new vehicles, a year-on-year increase of 5.5%.
Throughout 2022, LI Auto delivered a total of 111,168 new vehicles, a year-on-year increase of 154%.
From May 2020 to December 2021, LI T03 took 19 months to complete the first delivery of 50,000 vehicles. From December 2021 to December 2022, it completed the second delivery of 50,000 vehicles in 12 months.
Looking closely at LI's full-year delivery statistics chart, it showed strong sales performance in the first three quarters of this year, with delivery exceeding 10,000 vehicles for six consecutive months. However, since entering the fourth quarter, LI's delivery volume has shown a slight decline. The monthly delivery volume in the entire fourth quarter failed to surpass the 10,000 mark.
On December 31, LI launched a limited-time subsidy policy for the C01 model. For users who place orders and lock in the order from January 1 to January 31, 2023, LI will provide the national subsidy amount.
At the same time, LI C01 also launched equity such as the whole series's highest discount of 10,000 yuan and a financial interest subsidy of up to 10,000 yuan per vehicle.
NIO: Delivered 7,795 vehicles in December, with a total of 152,073 throughout the year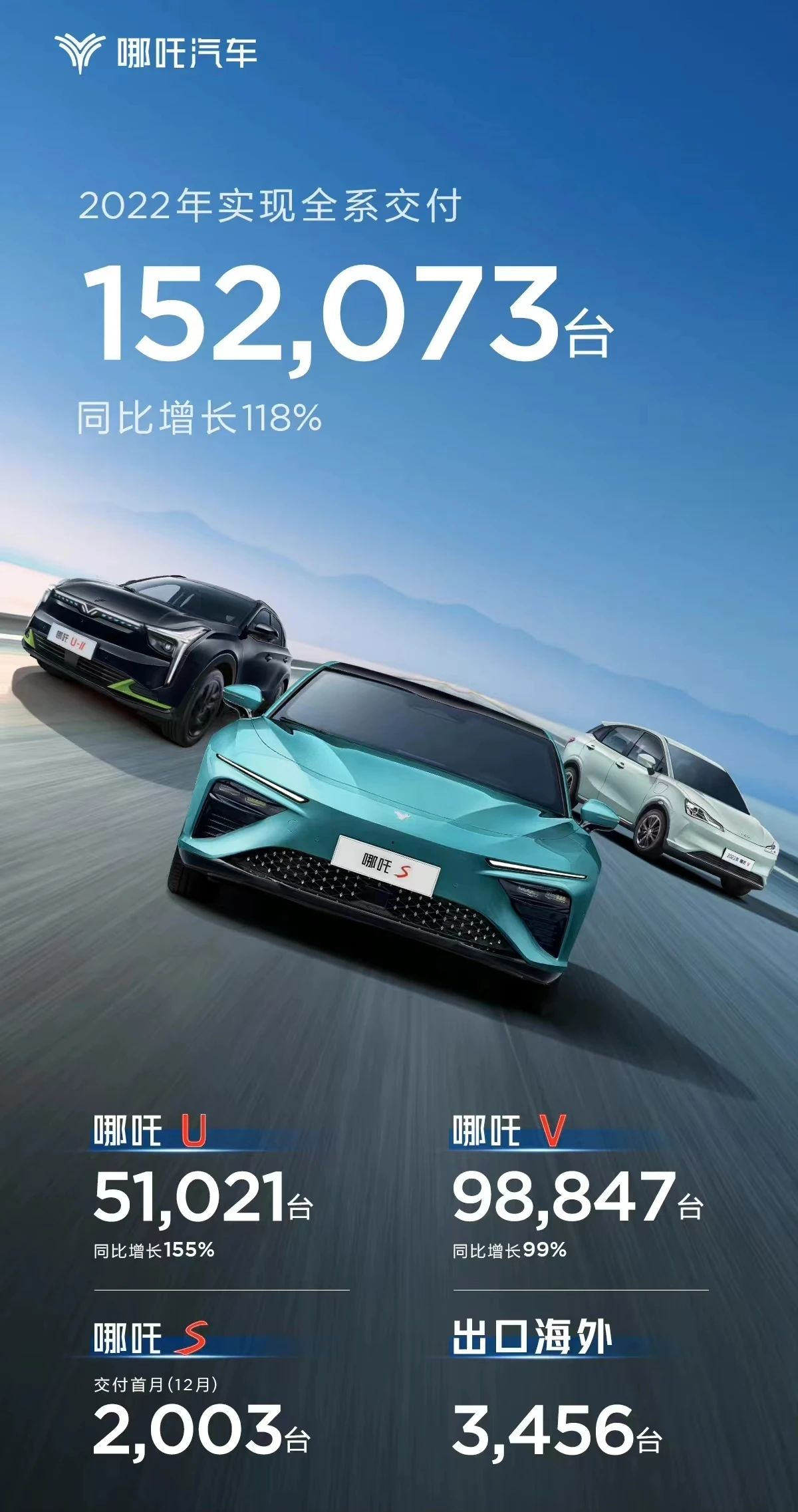 In December, NIO delivered 7,795 new vehicles, a year-on-year decrease of 48.2%, slipping from the throne of last month's new car sales champion to seventh place.
Throughout 2022, NIO delivered more than 150,000 new vehicles, with a total of 152,073, a year-on-year increase of 118%, of which 3,456 vehicles were exported.Delivery Status of Specific Models for the Whole Year:
NEO U delivered 51,021 units, NEO V delivered 98,847 units, and NEO S delivered 2,003 units in the first delivery month.
Despite a significant decline in NEO's December deliveries, thanks to the advantage accumulated by winning the monthly "sales crown" five times this year, NEO still became the new automaker with the highest delivery volume for 2022.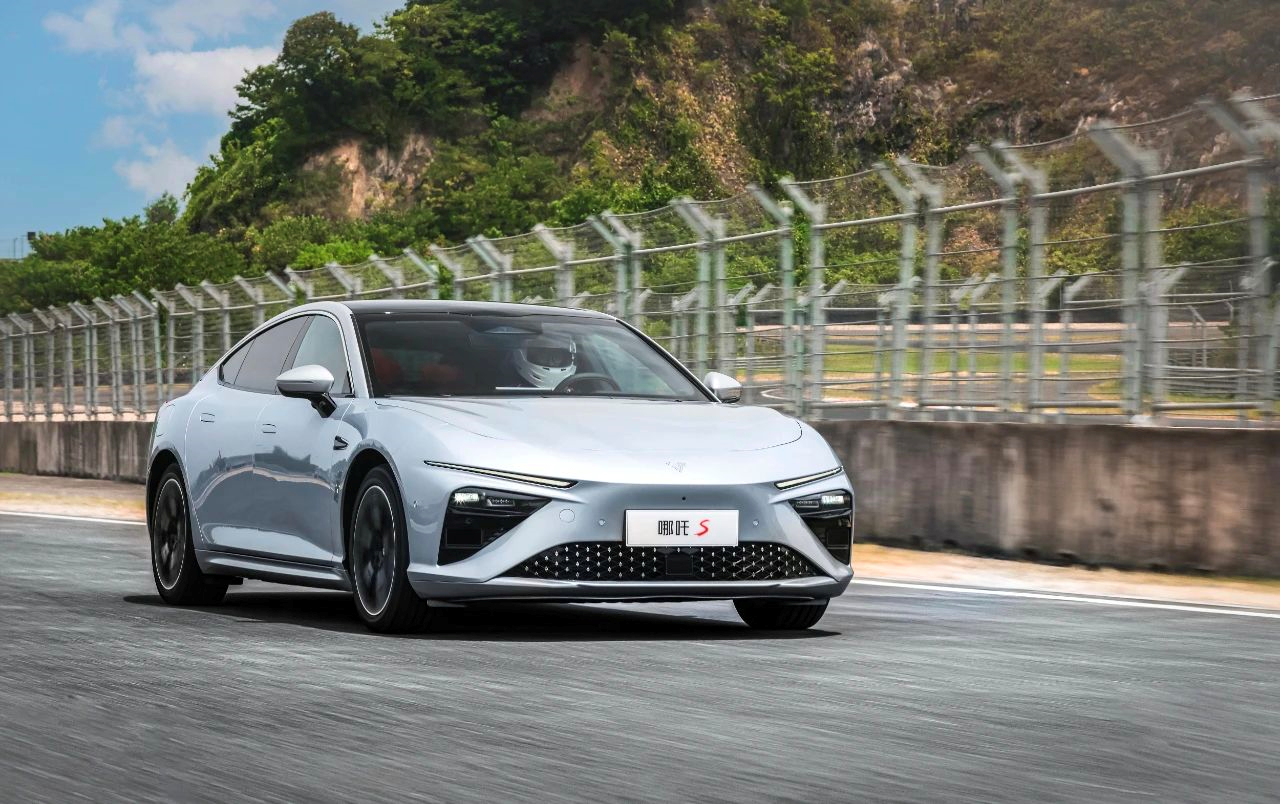 In terms of products, in December, NEO submitted an application to the Ministry of Industry and Information Technology for a new two-door sports car, the NEO E.
The new car is based on the Shanhail platform, with a two-door, four-seat layout, a body size of 472519791415mm, and a wheelbase of 2770mm.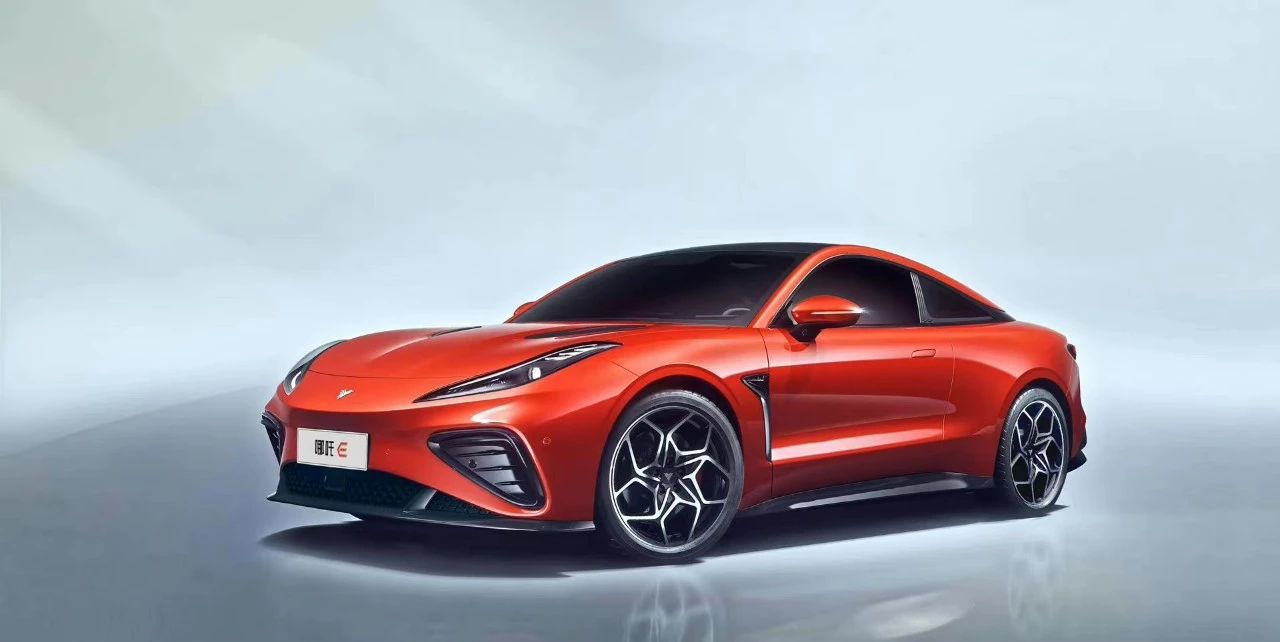 The front of the NEO E is quite similar to that of the NEO S, both of which are based on the Shanhail platform. The front styling is quite low, and the headlights utilize a long and vertical layout that evokes memories of some luxury brand sports cars. Two sets of black flow disturbance devices are designed on both sides of the front bumper and above the hood, adding to the sports feel of the vehicle.
The side of the body is designed with frameless double doors and a streamlined shape, providing four wheel styles for consumers to choose from. Previously, the tire size for the car submitted to the Ministry of Industry and Information Technology was 245/45 R19.
Regarding the back of the car, the NEO E uses a relatively traditional tail light design, and the rear bumper on both sides is equipped with a ventilated mesh design, with a red decorative strip on the outside to highlight the design.
In terms of power, it is currently known that there will be two power configurations available: rear-wheel drive with a single motor and four-wheel drive with dual motors. The maximum power of the single motor model is 170kW, and the maximum power of the dual motor four-wheel-drive model is 340kW.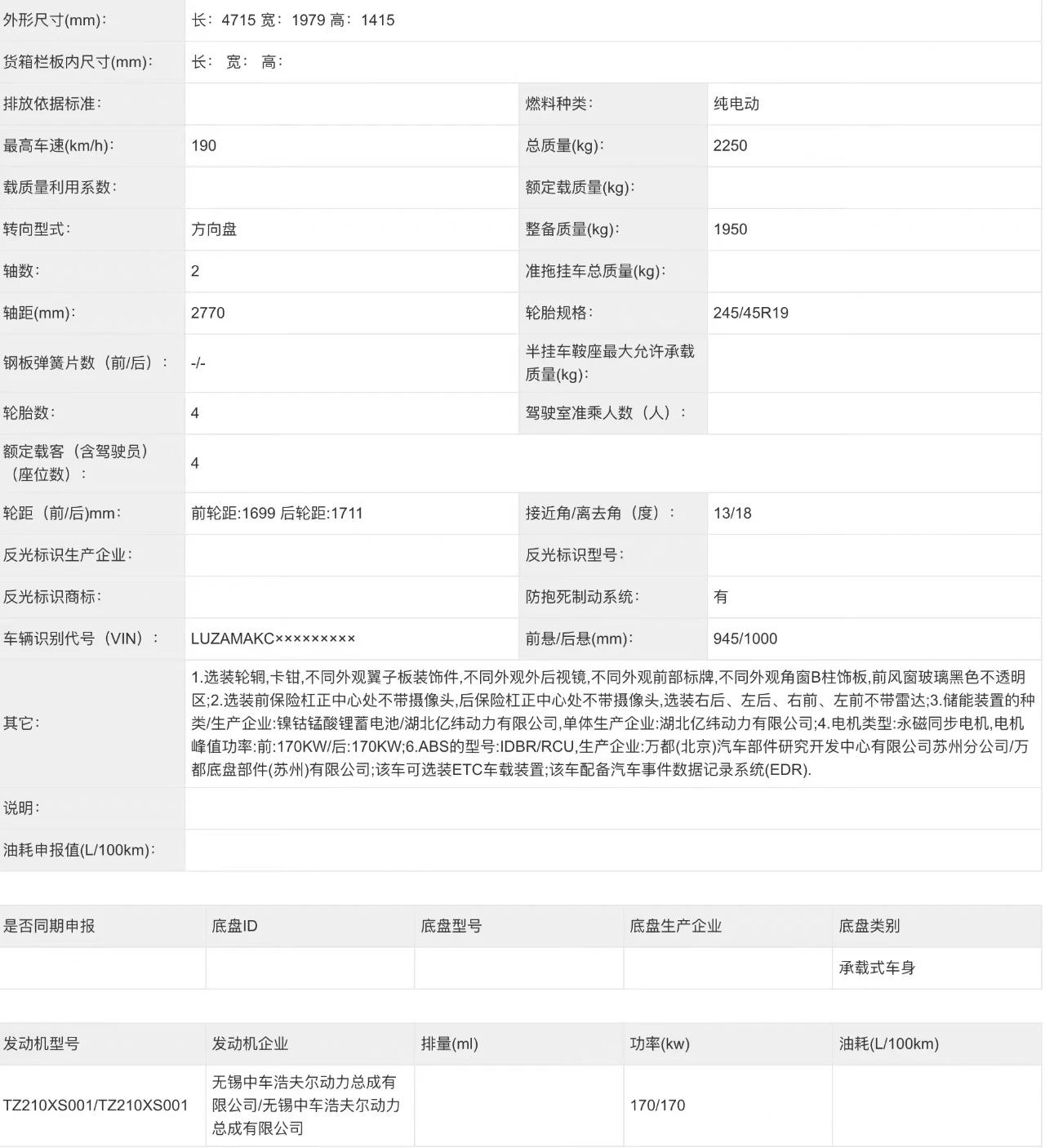 In terms of endurance, the rear-wheel drive single electric motor CLTC model has a range of 560km, while the four-wheel drive dual electric motor CLTC model has a range of 580km. The new car is expected to be released this spring and will be delivered in the first half of the year.
Hozon Auto: Delivered 3,134 in December, Exceeding 20,000 in Cumulative Deliveries for the Year
In December, Hozon Auto delivered 3,134 new vehicles, marking the fourth consecutive month when the number of deliveries exceeded 3,000.
In the full year of 2022, Hozon Auto delivered more than 20,000 new cars.
On December 3, the first sports car model of Hozon Auto, Hozon A06 was officially launched and the first batch of car owners was delivered in Guangzhou and Hangzhou at the same time.
On December 30, at the Guangzhou Auto Show Press Conference, Hozon Auto announced its fourth model and its first MPV model, Hozon V09.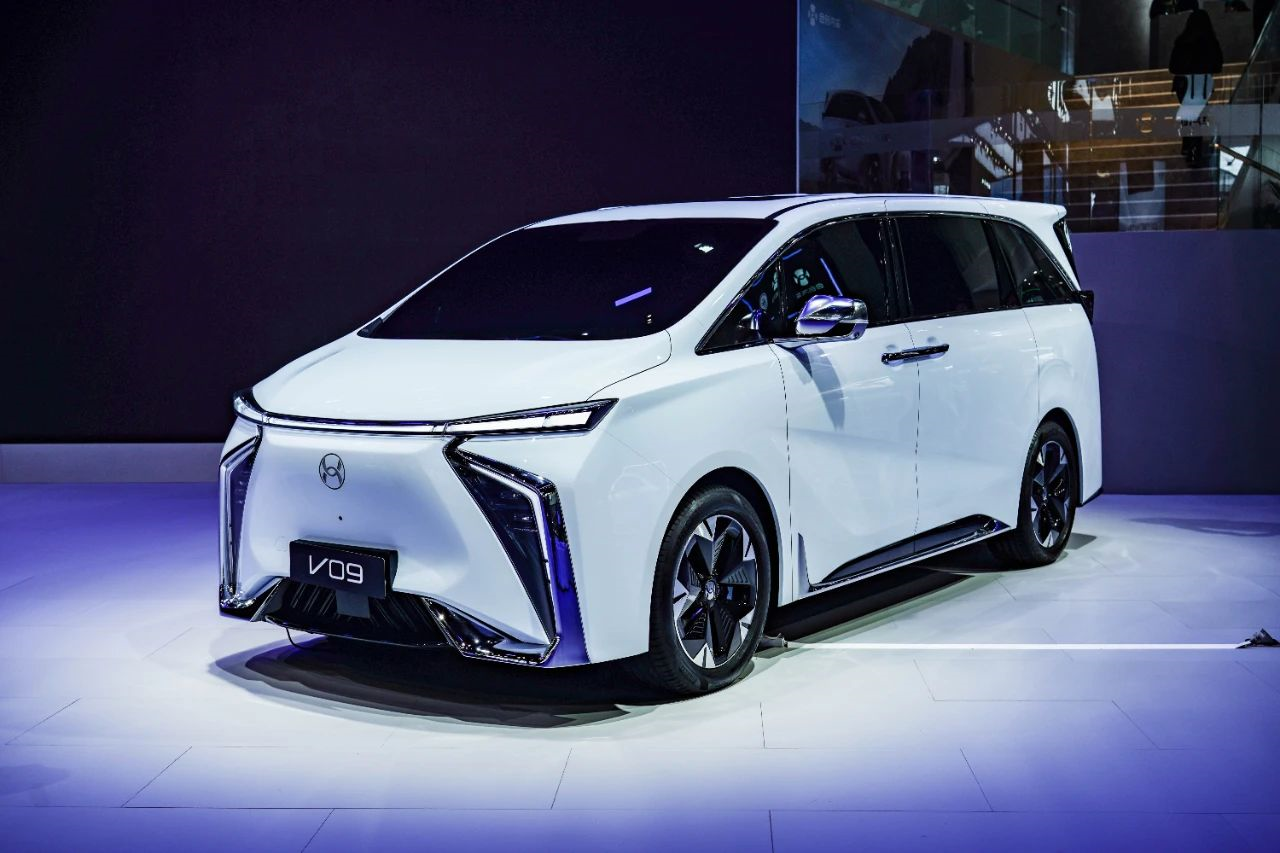 Hozon V09 is positioned as a medium and large-sized pure electric MPV. The body size has not been announced yet, and it is built based on the newly developed H-GEA pure electric architecture by Hozon. It is equipped with a large-capacity high-energy-density battery of 257Wh/kg, which can achieve a range of 750+ km.
The whole series is equipped with an 800V high-voltage system, and the peak fast charging power can reach 380kW, which can achieve the performance of replenishing 200 kilometers of endurance in 5 minutes of charging. In addition, the Hozon V09 will become the world's first mass-produced MPV equipped with a lidar.
Land Tour: 1,729 cars delivered in December, totaling 19,409 throughout the year
In December, Land Tour delivered 1,729 new cars, an increase of 14.7% compared to the previous month.
Throughout 2022, Land Tour has delivered a total of 19,409 new cars, an increase of 185.8% compared to the previous year.
On December 31st, Land Tour announced that the official subsidy, originally set to expire on December 31st, will be extended for another 90 days.
Before March 31, 2023, nationwide customers who purchase Land Tour FREE models are eligible for a subsidy of 30,000 yuan without threshold.
Aiways: 30,007 cars delivered in December, totaling 271,156 throughout the year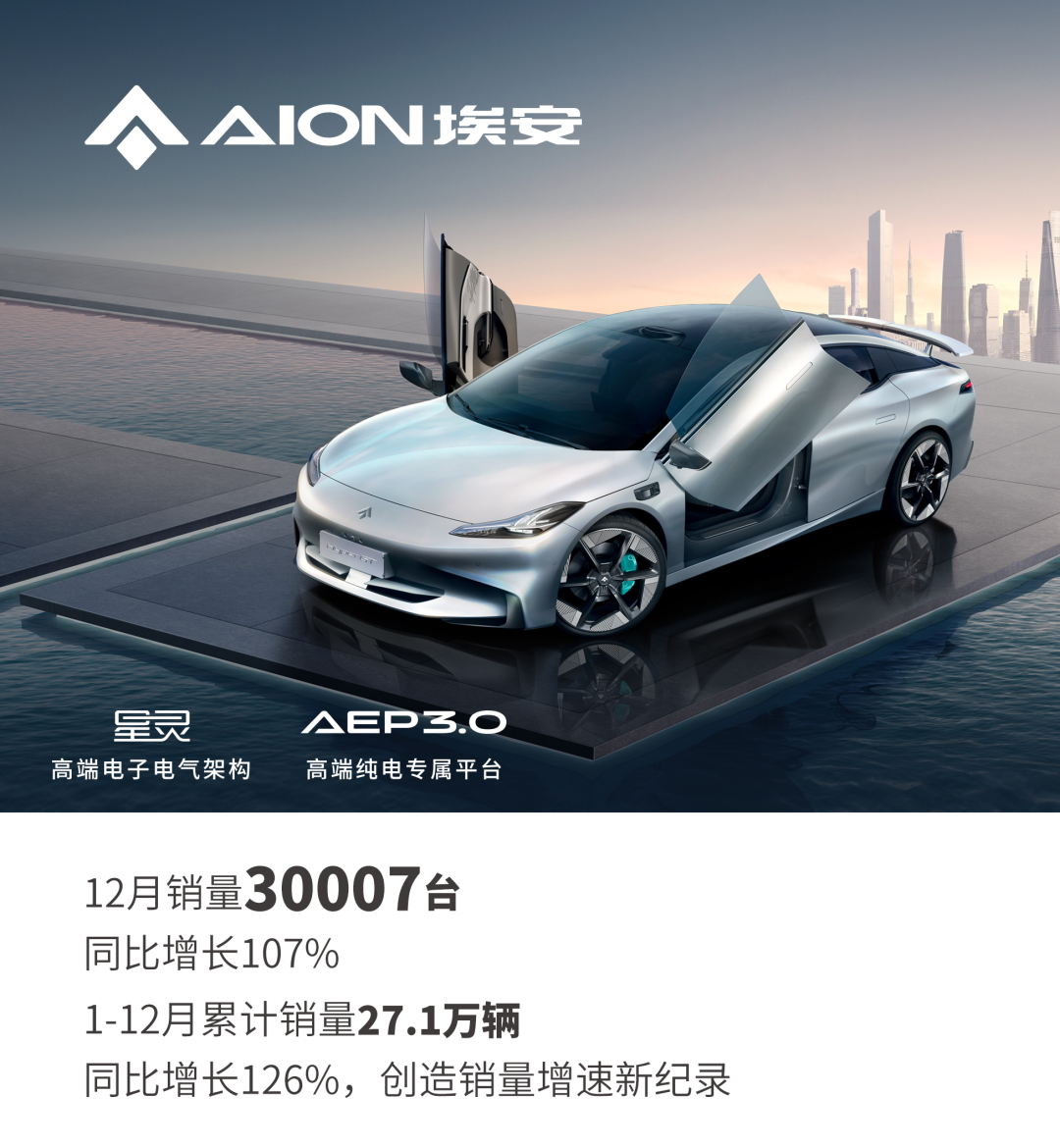 At the end of the rankings, the monthly reserved program, Aiways once again attacked the "new carmakers" on the market.
In December, Aiways returned to the 30,000 level, selling a total of 30,007 new cars, an increase of 107% compared to the same period last year, with sales exceeding 20,000 for eight consecutive months.
Throughout 2022, Aiways has sold a total of 271,156 cars, an increase of 126% compared to the previous year, creating a record for sales growth.
At the Guangzhou Auto Show, which opened on December 30th, Aiways launched the second model of its high-end brand Hyper, the Hyper GT.
The new car is based on the AEP 3.0, E安's new generation of electric vehicle-only platform, and is the first model in the Hyper series to feature the Starling architecture, with Tesla Model 3 as its main competitor, according to E安 at the launch, Hyper GT will be priced higher than the Model 3.
The exterior design of the Hyper GT is characterized by a sporty style, with a wind resistance coefficient of 0.19Cd, the lowest coefficient for a mass-produced car, and features frameless doors and gullwing doors, with a three-segment curved electric tailgate design at the rear of the vehicle.
In terms of power, the new car is expected to be available in two versions, single-motor and dual-motor. Previously, the company revealed that the acceleration time for the single-motor version is expected to be in the 4-second range for 0-100km/h, while the acceleration performance for the dual-motor version has yet to be disclosed. In addition, the Hyper GT is expected to be equipped with a 480kW fast charging and battery swapping function.
In terms of driver assistance, the Hyper GT will be equipped with 3 second-generation variable focus LiDARs (located on the roof and both side fenders) equipped with 39 intelligent driving perception hardware, including 12 ADAS cameras and 12 ultrasonic radars.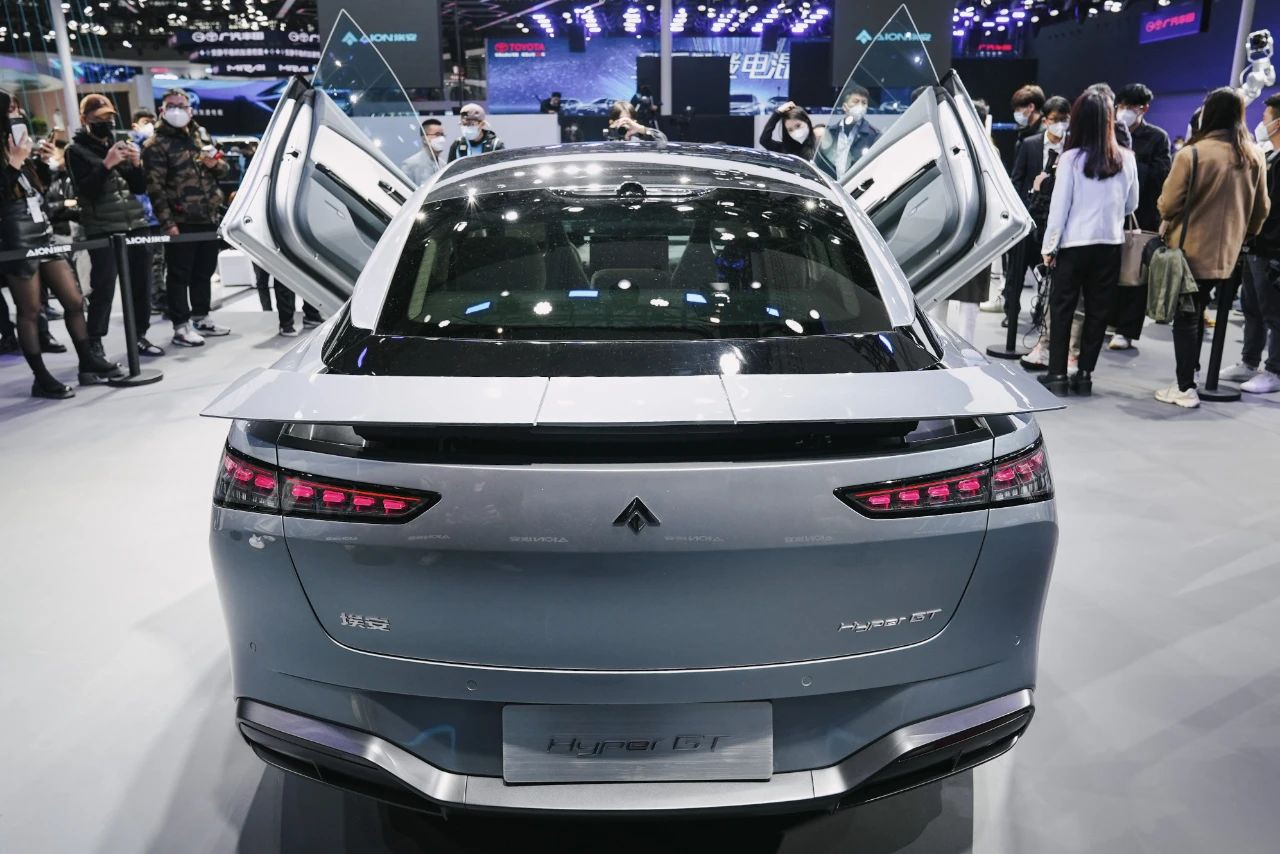 This article is a translation by ChatGPT of a Chinese report from 42HOW. If you have any questions about it, please email bd@42how.com.