According to a notice issued by the State Administration for Market Regulation, Tesla is recalling some imported Model S, Model X, and some imported and domestically produced Model 3 vehicles.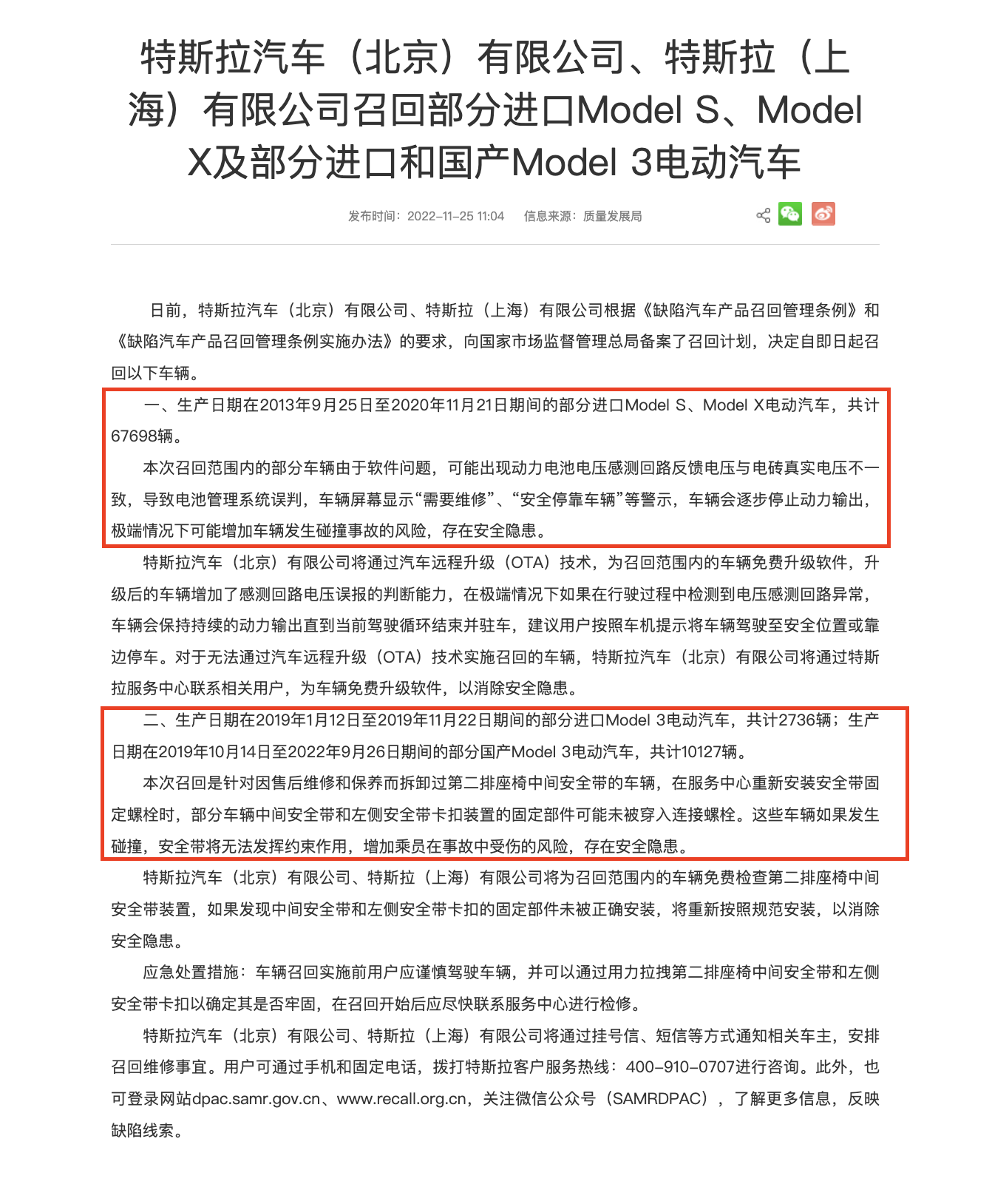 Recall One
Due to a software issue, some vehicles may have inconsistent feedback voltage between the power battery voltage sensing circuit and the actual voltage of the battery brick, which can lead to misjudgment by the battery management system. The vehicle screen will display warning messages such as "Repair Required" or "Park Safely", and the vehicle will gradually stop power output. In extreme cases, it may increase the risk of collision, posing a safety hazard.
The recall involves 67,698 imported Model S and Model X electric vehicles produced between September 25, 2013, and November 21, 2020.
Recall Two
For vehicles that have had the middle seat belt removed from the second row due to after-sales maintenance and repairs, when service centers reinstall the seat belt fixing bolts, some vehicles' middle and left seat belt buckle fixing components may not be threaded into the connecting bolts.
If such vehicles are involved in a collision, the seat belts will not be able to restrain passengers effectively, resulting in an increased risk of injury, posing a safety hazard.
This recall involves 2,736 imported Model 3 electric vehicles produced between January 12, 2019, and November 22, 2019, and 10,127 domestically produced Model 3 electric vehicles produced between October 14, 2019, and September 26, 2022.
If your vehicle was produced during the above-mentioned period and the middle seat belt for the second row has been removed due to after-sales maintenance and repairs, you are advised to:
Exercise caution when driving the vehicle before the recall is implemented, and check whether the middle and left seat belt buckle are firmly connected by pulling them firmly. After the recall begins, contact the service center as soon as possible to arrange for inspection and maintenance.
This article is a translation by ChatGPT of a Chinese report from 42HOW. If you have any questions about it, please email bd@42how.com.