Author: Chang Yan
Recently, quite a few of my friends have bought the Smart Fortwo 1.
This morning, when we were discussing why we should buy this car in the group with great interest, I gave my answer:
Nothing cheaper than this car looks as classy as it, and nothing more expensive than this car depreciates less than it.
You are not in the wrong channel, what I want to say is that there has always been a strong demand for luxury small cars in the market.
For example, as a person who is eager to travel for 300 days a year under normal circumstances, I often feel that leaving a hundreds of thousands car in the parking lot to collect dust is a waste. But if I drive an A00 car out one day, many customers will probably ask: Teacher Chang, is the company facing difficulties?
Therefore, the difficulty of making luxury small cars lies not in "small cars", but in "luxury".
Today, Abarth, a Fiat performance tuning brand, has launched the performance version of its best-selling electric car, the 500e, showing everyone the standard operation of making luxury small cars.
Like any high-performance tuning, Abarth's surgical operation starts from the face.
Abarth provides a brand new bumper and side skirt design for the 500e, which greatly enhances the trapezoidal visual effect of the front of the car, giving the car an unprecedented sense of stability.
If you have ever compared the Fiat 500 and 500e models, you will notice that Fiat has designed a distinctive semi-covered headlight for the electric model. In this Abarth version, the two half-opened little eyes seem to be mocking and looking down on something. Abarth's name occupies all the space between the two headlights, solving the designer's dilemma of "what to put after the air intake grille is gone".
It is worth emphasizing that Abarth also designed a new scorpion logo for the electric version, which adds a lightning bolt behind the scorpion. However, both I and Topgear editors think that this pattern looks more like a scorpion that has been electrocuted…
The Abarth logo on the vehicle's side is even larger, coupled with the unique acidic yellow or acidic green paint, which makes it easy to distinguish. You may even find that this small car without a rear row actually installs privacy glass for the rear row.
The 18-inch wheels on this car look terribly large. Unlike the tactic of many small cars to install larger wheels and secretly make the tires narrower, this car boldly equips wider tires, increasing the track width by as much as 6 cm, resulting in uncompromising performance. This is why we need to add a small spoiler and diffuser to the rear of the vehicle.
No such thing as intelligent cabins and autonomous driving.
The Abarth 500e interior definitely has a sense of fierce fighting. Abarth added a three-spoke steering wheel with special anti-slip treatment and a blue return indicator. It also designed dedicated sports seats and leather interiors with large coverage of Alcantara material.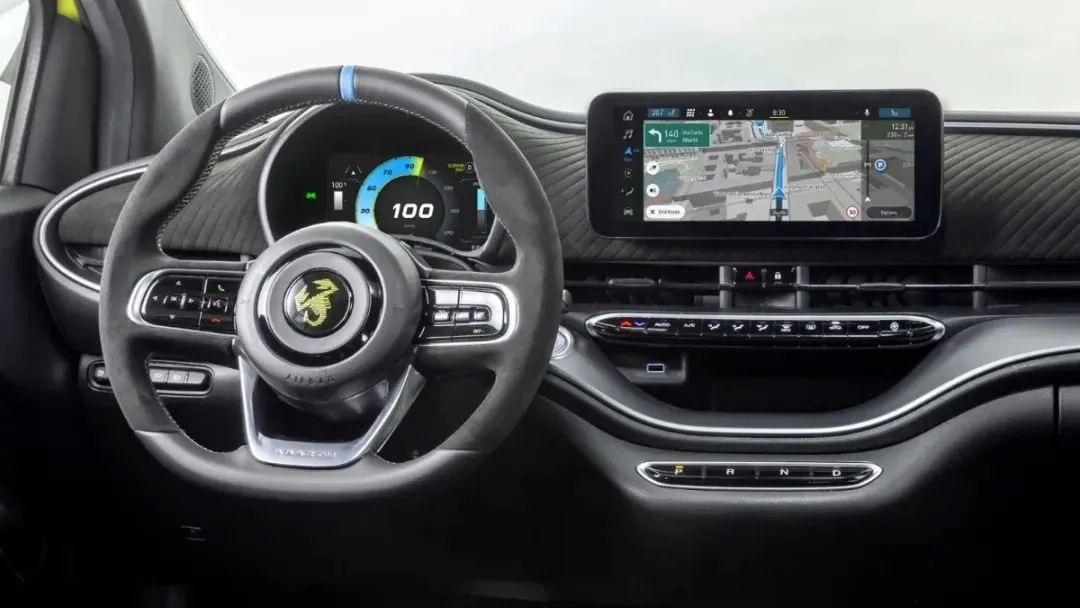 The pedals underfoot are also made of metal.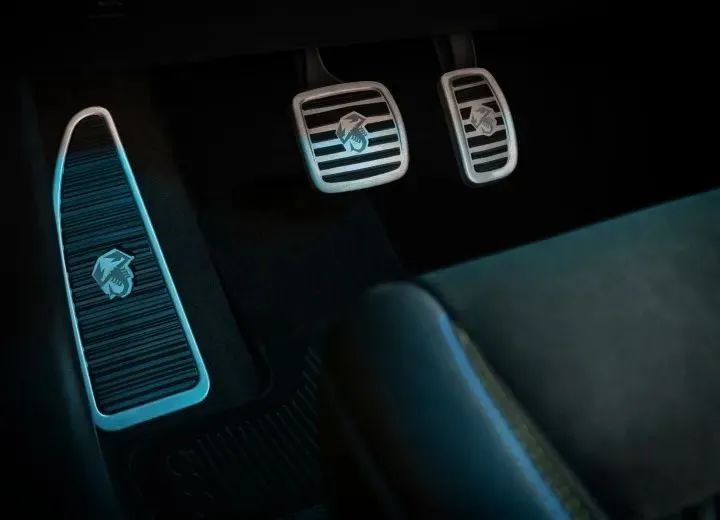 The top-of-the-line model has a 7-inch LCD instrument panel and a 10.25-inch touch screen car navigator. In addition to supporting Carplay and Android Auto, it can also display more performance options for the car owner.
About a year ago, Abarth President Olivier François said, "If you want to make a real Abarth, you can't use the same electric powertrain. Once it has the power and torque you want, it is no longer the same powertrain system, nor is it the same gearbox or brakes…the whole thing must be adjusted. "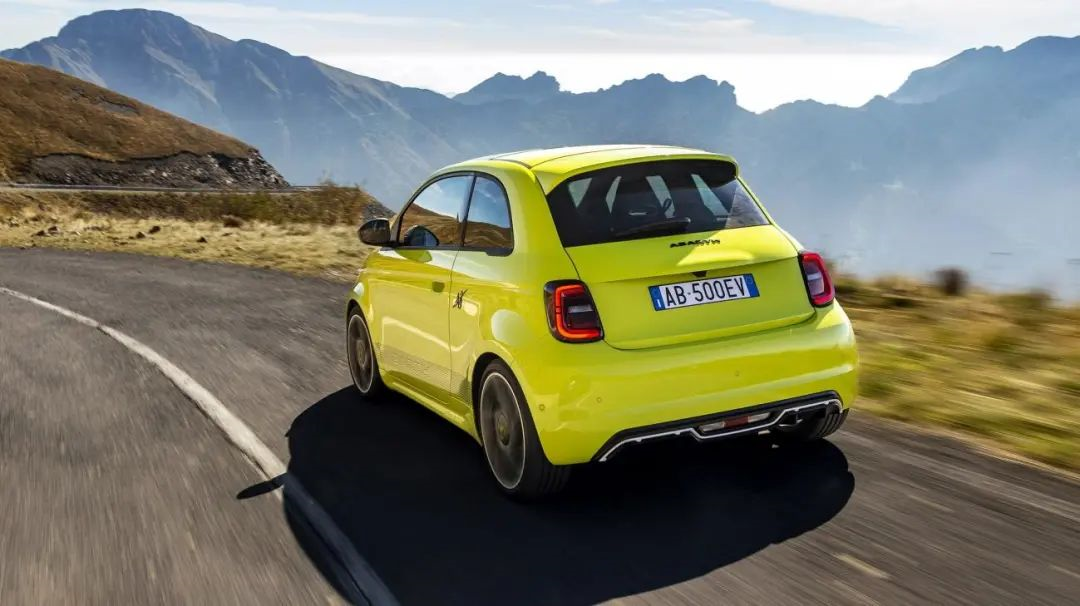 Compared with the standard 500e, the Abarth 500e is equipped with a more powerful front motor that can output up to 152 horsepower, which is much stronger than the standard 500e's 117 horsepower. The Abarth version also has a 0-100km/h acceleration time of 7 seconds, which is 2 seconds faster than the standard version.The MINI electric version is still a car that car enthusiasts are paying attention to, with a more powerful 184 horsepower. However, Abarth is faster for the zero to sixty acceleration by 0.3 seconds due to its much larger body. Compared with the strongest fuel version of the 500 series, the electric version of Abarth has 10 horsepower fewer. However, according to Abarth, the electric version is "faster and more exciting in both city and suburban driving" thanks to "improved weight distribution, better torque, and wider wheelbase".
The Abarth 500e has three driving modes. The Turismo mode is designed for daily driving, with power and torque reduced. The Scorpion Street mode maximizes horsepower while maximizing kinetic energy recovery, allowing you to quickly move around the city streets. The Scorpion Track mode maximizes power while reducing kinetic energy recovery, giving you full driving control.
As for the single-pedal mode, which is sensitive to Chinese consumers, Abarth says it is available.
The battery pack remains the same as the standard 500e, with 42 kWh capacity and available capacity of only 37.3 kWh. Abarth has not yet announced the total range of the vehicle, but considering that the standard 500e has only 321 km driving range, the performance version can only be shorter.
Fortunately, the maximum charging power is 85 kW, which is lightning-fast for such a small battery.The more neurotic thing is, the Abarth 500e is equipped with a speaker, and the company faithfully reproduces the sound of the Abarth gasoline engine through sound synthesis… More neurotic is that when the vehicle starts, you will hear a low-speed warning sound played by a guitar.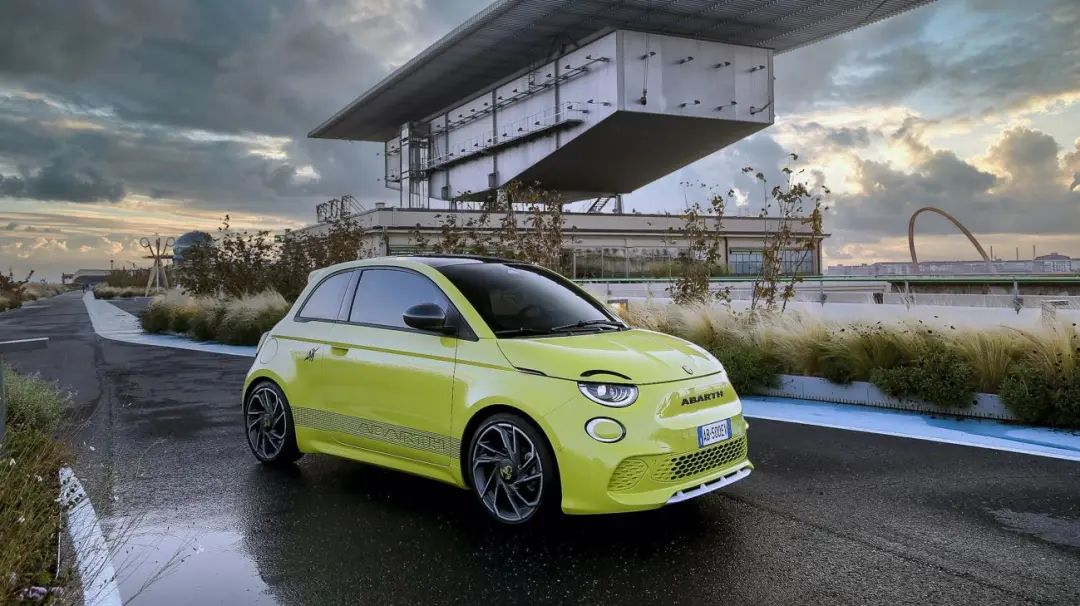 Abarth 500e will be launched in February 2023, and it's important to note that this is a limited edition model.
A total of 1949 units will be sold worldwide, with exclusive numbered certification, although it is not clear why it is 1949, it feels very coincidental with China.
Abarth said that this car can convert electric technology into adrenaline.
I really want to buy one.
-END-
This article is a translation by ChatGPT of a Chinese report from 42HOW. If you have any questions about it, please email bd@42how.com.