Last year at this time, the Avita 11 debuted with the glory of three crowns – Ningde Times, Huawei, and Changan Automobile – and released several specifications:
4-second acceleration
over 200 kW charging power
400 TOPS computing power
over 700 km driving range
These data may have been impressive in 2021, but some commenters questioned, "Next year in Q2, these data won't be attractive anymore."
Indeed, compared to other automakers' preemptive releases of information such as 1,000 km driving range, 3.x second acceleration, 480 kW fast charging, and 1,000+ TOPS computing power, Avita 11's specifications did not appear as competitive last year.
However, looking back on these data at the end of 2022, battery technology has not developed as fast as imagined, and the driving range of the CLTC's first-class players is still around 700 km. Although we have high-rate fast charging technologies such as 3C and 4C, the supported charging piles have only just begun to be deployed, and the trend of 800V has been trending for a year, and there are only a few models supporting it. Although larger computing platforms have joined the car industry, only Xiaopeng and Huawei have the ability to support city navigation assistance.
I'm not demeaning the development of the industry, but the expectations of everyone have been overdrawn.
Therefore, looking at it logically, as Avita's first car, does the Avita 11 have the chance to compete with Tesla Model 3 in terms of product strength?
With a flourishing market, is there any meat left for newcomers?
Before comparing products, we need to see the market environment in which Avita resides.
The following chart shows the monthly new energy retail sales volume in 2021 and 2022 from the China Passenger Car Association.
The sales volume in 2022 exceeded that of 2021, and there have already been six months of year-over-year growth exceeding 100%, which means that the growth has doubled compared to 2021 even with the last two months' data missing.If you only look at this chart, it's easy to conclude that the new energy vehicle market is developing vigorously, which is both true and false.
In 2021, the total sales volume of new energy vehicles in China was about 3 million. As of October 2022, the total sales volume of new energy vehicles in China has exceeded 4.4 million, and the industry is expected to have a total sales volume of about 5.5-6 million for the whole year, showing significant growth.
However, one cannot ignore BYD, whose sales volume last year was 600,000 vehicles. As of October this year, the sales volume has reached 1.4 million, and it is expected to reach 1.8-2 million this year. This means that half of the growth in the new energy industry comes from BYD.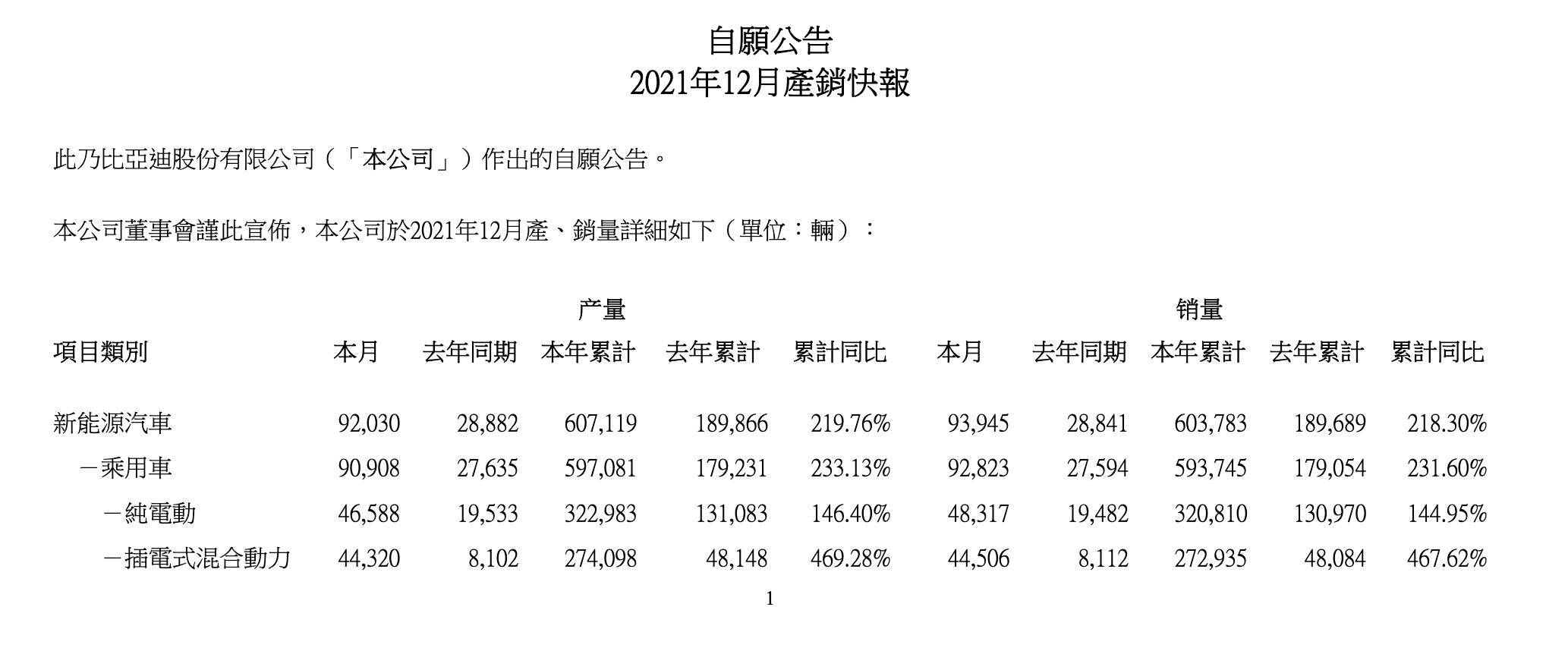 Looking at this chart again, it can be seen that the market share of the top 8 automakers in terms of sales volume has reached 67.6%. In addition to Tesla China, the other 7 automakers' sales-supporting models are priced below 300,000 yuan.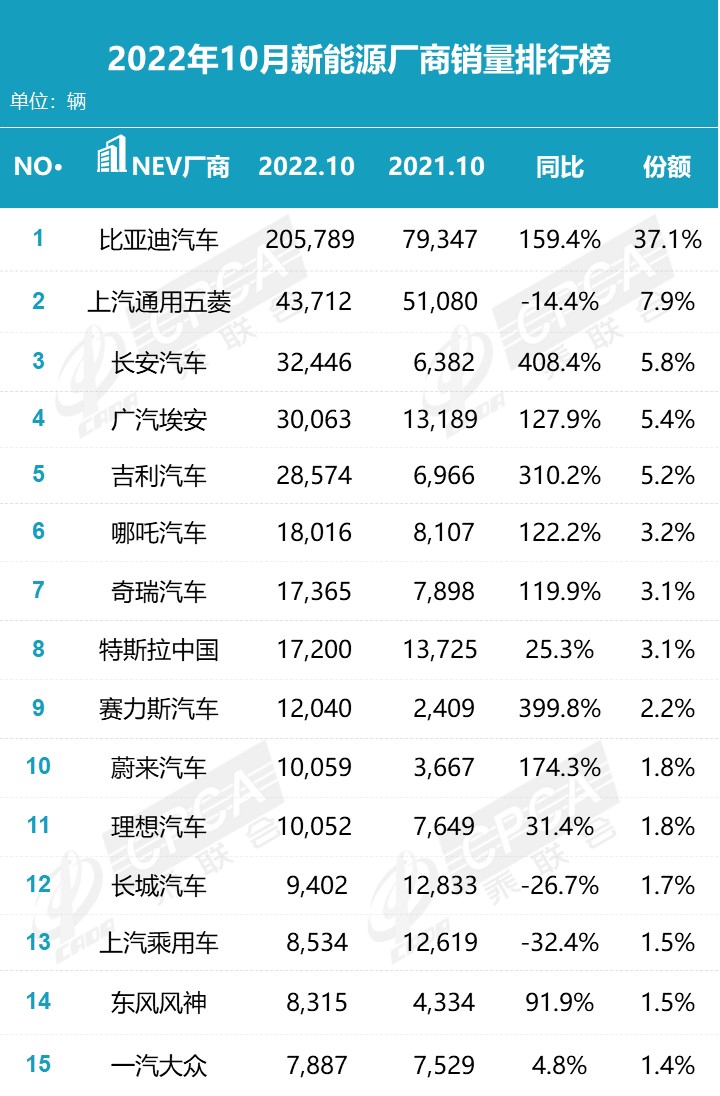 It can also be seen from the chart that the main products of BYD, Geely, GAC Aion, Chery Auto, Changan Auto, Leap Motor, and Nio Auto, all of which have a year-on-year growth rate of more than 100%, are priced below 300,000 yuan.
Therefore, although the entire new energy market is growing rapidly, the core growth is concentrated in the market below 300,000 yuan, which is in line with the current economic environment.
At the end of October this year, Tesla carried out a round of price cuts, with a maximum reduction of 37,000 yuan.
This is the first promotion-type price cut in the traditional sense of Tesla China, exchanging price for volume. Moreover, according to insiders, even with a significant price cut, the difference between order situation and sales peak is still large.
From the above data, it can be seen that although there is a dividend in the development trend of the industry, the competition in the market above 300,000 yuan is still fierce. In addition to Tesla as the top player and Weichai Power as the new force with first-mover advantage, traditional brands such as Mercedes-Benz and BMW have also entered the market. Only truly powerful vehicle models can take advantage of this dividend.So what is a car model with strong product power? Simply put, it is a beautiful and easy-to-drive car with outstanding intelligent configuration and a reasonable price.
Here is actually the question we have always talked about: "Is it easier for traditional brands to do intelligentization well or for new forces to do mechanical quality well?"
By the end of 2022, we have seen new energy vehicle models with good mechanical quality, but traditional car companies that have truly done well in intelligentization have not yet emerged.
The reason behind this is actually very reasonable. We have accumulated quite a bit of experience in car manufacturing, but in terms of intelligentization, the entire industry is at a loss. Each automobile company that enters the market needs to invest a lot of time, money, and talent. Everyone is exploring ways step by step, and some leading car companies have paved the way, but the road is still long and difficult.
Plan B is to have a reliable partner to work together deeply, just like Avita. This is also why Avita has attracted industry attention. Before delivery, we finally had a simple experience of Avita 11's intelligent driving in Suzhou.
How good is the intelligent driving level of Avita 11?
Avita 11's AVATRANS intelligent navigation system is based on Huawei ADS, which is part of the HI (Huawei Inside) Huawei Full Stack Intelligent Automotive Solution.
The hardware components consist of 9 ADAS cameras, 4 surround view cameras, 3 96-line lidars, 6 millimeter-wave radars, and 12 ultrasonic radars, and the MDC central computing unit is responsible for processing the above sensing data, along with Huawei's own high-precision map as auxiliary.
Everyone is familiar with this hardware set, but two values are worth mentioning:
One is about ADAS cameras. In order to improve the system's nighttime performance, this car uses a 3.0um large pixel camera, and the aperture reaches F/1.6;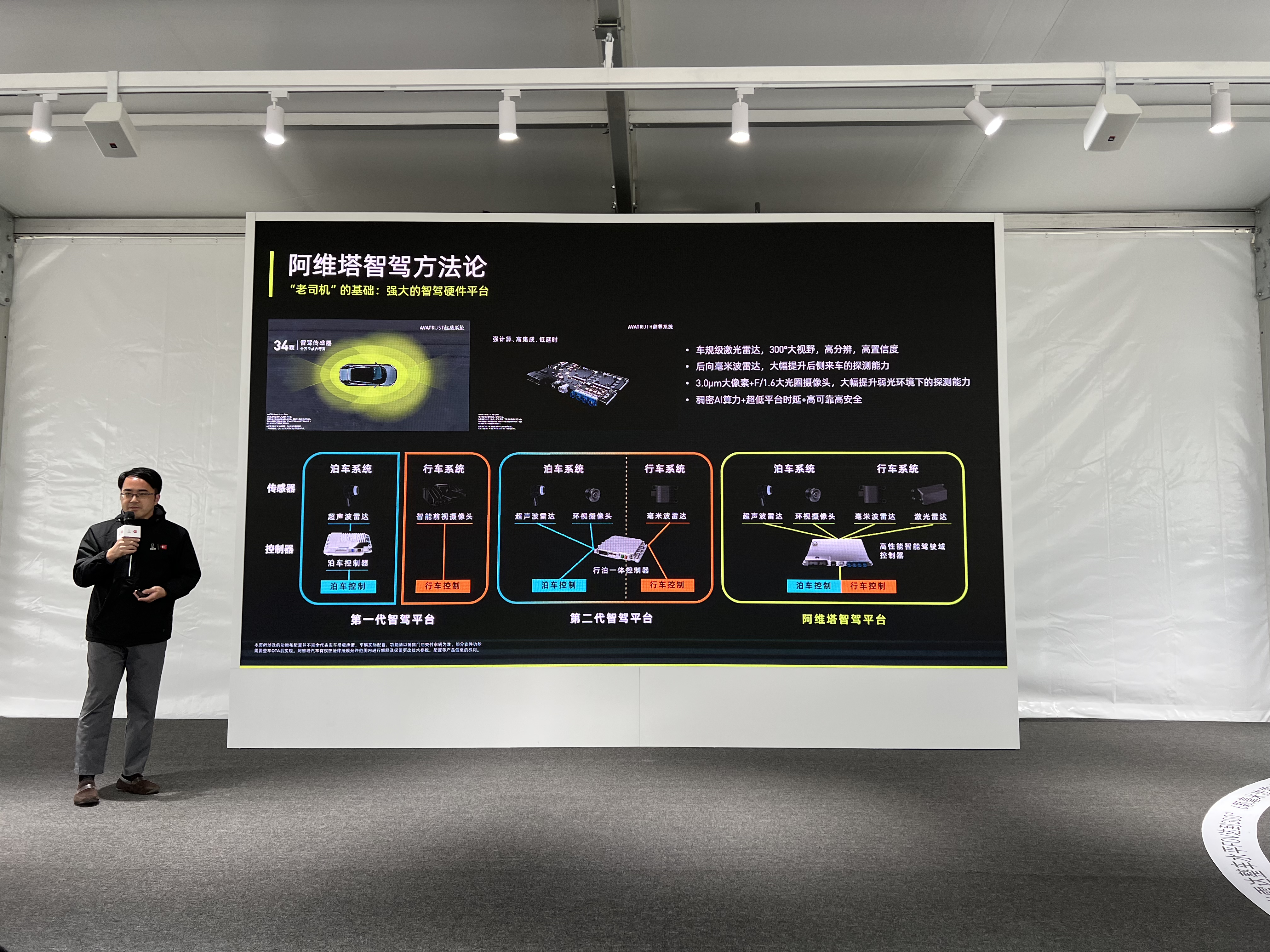 The standby power consumption of the system is another important value. For rich intelligent driving perception hardware, increasing more components often means higher power consumption. However, according to Avita, this system has a standby power consumption of only 1-2 W, and the time for sleep and wake-up is less than 3 seconds.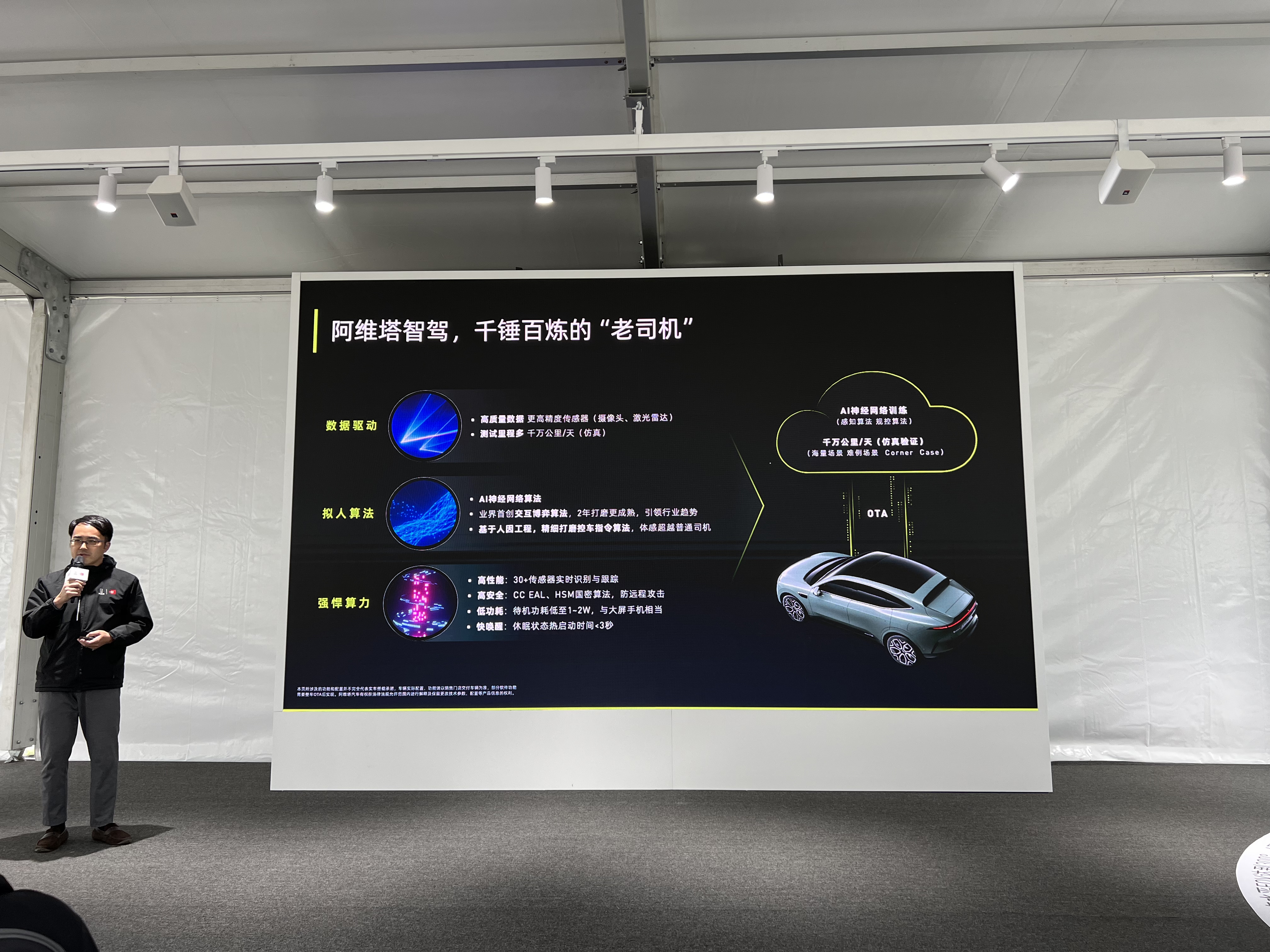 From the perspective of experience, we didn't experience Huawei ADS's most remarkable city navigation assisted driving in Suzhou, but the performance of "Highway NCA Intelligent Driving Navigation Assistance" and "ICA Intelligent Cruise Assistance" that we experienced is still impressive.
Regarding the "Highway NCA Intelligent Driving Navigation Assistance," we experienced a total of 38 km. The route we took covered all sections of the route, except for the parts where the function was not covered. The system performed a takeover-free driving throughout the journey. When facing cutting-in vehicles, the system was capable of stable identification and comfortable deceleration. As for changing lanes, the system increased the logic of accelerating and changing lanes. In case a change of the lane is necessary and there is a car continuously following behind, the system will slightly exceed the speed limit for a short time to increase the success rate of changing lanes.
However, due to limited time and routes, it is still challenging for us to draw a final conclusion about the changing lane strategy and the ramp strategy.
Regarding the "ICA Intelligent Cruise Assistance," Avita set up five common or possible dangerous scenarios that we may encounter daily in the intelligent networked testing ground of Yangcheng Peninsula: large curvature bend, overturned vehicles on the inside of the tunnel, construction scenes with barrel guidance for lane changing, water horses occupying lanes, and S-shaped bends.
To give us a more intuitive feeling, there are also Tesla Model Y, Nio ES7, and Xiaopeng G9 for comparison in the venue.
Large Curvature Bend
Facing the large curvature bend, all four cars set at a speed of 65 km/h to pass through it smoothly, but the experience of passing through it is vastly different.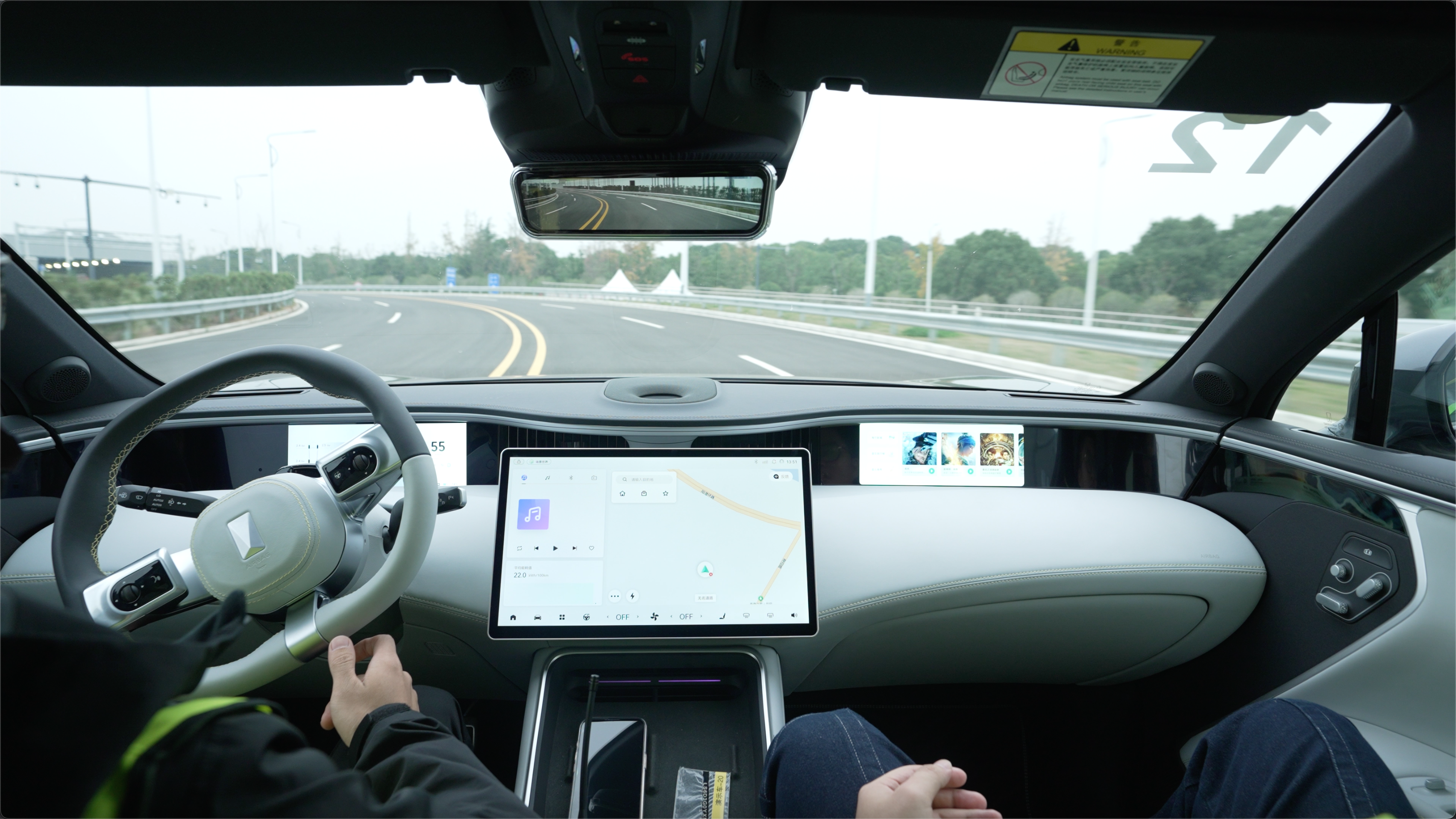 The Tesla Model Y is like a rail car, and it has a strong ability to center itself. But there was no deceleration throughout the entire process before entering the bend. Only slight deceleration occurred at the apex of the bend. From the perspective of driving ability, it is undoubtedly strong, but the comfort for passengers was not so great.
The Nio ES7 also passed through smoothly but started to decelerate only after entering the bend.# Translation
The speed control of XiaoPeng G9 is similar to that of NIO ES7, but there is an obvious struggle during the cornering process with some jaggedness.
On the other hand, the AVETA 11 reduces its speed before entering the turn, accelerates before exiting, and operates more like an experienced driver.
Accident car overturned inside the tunnel
When faced with an accident car overturned inside the tunnel, the biggest challenge is not only to identify the overturned car, but also to deal with the significant change in lighting, which is a test of visual perception.
Unfortunately, the only car without a LIDAR, Model Y, failed to identify the overturned car and the driver had to take over.
Among the remaining three cars equipped with LIDAR sensors, NIO ES7 and AVETA 11 could identify and stop smoothly, while on the visualization display of Xiaopeng G9, the car in front was already identified but there was no execution action. This is likely because the LIDAR sensor has not been officially activated.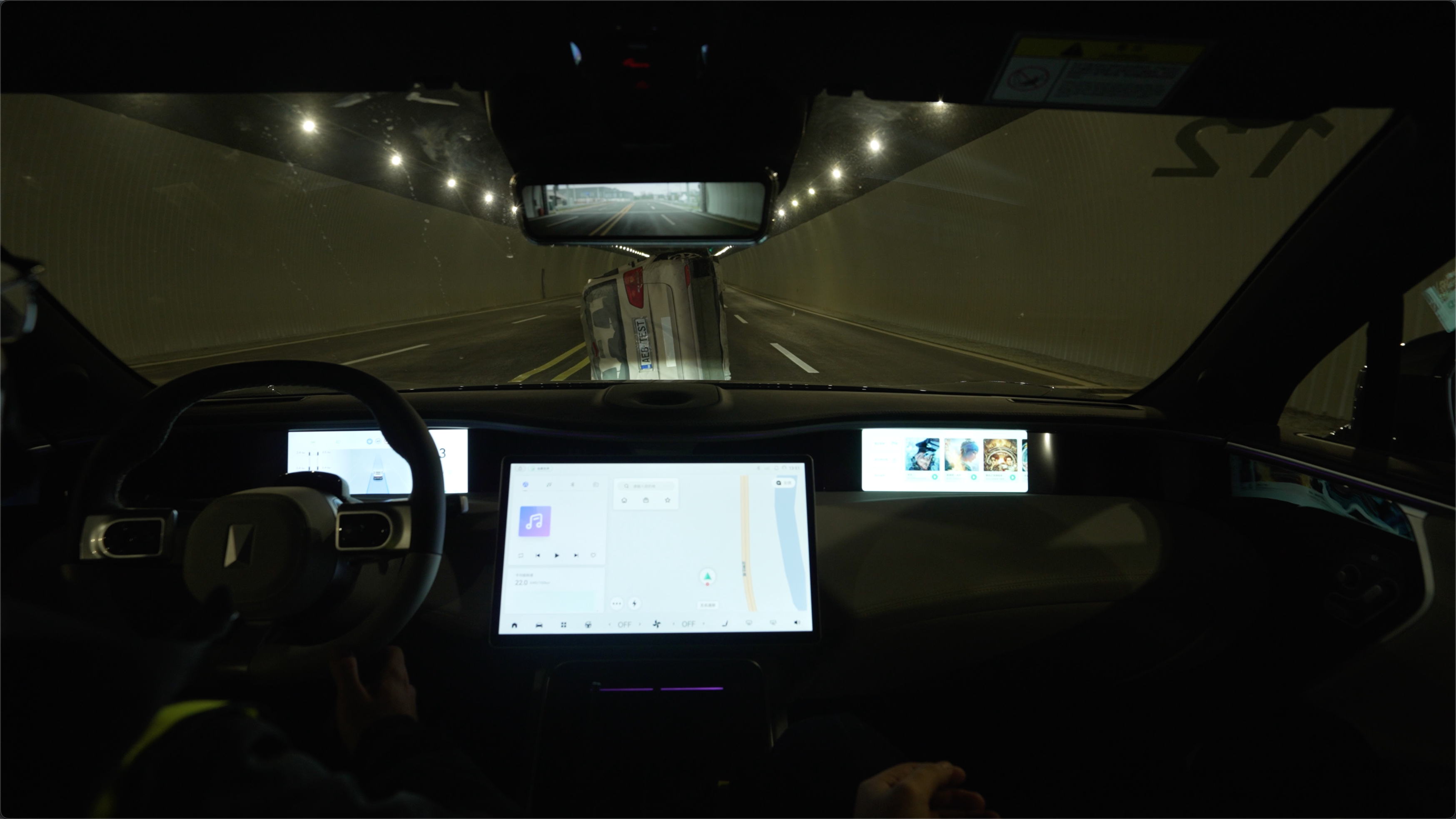 Scenes of guiding changing lanes with cone buckets in construction
When faced with cone buckets in the tunnel, all four cars could identify them properly. However, only the AVETA 11 has adopted the strategy of actively changing lanes. The Xiaopeng G9 can brake actively, but there is no action from Tesla Model Y or NIO ES7.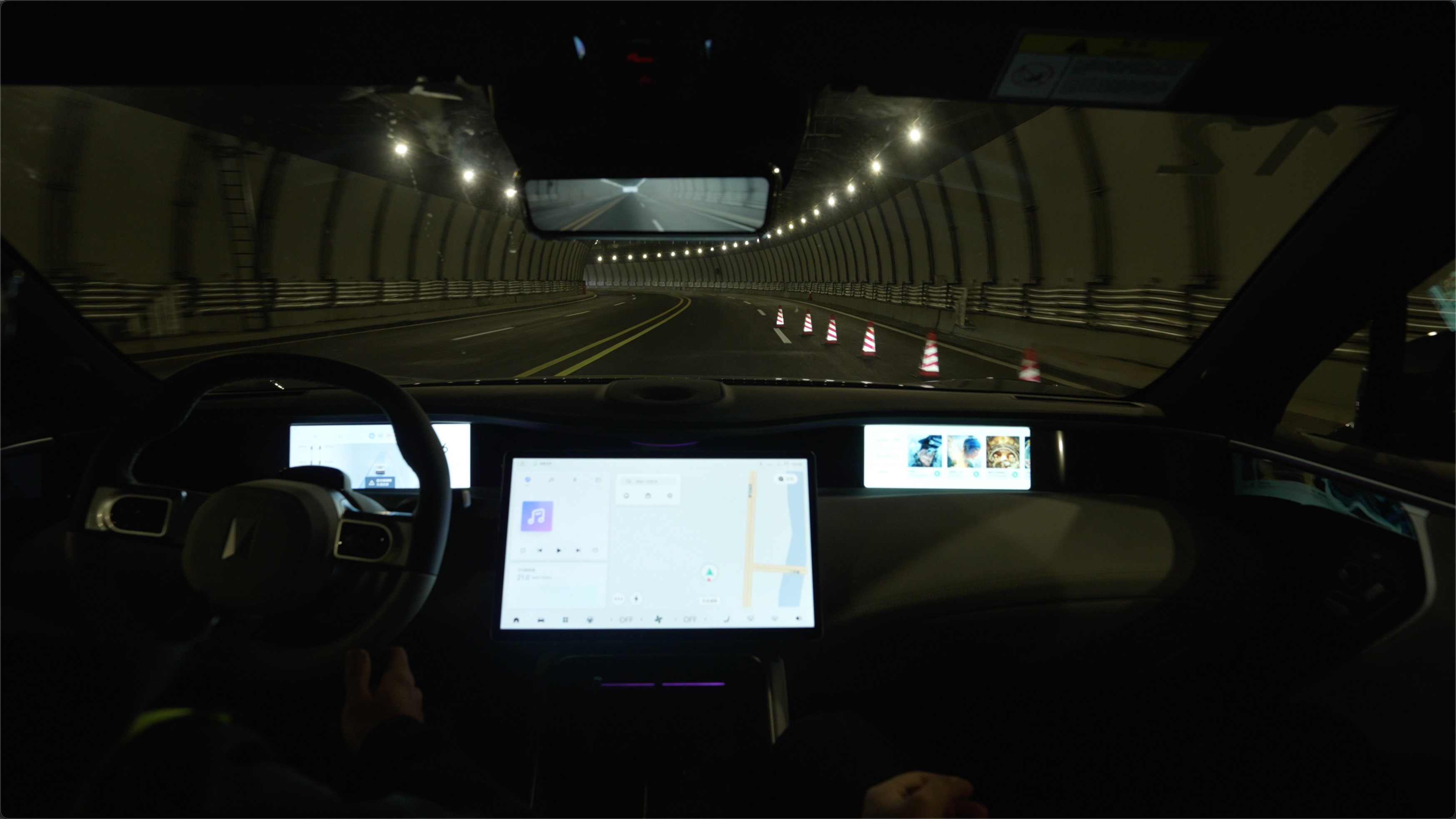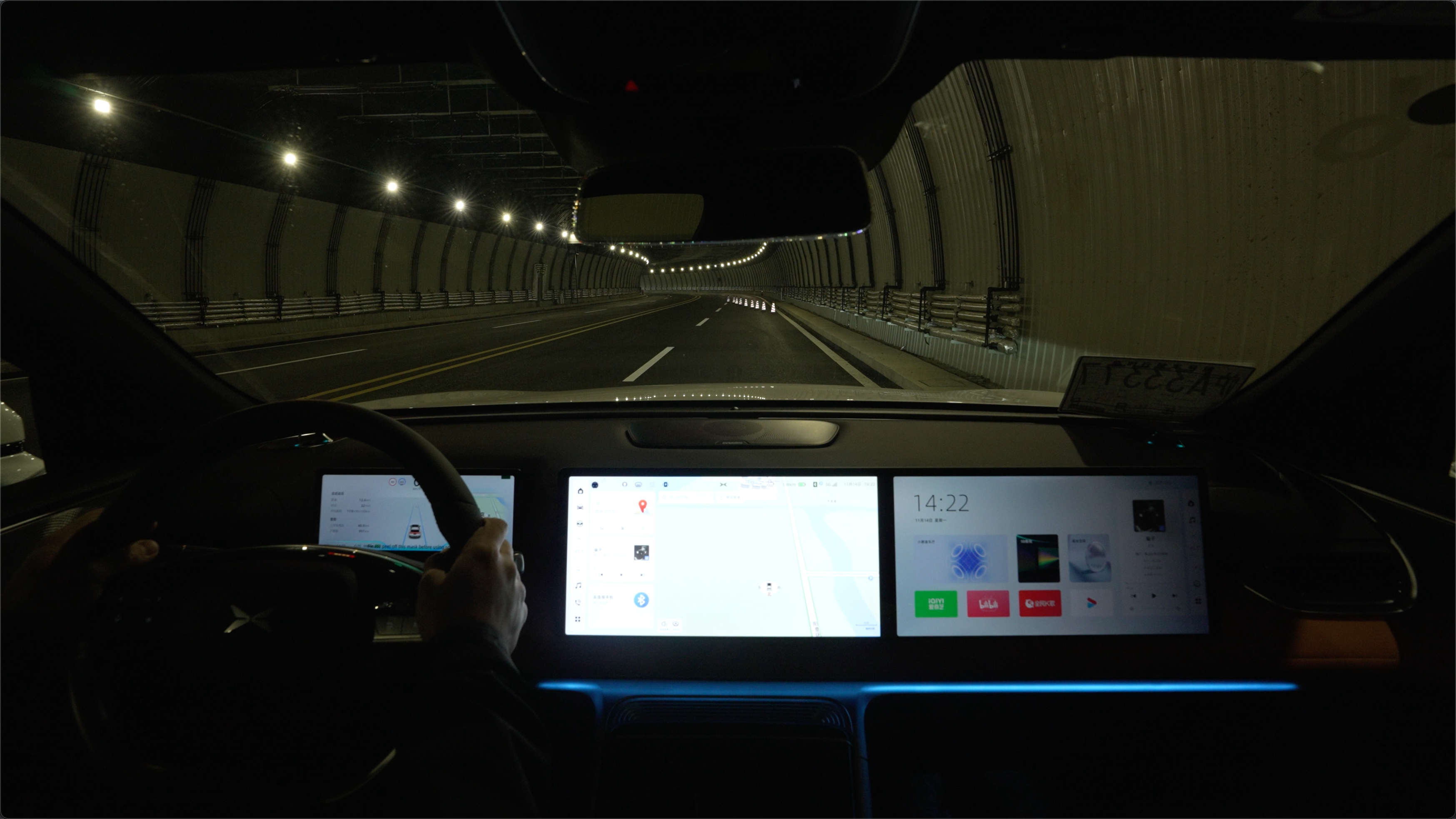 S curve
The S curve is a combination of two large curvature curves. The difficulty lies in the transition process between two directions, from left to right to right to left. Both Tesla and AVETA perform like train cars, NIO ES7 shows a clear overlap on the latter half of the curve, and Xiaopeng G9 cannot complete the test because it cannot be turned on inside the curve.
The scenarios mentioned above can be seen as projects designed to demonstrate the capabilities of Avita 11, but from another perspective, Tesla and the second-generation platforms of NIO and Xiaopeng indeed lack the ability to handle these scenarios.
Tesla needs no further explanation, as it is already pushing V11 FSD in North America, while in the Chinese market, the algorithm used is from four years ago.
As for NIO and Xiaopeng, although they are now equipped with stronger hardware, the refactoring and migration of algorithms from old platforms to new ones have caused productivity gaps in their products.
Looking further ahead, it can be seen that only Li Auto and Xiaopeng, based on Orin-X platform, currently support high-speed navigation assisted driving for cities, while NIO only supports basic assisted driving. Regarding urban navigation assisted driving, only Xiaopeng has made it clear that it will push it to G9 in Shanghai, Guangzhou, and Shenzhen in H1 of 2023, while the city navigation assisted driving of Li Auto and NIO may not be launched until 2024.
If Avita, a new brand, were to start developing intelligent driving from scratch, even if it had sufficient funds, it would be impossible to deliver the relevant intelligent driving software simultaneously with the product. With its cooperation with Huawei, however, Avita 11 can achieve mass production and delivery of high-speed navigation assisted driving, gradually supporting urban navigation assisted driving in 2023. Thus, it is evident that in terms of intelligence, it has the qualifications to compete with new forces, even surpassing NIO, Xiaopeng, and Li Auto.
Moreover, in an interview after the event, Wang Jun revealed that Huawei is trying a new technology route to reduce dependence on high-precision maps. "High-precision maps are indeed too expensive and slow and cannot keep up with the pace of final delivery to users. On the other hand, we cannot only sell cars in specific cities. The demand for intelligent driving among people all over the country is strong, so this problem must be solved."
"Currently, we are considering an alternative solution that can partially replace high-precision maps. The hardware configuration of Avita 11 is very good, and the architecture already has the ability to adapt to higher-order urban NCA. Once this solution is launched, the more Avita11 travels on roads throughout the country, the more cities with urban NCA we can open; as algorithms and data are iterated, the intelligent driving level of vehicles will also accumulate constantly, like human experience."However, the new problem is: is all the credit for having such capability Huawei's?
Undeniably, the underlying technological ability, such as perception and control algorithms, comes entirely from Huawei, but to achieve better actual experience, it requires high collaboration between Avita and Huawei.
For human drivers, there will be differences in field of view and driving experience for each car, and the same is true for ADS systems. Different layouts of sensors will also lead to differences in system perception results, and different mechanical qualities and tuning of different vehicles will also bring differences in intelligent driving experience.
Therefore, to obtain the best usage experience in a car, it also requires high cooperation between Avita and Huawei to obtain the best intelligent driving experience. In the interview, Wang Jun was not stingy in giving his praise for Avita 11 as Huawei's best executor "brain."
Final thoughts
The cooperation between Avita and Huawei has enabled Avita 11 to have the ability to confront new forces head-on and even surpass them at the delivery stage, but for the Avita brand and the Avita 11 model, everything has just begun.
After the large-scale delivery of products, the test of the first batch of users is the most severe. Leading in the initial delivery stage does not mean leading forever. The era of intelligence emphasizes continuous iteration ability, and in this regard, NIO, Ideal, and XPeng have already had the experience of a whole generation of products.
As for the OTA rhythm of Avita in the future, we do not know, but during the interview, Avita Technology's CEO Tan Benhong was confident, possibly from the Huawei's integration into the CHN platform level cooperation or from the Huawei car BU's more than 5,000 personnel and billions of dollars in annual R&D support.
This article is a translation by ChatGPT of a Chinese report from 42HOW. If you have any questions about it, please email bd@42how.com.