Author: Zheng Senhong
Do autonomous driving companies have to build cars themselves?
As the industry has matured, autonomous driving companies can generally provide autonomous driving sensor kits that are specifically designed for the Robotaxi scenario and meet in-vehicle applications and standards.
In their view, building cars not only takes time and money but also requires building factories and establishing upstream and downstream industrial chains.
At the same time, there is another voice in the industry that adding sensor kits, technical units, and software to existing vehicles is no longer in line with the goal of the next stage of autonomous driving development.
In other words, building cars will become the most critical step in promoting the commercialization of autonomous driving.
In July 2022, Baidu Apollo released the first unmanned vehicle RT 6, breaking the plight of Robotaxi mostly being retrofitted cars. At the same time, the cost of RT6 was reduced to 250,000 yuan with forward design.
On November 17, 2022, the M-Vision concept car jointly developed by Waymo and Jikeya made its debut in Los Angeles. The new car was built on the Jikeya Haohan – M (SEA-M) architecture and will be mass-produced in 2024 and put into commercial operation in the United States.
In their view, to achieve mass production of autonomous driving technology, vehicle platforms need to be innovated, and software and hardware systems need to be more deeply integrated.
This means that the carrier of autonomous driving needs to depict a blueprint starting from a blank sheet of paper.
"A trend from retrofitting based on finished cars to custom development based on vehicle models is inevitable in the development of unmanned vehicles," said an industry professional.
Jikeya starts a side business to build cars for Waymo
In December 2021, Waymo announced cooperation with Jikeya. The latter will provide exclusive vehicles for Waymo's autonomous driving fleet and put them into commercial operation in the United States.After one year, the results of the collaboration between the two parties – the M-Vision concept car made its debut in Los Angeles.
According to autohome.com, Waymo is responsible for the autonomous driving system and cabin entertainment system, while Geely Innovation Center Europe is responsible for providing the core components of Robotaxi, the Haohan-M architecture.
In fact, Geely's collaboration with Waymo is thanks to two acquisitions.
In July 2021, Geely acquired 100% of the equity of CEVT (China Euro Vehicle Technology AB) located in Gothenburg, Sweden for SEK 1.0578 billion (approximately RMB 799 million), which was later renamed as Geely Innovation Center Europe.
After the acquisition, CEVT can provide shared architecture, chassis, powertrain, and transmission systems for Geely's future strategic products and R&D platforms, as well as technical support for car body and exterior design.
CEVT is a gathering place for the technical soul of Geely and Volvo.
Since its establishment and operation in 2013, CEVT has provided a complete system of technical system for the production and sales of 1.3 million Geely vehicles and has trained thousands of global technical talents. The well-known CMA architecture and Lynk & Co all come from this R&D center.
The second acquisition comes from Geely's acquisition of 30% of HAVAL's equity. This acquisition allows Geely to conduct secondary development of the SEA Haohan architecture.
In summary, with the technical advantages of Geely Innovation Center Europe, Geely was able to develop the Haohan-M architecture – this is also the origin of the Haohan-M architecture.
The Haohan-M architecture is developed based on Geely's SEA Haohan architecture – the latter is Geely's pure electric architecture developed over 5 years with a total investment of CNY 20 billion, and is also Geely's secret weapon in the new energy field.The characteristics of Geely's Haohan architecture can be summarized in three keywords:
Shared: Geely provides the Haohan platform to other car companies, transforming from a car manufacturer to a mobility technology service provider.

Diverse: The Haohan architecture can be split into five major platforms – SEA-1, SEA-2, SEA-E, SEA-S, SEA-C – covering full-sized A-E level cars. It is the world's largest bandwidth intelligent pure electric architecture.

Efficient: Compared to the traditional embedded software development cycle of 36 to 44 months, Geely's Haohan architecture reduces the development time of automotive software by at least 50%.
According to Jike, Haohan-M is the world's first intelligent mobility platform designed for autonomous driving scenarios. It is the latest form of the Haohan architecture for the autonomous driving era.
Haohan-M's 'M' stands for Modular Mobility Architecture.
Based on the prototype architecture, Haohan-M integrates hardware, system, and ecosystem layers to develop sustainable and scalable autonomous driving vehicles.
This not only relies on the Haohan prototype architecture's high applicability range of 1800-3300mm wheelbase coverage for A-E level cars but also requires a native electric platform and flexible expansion capability that supports L4 autonomous driving.
In this respect, traditional fuel vehicle platforms are almost impossible to achieve, as this issue has been exposed in oil-to-electric car models.
Due to the large number of complex mechanical transmission structures, traditional fuel vehicle platforms have limited expansion and layout adjustment capabilities, and battery and motor installations can only use the space left after removing the engine, gearbox, and fuel tank, making it difficult to adjust the vehicle structure.
With the advanced Haohan-M architecture, Jike has switched to making cars for autonomous driving companies, which has also directly led to Waymo's selection of Jike for cooperation.
The Haohan-M architecture has fully embedded autonomous driving interfaces and can connect to L4 and above autonomous driving systems, compatible with different autonomous driving solutions, enabling local and comprehensive control of the vehicle.In addition, the Haohan-M architecture meets all technical requirements for autonomous driving vehicles and is compatible with all autonomous driving solutions.
"From Waymo's point of view, it will be difficult to find another partner like DeepRoute or Geely Group, which not only has cost control capabilities under the same quality but also has European research and development and innovation capabilities."
When asked why Waymo chose to cooperate with DeepRoute to develop custom cars, DeepRoute's vice president Yang Dacheng said, "The Haohan-M architecture maintains an open attitude and can be opened to global ecological partners, not just Waymo, but also other global autonomous driving companies."
With the cooperation case with Waymo, Yang Dacheng also extended an olive branch of "OEM" to other autonomous driving companies.
In the past, the threshold for "OEMs" was not high, and only enough assembly experience was required to complete the production target. However, today, due to the special characteristics of autonomous driving vehicles, it has directly broken the traditional collaboration model, and "OEMs" also need to output certain research and development capabilities.
What makes the Robotaxi developed by Waymo and DeepRoute different?
As a leader in the field of autonomous driving, Waymo has also tried to build its own cars.
In May 2014, the Google autonomous driving team publicly released a small unmanned car named "Firefly," planning to invest in 100 vehicles for small-scale trial operation in California.
Due to the incomplete supply chain, the cost of "Firefly" was high, and the originally planned 100 vehicles were ultimately reduced to 50 vehicles. Coupled with slow project progress, Google eventually abandoned its own car making route.
In 2017, Google announced the retirement of "Firefly."
In 2018, Waymo ambitiously announced the purchase of 20,000 I-PACE and 62,000 Grand Cherokee from Jaguar Land Rover and Fiat-Chrysler respectively to build an autonomous driving vehicle fleet.
In order to expand the scale of the fleet's operations, Waymo announced in 2019 that it will establish the world's first factory for producing L4 autonomous driving cars in Michigan, United States, mainly responsible for modifying the procured existing mass-produced cars.
To date, there is no sign indicating that Waymo has achieved its goal.
Public data shows that Waymo's current fleet size is only over 1000 vehicles, and the current approach is still to retrofit self-driving kits onto mass-produced cars.
This approach may seem efficient, but it can bring many issues.
Firstly, the basic quality of the vehicle. The control system of current mass-produced cars is built based on human drivers, including basic capabilities such as accelerator, brake and steering, which rely on traditional mechanical transmission. This is completely different from the operational logic of self-driving systems relying on electronic signals.
Secondly, the functional scenario of the vehicle. Self-driving cars are essentially designed to liberate drivers and define what functional scenarios a self-driving car should achieve based on passenger needs. However, most existing mass-produced cars are only versatile personal cars, and the layout of the cabin cannot be changed, making it impossible to further enhance the practicality of the vehicle.
Lastly, the cost of the vehicle. The needs of C-end and B-end users are different, and building a self-driving car and a passenger car have completely different BOM costs.
By retrofitting on existing vehicle platforms, aside from taking on all the BOM costs of the original passenger car, there is also an additional cost to install the self-driving kit. It is quite difficult to reduce costs, resulting in difficulty of mass-production of retrofit cars and unable to lower the cost per unit.
From the perspective of scale, Waymo urgently needs a Robotaxi model that can be mass-produced.
During negotiations with 36Kr, Waymo made requests concerning the vehicles – the comfort level to be similar to a Mercedes S-Class, the chassis handling to be similar to an Audi e-tron, energy efficiency to be similar to a Tesla, and required to have the durability of an operational truck.
On one hand, due to Waymo's strong leading role, automakers can only play the role of engineering development and vehicle manufacturing.On the other hand, based on Waymo's personalized requirements for vehicles, car manufacturers are not willing to develop a dedicated autonomous driving platform from scratch, as the current commercial feasibility is far lower than the development cost.
This is also why Waymo's previous cooperation mode with car manufacturers was relatively simple.
Waymo simply purchased complete vehicles from Fiat Chrysler, Jaguar Land Rover, and Renault-Nissan-Mitsubishi, and deployed sensor kits required for autonomous driving on these vehicles through modification, followed by real road testing of autonomous driving or autonomous taxi testing.
Looking at the global picture, there are few companies that can enable autonomous driving companies like Waymo to achieve mass production and landing based on the HMM (Hyundai Modular Multi-purpose) architecture.
From another perspective, whether an autonomous driving company needs to manufacture cars depends largely on whether it can find a suitable vehicle.
Based on this thinking, a new approach that can both develop from scratch and hand over the burden of vehicle manufacturing to partners has become a new option for autonomous driving companies like Waymo.
First of all, at the product experience level, unlike traditional car models that focus on the driver, the HMM architecture's creation of mobile travel vehicles for autonomous driving applications is a major highlight in the "user" experience:
The M-Vision cancels the B-pillar and adopts a side opening door design, which allows users to get in and out of the car more conveniently, and its door can open to a maximum of 1.4m.
With a capsule-like design, M-Vision has a 64% ultimate wheelbase ratio, using the concept of a short suspension and long wheelbase to maximize the utilization of passenger space.
The HMM architecture itself covers a wheelbase range of 2700mm-3300mm, and such a wide range of wheelbases gives the vehicle strong scalability — the front and rear suspension can be adjusted, the distance between the seat and the rear axle can be stretched, and ultimately provides a flexible layout of the cockpit space.
The second concern is cost. For autonomous driving cars, cost is always the most sensitive issue.
The price of a modified vehicle with an autonomous driving system is around 500,000 to 1,000,000 RMB. This time, in cooperation with Jike, Waymo's demand is to "get the best thing with the least amount of money."
Yang Dacheng mentioned that, "Based on the high efficiency of the parts universality and scalability of the Haohan Architecture, the Haohan-M architecture can meet the needs of users with different budgets."
The third concern is quality. M-Vision meets the global five-star safety standards and the highest safety requirements of the American Highway Safety and Insurance Association (IIHS). M-Vision can achieve a 5-year/500,000-kilometer warranty and meet 16-hour uninterrupted operation per day.
As early as the Haohan Architecture release conference, Geely announced that the Haohan Architecture will launch products with fully automated driving functionality by 2025.
The debut of M-Vision also signifies that the intelligent planning of the Haohan Architecture has been further validated.
Jike Presses "Fast Forward"
Waymo provides autonomous driving technology, and Jike provides highly customized exclusive vehicles – this cooperation model provides a new solution for the landing of autonomous driving.
In addition to Waymo, other autonomous driving companies can also use the Haohan-M architecture to implement autonomous driving products.
Jike, as the most important intelligent electric vehicle brand under Geely Holding Group, through commercial cooperation with Waymo, the future Haohan-M architecture can also be fed back to the passenger car market, thereby improving the competitiveness of the Jike brand.
Not long ago, Yang Xueliang, Vice President of Geely, revealed on social media that:
"M-Vision is a customized Robotaxi for Waymo in the United States, and M-Vision also plans to launch To C products."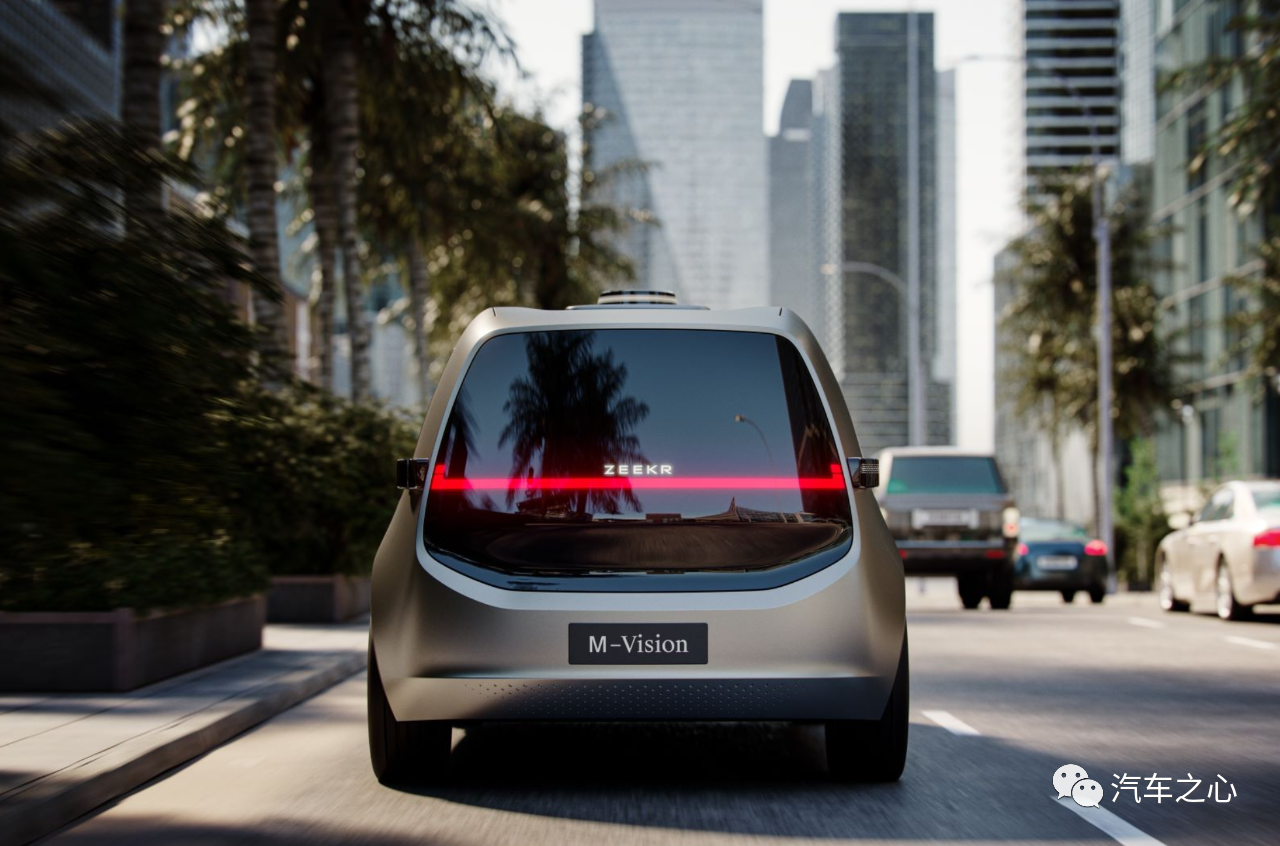 According to reports, the Haohan-M architecture will keep two versions- one version equipped with a steering wheel and pedals, while the other version will feature no steering wheel and pedals.
In addition, insiders disclosed that there are currently two products under development with the Haohan-M architecture:
One of the products, codenamed CM1E, is M-Vision;
The other product is a compact SUV, targeting the domestic market, codenamed CM2E.
With the continuous growth of the sales and delivery of the new 009 car, Jike's product matrix is expanding rapidly.
As previously planned, Jike is scheduled to cover the sedan, SUV, and MPV sub-categories around the Z, C, and M product lines over the next two years:
Z Product Line: DC1E (Jike 001), EF1E (Jike 009)
C Product Line: BX1E (mid-size SUV, to be released in mid-2023), CS1E (sedan, to be released in the second half of 2023)
M Product Line: CM1E (M-Vision), CM2E (compact SUV with two rows)
At the same time, Jike will also enter the global market, with Jike 001 entering the European market in 2023.
"The European and American standards were fully considered in the early development of Jike, and of course, we do not rule out larger scales in the future," said Jike CEO, An Conghui.
Behind the market opportunity game, production capacity is the key to breakthrough.
"Jike currently has a production capacity of 300,000 vehicles, ensuring that production and delivery are not a problem, because we have other factories, and the production needs of electric vehicles have been fully considered in these factories, and we can achieve the production of products with the Haohan architecture in the shortest possible time," said An Conghui at the Jike 009 conference in November this year.
As of now, Jike 001 has become the sales champion of Chinese brand 300,000-level luxury pure electric cars for three consecutive months, with a total delivery of 60,000 units and an average order amount of over 336,000.Using the impressive sales performance of Jike, An Conghui indicated in an internal letter to employees that "the success of a single product cannot bring about the continuous development of a brand, and the diverse needs of users require us to quickly complete the product layout from a single product explosion to multiple products available."
Different from the collaboration model of the leading new forces and the incubation model of traditional automakers, Jike relies on the car-making experience and technical resources of Geely and Volvo. From decision-making to marketing experience, Jike has gone through the process from 0 to 1.
In other words, Jike is exploring a route that blends the technical expertise of traditional automakers with the agile efficiency of new car-making.
It can be seen that based on the "Geely + Volvo technical resources as the underlying logic" and the self-evolution of user travel needs, Jike is accelerating to prove the feasibility of the third car-making path.
This article is a translation by ChatGPT of a Chinese report from 42HOW. If you have any questions about it, please email bd@42how.com.