Author | Nie Yiyao Han Bing
Valued at over 100 billion RMB, with monthly sales exceeding 30,000, either of these two things alone would make any new energy vehicle (NEV) company ecstatic. But when both of these are combined and achieved by a traditional automaker's "second generation of entrepreneurship" new energy vehicle brand like Guangqi Aiways, it shines even brighter and is even more overjoyed.
On October 20th, Guangqi Group announced that its subsidiary, Guangqi Aiways, had completed Series A financing, with a total of 53 investors bringing in RMB 18.294 billion in financing. The post-investment valuation of Guangqi Aiways also reached 103.239 billion RMB.
On November 1st, Guangqi Aiways released its October sales report: 30,063 vehicles, leading the NEV list for the month again. Up to this point, Aiways has sold a total of 212,384 vehicles in January-October, achieving its annual target of 200,000 vehicles ahead of schedule.
With a valuation of over 100 billion RMB in one hand and leading sales in the other, it appears that Aiways has no worries. However, if you take a closer look at Aiways' recent frequent moves to elevate its brand and its impressive sales of NEV models, it is not difficult to see the difficulty it faces in high-end brand positioning. Regardless of how high its valuation and sales may be, it is difficult to offset the challenges it faces in high-end brand positioning.
High Valuation and Frequent Moves to Elevate Its Brand Simultaneously
In August 2021, Aiways began its mixed-ownership reform. By March of this year, the reform had been completed, with Series A financing completed in October, and being valued at over 100 billion RMB. It can be said that Aiways has had a relatively smooth road, and this also reflects Aiways' advantageous value and prospects in terms of technology, production, and sales, particularly in the global economic downturn of 2021 and the collective collapse of the NEV's stock price.
In contrast, other NEV brands such as Jike, Zhiji, and Avita are valued at less than 10 billion RMB.
However, Aiways seems to have no time to savor the glory of its 100 billion RMB valuation. In order to maintain its valuation and to successfully go public on the Science and Technology Innovation Board next year, Aiways has to make rapid progress in high-end brand positioning. This is evident from a series of actions that have accompanied Aiways' 100 billion RMB valuation.On September 15, before announcing its Series A financing and valuation at 100 billion yuan, Aiways unveiled a new logo and a new luxury car series named "Hyper Hao Bo" along with its first supercar under the Hyper Hao Bo series: Hyper SSR.
In October, after announcing its Series A financing and valuation, Aiways became even more active. It announced the completion and operation of its second smart manufacturing center with an annual production capacity of 200,000 vehicles, and its first supercar, Hyper SSR, passed the testing and certification of China Automotive Technology and Research Center. In addition, Aiways invested 10.9 billion yuan and 900 million yuan to establish two own R&D and manufacturing companies for batteries and electric drivetrains, respectively.
In November, Aiways released a new generation of pure electric vehicle platform AEP 3.0 on November 3, and a new generation of high-end electronic and electrical architecture, the Starling Architecture, has entered mass production on November 8.
These moves are aimed at preparing for the mass production and launch of Aiways' luxury car series "Hyper Hao Bo". According to the plan, not only will Aiways deliver the Hyper SSR supercar in October next year, but it will also release a series of high-end models under the Hyper Hao Bo series next year, including the Hyper GT sedan with a price of 300,000 yuan, the Hyper SUV with a seating capacity of five, and the Hyper MPV. All four models are planned to be launched next year.
This hasty deployment highlights Aiways' urgent need for brand high-end transformation. Despite its impressive valuation and sales volume, it is a fact that Aiways has been losing money for three consecutive years, with net losses of 621 million yuan, 688 million yuan, and 1.389 billion yuan from 2019 to 2021, respectively.
One reason for the low profitability of vehicle sales is inevitably related to the low sales price of vehicles. With low sales prices, profit margins will only shrink with more sales. If Aiways intends to compete in the capital market, it cannot avoid the need to increase the profitability of each individual vehicle to give confidence to the market. To achieve this, Aiways must realize brand high-end transformation, as no low-end brand image cars could be sold at high prices.## Is it about Sales or Brand Premium for Success?
Sales and brand premium seem to be a paradox that AION cannot break through, at least for the AION brand.
In AION's October sales report, the AION S sold 14,507 units, while the AION Y sold 12,615 units, which together accounted for 90% of AION's sales that month.
It is these two models, both priced at around 150,000 yuan, that have always been AION's sales mainstays, and also trap the AION brand in the negative tag of "low-end for ride-hailing cars."
In 2019, AION launched its first model, AION S, in a bid to quickly boost sales and stabilize its position in the market. Therefore, AION S naturally entered the B-side market.
However, AION was positioned as a "premium intelligent electric vehicle brand" when it was founded, so AION launched the second model, AION LX, after the AION S. Priced at more than 300,000 yuan, AION LX is the truly premium model of AION, but its sales performance did not meet AION's expectations.
Unable to wait for AION LX's sales to improve, AION had to shift its focus to the low-end. Therefore, in late 2020, AION launched the AION V, with a price tag of around 200,000 yuan. However, like the AION LX, AION V's sales were also unsatisfactory.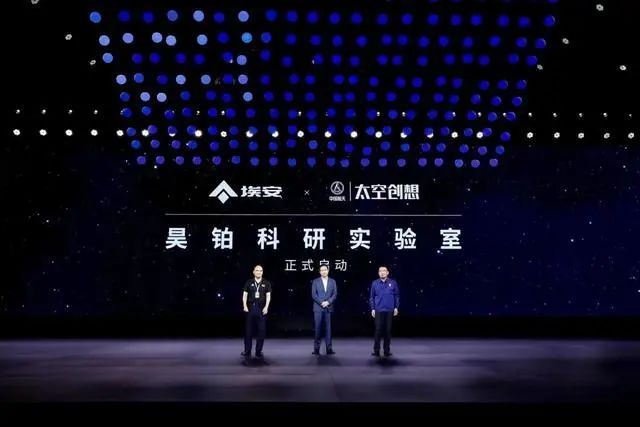 Desperate for sales, AION quickly launched the AION Y in April 2021, which was also priced at around 150,000 yuan and is in the compact SUV segment, similar to the AION S compact sedan. The two models are jointly vying for a place in the B-side-dominated new energy vehicle market, and have written impressive sales figures for AION.
Although Guangqi Group's recent survey showed that in the first eight months of this year, AION's C-side personal purchase non-operational sales had accounted for as much as 88% of total sales, the proportion of AION's B-side commercial vehicles sold had decreased from 43% in 2021 to 2% this year. AION is taking off its ride-hailing car label.However, relying on the popular sales of the two 150,000-yuan models, AION S and AION Y, it is difficult for Aion to shake off the label of being inexpensive.
At this point, Aion seems to have given up on its original intention of using the "AION Aion" brand as a "high-end smart electric vehicle brand" and is content to enjoy the glory and benefits brought by the increase in sales.
Will "Hyper Haobo" eventually achieve high-end status?
With Aion's mixed-reform and capital expansion plans underway, Aion's plan to achieve a high-end brand strategy has also emerged and is being promoted.
On September 15th, 2022, Aion released a new logo, "AI God Sword," which symbolizes its renewed foray into the high-end market, along with a new high-end car series, "Hyper Haobo."
At the grand launch event of "AI God Sword" and "Hyper Haobo," Aion first showcased the first car model of the high-end car series: the supercar Hyper SSR, priced between 1.286 million and 1.686 million yuan.
The event left a stunning impression on the public, who were impressed by Aion's new strategic approach to conquering the high-end market. Aion is eager to transform itself, and the new supercar has brought the brand's tone and starting point to a new high, especially as it can compete with Porsche and challenge Tesla.
Aion plans to deliver five high-end car models under the "Hyper Haobo" series next year, including the million-yuan supercar Hyper SSR, the 300,000-yuan GT sedan Hyper GT, the large five-seat SUV Hyper SUV, and the Hyper MPV.
Feng Xingya, the general manager of GAC Group, even shouted out the slogan "turn Aion into one of the world's top three high-end smart electric vehicle brands," projecting Aion's high-end strategy to new heights.Currently, in order to ensure the successful launch of "Hyper Haobo" and its high-end features, GAC Aion is vigorously advancing related work in a compact and orderly manner. While on the way to the Science and Technology Innovation Board, GAC Aion is also telling the world with all its efforts that GAC Aion's high-end features are not just a dream or empty promises, but rather another path to high-end upgrades after abandoning the high-end branding of "AION GAC Aion".
Gu Huinan, general manager of GAC Aion, once said in an interview with the media: "GAC Aion is not short of money, but aims to actively participate in the competition of the capital market through financing, thereby indirectly enhancing its brand influence".
This statement contains a yearning for the high-end upgrading of the GAC Aion brand. Only by becoming a high-end brand can it have a greater influence to some extent.
As GAC Aion enters the capital market, the desire for "Hyper Haobo" high-end features, the slogan shouted for it, and the core technology launched for this purpose will all receive more attention in the capital market; they will also be tested by the market in the process of attention, either remaining at the level of gimmicks or welcoming a brand transformation through commercial applications. Time will eventually provide the answer.
This article is a translation by ChatGPT of a Chinese report from 42HOW. If you have any questions about it, please email bd@42how.com.