NIO ES7 – Redefining the Mid-to-Large SUV Segment after Four Years of Struggle
The internal codename for the NIO ES7 is Gemini. This code name was leaked to the public around the same time last year, and many media outlets published articles speculating on the positioning of the Gemini, but very few guessed correctly about what kind of car the Gemini would be. According to NIO insiders, who could have guessed that NIO would squeeze another car between the ES6 and ES8?
On the Lantern Festival of 2022, NIO co-founder Qin Lihong revealed some information about the ES7 to the media, but there were still doubts from the outside about the "awkward positioning" and "product cannibalization". Over the past six months, we have thought a lot about the ES7, and we would like to share our thoughts with you on the occasion of the NIO 2022 product launch.
The ES7 is the first SUV built on NIO's NT 2.0 second-generation technology platform. The overall size of the NIO ES7 is 4,912mm*1,987mm *1,720mm, with a wheelbase of 2,960mm. It is positioned as a medium-to-large SUV, but only provides a 5-seat layout. It is equipped with NIO's intelligent system Banyan, and the exterior design follows the family style design language.
The starting price of the standard range battery pack of the NIO ES7 before subsidies is RMB 468,000, while the long-range battery pack starts at RMB 526,000. The initial edition starts at RMB 548,000, and the BaaS plan is available starting at RMB 420,000 before subsidies. Delivery is expected to start on August 28, 2022.
In terms of power, the NIO ES7's 180kW permanent magnet synchronous motor uses silicon carbide modules, reducing the comprehensive loss of the electronic control system by 4% to 6%, greatly improving the power consumption performance under city conditions. The rear axle is equipped with a 300kW asynchronous induction motor, and the acceleration from 0 to 100 km/hour takes 3.9 seconds.The standard chassis is equipped with air suspension using German ZF Sachs continuously adjustable CDC dampers. It is also equipped with the first self-developed chassis domain controller in China, integrating redundant control functions such as parking, air suspension, and shock absorbers. This allows for a comprehensive design and tuning of chassis comfort and handling, supporting FOTA upgrades for greater flexibility.
All models are equipped with Brembo high-performance four-piston calipers, with a shortest braking distance of 33.9 meters from 100 km/h. Air suspension is also standard across the range. The drag coefficient of the NIO ES7 is 0.263. Standard range battery pack (75 kWh) CLTC range is 485 km, long range battery pack (100 kWh) range is 620 km, and ultra-long range battery pack (150 kWh) range exceeds 850 km.
In terms of intelligent driving sensors, the NIO Aquila sensing system has a total of 33 high-performance sensors, including 1 1,550nm Lidar, 7 8MP cameras, 4 3MP surround-view cameras, 5 millimeter-wavelength radar, 12 ultrasonic radar, 2 high-precision positioning units, 1 V2X, and 1 enhanced driver perception.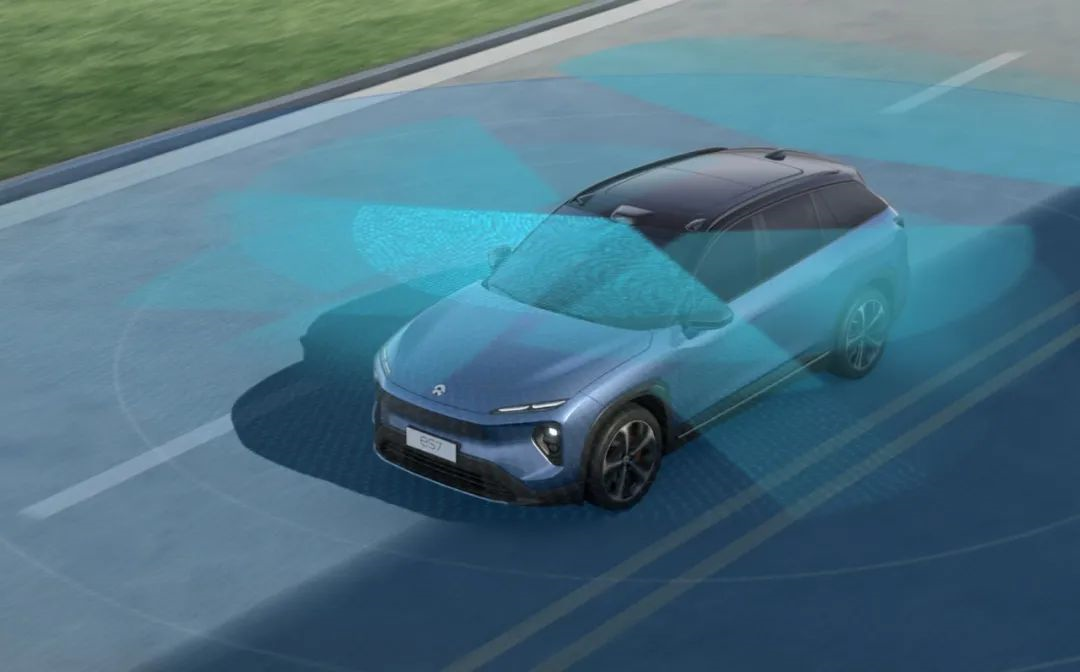 All models are equipped with four NVIDIA Drive Orin X chips, composing the total 1,016 TOPS of the NIO Adam supercomputing platform. The entire intelligent driving system has the ability to achieve NAD functioning, but the NAD time to market is uncertain.
As for the interior, the NIO ES7 is equipped with a new generation of digital cockpit which adopts the third-generation digital cockpit computing platform from Qualcomm. The ES7 is equipped with HUD, 10.2-inch HDR instrument panel, 12.8-inch AMOLED central control screen, with a narrowest border of only 5.5mm and a resolution of up to 1,728 * 1,888. The back-row multi-function control screen can achieve multi-screen interaction.
# Overview
NIO ES7 features a panoramic digital cockpit, PanoCinema, that utilizes AR/VR technology. NIO collaborated with NREAL, an innovative AR device company, to develop exclusive AR glasses, which can project a giant screen equivalent to 201 inches at a distance of 6 meters. Coupled with a new 256-color digital ambient light and Dolby panoramic sound and 7.1.4 immersive sound system, PanoCinema, within a dedicated space of NIO ES7, will bring a unique immersive sensory experience.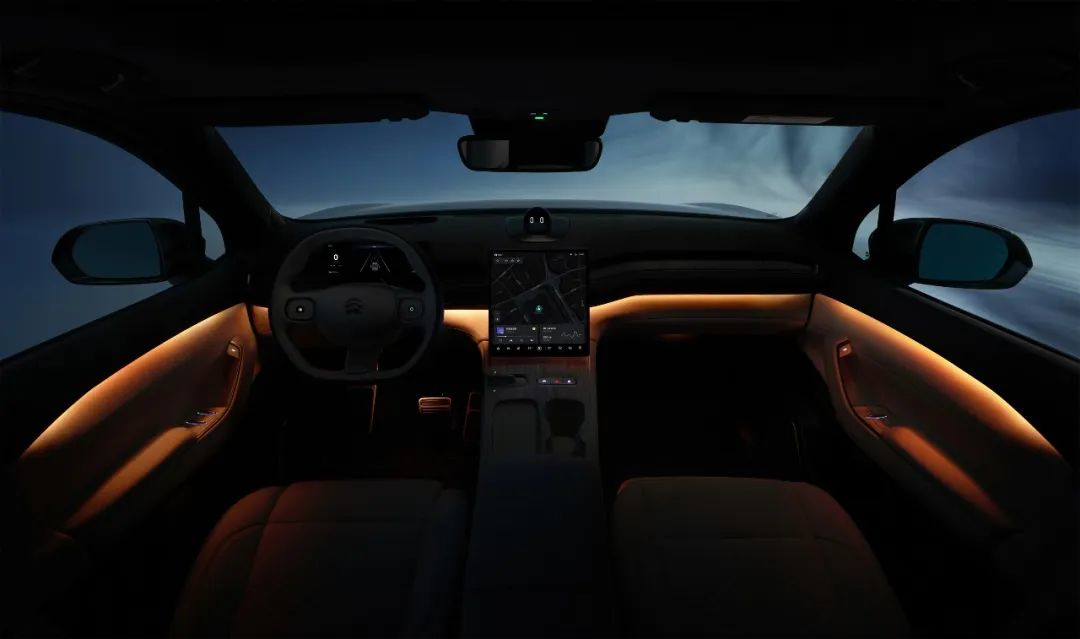 At the end of the launch event, there was still an exciting surprise. NIO ES7 is one of the first passenger vehicles in China that has passed regulatory certification and is legally allowed to tow RVs and trailers on the road. NIO ES7 can be equipped with a hidden electric decoupling device with a maximum towing capacity of 2 tons to provide power to towed equipment. Additionally, in outdoor scenarios, NIO ES7 supports camping mode and external power output.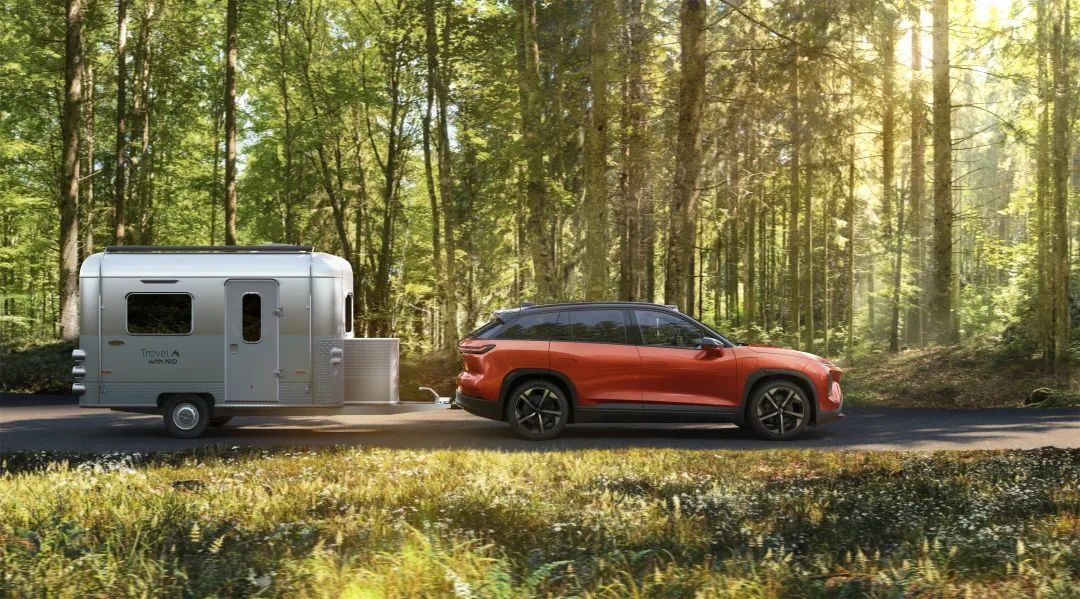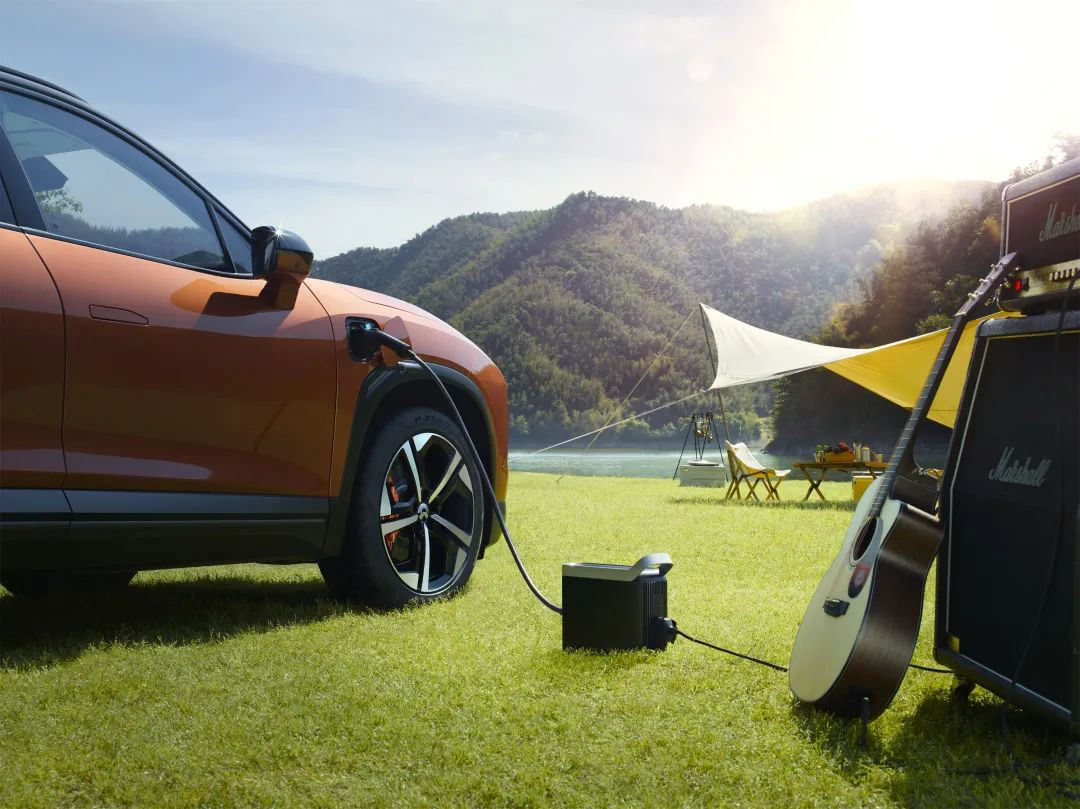 Everlasting Interior and Exterior Design for Successful Smart Stories
NIO also unveiled the 2022 versions of ES8, ES6, and EC6. It is worth noting that the annual version 866 has not made any changes in its interior and exterior design. Instead, it features upgraded Alder・赤杨 system and a newly installed Qualcomm Snapdragon 8155 cockpit chip. The powertrain remains unchanged.
The upgraded NIO intelligent system, Alder・赤杨, is derived from Aspen・白杨, with the following upgrades:
Qualcomm 8155 digital cockpit computing platform: 100% increase in CPU/GPU computing power; 160% increase in storage space up to 256G;

5G connection capability: 10 times faster information transmission speed in ideal environments;

800W pixel HD front DVR camera X1; 4K ultra-high-definition video recording supporting 5-way collaboration;

300W pixel high-sensitivity omnidirectional camera X4, combined with a new outer mirror assembly, improves vertical field of view by 24%;

250W cabin camera X1 for a better in-car selfie-taking experience.Meanwhile, NIO has announced the release of the ES8 Landmark Edition, with a standard six-seat configuration and exclusive Madura Red Nappa leather interior. It also features an exclusive design package, including signature headrests, meteorite chrome-plated speaker covers, signature B-pillar badges, and standard aerated orange calipers.
The pricing of the three models post-upgrades is as follows: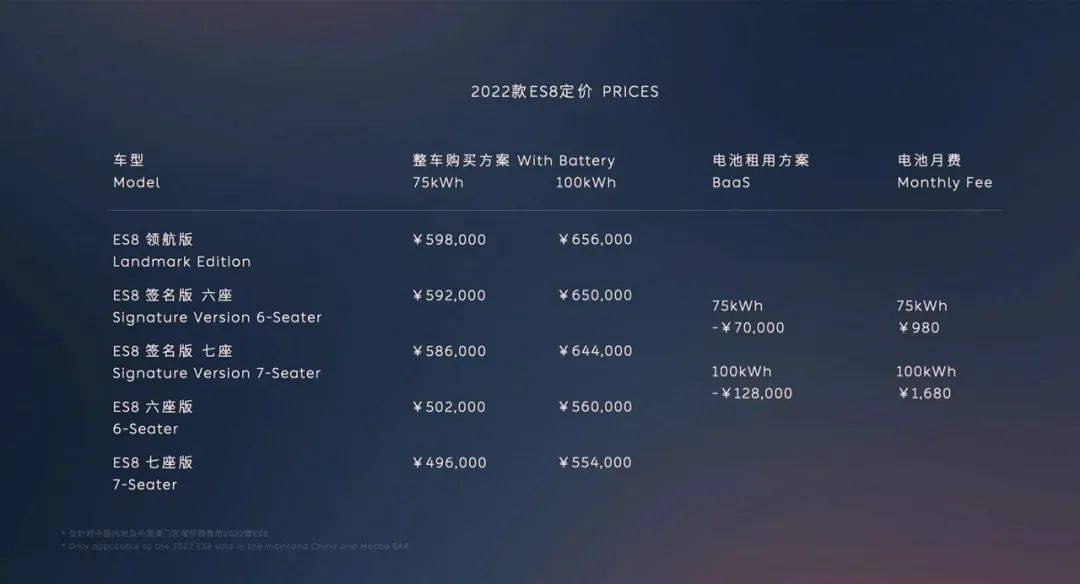 Unlike traditional gasoline-powered cars, where we are used to seeing subtle changes in interior and exterior designs on an annual or mid-cycle basis to stimulate consumers and tell them "your car is out of date, it's time to upgrade," intelligent cars offer an entirely different logic. I believe that intelligent vehicles have brought changes to the automotive industry. Designers no longer need to waste energy trying to demonstrate changes, and users can experience real upgrades through annual improvements. Of course, old users can also enjoy these benefits.
As a professional in the automotive translation industry, I would like to note that this paragraph is free of any errors or inconsistencies.To better understand the product positioning and decision-making of NIO's ES7, we interviewed a former technical manager at NIO. First of all, the release of ES7 was executed according to the established plan, and the ES7 project had already been included in the product planning as early as 2018.
Contrary to expectations, the release of ES7 did not take place during NIO Day, the annual event, because ES7 did not bring any new hardware or software innovations. The NT2.0 platform was introduced along with NIO's ET7 in late 2020, and ES7 only follows the same platform.
After observing several NIO Days, we found that the products and technologies released by NIO during the event are more strategically significant. Strategic significance comes from product strength, technology, and sales. For example, the ET7 was released two years ago, and while it carried the label of NIO's first sedan, more significantly, it was accompanied by the Nvidia smart driving computing platform and a LiDAR system. Last year, NIO released the ET5 which can be regarded as a submodel of the ET7 in terms of product strength and technology, but NIO may be certain of its sales potential for the company, which was shown by CEO William Li's relaxed demeanor during the next day's media interview.
The strategic value of NIO's ES7 lies in cutting into a segmented market because of its main differences from the previous product in terms of size and price, which make it a tactical product. Based on this, we can make a bold guess that NIO will release an even more remarkable product during this year's NIO Day.
Does this mean that ES7 is not worth paying attention to? I don't think so. The former technical manager shared with us the story of the "spear and shield". NIO has two cities, the main city consists of the ET5 and ES6, labeled "Go Volume", and the auxiliary city consists of ES8 and ET7, labeled "High-end". The sales volume determines the size of the city.
We must not forget that NIO is not just a new force in the auto industry but also a Chinese car company. Before NIO, traditional consumers believed that Chinese automakers could only produce products of high sales volume, which means that they were only worthy of having one city. However, using two high-end car models as the spear and two mid-end products as the shield, NIO has conquered the high-end city and guarded the sales volume – which is the foundation of NIO's continued development.
NIO positions its brand a bit lower, but the NIO brand itself will no longer develop low-end products, which means that there will be no new members in the main city, and the incremental volume can only be found in the sub-city. The positioning of ES7, which is higher than ES6 but lower than ES8, is aimed at resolving conflicts and expanding the territory in sub-cities.
Will The Mismatch in Smart Configuration Lead to Internal Friction?
NIO ES7 adopts the NT2.0 platform, and the intelligent driving hardware has been further updated. With higher configuration, there seems to be no reason to choose NIO ES8 and ES6/EC6, but actual consumers may not think so.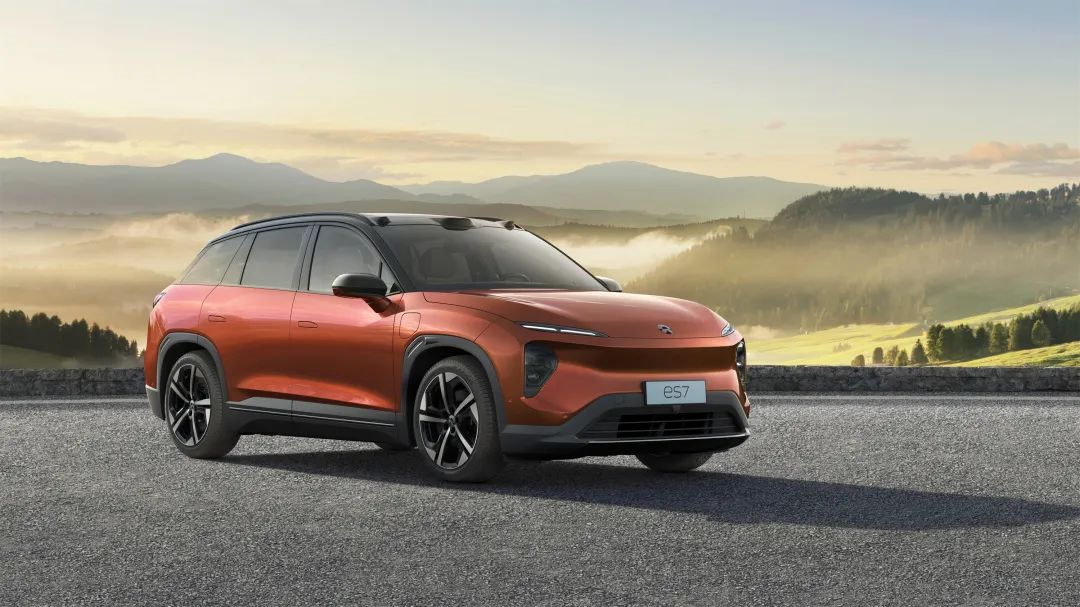 The configuration of a product (NIO ES7) with comparatively low positioning surpassed that of a product (NIO ES8) with higher positioning. Although it is only a short-term advantage in terms of intelligent configuration, and the latter will certainly catch up later, NIO has done something seemingly disruptive to the conventional automotive market. The traditional automotive sales strategy is that the configuration rises with the positioning of the vehicle model, and the order of new configurations added to the vehicle follows a sequence from high-end, mid-range, to low-end. In the traditional automotive market, we only hear about "downgrading" and never about "reverse upgrading". For instance, Mercedes-Benz would install AR-HUD and naked-eye 3D instruments on the new S-class model first, and then consider downgrading the configurations to low-end models.
In fact, NIO is not the first one to break the rules. The essential difference that the NT2.0 platform brings to the product is whether it can support lidars and high-performance intelligent driving platforms. Previously, the difference between the lidars of XiaoPeng P5 and P7 existed, and the latter positioned higher but was not as good as the former in terms of intelligent driving hardware.
Does this practice challenge the acceptability of consumers? According to market feedback, the decision made by XiaoPeng on P5 did not affect the sales of P7. After the release of NIO ES7, before being affected by the Shanghai epidemic, the sales volume of NIO ES6+EC6+ES8 amounted to 9,822 units in March, and users still have a high level of attention on 866.
Therefore, in terms of intelligence, real consumers are not radicals, and lidar is currently in a pre-buried state in the system. It is reported that in the second half of the year, NIO will push the NOP function that uses lidar data to NT2.0 platform vehicles. Compared with the NOP on the 1.0 platform, the sensing capability has been improved, but there is no difference in functionality. A real qualitative change can only be demonstrated when NAD is officially released.Therefore, I believe that internal consumption should be based on a change in user experience. Prior to this, vehicle positioning, size, and price are still the key considerations for users.
In 2021, at an event about the XPeng P5, XPeng Automotive's Vice President Li Pengcheng expressed his views on the difference in intelligent hardware. He stated that the market logic of automobiles will become more like that of smartphones, where the latest will definitely be the one with a higher degree of intelligence, rather than the most expensive or highest-graded.
The reason why we call it the intelligent era of automobiles is that intelligence is equally important to automobiles themselves. Therefore, within the automotive industry, intelligent teams and vehicle development teams are two parallel branches. In this rapidly changing environment, there is no room for compromise between the two. Not to mention that Nio has not yet played all of its cards. For a new force in the automotive industry, their time and energy are limited. Therefore, it is too early to talk about supplementing intelligence hardware differences before all products are fully released to the market.
Finally,
We often say that the later ones will succeed because they have references to follow, and following in the footsteps of predecessors generally will not lead to major problems. As a leader in China's high-end electric vehicle market, Nio does not have any existing examples to follow. They can only feel their way across the river in terms of pricing strategies and product planning, making it easier for later players to catch up or counter.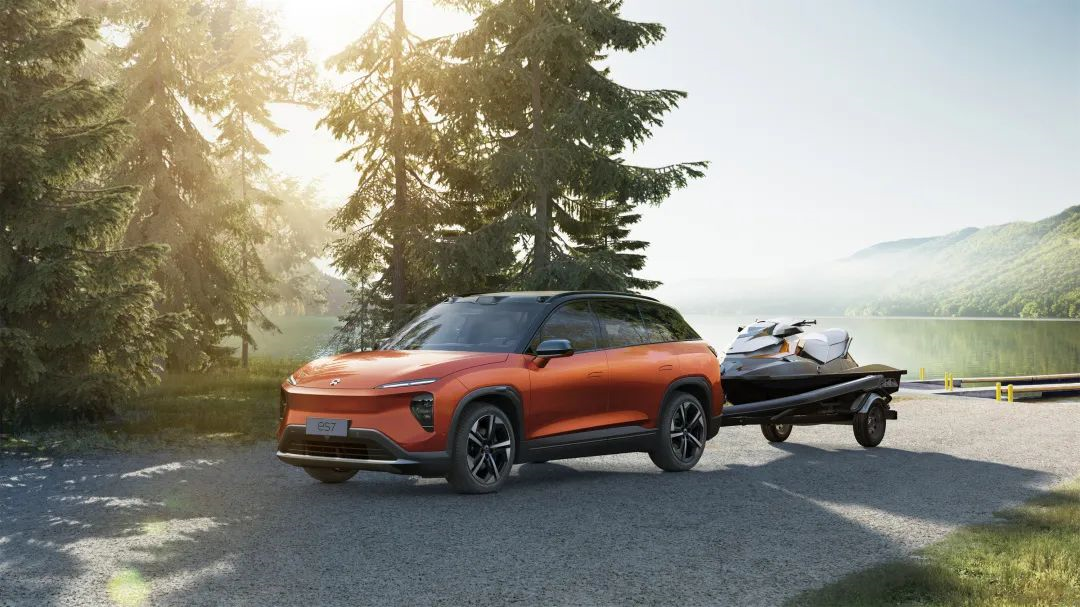 Perhaps the ES7 is the ace that Nio has left for itself. After observing the market for a sufficiently long period of time, Nio will have a clearer understanding of what kind of car users want. The position of the ES8 flagship will not be shaken, and while it does not have the youthful trend of the ES6/EC6, it will certainly be the product with the strongest overall capabilities.
This article is a translation by ChatGPT of a Chinese report from 42HOW. If you have any questions about it, please email bd@42how.com.