Author | Zhou Mianwu
Editor | Cold Zelin
On June 15, NIO released its first SUV based on the NT2.0 platform, the ES7.
In terms of size, it is 4912mm long, 1987mm wide, 1720mm high, with a wheelbase of 2960mm, slightly smaller than the BMW X5, and roughly the same size as other vehicles in its class.
In terms of appearance, it adopts the same lookout tower sensor layout as the ET5/ET7, a new X-bar family design language, and has reduced aerodynamic resistance by nearly 10%.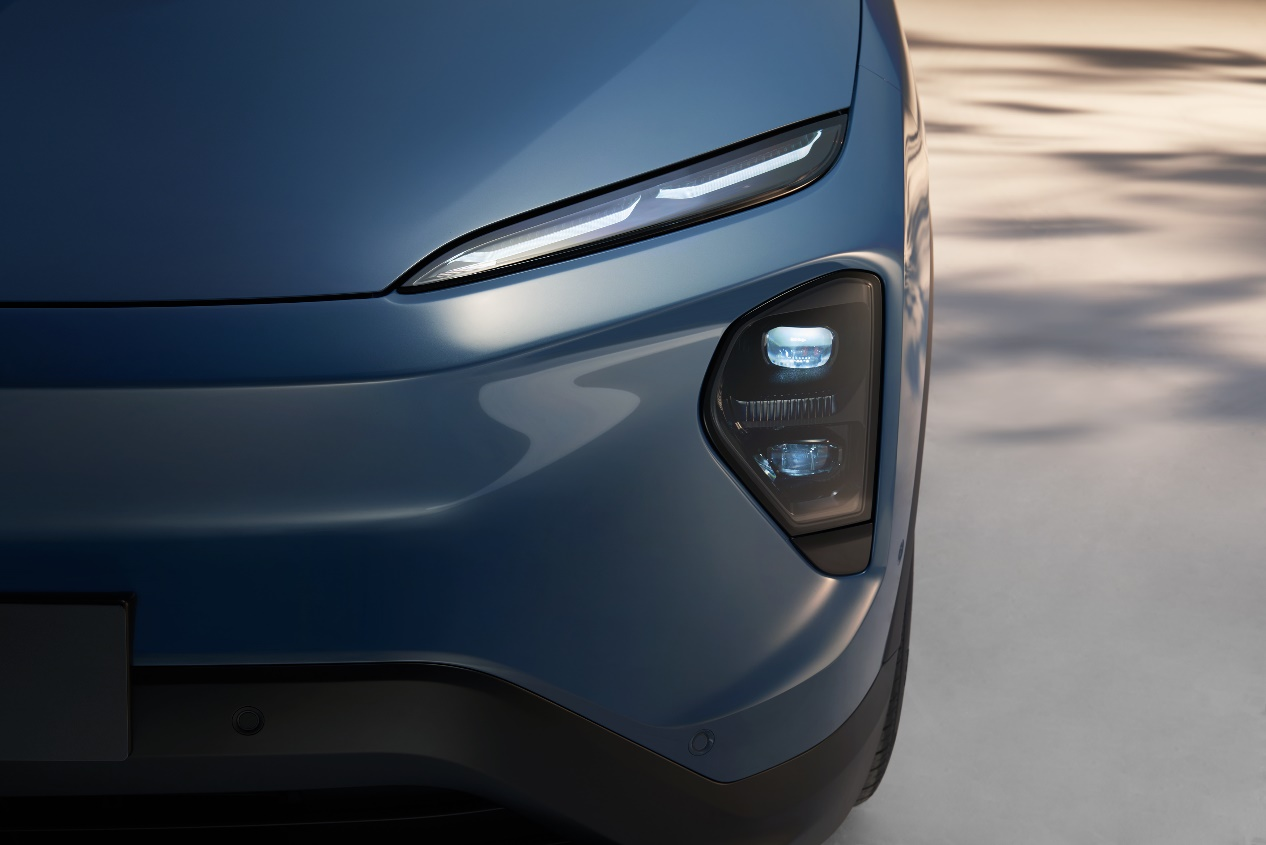 It also has Double Dash daytime running lights with a 3D inlaid design, doubling the LED light source density.
The car roof and tail lights adopt a suspended design and a flying wing-shaped style, respectively.
In terms of power, it has a 180kW front permanent magnet motor and a 300kW rear induction motor, with a maximum power of 480kW, maximum torque of 850N.m, and a 0-100km/h acceleration of 3.9 seconds, surpassing the ES8 and ET5, and on par with the ET7. Its 100km/h brake score is 33.9m.
The body is composed of a high-strength aluminum alloy and carbon fiber blend, with an integral cast full-aluminum rear frame. Compared with aluminum welding techniques of similar strength, the weight is reduced by 30%, with a front and rear axle load ratio of 50:50.
The suspension system adopts a front double-wishbone and rear H-arm multi-link design, with smart air suspension standard across the lineup, five-stage height adjustment, and a total adjustment stroke of 90mm.
It is also equipped with NIO's independently developed chassis domain controller, which comprehensively tunes chassis comfort and handling, and supports OTA.
Currently, the ES7 has ten driving modes, including support for towing mode, with a maximum towing capacity of 2 tons. This is also the first vehicle in China to legally tow a caravan by passing relevant regulations. In addition, the ES7 supports power supply to the caravan during towed travel.
In terms of autonomous driving configuration, the ES7 is equipped with 1 LIDAR with a maximum detection range of 500 meters, 7 8MP high-definition cameras, and 5 millimeter-wave radars. It employs the same mobile computing platform as the ET7, four Orin chips, and has a computing power of up to 1016TOPS.
It supports the full range of features of NAD NIO Autonomous Driving, with additional functions to be gradually activated, covering scenarios such as high-speed driving, urban driving, automatic holding, and battery swapping. Users can open these features on demand through a subscription model.
In terms of interior space, the legroom of the front driver's seat reaches 1050 millimeters, and the legroom of the front passenger seat reaches 1107 millimeters. The legroom of the rear seats is as long as 981 millimeters.
As for the trunk space, the maximum capacity is 658 liters, which can easily accommodate two 28-inch and two 24-inch suitcases simultaneously. When the second row is folded down, the maximum capacity reaches 1545 liters and the maximum depth is 1880 millimeters.
In terms of seats, the ES7 is equipped with Ultra-Fit comfortable seats. Both the driver's and front passenger seats support 18 adjustments, and the rear seats support 8 adjustments on each side. The aviation-style headrests in the front row are four-way adjustable, and the seats use three-dimensional support sponge. The CLA coil cushion of the driver's seat can be adjusted in length up to 60 millimeters.
Meanwhile, the angle of the rear seat backrest can be independently adjusted electrically from 23 to 31 degrees.
Finally, the price of the car is between 468,000 and 548,000 yuan, and it is expected to be delivered at the end of August.
This article is a translation by ChatGPT of a Chinese report from 42HOW. If you have any questions about it, please email bd@42how.com.