Writing | Roomy
Editing | Zhou Changxian
Aggression, struggle, youthful energy.
These are the three words that Roomy wants to give to NIO at present.
Someone once asked Li Bin if there were any labels he wanted to tear off, such as "most miserable," "good person," or "idealistic," and Li Bin replied, "Nothing. I am who I am." Even in middle age, the aggression and youthful energy in Li Bin's personality have not diminished.
However, the struggle between aggression and youthful energy cannot be ignored. "I don't want NIO to be labeled as having heavy dependence on battery swapping or service" is his struggle, and it is also NIO's current struggle.
NIO's present struggle is even greater than it was a few years ago. This is because for NIO, something more dangerous than falling behind in vehicle sales has emerged. Unstable deliveries, weakened product competitiveness, battery swapping or fast charging… Almost every problem is enough to make Li Bin toss and turn in bed at night.
Li Bin is used to comparing building cars to "a muddy marathon," but what he didn't expect was that his old friends who had waded through the production difficulties together with him have been speeding up, and on the muddy road, it seems that only NIO is standing alone now.
What can be done?
The only option is to find new "aggression" in the struggle. Whether it is the ET7 equipped with entirely new chassis technology or the ES7 called "NIO's fastest SUV ever," Li Bin has reset NIO's attacking weapons.
The Most Miserable Person Again?
A speck of dust in the age becomes a mountain when it falls on one's head.
There are several mountains hanging over NIO's head. In the 2022Q1 financial report of NIO, the dust has become too thick to hide, and Li Bin has seen these problems. The "stalled" delivery volume, frequently disrupted supply chain, and severe losses are all large burdens on NIO.
"Is NIO in danger again?" "Will Li Bin become the most miserable person again?" These phrases in the newspapers have become somewhat familiar. It seems that the data in the financial report has deepened the "danger" of NIO.
NIO's revenue was CNY 9.91 billion in the first quarter of this year, a year-on-year increase of 24.2%. The net loss was CNY 1.78 billion, a year-on-year expansion of 295.3%. Research and development expenses were CNY 1.76 billion, a year-on-year increase of 156%. It is obvious that NIO's loss is increasing, and the amount of cash being burned in research and development, production, and service is too much for NIO to handle.
### Prior to this, NIO, which had no plan to increase prices, was also forced to raise the starting prices of models such as ES8, ES6, and EC6 by 10,000 yuan, while the service fee for the 100 kWh Baas battery rental service was raised from 1480 yuan to 1680 yuan.
The market expressed some dissatisfaction with Li Bin, believing that he did not keep his promise. Li Bin replied, "I originally wanted to hold on, but the epidemic made it even more difficult." From the financial statements, NIO had a total cash reserve of 52.65 billion yuan at the end of last year, and the cash flow was sufficient, but Li Bin also admitted that more money was needed.
The need for more money is the difficult decision that NIO needs to solve at present, and it is also necessary for the implementation of future layouts.
From NIO's frequent actions in the capital market, it can also be seen that Li Bin is a bit anxious. After listing in Hong Kong, NIO laid out the Singapore capital market as well. It was the first in the world to list in New York, Hong Kong, and Singapore.
The strongest goal is to further expand the investment group. After all, NIO's performance in the secondary market is not as expected. As we enter 2022, NIO's stock price has plummeted again, dropping 80% compared to its highest point, and its market value has almost halved.
Despite its frequent actions in the capital market, its performance dilemma is hard to conceal. As of now, NIO is still in a serious loss state. Fortunately, Li Bin clearly pointed out the reasons for the loss at the financial report conference.
The most direct reason is that, in terms of market sales, NIO's models have insufficient momentum, which is already very obvious.
In 2021, there was no new car launched, all of which belonged to the old models built on the first-generation vehicle platform NT 1.0. Compared with XPeng and LI, NIO vehicle's intelligent ability is not advanced enough. Although the functional performance is not behind, the potential of OTA has been basically depleted.
The market has continued to be weak this year. Starting from January, the stable triangle pattern was broken and NIO's sales were surpassed by LI, XPeng, and even Nio. In May, NIO suffered a severe blow, with a cumulative sales volume of only 7,024 vehicles for its five models, a YoY growth rate of only 4.7%, while LI, XPeng, Nio, and ZER0 Run's sales all easily exceeded 10,000.
As the first new car of the NT 2.0 platform, the ET7, which was highly anticipated by Li Bin, has not yet brought new vitality to NIO. In essence, the car, which has ultralong-range laser radar and is powered by four NVIDIA DRIVE Orin chips, with a calculation platform with a high computing power of 1016Tops, does not lack product power, but is hampered by its high price.
NIO's positioning is high-end luxury electric vehicle brand, with an entry-level ET5 starting price of up to RMB 3.28 million, ET7 starting at RMB 4.58 million, ES8 starting at RMB 4.78 million, and the recently launched intelligent electric luxury SUV model, ES7, priced between RMB 4.68 million to 5.26 million. The average selling price is much higher than XPeng's RMB 200,000 and Ideal's RMB 350,000.
"High-end", the route that NIO is good at also becomes the problem of the decrease in NIO's vehicle gross margin from 20.1% to 18.1%. Nowadays, in the frequent evolution of intelligentization, pure electric high-end products have begun to be "unpopular."
As the new energy market becomes increasingly mature, entering a new round of competition cycle centered around core value range, the market structure will become the same as that of fuel vehicles. The market share of 100,000-200,000 yuan range will gradually expand and become the mainstream market.
NIO's immediate priority is to explore products into the lower-end market. In fact, from the release of the ET5 at the end of last year, it is clear that NIO has the intention of expanding into the market. However, the speed is not fast enough.
Li Bin's struggle can also be judged based on the pricing of the ET5. There is indecisiveness between sticking to high-end and increasing revenue through high-volume vehicle models, and both sides want it. However, with the intensification of the epidemic in many places in the post-epidemic era, the middle class that NIO relies on for survival has become conservative in consumption. Although Li Bin believes that production and delivery have been affected by the supply chain, resulting in poor sales.
However, reality is still cruel. If you want to achieve the goal of achieving a vehicle gross margin of 20% and a series of performance commitments with the Hefei municipal government and achieve profitability, the time is urgent, and Li Bin must come up with new chips.
Li Bin's bet is on the NT2.0 platform product.
Independent research is the most powerful weapon
The first hurdle is to solve the problem of the "flattening" of product intelligent technology.
From NIO ES8 to EC6, they are all built on the NIO's first-generation platform NT1.0. Due to the limitations of hardware architecture, they are not as rapid as newcomers such as XPeng and Ideal in directions such as auxiliary driving and intelligent cabin.
Combined with the upcoming market pressures from rivals such as Ideal L9 and XPeng G9, NIO's high-end market space is being squeezed. Although NIO has repeatedly stated that the ES7, the main 5-seater SUV model, mainly competes with Porsche Cayenne and BMW X5, there will inevitably be overlapping positioning with Ideal ONE. The barrage comments in the online release event often read, "NIO ES7 is good, but I choose Ideal ONE."Li Bin has repeatedly emphasized that "NIO will not release too cheap models by itself, but will enter the mass market through a new brand. NIO hopes that the price positioning of the new brand terminal will be 200,000 to 300,000 RMB, and the main products will be in this price range".
However, to solve the immediate need, NIO must catch up with the technology configuration on existing products before the new brand project is launched in 2024, in order to support the continuous development of high-end car models.
Therefore, whether the products built on the NT 2.0 platform can support NIO to pass the qualification rounds and enter the final stage of the competition is crucial. Li Bin said, "Our current models will all switch to the NT2.0 platform next year, this is our plan."
From the first new car ET7 built on the NT 2.0 platform, we can see the "aggressiveness" that Li Bin has brought to NIO. At the beginning of its release, ET7 immediately stirred up the competition of AI car's computational power in China and broke through the ceiling of AI cars in China at that time.
Xiao Bohong, Senior Director of NIO Vehicle Engineering, introduced that the R&D team has obtained two "firsts" in the chassis technology of ET7: China's first fully self-developed suspension control system and China's first self-developed chassis domain controller ICC.
"The first fully self-developed suspension control system in China" is not only a new definition of intelligent chassis by NIO, which upgrades chassis control to the concept of "domain", but also a standard configuration for all models on NIO NT2.0 platform. Just like what Xiao Bohong said, intelligent chassis is the top priority of Design for AD.
NIO's self-developed chassis domain controller ICC is concentrated on the functions of air spring height, shock absorber damping, and electronic parking, as well as high-level autonomous driving scenarios of cross-domain fusion, with characteristics of redundant control, OTA, network security and functional safety.
Self-development is the most powerful weapon. From autonomous driving to intelligent cockpit, to the production of components such as batteries and chips, mastering core capabilities is the bargaining chip for participating in the finals.
NIO's self-developed chassis controller allows NIO to gain absolute autonomy, meaning speed and efficiency. For example, after self-developing ICC to correct a performance detail of a road surface, NIO can quickly push it through FOTA in about 1.5 months, while traditionally it takes at least 8 months.
Through self-developed ICC, ET7 has three major advantages: highly integrated chassis system balancing comfort and sportiness, autonomous driving scenario-driven multi-degree fusion control, and accelerated whole vehicle R&D and experience iteration, with a wider range of debugging and stronger functional expansibility."Define the foundation, connect the experience, and improve the upper limit." With rich configurations and outstanding performance, the ET7 boasts highlights such as achieving 0-100km/h in just 3.8 seconds, "lookout tower-style" perception solution, and a 1550 nm Lidar from TuDaTong. Moreover, it features the third-generation Qualcomm Snapdragon digital cockpit platform. All of these technological advancements are the source of confidence for the starting price of the ET7 at 458,000 yuan.
Whether it is the development of intelligent chassis or the utilization of Lidar, NIO is resolute and steadfast in its pursuit of "high performance and high safety," a technological label that founder Li Bin earnestly wants to attach to NIO vehicles. This intention can be seen in the release of the ES7, where NIO's goal was to redefine the large- and mid-size SUV.
The ES7 comes equipped with NIO's NT2.0 autonomous driving hardware and besides its sporty and powerful overall look, it also demonstrates powerful AD capabilities that are driven by NIO's intelligent system, Banyan, designed for AD. Borrowing from Design for AD mentality, the designer placed high-precision Lidar and 8 million-pixel high-definition cameras in the roof of the car.
In addition, the intelligent cockpit design embodies the concept of the "Second Living Room," with the full panorama digital cockpit, Pano-Cinema, fitted as standard across its entire range. NIO's latest autonomous driving technology, NAD, enables a relaxing and safe point-to-point autonomous driving experience for scenarios such as highways, city centers, parking, and battery swapping. NAD is an integral aspect of NIO's intelligent application in the Banyan system.
Clearly, NIO's aim is to make ES7's footnote read "smart and comfortable," which is similar to the positioning of the recently launched IDEAL ONE. Both are 5-seater SUV models, with the former starting at 450,000 yuan and the latter starting at 350,000 yuan.
Who will prevail? Even Li Bin might not have a clear answer to this question, as IDEAL ONE has already shown its market dominance with monthly sales reaching over 10,000.
However, Li's first concern should be whether the ES7 will erode the existing market share of other products like the ES8 and ES6. He thinks that "there won't be a big substitution relationship or a significant squeezing effect."
While NIO's cutting-edge technological advancements in areas such as intelligent chassis and Banyan system are evident, beyond the factors of product performance and price, there is another challenging hurdle that Li Bin must overcome: the delivery bottleneck.NIO's highly anticipated ET7 began delivery on March 28th, with the ET5 set to be delivered in September this year and the ES7 scheduled for delivery in the third quarter. The concentrated delivery of multiple models has greatly boosted sales but also posed significant challenges to the supply chain.
Stabilizing the supply chain is a prerequisite for NIO CEO William Li to achieve his "aggressive" goals.
He stated that the current production and demand could support a quarterly delivery of 48,000 vehicles, but the supply chain still faces uncertainty. "In our risk list, there are usually a dozen or twenty chips, and the chips that are missing this month and next month may not be the same. We have to constantly solve this problem."
Earlier, Li was frequently asked if there was anything that made him particularly sleepless. He said that delays and price increases in new car delivery due to supply chain disruptions had caused dissatisfaction among car owners.
"We use more than 1,000 chips in our cars. If one chip cannot be supplied, the car cannot be delivered. How to ensure that you have the ability to substitute some chips? For example, if a chip is out of stock, can I use a substitute chip? This rapid response, research and development, testing, and quality are all part of a holistic capability. I think these challenges are quite significant."
Chip shortages and battery shortages are not unique to NIO. However, NIO is the most affected, with sales of the three entities, NIO, Wuyue and Hefei, being sluggish. In the first quarter of this year, NIO delivered a total of 25,768 new cars, of which the ES6 and EC6 were the pillar models with delivery volumes of 13,620 and 7,644 respectively. So far, monthly sales have not exceeded 10,000 units.
With the delivery of the ET7 climbing and the ET5 starting delivery, the demand for parts in the entire NT2.0 system will increase significantly, and Li must come up with more response policies.
"The good thing is that since 2019, the entire supply chain team has been overcoming various challenges. In 2019, we had no money, and at that time, we had to maintain supply. Now we have chip issues, but overall, we have responded quite well." Li said.
Of course, he also admitted that many peers' founders had to go out for drinks in order to fight for chips, and he was doing the same. However, Li's alcohol tolerance is not very good, but he will definitely seek support from partners.
But this can only be a temporary measure. As mentioned earlier, what they control is the key, and they should try to develop their own technology as much as possible.
For example, in addition to NIO, more and more automakers, including Tesla, Volkswagen, and EAON, have announced plans for in-house production of battery cells. New forces aiming to reach 200,000 vehicles are also at a stage where they need to consider whether to supply their own batteries, or rely on other suppliers.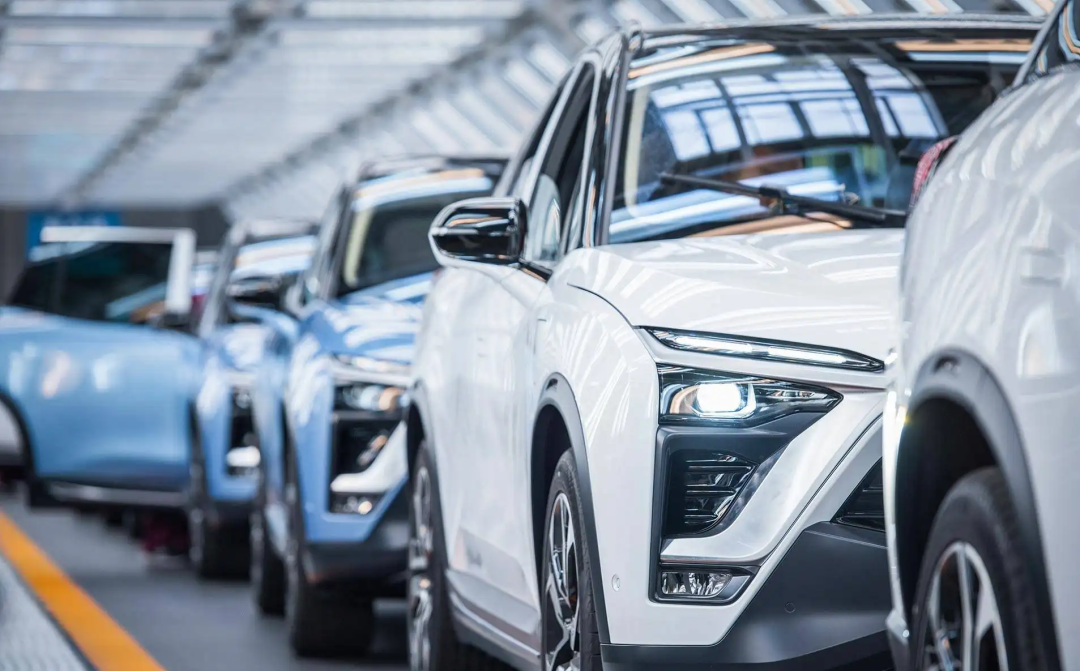 The experience of 2019 has made Li Bin psychologically prepared for all contingencies. At that time, NIO was trapped in a financial quagmire. Faced with the principle of "No money, no serious commitment" from Ningde Times, some NIO executives had to provide real estate certificates to persuade the latter to deliver goods.
"In the second half of 2024, we will deliver new models of cars… which will be equipped with our own self-produced batteries." In Li Bin's view, it's necessary to control the lifeline in one's own hands. The youthful spirit of aggressive progress is still there.
Indeed, no matter how new technologies of high-end intelligent electric cars evolve, batteries are always the top priority.
Li Bin admits that currently NIO has a battery-related team consisting of more than 400 people, deeply involved in research and development work such as battery materials, cell and pack design, battery management systems, and manufacturing processes. In the long run, the cell will adopt a strategy of external sourcing and self-provisioning, and self-produced batteries will be used in the second brand by 2024.
The R&D costs also put pressure on Li Bin. In addition, NIO's unique advantages in battery swapping, user experience, and services have also brought great cost challenges. There are simply too many places where NIO needs to spend money.
Compared with the "entering ICU" year of 2019, NIO now has to be much more calm, and what is needed urgently is to fight a new turnaround battle.
This article is a translation by ChatGPT of a Chinese report from 42HOW. If you have any questions about it, please email bd@42how.com.