Author: Zheng Senhong
"ET7 Interior + ES6 Exterior", this may be the first impression of many people after watching the NIO ES7 launch event.
On June 15th, NIO released its five-seater mid-to-large sized SUV – the NIO ES7.
According to NIO's past release schedules, since holding its first NIO Day in 2017, it has been customary for NIO to release new cars and open pre-sales at NIO Day, and deliver them the following year, from ES8 to ET5, without exception.
However, with the release of the ES7, NIO has broken not only the tradition of releasing new cars on NIO Day, but also surpassed the "futures king" title. Pre-sales for the ES7 started on June 15th and deliveries began on August 28th.
Despite this series of actions, it does not mean that the ES7 won't be launched at NIO Day, but rather NIO has taken preemptive action against Ideal and XPeng, which have new products ready to be released.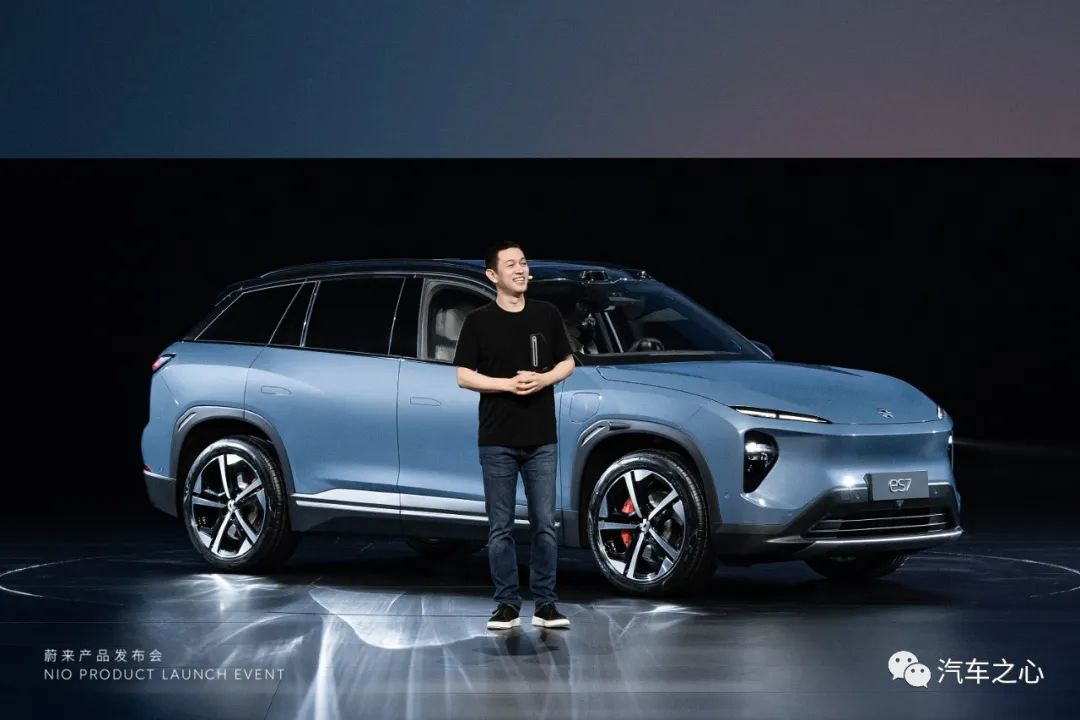 NIO ES7, the SUV version of ET7
After a two-and-a-half-year hiatus, NIO has once again welcomed an SUV model.
With NT 2.0 platform, LiDAR, silicon carbide motor and self-developed chassis domain controller system, the price of the ES7 looks the same as the fully equipped ES6.
So much so that some comment that the ES7 looks like an ET7 on the inside and an ES6 on the outside.
Other than this, what are the selling points of the NIO ES7?
Li Bin gives three keywords: immersive intelligent cockpit, intelligent hardware at a new level, and high-performance new benchmark.
In addition to the "second living room" design concept, the ES7 also uses a new technology to create an immersive atmosphere – exclusive AR glasses developed in collaboration with NREAL. The AR/VR virtual reality technology presents a virtual ultra-large visual effect with a viewing distance of 6 meters and an equivalent of 201 inches.
With a 10.2-inch HDR digital instrument panel, a 12.8-inch AMOLED center control screen, and a rear 6.6-inch HDR multi-functional control screen, a mainstream Qualcomm 8155 chip is used as the computing platform behind the scenes.
Next, is the new height of autonomous driving hardware, using the familiar formula:
1 1550nm LiDAR;
7 8-megapixel cameras, 4 3-megapixel surround-view cameras;
5 millimeter-wave radars, 12 ultrasonic sensors;
2 high-precision positioning units, 1 V2X perception unit, 1 enhanced driver perception unit.
On the ES7, it also carries the AQUILA perceptive system, including a roof-mounted Innovusion (Tutus) Falcon LiDAR, same as that of the ET7, and with 4 NVIDIA Orin-X chips powering the ADAM computing platform, with a total computing power of 1016TOPS.
This set of top-notch intelligent hardware system, is designed to enable full-stack self-developed NAD for NIO's terminal scenarios, covering high-speed driving, urban driving, parking, and battery swapping, truly achieving intelligent driving from charging to destination.
According to Li Bin's plan, NIO will release an upgraded version of NOP, NOP+, in the third quarter of this year, and NAD will be launched in the fourth quarter of this year.
Among them, NAD will be available for monthly subscription, and the main difference between NOP+ is that the supplier of high-precision maps has been changed from Baidu to Tencent.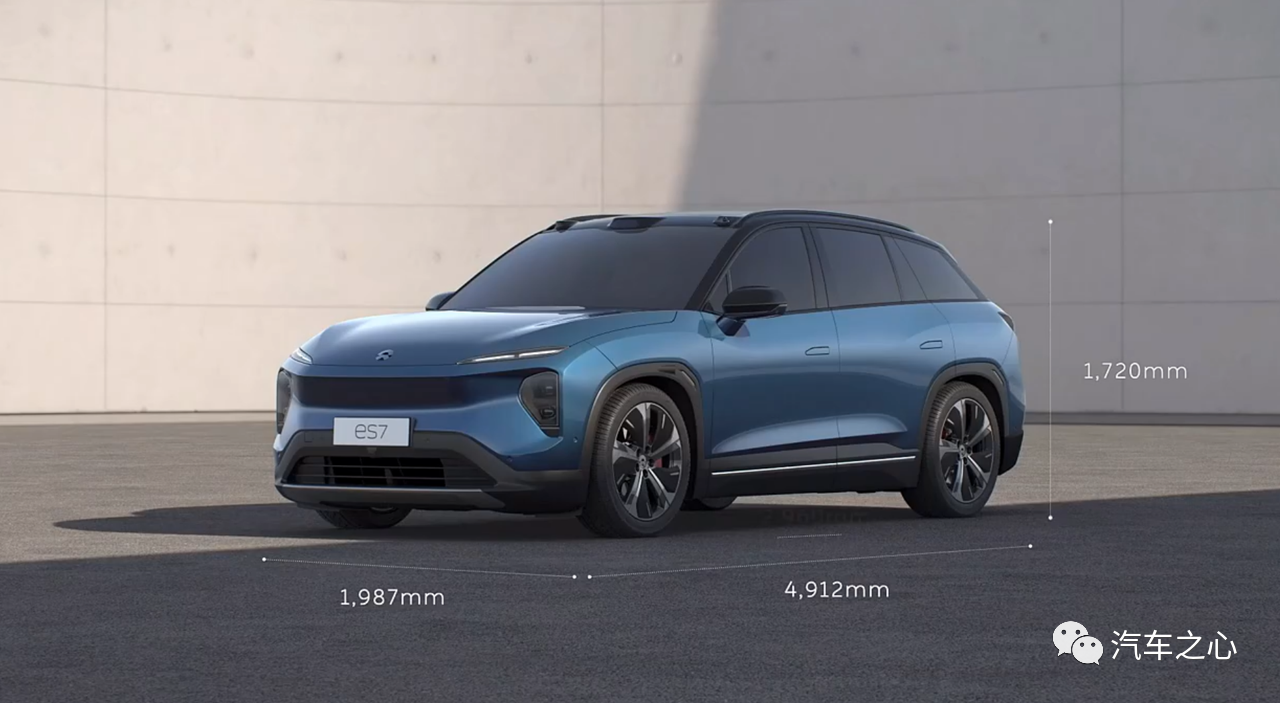 Finally, is the new benchmark for high performance, and from the data on the books, the ES7 is NIO's** fastest SUV model to date**.
The ES7 uses a combination of a front 180kW permanent magnet synchronous motor and a rear 300kW asynchronous motor, with a maximum power of 480kW and a maximum torque of 850N-m, with a hundred kilometer acceleration of 3.9 seconds.
Extreme performance is achieved, on the one hand, thanks to NIO's smoother styling and second-generation electric platform, and on the other hand, thanks to the lightweight of the all-aluminum body and the rear body floor carbon fiber reinforced material of the ES7, which achieves the best weight reduction ratio.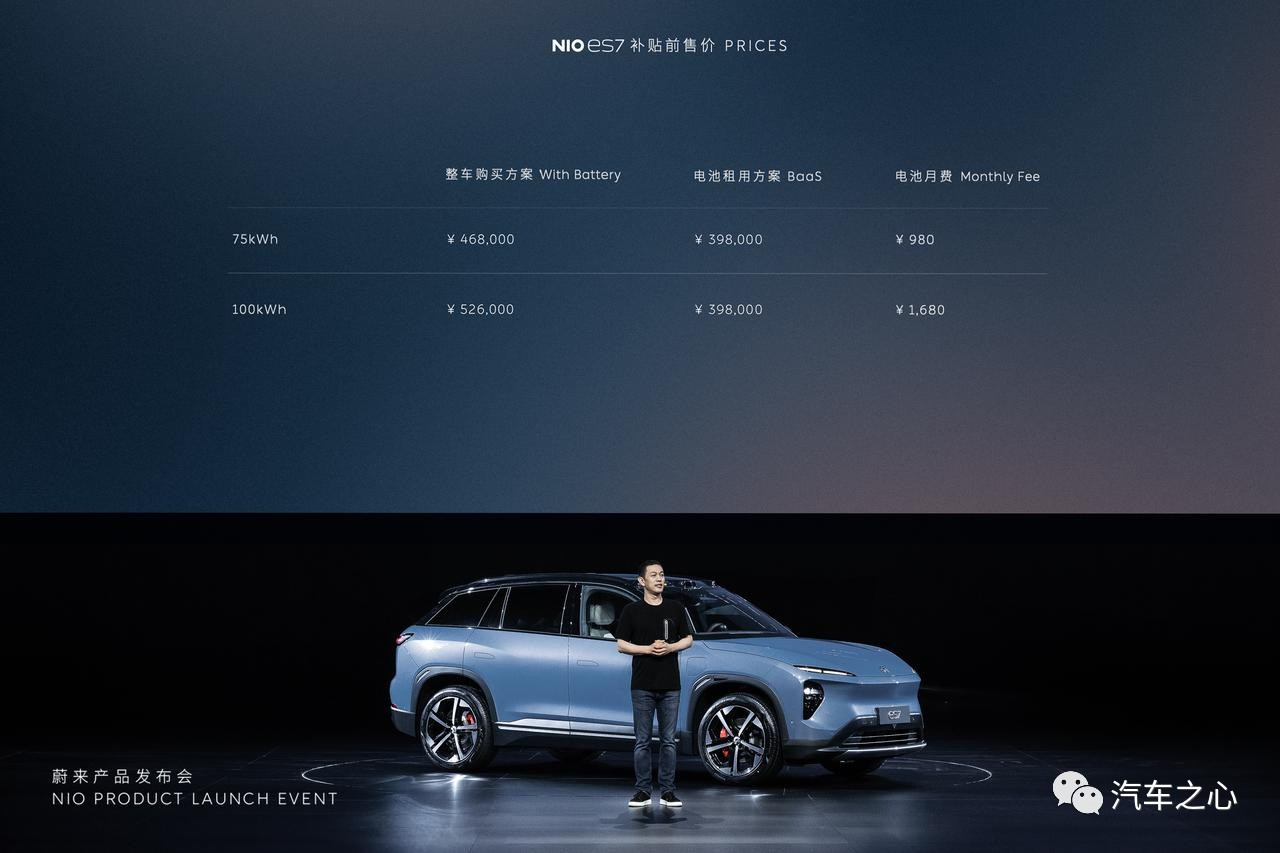 In terms of range, ES7 offers three versions of 75kWh, 100kWh, and 150kWh, with corresponding CLTC ranges of 485km, 620km, and 930km.
ES7 may not have many "surprises" in terms of design language, as it is in line with ET7 and ET5.
However, ES7 represents a landmark product in NIO's SUV lineup, from the NT1.0 platform to the NT2.0 platform, continuing NIO's experience in the SUV field and enhancing NIO's competitiveness in the current SUV market.
This "one extension, one supplement" makes Li Bin confident that ES7 is a "ceiling level" mid-to-large SUV in the 400,000-500,000 RMB price range.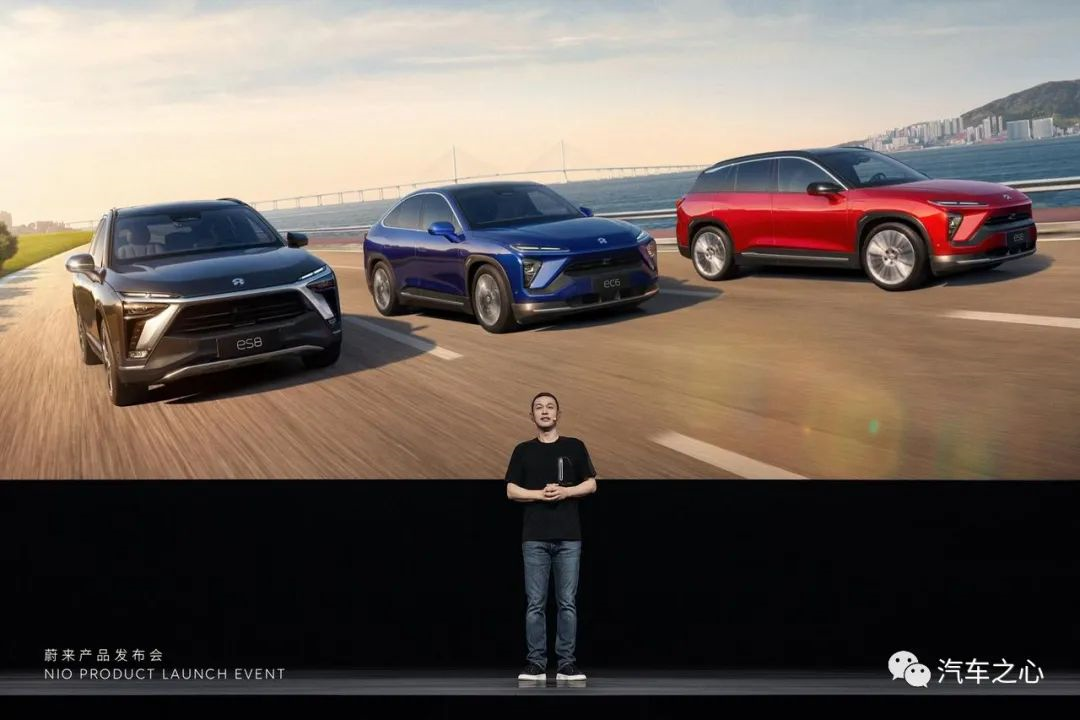 "Embrace new users, never forget old users"
In addition to the release of ES7, NIO has not given up on the "866" model.
In the past four years, backed by the "866" series, NIO has weathered the darkest moments and squeezed into the head of the new forces.
As more competitive models emerge in the market, the limitations of the intelligence of the "866" begin to emerge. For example, the cabin chip carried by the old "866" is still the Nvidia Tegra X1 of 2018. At that time, as a mainstream cabin chip, XPeng P7, Xpeng P7, JiKua 001, and others used Qualcomm 820A cabin chip.
Today, as the cabin system continues to upgrade iteratively, the aging cabin chip struggles with the performance of running some complex software.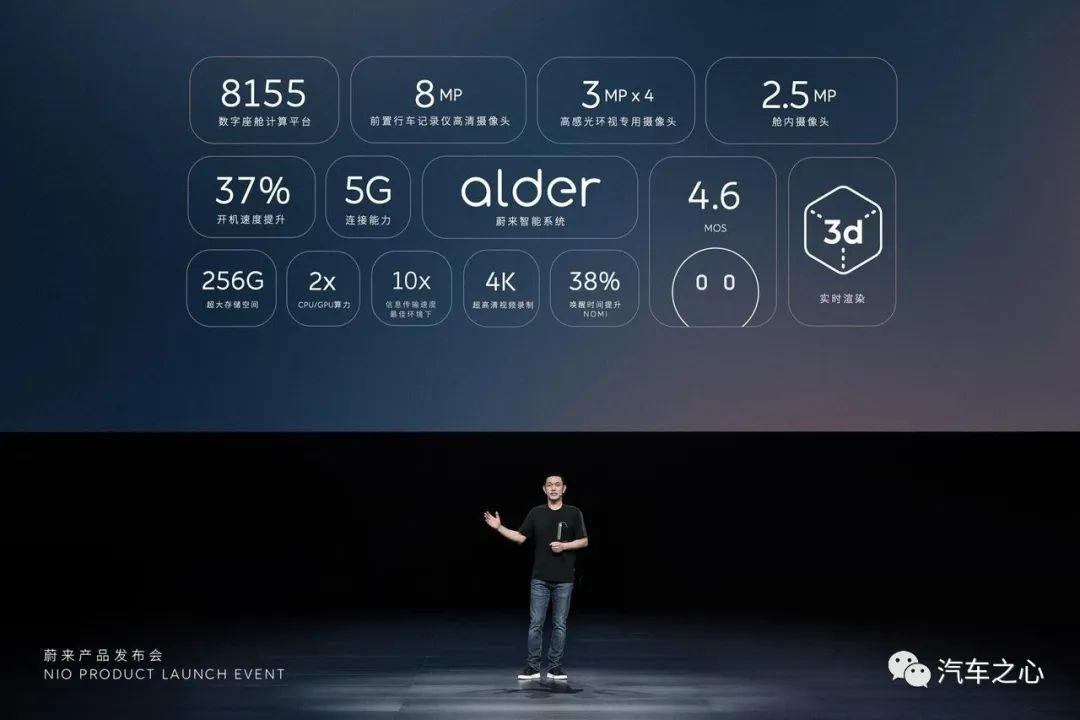 Facing the evolution of the cabin system and higher demands for cabin intelligence from users, NIO has offered a set of upgrade solutions covering intelligent hardware, electronic and electrical architecture, interior and exterior upgrades for the old "866" model:
One Qualcomm Snapdragon 8155 cabin chip;
One 8-megapixel front driving recorder high-definition camera;
Three 3-million-pixel panoramic dedicated cameras;
One 2.5-million-pixel cabin camera;
With new-digitized cabin domain controllers, 5G central gateways, exterior rearview mirror assemblies, top control area assemblies, and more, this smart hardware solution has made the most significant change for better performance.
Compared with 820A, the 8155 chipset is a revolutionary upgrade, with CPU and GPU computing power increased by 100%.
Let's take a look at a set of data:- A 37% improvement in boot speed, a 55% improvement in app launch time, and an 18% improvement in responsiveness for the car's infotainment system.
A 38% improvement in wake-up speed, a 12% improvement in response time, and a 28% reduction in recognition error rate for NOMI under cold start conditions.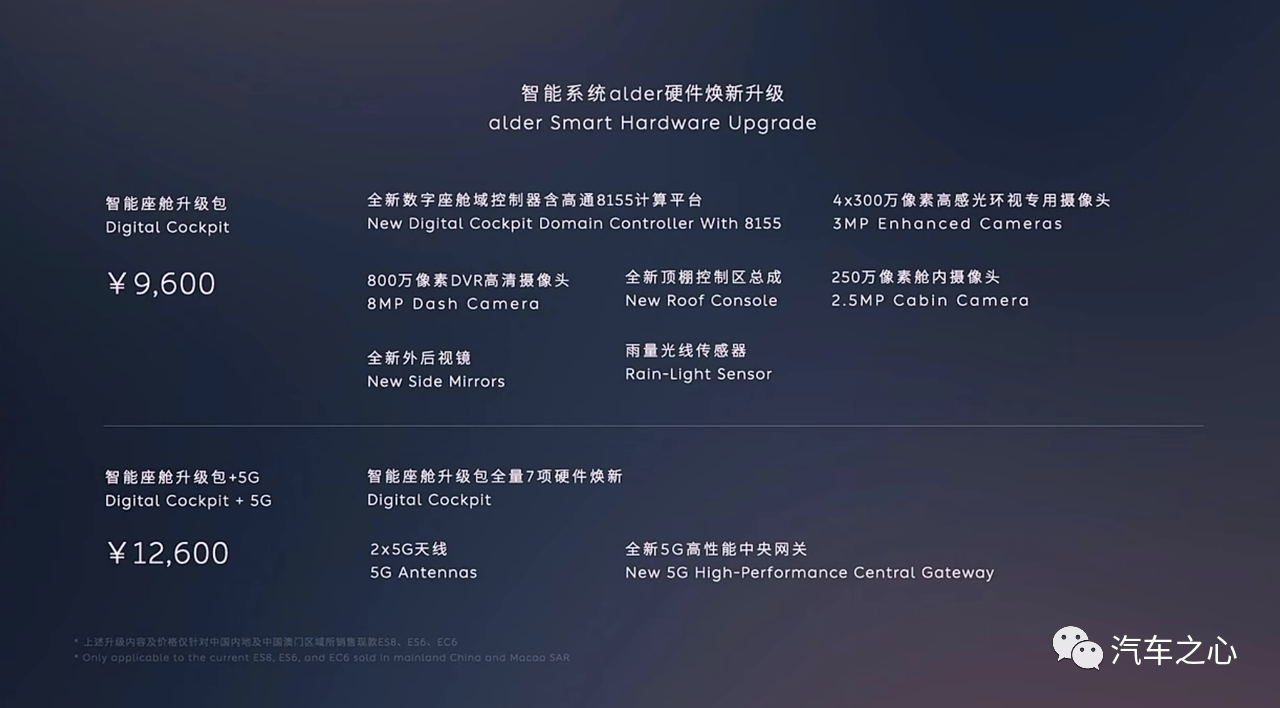 This hardware upgrade package costs 9600 yuan, with an additional option for a 5G high-performance central gateway at a total cost of 12600 yuan. The upgrade program will be available for pre-order starting on June 30th, with upgrade services beginning in late July.
This is undoubtedly a complete reference solution for those who are still considering upgrading from the 8155 chip.
NIO is not simply offering iterative upgrade plans for its existing users. Instead, it is dividing them into different intelligent platforms and conveying its continued commitment to its existing users through a clear logic on how these platforms operate.
Aspen: covering the old ES8, ES6, and EC6 models
Alder: covering the 2022 866 model and the old 866 model
Banyan: covering the ET7, ET5, ES7, and all other models until the release of the NT 3.0 platform in 2024
For NT 3.0 platform models, NIO plans to name them after trees starting with the letter "C."
Trees represent continuous growth, and naming the intelligent platforms after trees is perfectly in line with the concept of upgradability and iterativeness.
According to Li Bin, every generation of intelligent platforms will have a 15-year cycle, such as the Aspen system, whose test vehicles need to remain operational for 15 years. NIO will have multiple smart systems that will continue to grow and evolve, ultimately achieving the goal of creating a "forest of grey trees."
NIO ensures that every car will always have a new experience throughout its 15-year lifespan through OTA updates.
NT1.0 platform was NIO's product from five years ago. Although its performance is still not outdated, the potential for OTA updates for subsequent models has been largely exhausted. Upgrades, however, will allow these cars to continue to thrive, like "old wine in new packaging."
This is why the concept of upgrades was emphasized more than the value of new products at NIO's launch event last night.
It is precisely because of NIO's upgradability and iterativeness goal that we can now begin to imagine what the "866" upgrade to the NT2.0 platform in 2023 might look like, after the release of the "866" model for the 2022 platform.
With this launch event, NIO has attracted new users with its cutting-edge new products while committing to its existing users through its 15-year product cycle promise.# NIO: Maximizing User Rights and Value
For NIO, winning users' recognition through services is not enough. Maximizing user rights and value is the foundation of NIO's commitment to luxury brands, and also its ultimate goal of putting users first.
Who Will Stand Out in the Luxury SUV Market – ES7 or 866?
From the beginning, NIO's anchor has been pure high-end luxury electric cars targeting the BBA market.
Li Bin publicly stated that wherever there are BBA and Lexus stores, NIO will definitely cover them. This is NIO's basic strategy.
Compared to other new players who focus on high coverage and low overlap in product lines, NIO's product positioning only focuses on the "high-end luxury" market.
Looking at the current product line and unit price, NIO is at the top of first-tier new forces, with the average starting price of sold models exceeding 400,000 yuan.
The product concentration in the terminal market is evident in NIO's sales last year. Although the overall sales have not yet exceeded the threshold of 100,000 units like XPeng and Li Auto, NIO's market share in the high-end electric vehicle market above RMB 300,000 reached 40.8%, ranking first.
Even this year, when NIO's sales have shown signs of weakness, NIO has been making the sales charts for all model types with a price higher than 300,000 RMB in the high-end electric vehicle market, ranking high.
However, being part of the luxury sector means that NIO's potential user share is not large.
Taking 500,000 yuan as the baseline, the overall sales of the passenger vehicle market in 2021 exceeded 20 million units. If it is refined to models priced above 500,000 yuan, it only accounts for 4% of the entire market (1.054 million units).
If it is further refined to the new energy field, it becomes even more niche.
In 2021, the sales volume of luxury brands and new forces in the high-end new energy vehicle market was 617,000, of which the sales volume of pure electric models was 465,000 units. These two numbers represent only 2.9% and 2.2% of the passenger car market, respectively.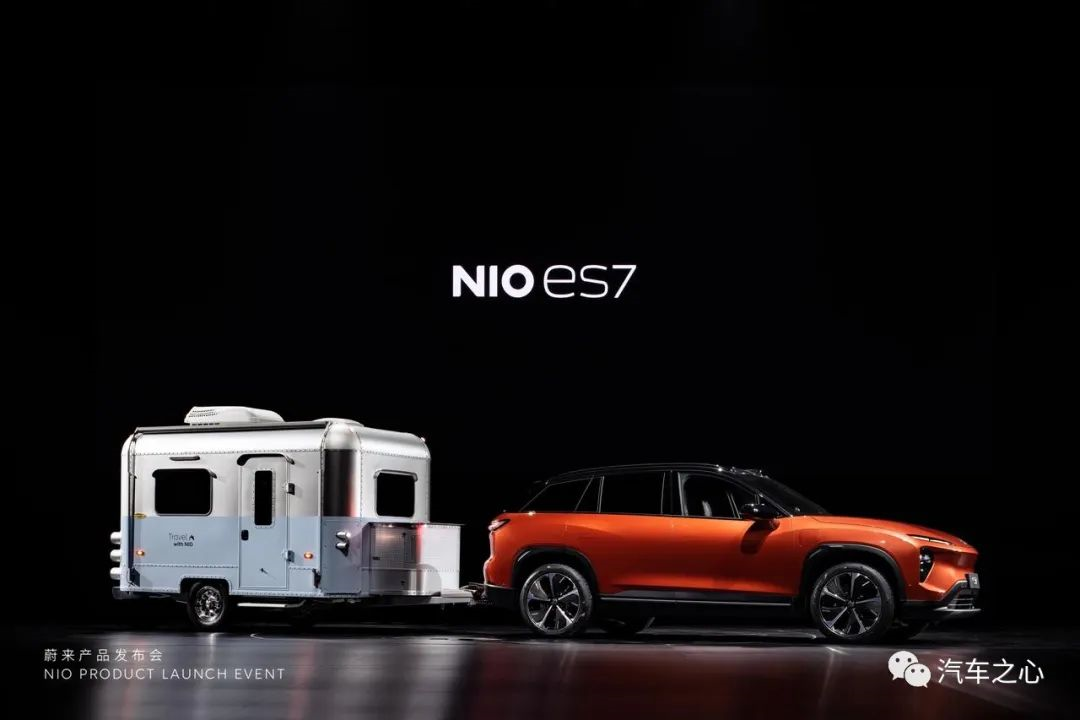 ES7, ES8, ES6, and EC6 are all competing in the SUV market. Who is most likely to stand out?
NIO believes that among the SUV models, ES8 has already taken the leading position of 6/7 seats, and the appearance of ES7 is to compete for the market share of 5-seat models. In this seemingly NIO SUV "internal fighting," it is actually only ES7 competing against ES6/EC6?
| Not necessarily. | Sales Price | New ES6 75kWh | ES7 75kWh |
| --- | --- | --- | --- |
| Total Price (CNY) | 38.60-49.60 | 46.80 | |
| Price Difference (CNY) | N/A | 8.2 | |
Most consumers do not have the idea of upgrading when choosing a low-end model. Therefore, NIO has been clear from the beginning about how to differentiate several SUV models from direct competition.
If ES8 continues to stabilize its leading position and ES6/EC6 continue to emphasize sportiness, then the meaning of ES7 is more like a comprehensive existence.
Li Bin previously revealed the user portrait of NIO owners:
Mainly born in the 1980s and 1990s, most have formed a family. 80% of the ES8 Founder Edition owners are fathers with monthly income averaging around 50,000 CNY, 73% have a bachelor's degree or above, and nearly 60% are private business owners.
ES6 owners are relatively younger, with an average age of around 30-31.
The age group of EC6 owners is even younger.
Therefore, the user portrait of ES7 is most likely to target the new middle class. This can be seen from the ES7's support for RV towing, camping mode, and external power output.
Li Bin once stated on a financial report conference call that ES7 mainly competes with BMW X5, and its sales volume can be referred to that of the X5.
Even the long-awaited domestic BMW X5L only sold 138 units in April this year, while the imported BMW X5 sold 1432 units. Last year, the domestic sales volume exceeded 50,000 units for the first time, and the average monthly sales volume exceeded 4,000 units, which is roughly the best sales level of NIO ES6.
Compared with the BMW X5, Li Bin believes that ES7 has the advantages of leading "three electric three intelligent" technology and emphasizes high performance and luxury.
As for having the same luxury SUV market, perhaps Li Bin would also think that both are his own children, and it doesn't matter which one succeeds.
This article is a translation by ChatGPT of a Chinese report from 42HOW. If you have any questions about it, please email bd@42how.com.