Author: Xiaodong
Editor: Chris
"No matter it's a gasoline-powered car or an electric car, ES7 aims to reach the ceiling of 500,000 level mid-to-large-size SUV."
This was the statement made by Li Bin, the CEO of NIO car, on the just-ended NIO product launch event. Perhaps this sentence will be "joked" again.
At 8:00 pm on June 15, 2022, NIO ES7 was officially unveiled at the product launch event. However, affected by the epidemic, this ES7 chose to be released online. Star Channel went to the release site and brought everyone the live video of ES7 for the first time.
In addition to ES7, NIO also brought 2022 ES8, ES6, EC6 (referred to as "866" model) and the upgrade plan of the intelligent platform of the old 866 to users at this launch event, including Qualcomm Snapdragon 8155 chip, a driving recorder with 8 million pixels camera, 4 specially-designed surround-view cameras with 3 million pixels each, 5G central gateway, etc.
Of course, you must be very concerned about the price of ES7. So, let's take a look at the picture directly~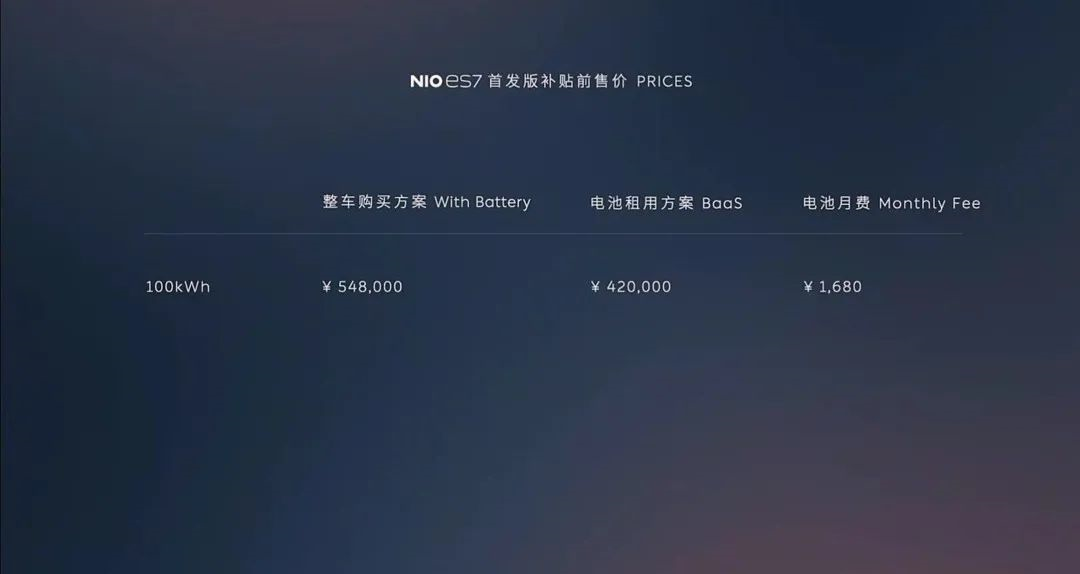 At the end of the launch event, Li Bin announced that NIO ES7 will start delivery on August 28, 2022. What other secrets are there about this "500,000 level mid-to-large-size SUV ceiling"?
NIO's Fastest SUV
At first glance, the appearance is still familiar.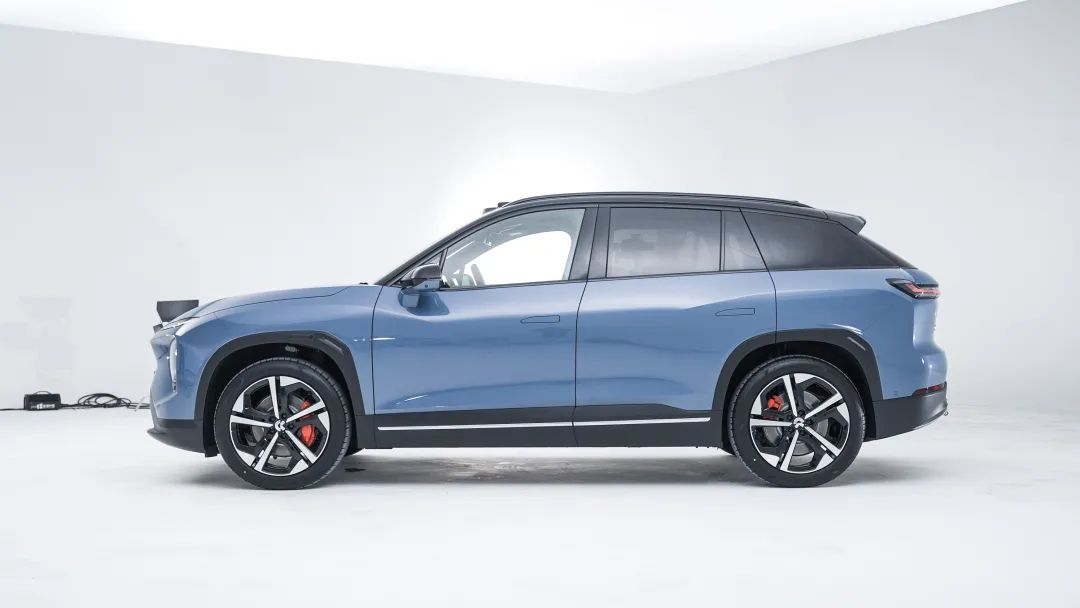 After viewing these real pictures of ES7, what's your impression of the appearance of NIO ES7?
From the naming of ES7's positioning, we can see that it is positioned between ES8 and ES6. We also compared the basic parameters of ES7 with other cars with similar positioning on the market.
ES7's interior design language uses NIO's "Second living room" design style, combined with a 12.8-inch suspended AMOLED central control screen and a 10.2-inch instrument panel, 23 speakers and a 1000W Dolby surround sound are still standard. The overall interior design language is consistent with that of the ET7.
The highlight is the seats. The seat surface of ES7 is called "Ultra-fit", and the range of the driver's seat cushion adjustment is 60 mm. Both the driver and the co-driver support 18-way electric adjustment, and the queen co-driver is standard for all models. With a wheelbase of 2960 mm, ES7 is 60 mm longer than ES6, all of which is dedicated to the car's interior space. The rear seats of ES7 support angle adjustment of 23-31 degrees, 8-way electric adjustment, and are equipped with seat heating and Air Cushion back comfort system as standard. The front and rear double-layer soundproof glass also ensures the quietness of the car's interior space.
NIO ES7's new styling not only evolves its appearance, but also focuses on energy consumption control. Even with the Sensor Bar tower on top, the wind resistance coefficient of ES7 is optimized to 0.263. In comparison, the wind resistance coefficients of ES6 and ES8 are 0.28. Under the premise of not affecting functionality and aesthetics, having a wind resistance coefficient of 0.263 for a mid-to-large size SUV is a good balance.
More importantly, this ES7 will be NIO's fastest accelerating SUV model.ES7 is equipped with the same powertrain as ET7, featuring a front permanent magnet motor with 180 kW and a rear induction motor with 300 kW, delivering a peak power of 480 kW and a maximum torque of 850 N・m, enabling this ES7 to reach 100 km/h in just 3.9 seconds. All ES7 models come standard with Brembo four-piston calipers, while the launch edition is equipped with 21-inch Pirelli self-sealing tires and IDB integrated dynamic braking system, which allow ES7 to halt within just 33.9 meters.
It is worth noting that these impressive figures are achieved with a curb weight of 2.4 tons. To achieve weight reduction, ES7 features an all-aluminum body and a carbon fiber rear body floor, which not only reduce weight but also enhance the body's rigidity. Additionally, ES7 adopts an integrally-cast all-aluminum subframe, further reducing weight.
For suspension, ES7 uses a front double-wishbone and a rear multi-link suspension structure, with a 50:50 axle load ratio and a low center of gravity due to its battery placement, which greatly improves its handling. Moreover, the combination of air springs and CDC (Continuous Damping Control) guarantees maximum ride comfort. Furthermore, ES7 will be equipped with NIO's self-developed ICC (integrated chassis control) domain controller, which is not supplier-dependent, providing greater control over the controller, software calibration, development integration, and FOTA updates. This has allowed NIO to update the chassis functionality more frequently and efficiently. According to NIO, it takes the NT1.0 platform at least 8 months to complete a fine-tuning on a suspension, while the NT 2.0 platform equipped on ES7 can complete the task in just 1.5 months. Similarly, developing a complex chassis function on the NT1.0 platform would take 6 months, while the same task on the NT 2.0 platform only takes 3 months, thus doubling the efficiency.In terms of range, NIO offers consumers a choice of 75 kWh ternary lithium battery, 100 kWh ternary battery, and 150 kWh semi-solid-state battery, which correspond to a range of 485 km, 620 km and 930 km respectively under the CLTC conditions. Given the support of silicon carbide modules and low aerodynamic drag coefficients, and based on the actual test results of the ET7, it is believed that the actual performance of the ES7 should also be good. It is speculated that under daily commuting conditions, ES7's energy consumption per 100 km should be around 20 kWh.
For range anxiety, NIO also has its killer app – NIO Power. The support of NIO Power makes range anxiety no longer a big problem. Currently, NIO has 972 nationwide battery swap stations, and the high-speed battery swap layout for the "five vertical and three horizontal, four metropolitan areas" should have been completed by the time of ES7's delivery.
It is worth mentioning that the ES7's fast charging capability is currently the fastest among all NIO models, with a maximum current of 480 A, which means that theoretically the maximum charging power can reach more than 180 kW. However, NIO's own supercharging station currently supports a peak power of only 105 kW. Fortunately, news of NIO's next-generation supercharging station has already been announced, perhaps delayed due to the epidemic affecting the launch event.
As for the choice of battery size, consumers do not need to worry too much, as NIO has a flexible battery upgrade system for consumers to choose from. In the fourth quarter of this year, NIO will also launch a 150 kWh semi-solid-state battery for lease.
At the launch event, the ES7 appeared with a small trailer. Camping concepts are popular this year. Like the XPeng G9 and other models, NIO has also launched a hidden electric tow hook on the ES7. According to NIO's official data, the maximum towing weight of the electric tow hook is 2 tons and it supports power supply during driving. The ES7 also offers camping and towing modes.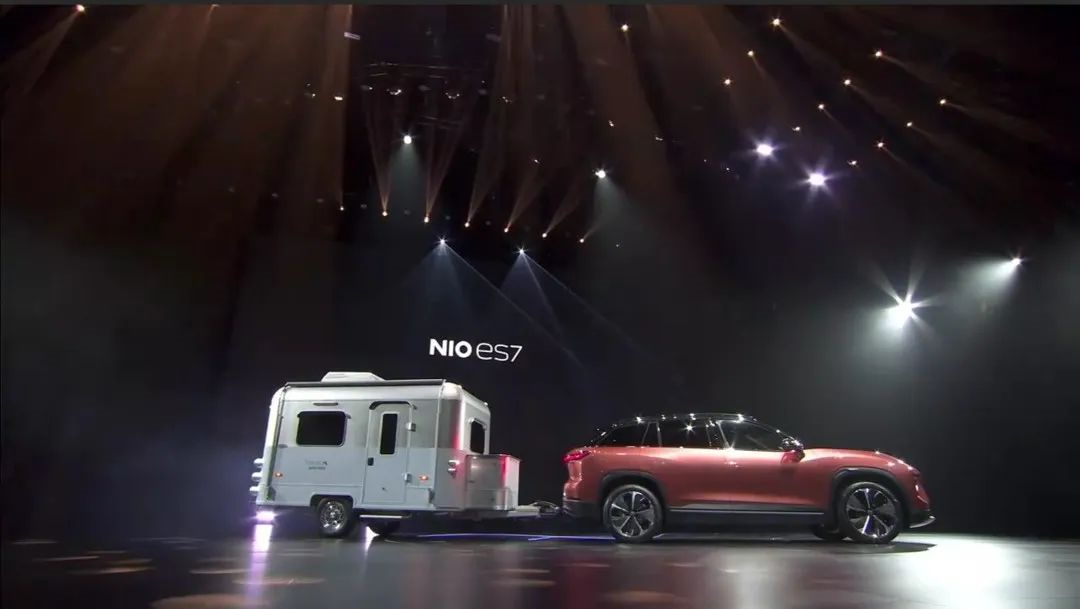 Pro tip: Towing a caravan will consume more power, so for long distance travel, it is necessary to fully consider the battery level. Of course, NIO is expected to provide more reminders in terms of user interaction.
Actually, the ES7 has many design details that are not discussed here, such as the three-dimensional feeling of the daytime running lights, the ultra-fiber material of the interior roof, IDB technology providing a more linear foot feel, the exploration of user usage scenarios and even the natural coffee bean husk used in the Nappa tanning process and how to solve crease problems, and other small details. In the future, when we have a longer period of experience with the ES7, we will discuss it in detail.
Familiar Intelligence# NAD, it's NAD again (NIO Autonomous Driving).
Could we even start without talking about NAD? As the next generation intelligent driving system developed by NIO, it is highly anticipated. ES7 uses the same AQUILA super perception system hardware as ET7 and ET5, let's review:
Equivalent to 300 lines, 1550nm LiDAR
Seven 8 million pixel cameras and four 3 million pixel panoramic cameras
Five millimeter-wave radars and twelve ultrasonic sensors
A total of 33 hardware sensors
Coupled with the 4 NVIDIA Orin-X chips adopted by the ADAM supercomputing platform, the total computing power reaches 1016 TOPS.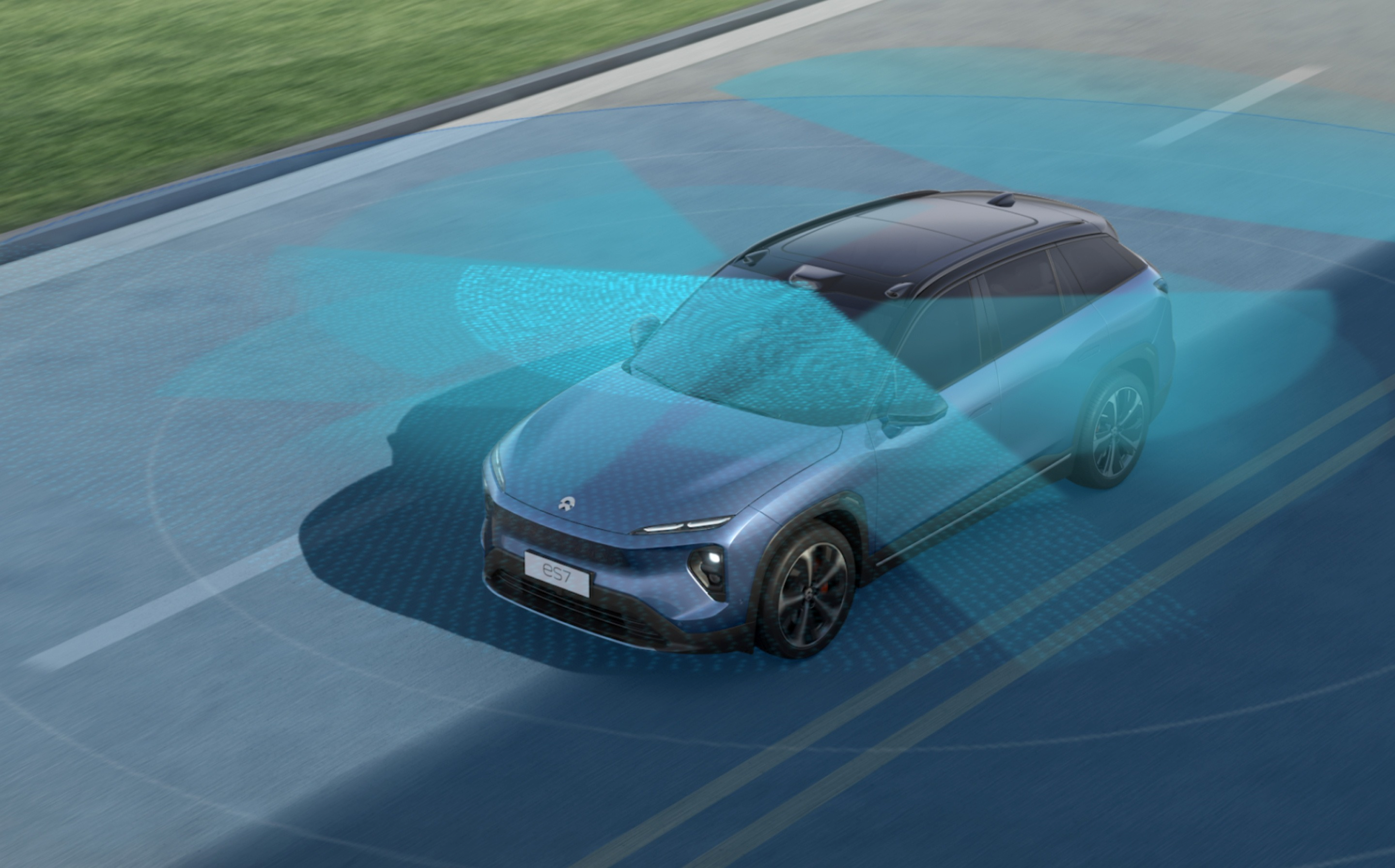 NIO's self-developed NAD plan will be launched in the fourth quarter of this year. NAD will gradually achieve complete coverage in scenarios such as highways, urban areas, parking and charging, creating a point-to-point intelligent driving experience. At the same time, the NAD software will be offered in ADaaS (subscription-based) mode, at a price of 680 yuan per month.
During NIO's Q1 2022 earnings call, CEO William Bin Li stated that based on its full-stack technology and closed-loop data advantage, NIO's assisted driving performance indicators will experience significant growth within two months after ET7 delivery. Compared with the first-generation assisted driving system, NAD will have several-fold performance improvement.
Meanwhile, Li also revealed that before the launch of NAD, NIO will release an upgraded version of the NOP, the NOP+ in Q3 2022, which will replace its collaboration partner from Baidu to Tencent for high-precision maps. By cooperating with Tencent on high-precision maps, NIO can gain more initiative, and provide a foundation for future urban autonomous driving.
In terms of intelligent cabin, ES7 now features NIO's second-generation digital cabin, and the self-developed NOMI is constantly evolving. In addition, it also includes low-latency interconnectivity experiences such as Bluetooth 5.2, UWB, 5G, NFC, etc. At the same time, at the recent product launch conference, it was announced that NIO will unveil its exclusive AR glasses jointly developed with Nreal showcased on NIO Day 2021, providing an equivalent of 201-inch visual experience and will be launched soon.
The AR glasses combined with the 1000W power 7.1.4 Dolby panoramic sound system brings a brand new cabin experience, making it highly anticipated.
Even "Old Guys" Need to ImproveOn December 16th, 2017, NIO's first electric car model ES8 was officially launched. And now, after more than 4 years, it's starting to show its age. Therefore, in addition to releasing the 2022 NIO ES8, ES6, and EC6 models at the recent product launch, NIO also brought a major upgrade to the 866 model.
The biggest change that 866 owners will notice is the replacement of the car's chip with the Snapdragon 8155, and the data speaks for itself:
NIO's car system acceleration has increased by 37%, app cold start up has increased by 55%, and responsiveness has increased by 18%.
NOMI's cold start up has increased by 38%, responsiveness has increased by 12%, and recognition error rate has decreased by 28%.
If you think about it, these improvements are precisely the high-frequency scenarios that users encounter when they use the product. For example, the speed of the car's system startup, app cold start up, and NOMI cold startup have been improved, which are the moments when we most frequently use navigation and music playback while driving.
However, the updates to NIO's intelligent platform are not limited to this. This upgrade also includes six cameras: an 8 million pixel dashcam, 3 million pixel surround-view camera, and 2.5 million pixel cabin camera. Five cameras can be recorded simultaneously and new modes like wheel and watch are added. However, these are just the visible upgrades. To support these features, the car's cabin will also replace the brand new digital cockpit control unit, 5G central gateway and antennas, external rearview mirror assembly, roof control zone assembly, and more.
NIO's announced upgrade price is ¥9,600 (approximately $1,500 USD). If you add the price of the 5G central gateway upgrade, it is ¥12,600 (approximately $1,952 USD). It also supports up to 10,000 NIO points for redemption (approximately $1,000 USD). To give you an idea of the upgrade price, the cost for the Voyah FREE to upgrade to the 8155 chip is limited to ¥4,999 (approximately $772 USD) for a limited time. After excluding ¥4,999 (approximately $772 USD), the cost for upgrading the surround-view camera, external rear view mirror assembly and roof control zone assembly is ¥4,601 (approximately $712 USD).
It's obvious that NIO's upgrade price for existing users is also a way to maintain the relationship between the two. The specific policy is that reservations begin on June 30th, and the upgrade service will begin in late July. Existing car owners can take action now.If you're a new car owner interested in the 866 model, the 2022 edition will be equipped with Alder intelligent platform, which includes all the aforementioned hardware configurations.
NIO also detailed the operational logic of its intelligent platform during the press conference. Under the NT 1.0, NIO's intelligent platform models are named after trees starting with the letter A. For example, the ES8, ES6, and EC6 models released since 2018 are named Aspen. The 2022 and upgraded old models of the 866 will be named Alder. The intelligent platform models based on the NT 2.0 will be named Banyan, including the ES7, ET7, and ET5. According to Li Bin, the NT 3.0 platform to be released in 2024 will name its intelligent platforms after trees that start with the letter C.
Behind this clear naming convention is NIO's internal proposal to continuously iterate and update each platform for 15 years, resulting in a restructuring of the company's organization. Aspen, Alder, and Banyan each have their own independent departments for operation.
If we calculate by developing a platform every three years, this means that at some point in the future, NIO will have a maximum of five independent departments continuously operating and iterating fleets under different platforms. By ensuring that every car owner has a constantly new user experience throughout their entire car-owning lifecycle within a 15-year period.
From a longer cycle perspective and the viewpoint of NIO users, Aspen, Alder, Banyan platforms and the promise of "every generation platform will be continuously updated and iterated for 15 years" may be more significant than the product itself, even more weighty than the ES7.
This article is a translation by ChatGPT of a Chinese report from 42HOW. If you have any questions about it, please email bd@42how.com.