In my opinion, Lynk & Co is a very trendy car brand. When I recall my experience of visiting car exhibitions in recent years, at the 2020 Beijing Auto Show, Lynk & Co invited a street dance troupe to perform on stage, causing everyone to stop and watch. At the 2021 Shanghai Auto Show, Lynk & Co directly brought a racing simulator to the exhibition stand. Next to the Lynk & Co 03 WTCR championship car, I also had the opportunity to experience the feeling of speeding on the track.
This time, Lynk & Co has come up with a new idea: a rave party at the launch event. Have you ever seen such a thing before?
At the spring/summer launch event on June 6th, Lynk & Co hosted an unusual rave party and, "incidentally," held an important launch event. Although I could not attend the event in person due to the pandemic, Lynk & Co thoughtfully sent me a cool light bulb. At this cross-temporal launch event, Lynk & Co announced the intelligent hybrid electric Lynk E-Motive technology and announced the start of a comprehensive electrification process.
Such an interesting brand has announced such a big thing, and probably only Lynk & Co dared to hold a rave party together with a technology launch event. What's even more interesting is that, unexpectedly, Lynk & Co also brought a concept car to the site of what was supposed to be a technology launch event: The Next Day.
Do you remember the unique exterior design when the Lynk & Co 01 was first launched? After the controversy subsided, this design not only gained a large number of fans but also evolved into an even cooler style on this concept car.
So, before introducing the intelligent hybrid electric Lynk E-Motive, let's take a look at this handsome guy.
The Next Day, The Sun Rises
The Next Day concept car was designed by Lynk & Co's styling center in Sweden. Using virtual reality technology, Lynk & Co's chief designer, Stefan Rosen, began the introduction.
The Next Day concept car is positioned as a new energy four-door GT, and its design inspiration comes from "sunrise." On The Next Day, we can see that the Lynk & Co family-style hood light has evolved into more aggressive dual-side four-stripe lights. By the way, Lynk & Co has come up with a very avant-garde name: "Dawn Light Hood Light".The headlights are integrated into the "Tech Band", a scalable technology band that also houses perception devices such as lidars and supports electric hideaway. Lynk & Co refers to the horizontal array of light sources here as the "digital skyline," and when the soft light illuminates, it resembles the dawn.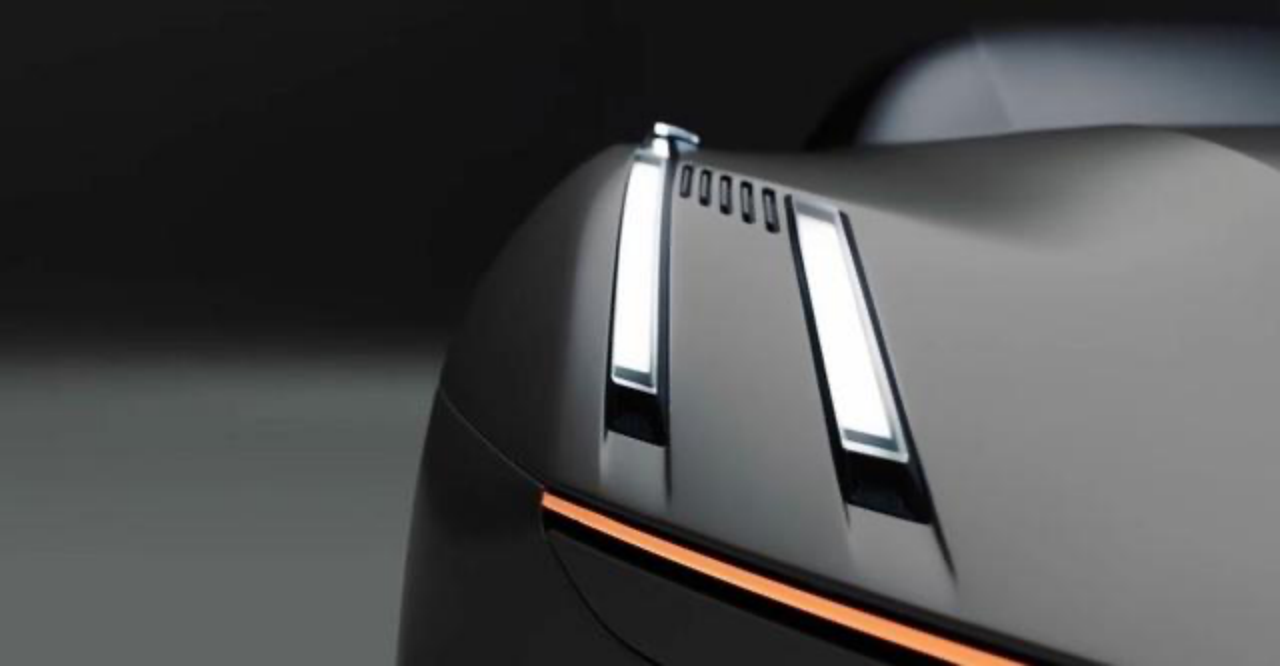 The glass roof of The Next Day uses integrated shaping technology, which looks transparent and sharply cut due to diamond cutting. "The gradient color of blue to gold on the side of the car is the most attractive highlight, suggesting 'the dawn is coming, a new day is beginning'." The lines on the side of the car are very rich and three-dimensional, and when combined with the car paint, they have a vivid effect of light and shadow under the light. The design of the four scissor doors on the concept car is also eye-catching, but it will take time for this design to appear on a mass production car.
The magic of The Next Day concept car is that it gives a four-door GT the agility and compactness of a two-door. While luxury cars often place "shark fins" on the fenders, The Next Day incorporates external interactive screens, lidars, and external welcome lights. While ensuring functionality, it also neutralizes the complex visual experience brought by some side lines, well reflecting the sense of luxury.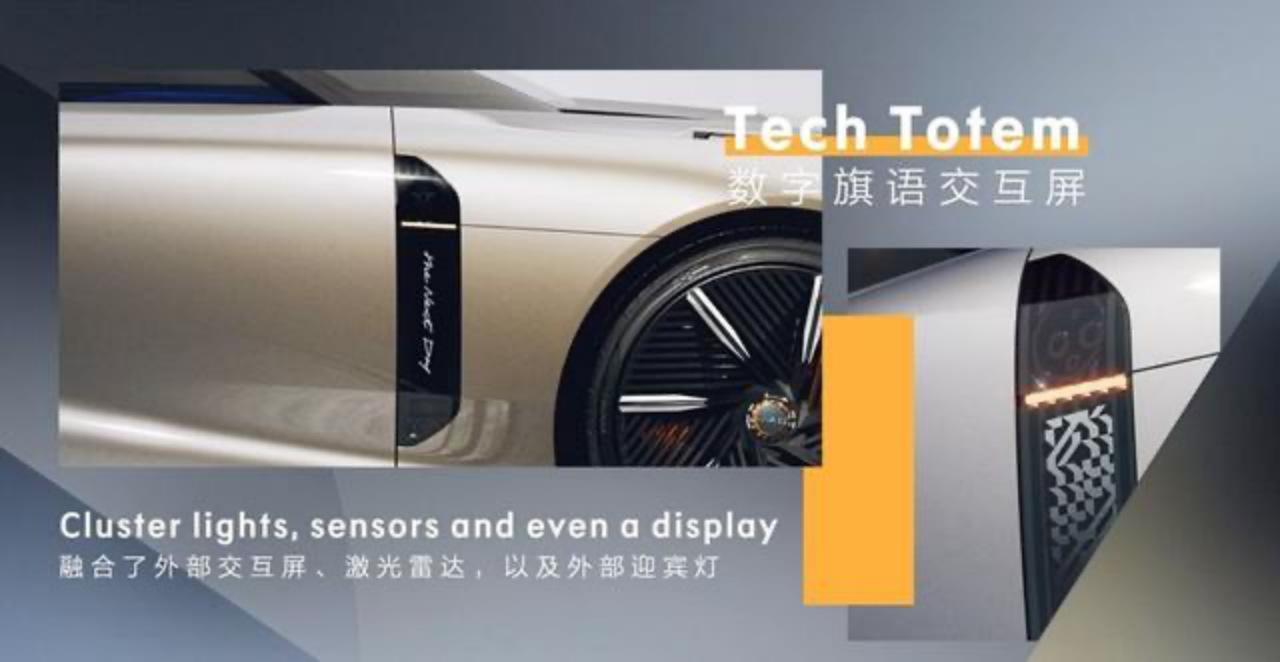 Moving to the rear, the design of Lynk & Co's "energy crystal" taillights becomes more concise on The Next Day, with a continuous taillight and four vertical LED light sources. And this taillight also has a hidden mechanism: the lift-type rear wing mechanism is integrated with the taillight, and whether it is open or lowered, the overall sense of the rear is very strong.
Actually, unlike the trend of pursuing "Less is more" minimalist design, Stefan Rosen believes that "the lack of expression and experience cannot meet the diverse personality needs of current users."
Therefore, The Next Day hopes to convey the core of Lynk & Co's brand trend, not pursuing uniform minimalism, and the car interior space can complement the colorful dress styles of young people in social events, skiing resorts, and even on beaches, respecting diversity.
So we see that The Next Day's dashboard uses denim material, which is not common in traditional stereotype concept cars as an "alternative" design. At the same time, the deep blue "velvet zero-gravity seat" makes the interior color matching deep and light.
The Next Day's steering wheel and large screen are designed to automatically stretch and shrink in autonomous driving and charging scenarios. The full-view 3D HOLD-HUD supports the display interaction of navigation information, autonomous driving, active safety information, entertainment information, and AR track coach, etc. In the creation of interior technology sense, we see Lynk & Co's consideration of the third space of travel.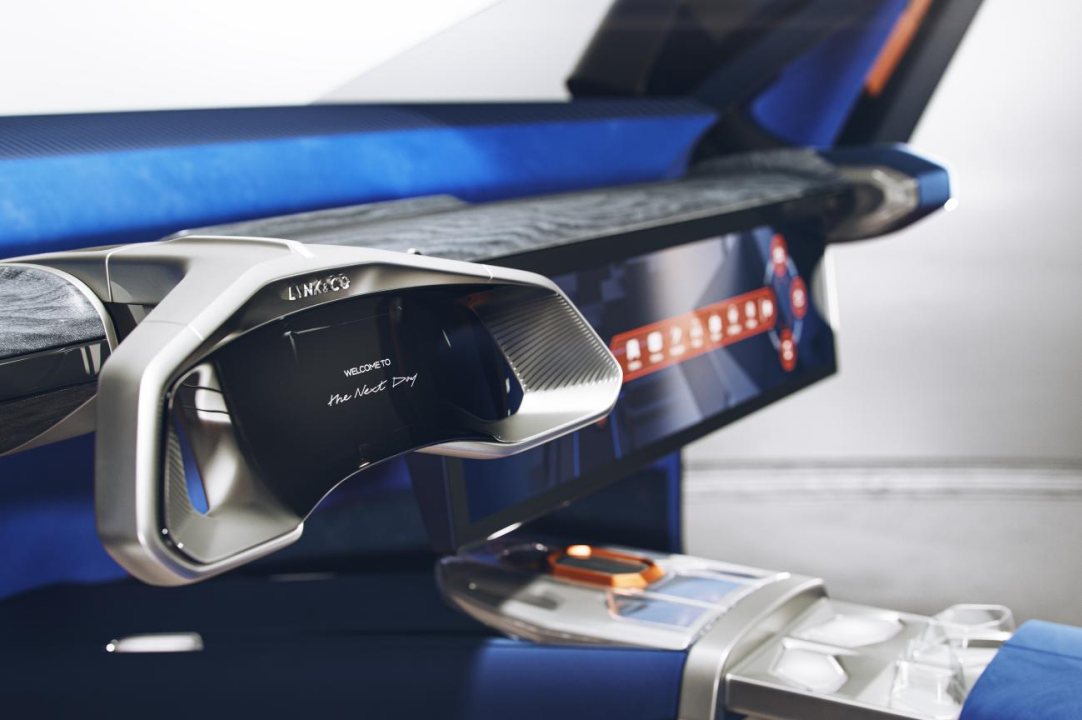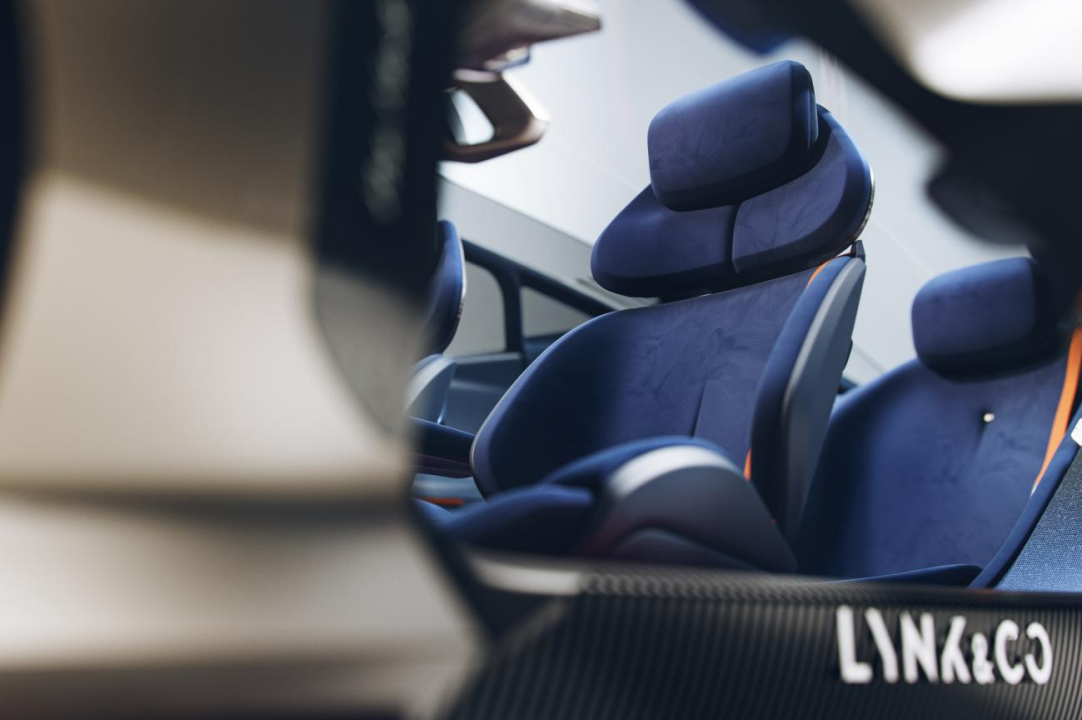 From the name "The Next Day," we can also see that this car carries the new era Lynk & Co's exterior design concept, and we will gradually see some of these elements in new cars. But Lynk & Co's press conference is not just about releasing a cool concept car: pun-intended, a new day begins after the sun rises, and Lynk & Co's electrification era officially begins.
Yes, The Next Day is also a tangible embodiment of Lynk E-Motive technology.
What kind of hybrid do young people need?
Currently, the average age of new energy vehicle owners is 36.5, and more and more young people are becoming the main consumer group of new energy. The average age of Lynk & Co car owners is as high as 32.3. According to the authoritative organization J.D POWER's data, the interest of younger generations in new energy vehicles' intelligence is 13.4% higher than other groups, the demand for performance is 11.6% higher, and the demand for quality is 6.4% higher.
The "post-90s" refers to people born between 1985 and 1995. This group has a large-scale, higher education and income, easy to accept new things, and has strong consumption willingness and ability. In Lynk & Co's user base, this group accounts for as high as 71%.As we stand now, with no major breakthroughs in battery charging technology or energy storage technology, pure electric vehicles are more like immature early products, and in a sense, power forms that compromise with policies. In contrast, hybrid solutions can ensure a nearly electric-drive-like driving experience while having excellent fuel efficiency, without any mileage anxiety, which is why more and more car companies are beginning to focus on developing hybrids.
So Lynk & Co began to think about what kind of hybrid system young people really need.
Fast \& energy-saving, both hands must be hard
You may still remember Geely's "Lei Shen" power, from which Lynk & Co's E-Motive emerged. But the difference is that Lynk & Co's E-Motive will have a more performance-oriented tuning geared towards younger consumers, and the 2.0TD + multi-motor four-wheel drive layout will be the first to be enjoyed by Lynk & Co.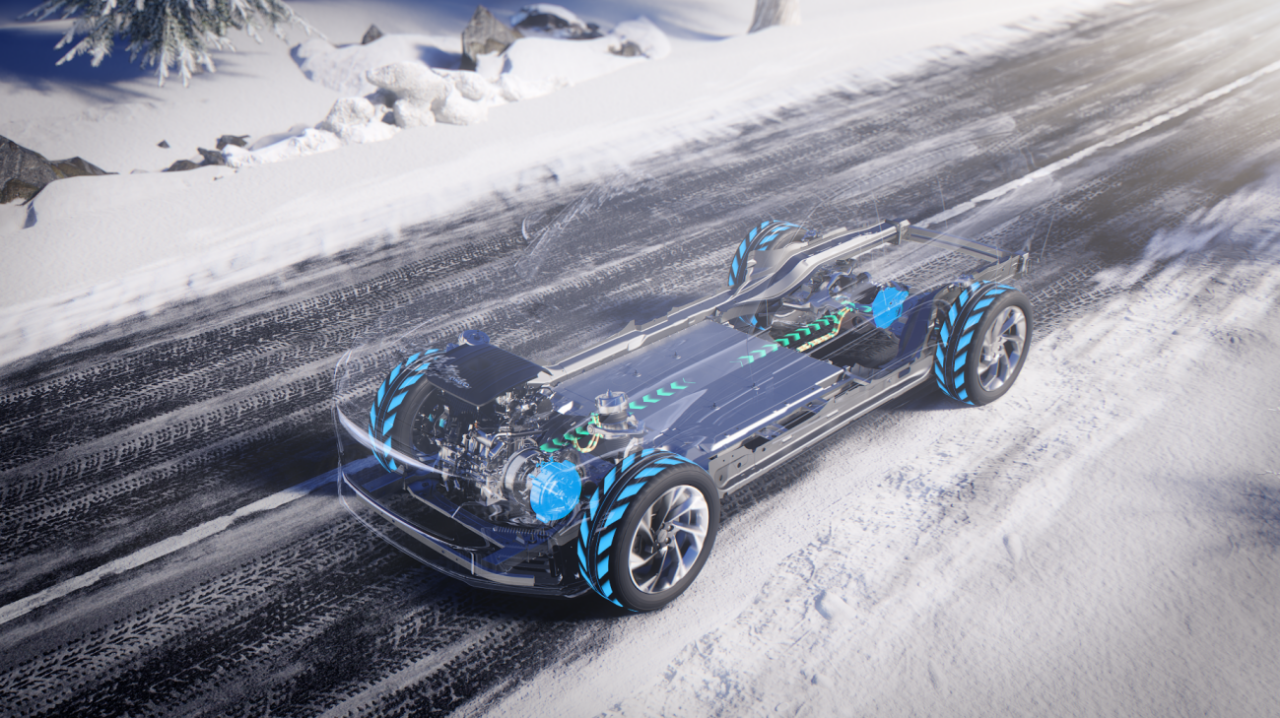 When it comes to hybrids, most people's first impression is often of Japanese players, represented by Honda's i-MMD and Toyota's THS, but both have unavoidable design flaws.
Honda's i-MMD has a simple structure, the addition of a clutch allows it to be directly driven by the engine at high speeds, but this also means it cannot achieve seamless switching between various driving modes. During the switching process between series/parallel and engine direct drive, the main body of power output changes from the motor to the engine, and the resulting vibration and power interruption cannot be avoided. Toyota's THS adopts a power-weakened Atkinson cycle engine. While fuel economy is impressive, the lack of driving enthusiasm and tedium has become a label that Toyota cannot shake.
Lynk & Co's E-Motive cleverly avoids these drawbacks.
First of all, Lynk & Co's E-Motive modular solution includes three high-efficiency and high-performance engines. Taking the 1.5TD hybrid engine as an example, in addition to the application of mainstream technologies such as the Miller cycle and turbocharging, this engine also incorporates a turbocharger intercooler, high-pressure direct injection, and low-pressure EGR technology, enhancing heat dissipation while improving heat efficiency.
This also makes this engine's maximum thermal efficiency reach 43.32\%, setting a new record for the world's mass-produced hybrid dedicated engine with the highest thermal efficiency.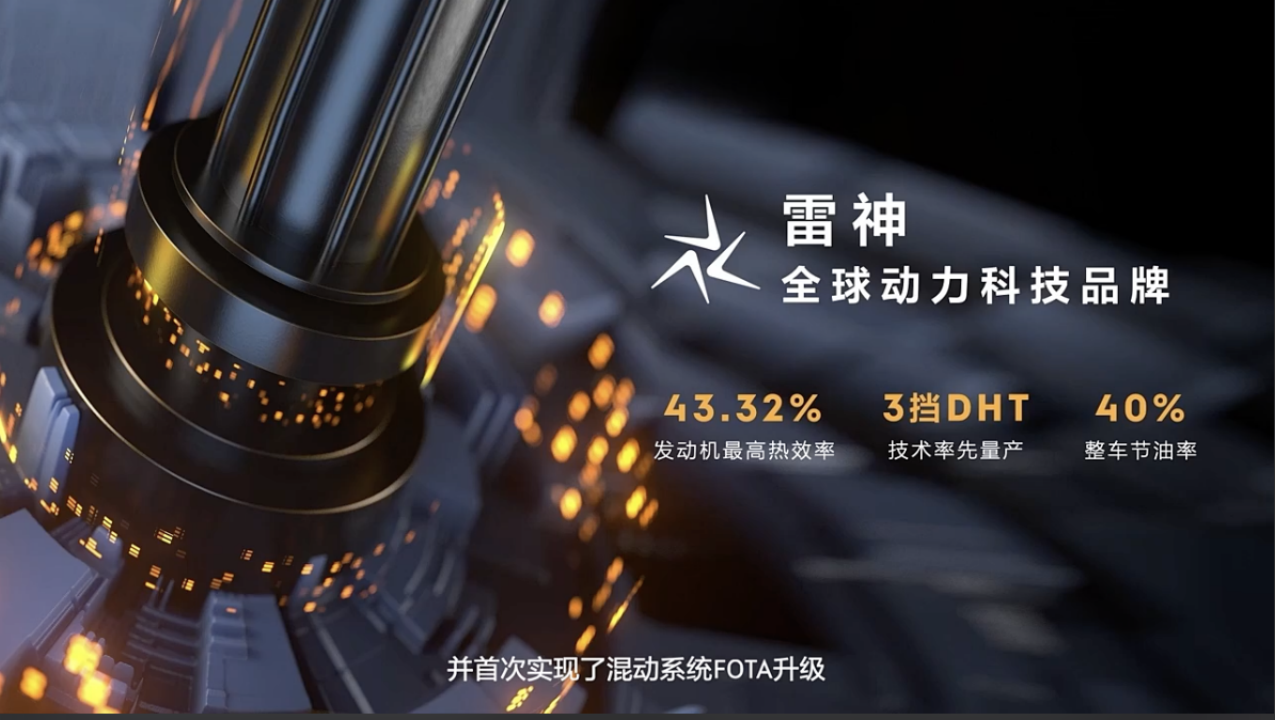 And in the transmission part, Lynk E-Motive hybrid system has the world's first 3-speed DHT Pro transmission in a compact size of 354 mm, integrating one generator, one drive motor, two motor controllers and three gears. The design of the dual planetary gear set is similar to Toyota's THS concept, but compared with Toyota, Lynk's system provides three additional gears through the combination of operating elements and planetary gear sets.
This design enables the DHT Pro gearbox to have a maximum mechanical efficiency of up to 97.5\%, and the three-speed ratio transmission design allows it to enter the parallel mode of engine + motor drive when it exceeds 20 km/h. It should be noted that Honda's i-MMD engine needs to reach more than 80 km/h to achieve direct drive, and BYD's DM-i needs more than 70 km/h. This design not only ensures sufficient power output but also enables the engine to be kept in a high-efficiency speed range through a wide range of speed ratios.
Most importantly, compared with the boring driving experience of Japanese competitors, this system can also achieve "ejection start" and increase torque by downshifting during high-speed acceleration, with faster mid-acceleration ability than its competitors. In the most powerful Lynk E-Motive model, the maximum combined power can reach 382 kW, the maximum combined torque 910 N·m, and the acceleration from 0 to 100 km/h can be achieved within 5 seconds.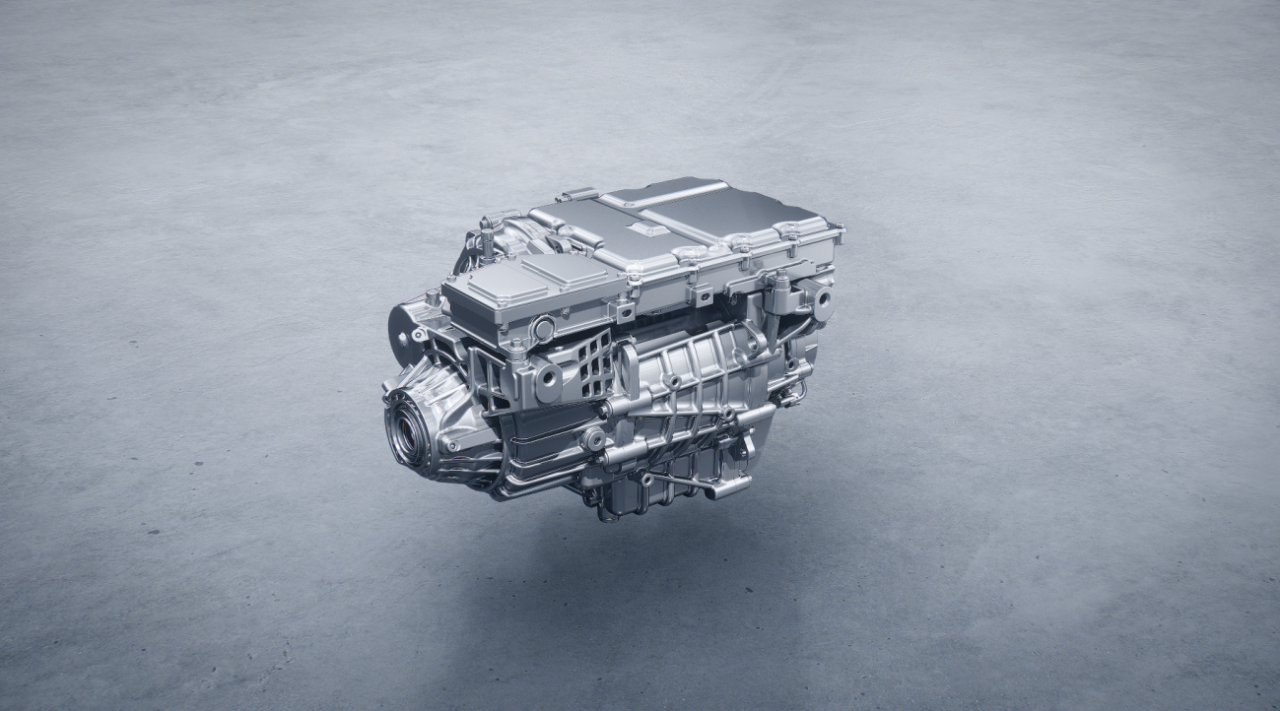 Due to the advantages of engine thermal efficiency and three-speed gearbox, Lynk E-Motive has achieved quite impressive fuel consumption performance while ensuring agile power output in the entire speed range: the EM-F (HEV) model has a fuel consumption as low as 4.5 L/100 km in WLTC test cycle, and the EM-P (PHEV) model can achieve a fuel consumption of 5.1 L/100 km in a depleted state.Similar to Toyota's THS and Honda's i-MMD, Lynk E-Motive, the intelligent hybrid platform by Lynk & Co, is also a modular platform that will offer both EM-F (HEV) and EM-P (PHEV) powertrains. For plug-in hybrid PHEV models, Lynk E-Motive will provide two-wheel drive and four-wheel drive options, with varying driving ranges depending on the configuration of the battery pack, including 60 km, 100 km, 150 km (four-wheel drive), and 180 km (four-wheel drive). Lynk E-Motive also supports the introduction of more range versions of vehicles in the future.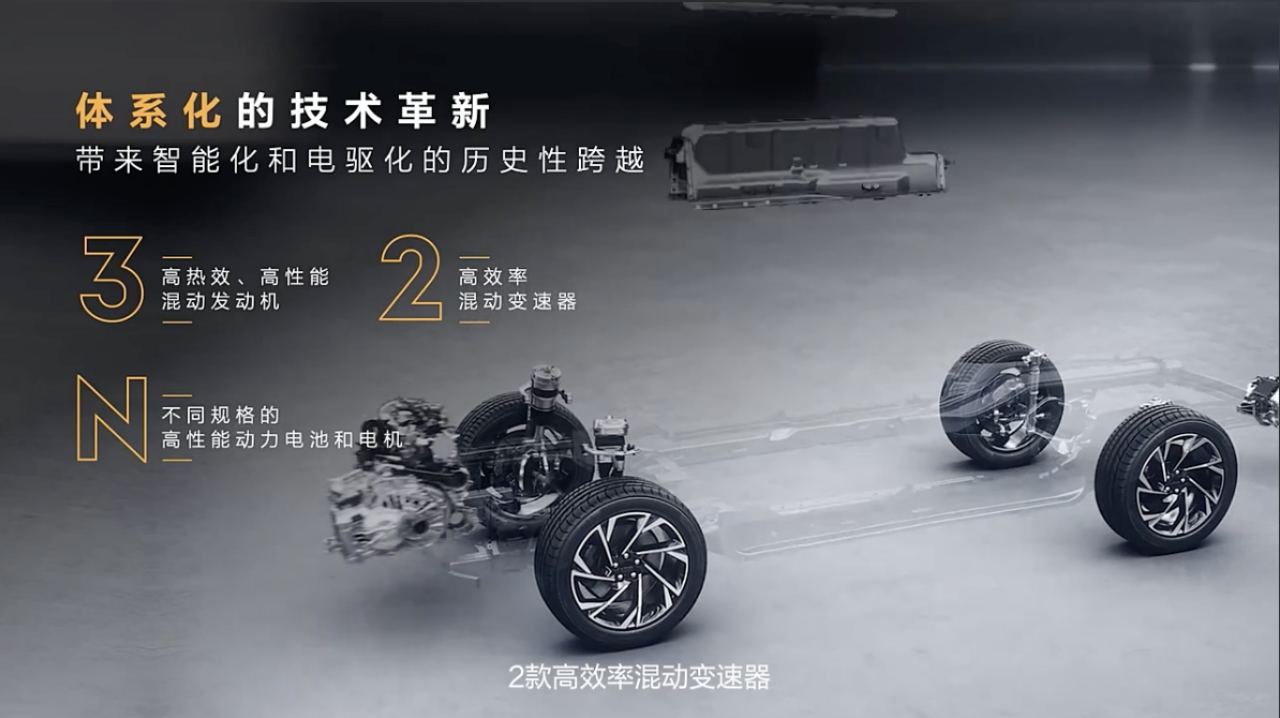 Smart technology is essential
Before discussing this part, let's first introduce some knowledge about electronic and electrical architecture.
Previously, most vehicles used a distributed architecture. Simply put, each ECU corresponds to the function it implements. For example, pressing the window button directly sends a command to the ECU related to the vehicle window after communication. However, whether it is automatic driving or a smart cockpit, the hardware platform calculation power and communication rate requirements are becoming increasingly demanding. Traditional ECUs and ordinary communication harnesses can no longer meet the constantly expanding data requirements.
This situation requires "integration" from distributed architecture to domain centralized architecture, which is also the current direction of everyone's effort.
SOA (Service-Oriented Architecture) unifies the intrinsic software components of interoperability (standardized encapsulation), software reuse, and loose coupling. Before this, most software and hardware communication methods were mainly point-to-point data transmission through CAN and LIN buses. The huge amount of information throughput and real-time collaborative communication can no longer be satisfied by upgrading simple communication harnesses.
This new Lynk & Co electronic and electrical architecture has four domain control functions: intelligent driving, chassis, body, and cockpit, which also marks Lynk & Co's ability to transform from partial OTA to whole vehicle OTA upgrades.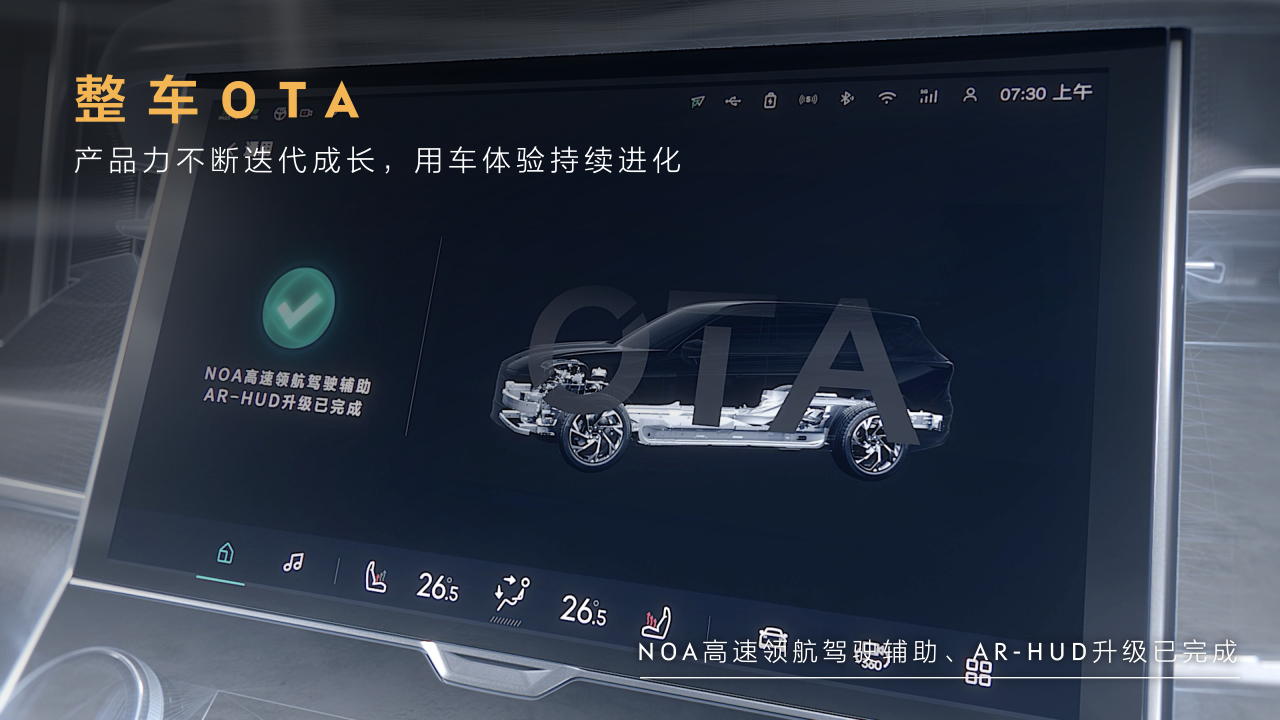 In contrast, Honda and Toyota's hybrid models are still based on old gasoline car platforms and are completely inferior in terms of intelligent driving, smart cockpit, and functional OTA. The space for future upgrades is also very small. Therefore, we can clearly see that the purpose of Lynk & Co's launch of Lynk E-Motive intelligent hybrid is to create something both internally and externally new, rather than a transitional product repaired by "two Japanese companies" on a gasoline car platform. In other words, Lynk & Co breaks the stereotype that hybrid cars are less intelligent than pure electric cars.### Safety and Quality are Important too
Currently, the mainstream battery packaging strategy is the Cell to Module (CTM) technology. CTM first assembles the cells into modules, and then combines several modules with a shell to form a battery pack, which is finally installed on the vehicle body. The presence of the module makes the overall technical requirements and assembly of the battery pack simpler, but its obvious drawback is that the module and shell occupy a large volume, resulting in low space utilization.
Lynk E-Motive Smart Hybrid will adopt the Cell to Pack (CTP) technology. Compared with CTM, CTP integrates the cells directly into the battery pack without modules, reducing or eliminating the space occupied by the battery module, and integrating the battery pack into the vehicle body floor as part of the vehicle's structural component. This form improves volume utilization and reduces the number of parts, while increasing the passenger space and reducing costs.
Lynk's CTP flat battery pack has undergone more than 200 tests during the research and development process, and as visible in the figure, there are prominent longitudinal reinforcement beams in it. Lynk reported that by integrating multiple safety technologies, Lynk E-Motive Smart Hybrid can achieve non-propagation of collision heat and avoid ignition.
In terms of noise control, Lynk E-Motive Smart Hybrid is also on par with pure electric vehicles. According to Kang Guowang, the head of Geely Central Research Institute, during full throttle acceleration of the Lynk 01 HEV model, the maximum sound pressure level in the car is about 60 decibels, equivalent to normal conversation. Meanwhile, other models in the same class have been tested to reach up to 75 decibels, equivalent to the sound of a busy street.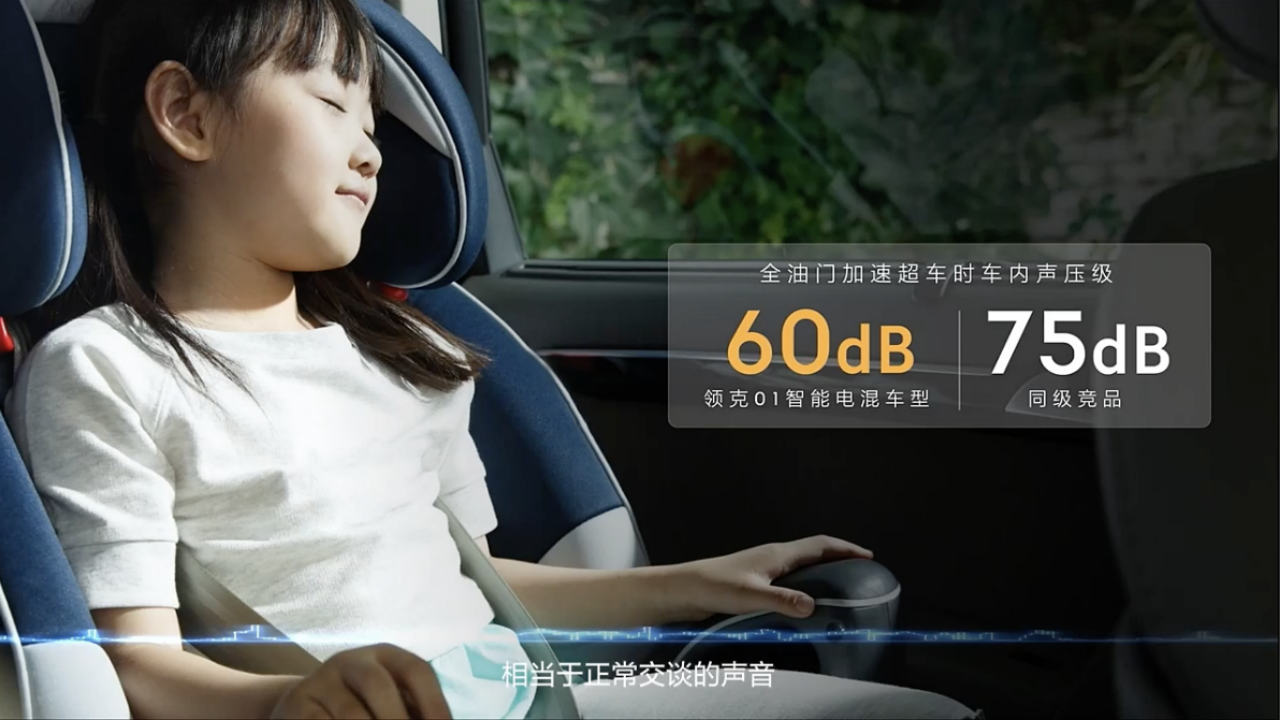 Lynk's new vehicle was designed with a global market in mind and follows the quality management system of luxury brands: core components undergo testing standards of up to 350,000 kilometers; bench tests accumulate over 200,000 hours (equivalent to 23 years); and motor and electronic control maximum durability tests exceed 500,000 kilometers per unit.
ConclusionUnlike most car companies that have focused on new energy vehicles in the past two years, Lynk & Co. started investing in hybrid technology very early. In 2018, Lynk & Co. launched its first hybrid model, and by April 2022, its PHEV models accounted for over 21\% of the brand's total sales. The Lynk & Co. 09, developed jointly with Volvo on the SPA platform, has also achieved great success in the hybrid market, with 70\% of Lynk & Co. new energy vehicle users choosing the Lynk & Co. 09 PHEV, showing Lynk & Co.'s breakthrough in the market.
Looking at the sales of passenger cars in China, the hybrid market is undoubtedly a "blue ocean in a red sea". According to sales data from the China Passenger Car Association, PHEV sales in 2021 totaled 544,900 units, a year-on-year increase of 171.2\%, surpassing the 168.6\% growth rate of pure electric vehicles. From January to April of this year, the cumulative sales of pure electric vehicles increased by nearly 98\% year-on-year, while PHEV sales increased by 176\%, expanding their growth rate advantage.
If we look at a longer time frame, we can see that from 2018 to 2020, PHEV models accounted for about 1\% of new energy vehicle sales, but in 2021, this number quickly climbed to 2.7\%. Breaking it down by quarter, the market share of PHEV models has also significantly increased, reaching 3.9\% in Q4 2021.
Currently, many people blindly pursue the all-in-one approach of pure electric vehicles, often overlooking the hybrid market, which has the same potential and demand. In 2021, BYD and Ideal left their competitors far behind. BYD's PHEV models sold 229,198 units throughout the year, and Ideal's single model reached 91,310 units. Unlike the highly competitive market for pure electric vehicles, the reason for these two companies' dominant position in the PHEV market is that there is no new strong competitor.
According to relevant forecasts, the hybrid market share will exceed 13\% by 2025, creating an important market of nearly three million units annually. Lynk & Co.'s entry into the market at this time undoubtedly relies on this trend. Lynk E-Motive's intelligent hybrid solution solves the problem of single product availability, low level of intelligence, and inadequate performance in the hybrid market. Lynk & Co. is like a shark entering this market.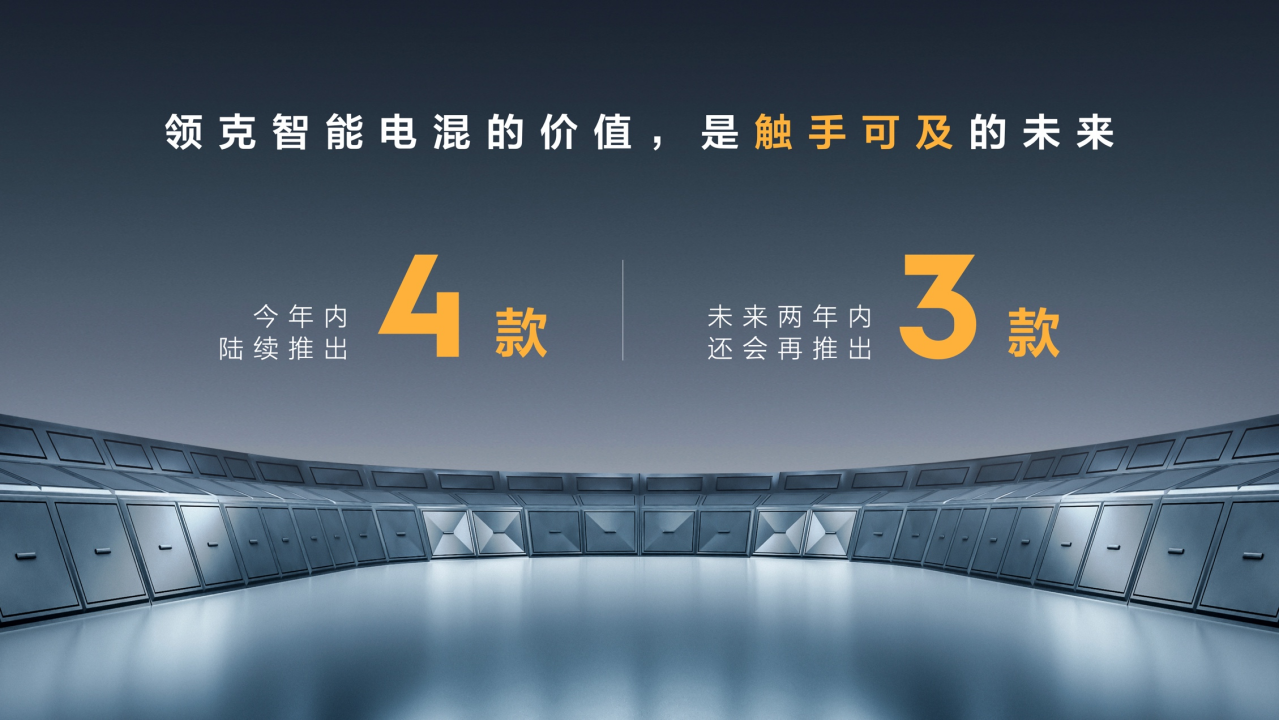 Since the launch of its first car model in late 2017, Lynk & Co. has accumulated sales of 703,190 units, which brings an end to its first chapter as a new brand. Lynk & Co. announced that it will release 4 Lynk E-Motive products in succession in 2022, and 3 more within two years. By 2025, all Lynk & Co. products will be equipped with Lynk E-Motive technology, achieving full electrification across the entire product line.
Simultaneously, we also saw a unique goal compared to other brands: By 2025, all new energy products of Lynk & Co. will achieve carbon neutrality, with a 100% rate of renewable energy usage and a 25% rate of recycled materials for key components, which is in the forefront of the industry. At this moment, Lynk & Co., which announced its electrification transformation, is like a concept car called "The Next Day" – the dawn has arrived after the stars have faded.
This article is a translation by ChatGPT of a Chinese report from 42HOW. If you have any questions about it, please email bd@42how.com.