Writing | Leng Zelin
Editing | Wang Pan
On June 10th, after the midday opening, the market value of BYD A shares exceeded 1 trillion yuan for the first time, making it the first domestic car brand to enter the trillion-dollar club.
In fact, since May, BYD's stock price has been soaring, rising from a closing price of 233.33 yuan on last month's 10th to today's highest of 350 yuan, an increase of about 50%.
On June 6, BYD's market value once again exceeded RMB 900 billion, only one step away from the trillion-mark market value; on June 7, BYD's global market value surpassed that of Volkswagen, ranking third in the world's automaker market value after Tesla and Toyota; three days later, BYD's market value exceeded 1 trillion yuan.
And all of this is based on the continuous increase in sales of its new energy vehicle models.
Sales determine the bottom line
Since the launch of the BYD DM-i hybrid system in 2021, BYD's new energy vehicle sales have rapidly increased, and some hybrid models have even experienced the scene of "hard to find a car" and "three months delivery time" on the sales side.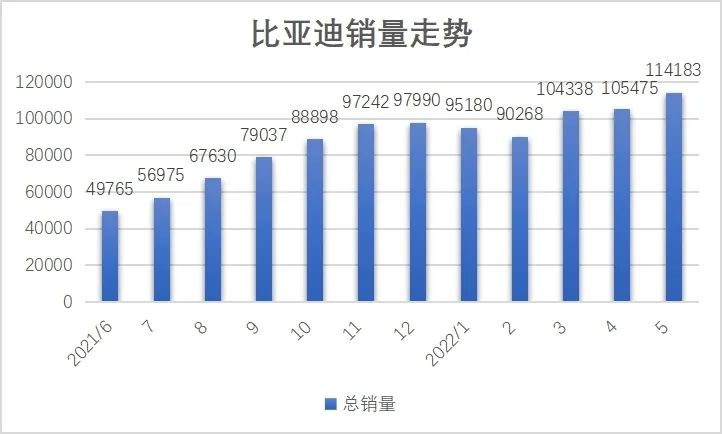 According to the statistics from Photon, the monthly sales of BYD increased from nearly 50,000 in one year to 110,000 in May this year. That is to say, now BYD's monthly sales can easily match the hard work of new energy vehicle leading companies in a year.
It is worth noting that in April, most domestic automakers suffered a significant impact from the epidemic, on the one hand, due to the lack of materials on the production side, delayed logistics transport, and factory shutdown, and on the other hand, offline dealerships were closed on the sales side.
According to data from the China Association of Automobile Manufacturers, the retail sales volume of passenger cars in April was 1.042 million units, a year-on-year decrease of 35.5% and a month-on-month decrease of 34%.
However, when all the manufacturers' sales data "fell behind," BYD's wholesale and retail sales both rose by more than 130% year-on-year. Self-efforts are not enough, and peer support is also essential.
The beginning of BYD's stock price rise almost kept pace with the release of this sales data. On May 10, the China Association of Automobile Manufacturers released an analysis report on the national passenger car market in April, and the next day, BYD's market value rose sharply by 8.3%.
BYD's dependence on gasoline cars is not high. In early April, it announced the cessation of gasoline car production, which is almost the "only child" of domestic traditional automakers in the short term.
Furthermore, in the latest May sales, the proportion of BYD DM hybrid models and pure electric models showed a turning point for the first time.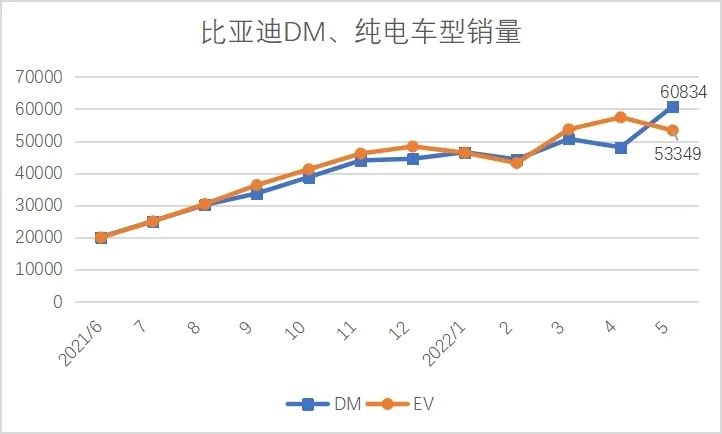 DM and pure electric vehicle models used to share roughly equal monthly sales for BYD, with pure electric vehicles usually selling better than DM models. However, this month saw the first occurrence of DM vehicle sales exceeding pure electric vehicle sales by over 7,000 units.
Since BYD introduced its DM-i system last year, many traditional automakers have gradually turned to PHEVs as a springboard to enter the new energy market, and have successively launched their own hybrid technologies. Starting this year, domestic PHEV market retail sales have entered a high-growth period, with year-on-year growth rates of 207.5%, 367.2%, 198.6%, 148.1%, 189.8%, respectively from January to May, crushing the growth rates of pure electric vehicle models during the same period.
Against the backdrop of soaring oil prices, PHEVs are seen as a compromise for most people transitioning to new energy, with BYD being the major automaker to offer a more complete line of plug-in hybrid products and therefore receiving the biggest slice of the PHEV market pie.
According to the BYD official website, as of June 10th, BYD has a total of 11 DM vehicle models on sale, covering multiple models such as sedans, SUVs, and MPVs, with prices ranging from 1.198-3.198 million RMB.
Quoting BYD Chairman and CEO Wang Chuanfu's recent remarks at the shareholders' meeting, "It's not about big fish eat small fish now, it's about fast fish eat slow fish."
Clearly, BYD, with its plug-in hybrid product line running faster in the market, has enjoyed the dividends of the PHEV market surge.
The high sales of Han cannot hide the decrease in average selling price
In a year when the market is not clear, steady advances like those made by BYD have naturally won favor with investors. Therefore, betting on BYD is almost equivalent to betting on the upper limit of most automakers in the short term.
However, in the context of the upward trend in market value, "quantity" and "price" are both indispensable, and the overall brand tone of BYD determines that its upper limit is not high in the short term.
Although the sales of the BYD Han series, as its flagship model, have continued to grow, reaching 23,934 units in May, ranking third in the monthly sedan sales list, this can also be seen as BYD's entry into the high-end market. But surprisingly, BYD's overall brand is actually trending downward.
According to a research report by Huaxi Securities, the average selling price (ASP) of BYD in the first quarter of this year was about 158,000 RMB, a decrease of 47,000 RMB compared to the same period last year, and a decrease of 10,000 RMB compared to the previous quarter. The estimated net profit per vehicle is 2,400 RMB, about half that of Great Wall Motors.
The average selling price mainly involves the issue of brand upscale, and BYD's current coverage of Ocean Net and Wang Chao Net is mainly focused on the price range of 100,000-300,000 RMB.In addition, BYD also gave out two "tickets". On May 16th, BYD's DENZA D9 officially started pre-sales, with prices ranging from 3.35 to 4.6 million yuan. On the other hand, Li Yunfei, general manager of BYD's brand and public relations department, also released news about the high-end brand. BYD will release a new brand and logo in the third quarter, with an expected selling price of 800,000 to 1.5 million yuan.
Thus, BYD has formed four major product lines covering the low, medium, and high-end markets, including the dynasty, the ocean, the DENZA, and the high-end brand (which is rumored to be called "Starry Sky").
However, the "first half" of the DENZA brand did not have a smooth journey, and it remains to be seen how the latter half, led by BYD, will perform, as well as the competitiveness of the Starry Sky brand in the 800,000 to 1.5 million yuan market.
In addition to its automotive business, BYD also has mobile phone and battery businesses, which accounted for approximately 52%, 40%, and 7.62% of its revenue in the first quarter, respectively.
In terms of mobile phone business, BYD is mainly responsible for assembly and component production. Although the imagination of an assembly plant itself is not high, combining it with the development trend of intelligent vehicles may bring about some opportunities.
Last year and this year, two car companies have already announced their entry into the mobile phone industry, one being NIO and the other being Geely. Coupled with the recent launch of the new Apple Carplay, it is not difficult to see that the ecological linkage between cars and mobile phones will become the next focus. With its mature production line and experience, BYD can quickly enter the mobile phone market in the early stages based on the hardware conditions alone.
However, similar to high-end products, the mobile phone business is also just a "lottery ticket" floating in the air, while BYD's trillion-dollar market capitalization "door opener" is actually its battery business.
According to data from the China Automotive Power Battery Industry Innovation Alliance, as of May, the domestic power battery market had already formed a pattern dominated by Ningde Times and BYD.
Ningde Times' vehicle installation capacity from January to May was 39.1 GWh, accounting for 47.05%; BYD's vehicle installation capacity was 18.77 GWh, accounting for 22.58%. They were ranked first and second, respectively. The third-ranked Innovation Battery only had 6.73 GWh, which was far behind the "two major players".
Thanks to the continuous increase in sales of BYD's new energy vehicles, the installed capacity of BYD's lithium iron phosphate battery reached 4.19 GWh in April, surpassing Ningde Times and ranking first. Currently, BYD's battery business mainly serves internal needs and remains within the group. However, according to BYD's previous plans, there will be an opportunity to split and independently list the business at the end of this year.
It is worth mentioning that in a recent interview, Lian Yubo, Vice President of BYD Group and Dean of the Automotive Engineering Research Institute, said that BYD will provide battery products to Tesla. If everything mentioned in the article was just speculation and not enough to make BYD's market value soar, this confirmation from senior management has thoroughly broken through the "trillion-dollar" window paper for BYD.Although there have been media reports and Tesla personnel have denied it, rumors between the two have been constant since last year. Prior to this, Wang Chuanfu also revealed that "almost every car brand you can think of is discussing cooperation with us."
Due to issues with the development cycle of models and the time required for product validation, most company partners have not promoted their collaborations through public channels.
Against the background of competition from numerous leading automakers, battery manufacturers such as CATL and second-tier battery manufacturers are working hard to expand their production capacity in preparation for the increased demand resulting from car companies' multi-supplier strategies. Meanwhile, lithium iron phosphate batteries are also indispensable to BYD.
Conclusion
BYD faces two big competitors, one being Toyota, which, although slower in pure electric vehicle transformation, sold over 10.495 million vehicles globally last year, more than 14 times the amount sold by BYD.
The other competitor is Tesla, which sold 936,100 new energy vehicles worldwide last year, a difference not as large as that between BYD and Toyota, but still surpasses BYD's sales by 340,000 units. However, Tesla's Q1 data showed a single-car profit of over ¥70,000, roughly 20 times that of BYD.
At the same time, a key factor restricting BYD's ability to improve profitability and brand power is intelligence, which is also a "common ailment" among most traditional automakers.
Tesla has recently started pushing out FSD Beta 10.12.2, which can complete most autonomous driving scenes with a pure vision-based solution, while the autonomous driving capability under "zero data maps" will also be completed in the coming months. Meanwhile, BYD is still relying on supplier solutions.
Although BYD is also expanding its circle of friends by collaborating with hardware and software manufacturers such as Nvidia, Huawei, and Horizon, it is easier to get external help than address internal weaknesses. In the future where the space for intelligent imagination is getting larger, BYD will also need to focus on strengthening its own weaknesses diligently.
This article is a translation by ChatGPT of a Chinese report from 42HOW. If you have any questions about it, please email bd@42how.com.