NIO Reveals Q1 2022 Financial Report
NIO announced its Q1 2022 financial report today. According to the report, NIO's order volume in May set a new record in the company's history. CEO William Bin Li revealed that the company plans to start delivering the ET5 model from September.
Q1 Delivery Data
In Q1 2022, NIO delivered 25,768 new vehicles, up 28.5% YoY and 2.9% MoM. The breakdown of specific deliveries is as follows:
ES8: 4,341
ES6: 13,620
EC6: 7,644
ET7: 163
Although Q1 2022 saw the highest delivery volume in NIO's history, the company's delivery volume has remained stable at around 25,000 units per quarter due to supply chain constraints such as production capacity and the pandemic. Solving the supply problem is currently NIO's top priority and the key to sustained growth in delivery volume. It is said that if the supply chain issue is resolved, the monthly delivery volume of the ET7 model has the potential to approach 5,000.
Previously, CEO William Bin Li revealed in a WeChat group chat that for every upgrade to the cabin chip of an old 866 model, one less new car is produced, indicating just how extreme the supply chain status is at present.
Q1 Financial Data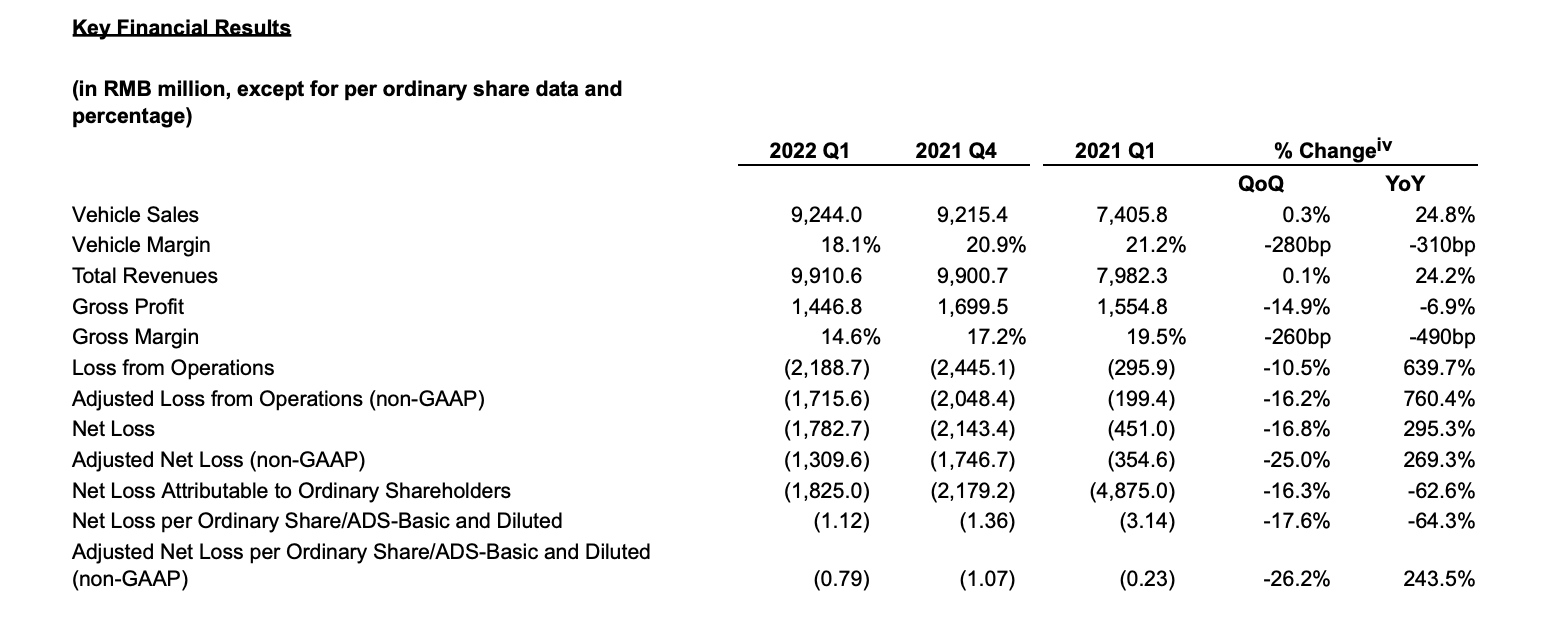 Total revenue for Q1 was CNY 9.9106 billion, up 24.2% YoY and 0.1% MoM;
The automotive business revenue was CNY 9.244 billion, up 24.8% YoY and 0.3% MoM;
The total gross profit was CNY 1.4468 billion, down 6.9% YoY and 14.9% MoM;
Gross profit margin was 14.6%, for reference, it was 19.5% in Q1 2021 and 17.2% in Q4 2021;
The vehicle gross margin was 18.1%, for reference, it was 21.2% in Q1 2021 and 20.9% in Q4 2021.
NIO stated in the report that the decline in gross profit compared to Q1 2021 was mainly due to changes in the product mix, resulting in a decrease in the average selling price, while the decline in gross profit compared to Q4 2021 was mainly due to an increase in battery costs.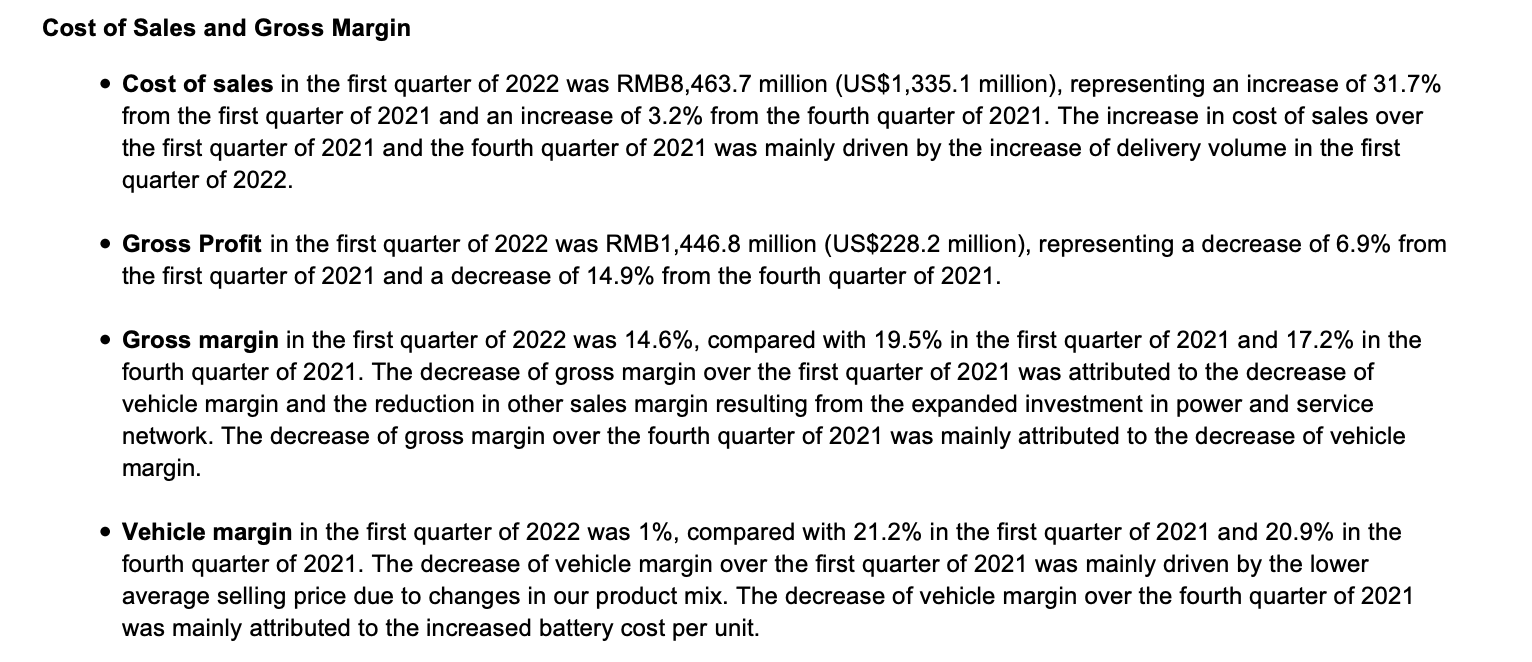 Financial Report for Q2 2022
R&D expenses: CNY 1.7617 billion, increased by 156.6% YoY and decreased by 3.7% QoQ;
Sales and general administrative expenses: CNY 2.0148 billion, increased by 68.3% YoY and decreased by 14.6% QoQ;
Operating loss: CNY 2.1887 billion, increased by 639.7% YoY and decreased by 10.5% QoQ;
Net loss: CNY 1.7827 billion, increased by 295.3% YoY and decreased by 16.8% QoQ.
Business Outlook for Q2 2022
Expected deliveries: 23,000-25,000 vehicles;
Compared to the past few quarters, it is in a maintained state. However, due to the serious impact of the Shanghai epidemic in April and May, the delivery volume was 12,098 vehicles (5,074 in April and 7,024 in May). In order to achieve the target of 23,000 vehicles, the delivery volume in June must exceed 10,000;
Expected total revenue: CNY 9.34-10.088 billion.
This article is a translation by ChatGPT of a Chinese report from 42HOW. If you have any questions about it, please email bd@42how.com.