Recently, Toyota launched the bZ4X electric SUV in the United States with a starting price of $42,000 to $48,780 (equivalent to ¥267,000 to ¥310,000). This price range puts it in the same position as the Volkswagen ID.4 electric SUV in the United States.

Toyota bZ4X pricing

Volkswagen ID.4 pricing
Toyota bZ4X is equipped with an electric platform jointly developed with Subaru and uses Subaru's four-wheel drive technology developed for high-performance electric SUVs. The starting price of the bZ4X electric version is $44,080 (equivalent to ¥280,000), which is only $2,080 (equivalent to ¥13,000) more expensive than the front-wheel-drive version.
However, the four-wheel-drive version (with an EPA range of 366 km) will have a reduced range of 38 km.
In late October last year, the Toyota bZ4X was listed in the MIIT catalog, and relevant parameters were also exposed:
Length x Width x Height: 4,690 mm x 1,860 mm x 1,650 mm;
Wheelbase: 2,850 mm;
Gross weight: 2,550 kg, maximum speed: 160 km/h;
Tire specifications: 235/60R18 (XLE), 235/50R20 (Limited);
Lithium-ion power battery produced by FAW Toyota in Tianjin.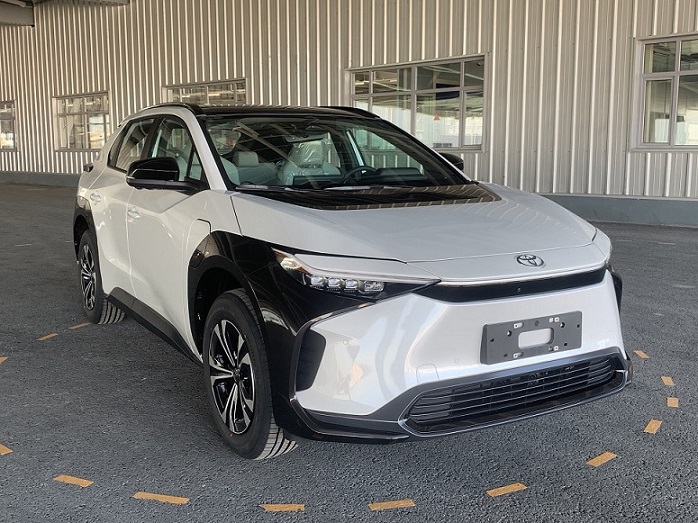 Based on the size of the vehicle, the Toyota bZ4X is positioned as a compact SUV and has a size and positioning similar to the RAV4 in the compact SUV segment.
The current price range for RAV4 Hybrid in the United States is $29,075 – $37,575 (equivalent to RMB 185,000 – 239,000), which leads us to speculate that the price range of the bZ4X from FAW Toyota will also be around 300,000 RMB, competing with SAIC Volkswagen ID.4 X, FAW-Volkswagen ID.4 CROZZ and Tesla Model 3 on the same stage. What we hope is that the domestically produced bZ4X can bring us bigger surprises in terms of price and make the advanced technologies on bZ4X, such as the linear steering, more accessible to us.
🔗Source: electrek
Lastly, feel free to download the 42 Garage App to stay up-to-date with the latest news on new energy vehicles. If you want more immediate communication, you can click here to join our community.
This article is a translation by ChatGPT of a Chinese report from 42HOW. If you have any questions about it, please email bd@42how.com.