Introduction
The sales rivalry among new forces in the automotive industry has been going on for a long time.
If the competition in the early stage with annual sales of only ten to twenty thousand vehicles cannot reflect the competition pattern, then in the current situation of monthly sales of more than ten thousand vehicles, there is already a preliminary trend. Friends who have not paid attention to the new energy industry for a while may be surprised by the development of new car manufacturing in the domestic market, and if they see that XPeng is the sales champion, this surprise is believed to be magnified again.
But what causes such changes in the market is never just luck.
Sales Analysis
For XPeng, the just ended March was undoubtedly a very fulfilling month.
On March 23, the 100,000th XPeng P7 was officially off the production line at the Zhaoqing factory, becoming the first pure electric new energy vehicle model to break through 100,000 units.
On April 1, XPeng announced its delivery performance for March, with 15,414 units delivered, winning the sales crown of the top three new forces for the fourth time in half a year, and breaking the 10,000 unit delivery record for the fifth month.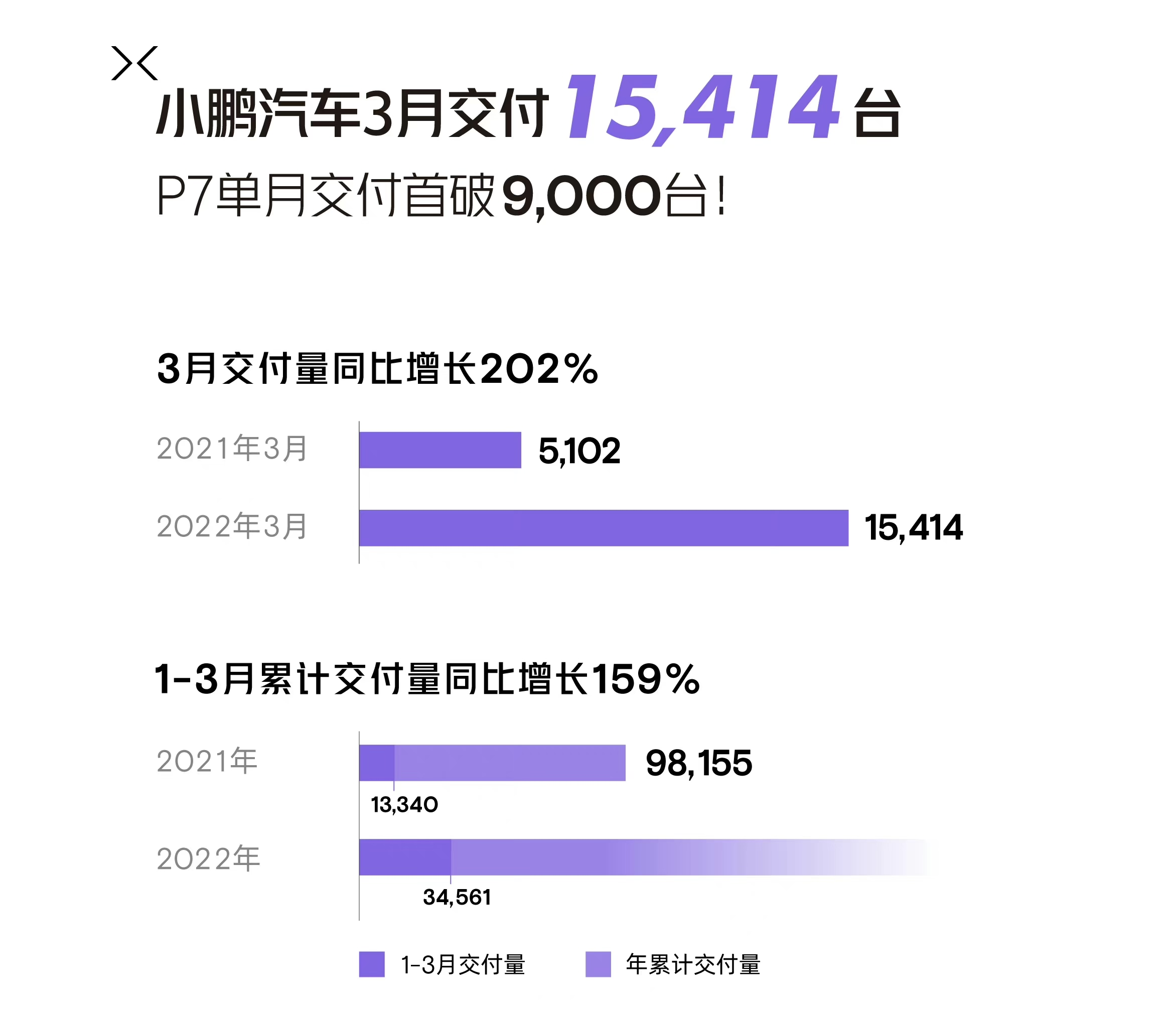 Throughout the first quarter of 2022, XPeng delivered 34,561 units, winning the first place; Ideal delivered 31,716 units, ranking second; and NIO delivered 25,768 units, ranking third.
Let's rewind the timeline back to the beginning of 2020, just before the delivery of the XPeng P7. It was a difficult time for all new forces. Under the subsidy policy rollback, the sales of new energy vehicles continuously decreased for nine consecutive months from July 2019 to March 2020. The production and sales volume of new energy vehicles in the first quarter of 2020 decreased by more than 50\% year-on-year.
Inside the new forces, NIO led the way with its first-mover advantage, and Ideal launched an attack as a newborn calf. XPeng at that time urgently needed to break through.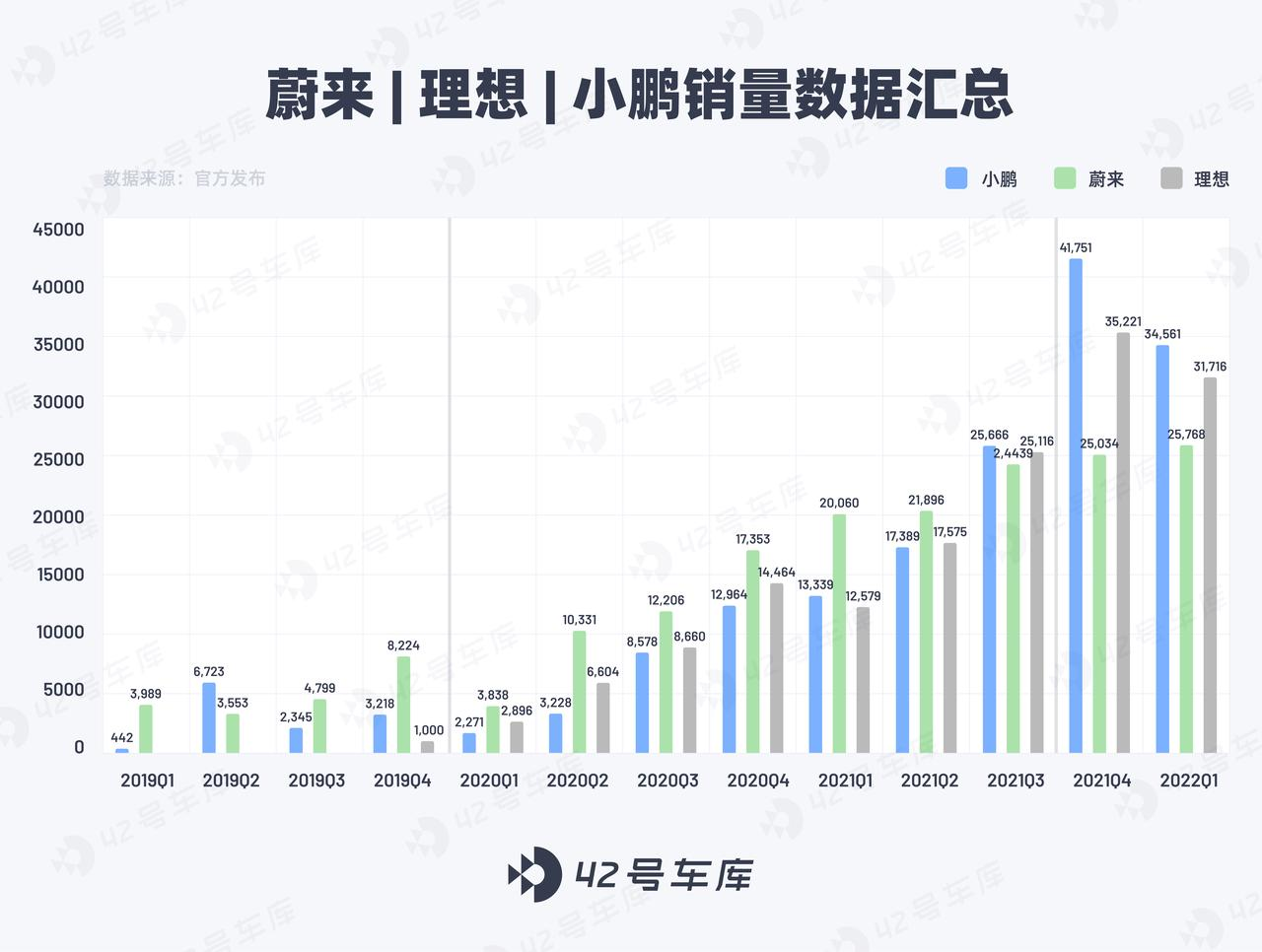 In the seven quarters from 2020Q1 to 2021Q3, the three new forces all maintained rapid quarterly growth in synchronization. XPeng began to catch up with Ideal gradually since 2020Q3, but still lagged behind its big brother NIO by 3,628 vehicles. This was a relative lag of more than 42\% compared to XPeng's achievement of 8,578 vehicles in the quarter.
By 2021Q3, the three brothers had equalized, and their quarterly sales had reached around 25,000. XPeng quietly became the leader. What followed was the explosive growth of XPeng and Ideal's sales in 2021Q4 and 2022Q1, as well as NIO's stagnation.
This plot is even a bit inspirational. What caused XPeng's sales reversal?
分解车型的销量数据似乎可以找到答案。从 2020 年第一季度到 2021 年第三季度,G3 系列的销量没有大幅变化,因此 G3 不是销量反弹的主要原因。
然而,在 P7 加入战斗的第一个季度,车型销量就达到了 6,210 台,品牌销量环比大增 166\%,一举追平理想。此后 P7 的销量一直在攀升,到 2022 年 3 月,单月交付已突破了 9,000 台。同时,新成员 P5 为小鹏开辟了新的增长点,首个完整季度交付了 7,621 台,第二个季度交付量超过了 10,486 台。
可以看到,每次推出新车型都为小鹏的销量带来了新的提升。截至 2022 年第一季度,小鹏内部车型销量格局已经变成了 P7 销量 19,427 台,P5 销量 10,486 台,G3 销量 4,648 台。
对于小鹏而言,"越贵的车,卖得越多"。
小鹏是新势力三强中价位最便宜的,人们多认为小鹏是以低价取胜。但是在小鹏的产品体系内部,销量与价格是正相关的,越贵的车卖得更好,这绝不是简单的低价策略。要解答小鹏销量增长的秘密,就必须探索这一反常识现象背后的原因。
曾经的耕耘有收获
现在,小鹏的科技标签已经深入人心,就像蔚来强调服务,理想强调产品一样。但是科技这种属性天生就不像服务和产品那样容易衡量。有多少人曾经认为小鹏所说的"科技"只不过是个"噱头"呢?
不得不承认,曾经以工程师身份在传统汽车行业工作,且喜欢驾驶的我,曾经对这种所谓的科技不屑一顾。车就是车,需要什么辅助停车、智能驾驶和大屏幕娱乐系统吗?
然而,历史是由人民群众创造的,大众的偏好才是真正的偏好。
狂热的车迷热爱手动挡变速器,但这并不能阻止自动挡成为市场主流。尽管自动变速器曾经有各种缺陷,但是对于大众消费者来说,"便捷的体验"和"傻瓜式的操作"才是真正需要的,这是时代进步的方向,无可避免。
在智能电动车上,智能科技的终极目标是为双手和驾驶员带来自由,这是不可避免的时代潮流,无论你喜欢与否。
小鹏从一开始就把"智能"押在了所有赌注上,包括"电动"与"汽车"。Imagine back in the years around the founding of XPeng Motors in 2015, when the electric vehicle movement had just begun to rise, and emerging forces were just being established. At that time, the best-selling pure electric vehicle in China was the BAIC E150EV, which could accelerate from 0 to 100km/h in 25 seconds. XPeng Motors was determined to take a technological path, requiring sharp insights and decisive courage.
At the end of 2018, XPeng's first mass-produced car, the G3, was officially launched. During the press conference, He XPeng mentioned the word "Intelligence" repeatedly, and it was certainly the most frequently used word of the event. The big screen that displayed the prices also prominently displayed the slogan, "XPeng G3, my first smart car".
At that time, the smart features of G3, such as voice assistants, assisted driving, and infotainment systems, were already impressive.
By that time, voice assistants were no longer novel. As early as 2016, the Roewe RX5, known as the "Internet SUV", was able to achieve voice interaction and even open the sunroof to view stars. However, G3's natural dialogue through full-scenario voice was not only capable of controlling nearly all vehicle functions, but also exceeded the responsiveness of smartphones. In the face of this new intelligent interaction experience, the previous instruction-based voice interactions in cars now appeared to be products of the last century.
At that time, automatic parking functions were generally considered mediocre among mass-produced cars, including the ultra-luxury Mercedes S-Class. While XPeng treated automatic parking as a must-have feature on their G3, they achieved industry-leading standards as soon as it hit the market. With 12 ultrasonic radar detectors, 3 millimeter-wave radar detectors, 8 cameras, it pioneered recognition of lines and ground information awareness functions. Parking is easily controlled through voice commands. As long as the space on both sides is not less than 40cm, parking is easy whether it's on marked or irregular spaces, or even diagonal parking.
However, the opportunity that truly propelled XPeng's intelligence into the spotlight was the official launch of the next-generation NGP.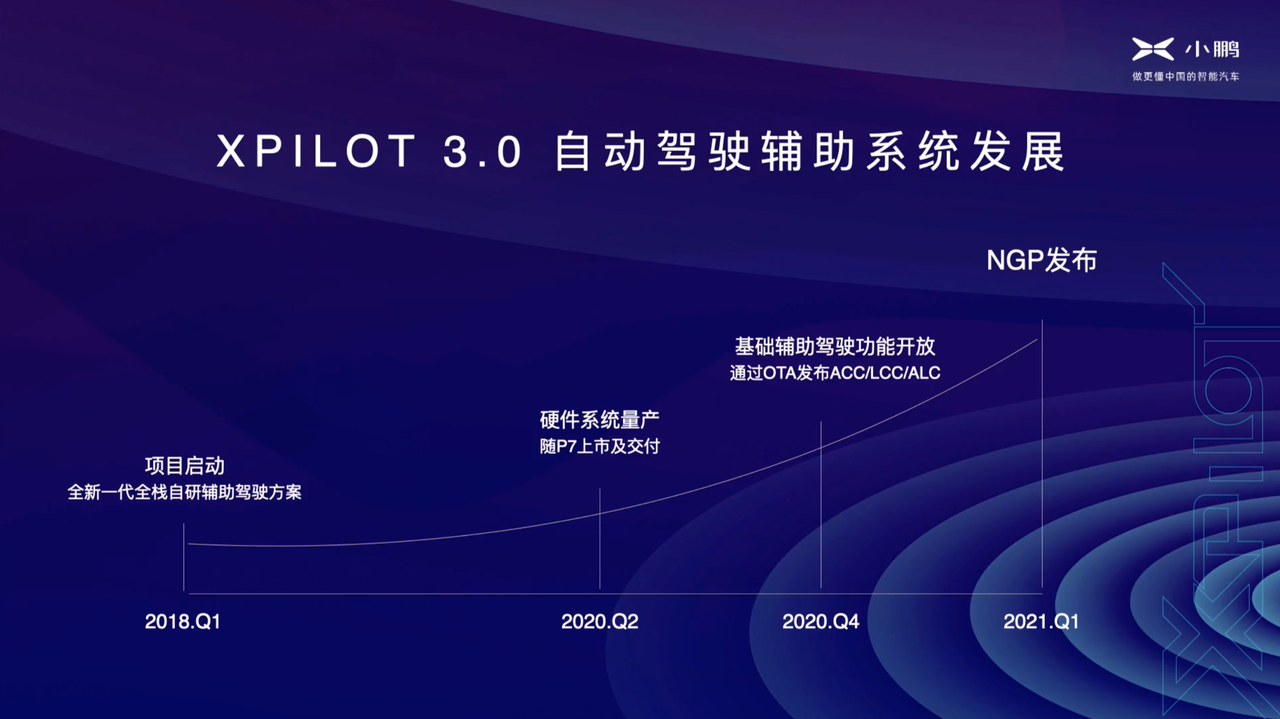 After several iterations and updates of XPILOT, the NGP was finally put into the market in January 2021, making the XPeng P7 one of the most technologically advanced electric vehicles available, and firmly establishing XPeng as a brand associated with technology.
During the 3,675-kilometer expedition from Guangzhou to Shanghai in March 2021, XPeng's P7 NGP team tested the new version of NGP throughout the journey. The average number of NGP takeovers per 100 kilometers was only 0.71, while the success rate for overtaking on the freeway was 94.41\%, the success rate for passing on and off ramps was 92.76\%, and the success rate for passage through tunnels was 94.95\%, all of which surpassed Tesla's NoA.At present, in the industry, the performance of XPeng NGP in mass production status is widely considered to be the best. At the XPeng Technology Day in 2019, XPeng demonstrated the city NGP and XPILOT 4.0. Although it was just a demo, it demonstrated the actual effect of the product.
Compared to Ideal NIO, XPeng started to develop its own system two years earlier. NIO only began to develop their own system from NT2.0, and Ideal L9 also only started. Two years of accumulation in algorithm especially visual perception algorithm cannot be underestimated.
In the Q1 2021 earnings conference call a week ago, XPeng CEO He XPeng stated that the development of the city XPILOT 3.5 NGP, which is mainly applied on P5, was progressing smoothly and is rapidly iterating. It is expected to be completed in the second quarter. The plan is to officially launch XPILOT 4.0 in 2023, realizing intelligent driving in both high-speed and urban scenarios, and at least 4 models will support XPILOT 4.0. The expected percentage of optional installation will be over 50%.
In this way, from gimmick to usability, technology has completed a difficult transformation with XPeng. Those traditional automakers who did not appreciate or understand intelligence have already fallen into the "unable to keep up" stage in just a few years.
What drives this transformation is XPeng's firm belief in intelligence and continuous investment in independent research and development. The team of research and development personnel has been growing rapidly, reaching a thousand people in 2020, and breaking 4,000 in Q3 of 2021. The investment in research and development in 2018, 2019, 2020, and 2021 was 1.05 billion yuan, 2.07 billion yuan, 1.73 billion yuan, and 4.11 billion yuan respectively.
A great effort can lead to miracles and technology can bring real gold and silver.
The good times are still ahead
So, the reason why XPeng sells more expensive cars more is because they offer a richer "technology" experience?
Yes and no.
Yes, because the data shows that the sales of the more intelligent P5 and P7 are higher than that of G3. Consumers with sufficient budget are willing to pay for technological experience. Judging from the insurance data of XPeng G3, the highest volume is the cheapest LFP version, which is also the car model relatively less "technological" in XPeng's range. In the price-sensitive range of over 100,000 yuan, consumers may not be willing to bear the premium for technology.
No, because the "old car G3" did not reach XPeng's ideal product force and did not impress more consumers. Due to the limited capital and technical capabilities in the early days of entrepreneurship, XPeng had to make too many compromises in G3, and there were regrets in the vehicle platform and electronic and electrical architecture. It's not just about the absence of technology, but a lack of overall product strength.We can consider G3 as XPeng's 1.0 era, where intelligence was the main focus in marketing, but due to factors such as pricing, electronic architecture, funding and technological level at the time, it did not perform very well. In the 2.0 era, with the introduction of P7, sales were immediately revived. The launch of NGP greatly enhanced the brand's technological attributes. With the inclusion of P5 dual laser radar and cross-floor memory parking, it caused another wave of intelligent demand.
And now, the upcoming G9 will be XPeng's 3.0 era. With sufficient cash flow and a strong R&D team, G9 unlocks the technology accumulated over many years. The brand new intelligent driving platform, with over 500 TOPS of computing power and 8 million pixel binocular cameras, combined with improved laser radar, XPILOT 4.0 is ready to debut and open the prelude to intelligent driving assistance in all scenarios. X-EEA 3.0 has entered into the central centralized electronic architecture, adopting a high fusion hardware architecture of central supercomputing unit (C-DCU) + regional control unit (Z-DCU), with vehicle communication and software experience fully upgraded. The 800V SiC platform is also ready, with a peak charging rate of 4C, allowing for charging in 5 minutes and providing a range of over 200km.
Imagine when these advanced configurations are gradually transferred to XPeng's low-priced models over time, achieving a closed-loop product system combat capability. The market logic is that cheaper models typically have better sales; thus, XPeng's sales distribution will likely be a pyramid structure with more sales for lower-priced models. The expected surge in sales generated by low-priced models might be around the corner, as witnessed in P5, which already shows early signs of this trend. With better-than-P7 intelligent experience and a lower price range, it will likely become the pillar of sales expansion this year. Even during the current electric vehicle price hike that dissuades some consumers, real good cars will always have good sales.
Considering the first quarter being affected by the Spring Festival, and the delivery of G9 possibly starting in the third quarter, XPeng's champion sales in the first quarter will most likely be the lowest of the year.
In other words, XPeng's sales growth has yet to peak.
Summary
From an unfavorable start to becoming a sales champion in stages, this may be the best recognition for XPeng as a staunch supporter and pioneer of intelligence.
By opening up the perspective, observing the development trajectory of China's new forces, including XPeng, they have gone through a difficult process of continuous heavy loads and breaking out of the cocoon. Looking at the strong momentum of the leading products in the new energy sector, it is difficult to imagine that a few years ago, local automobile producers could only survive awkwardly within the cracks of joint ventures.
Time flies, domestic electric vehicles have become a representation of new trends, and can even be regarded as a business card of China's advanced manufacturing. Past doubts and mockery will eventually dissipate with the improvement in product capabilities.
The potential of intelligent electric vehicles has just begun to show, and good days are ahead for China's new forces.Finally, you are welcome to download The Garage App for the latest new energy news. If you want a more immediate exchange, you can click here to join our community.
This article is a translation by ChatGPT of a Chinese report from 42HOW. If you have any questions about it, please email bd@42how.com.