Weekly Index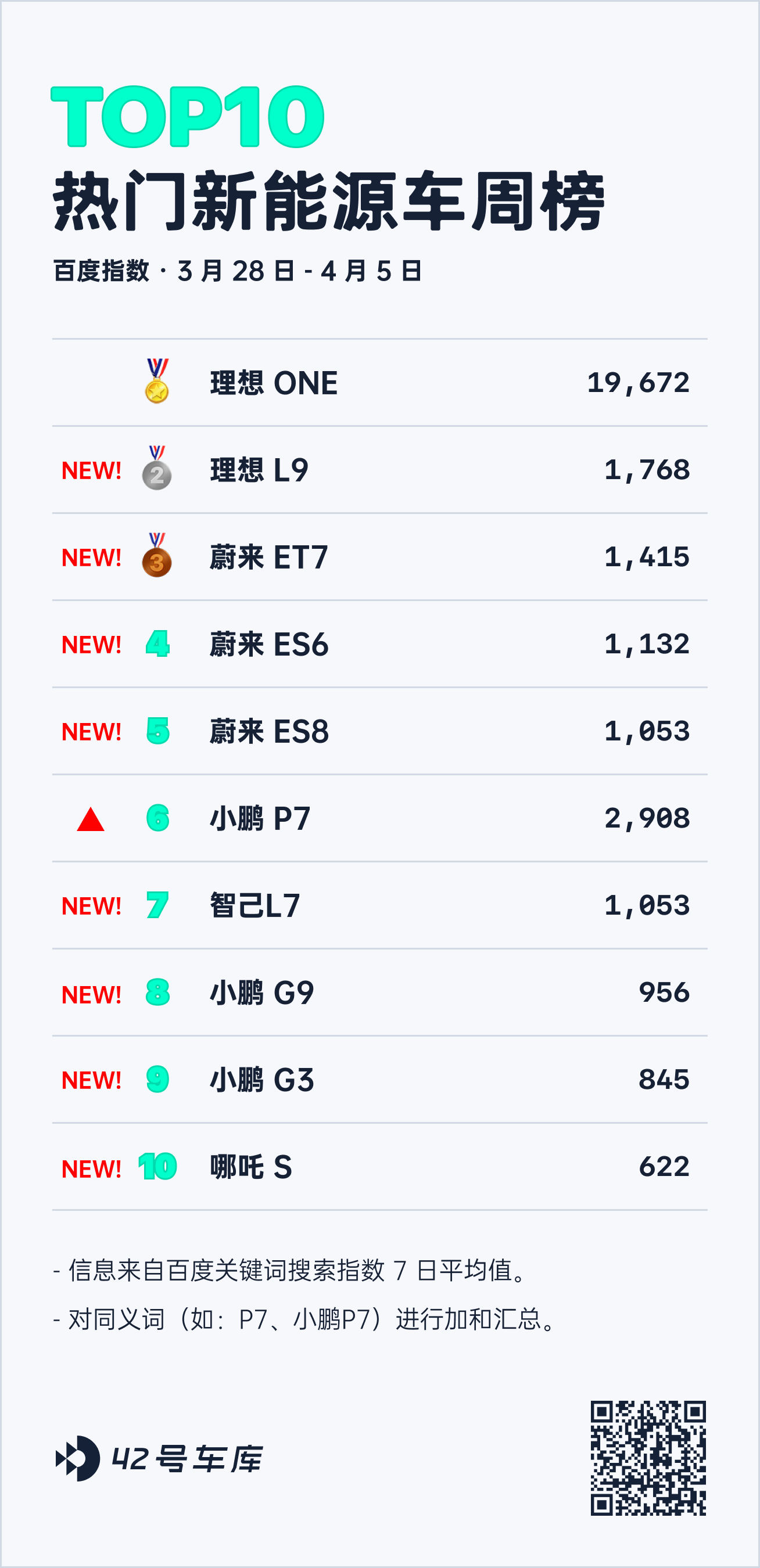 Weekly News
Sales of New Energy Vehicle Enterprises in 2022 Q1
On April 1st, while welcoming the sales data for March from various companies, they also announced the cumulative sales data for 2022 Q1. The top five self-owned new forces in March sales are as follows:
XPeng Motors: 15,414 units

NIO Automobile: 12,026 units

Li Auto: 11,034 units

Leap Motor: 10,059 units

WM Motor: 9,985 units
In March, XPeng Motors exceeded 15,000 units again, showing a brilliant sales performance. After regaining the top spot in March, XPeng Motors has become the sales leader in the top three new forces for four times from October last year to now, and has exceeded 10,000 units for five months, with a single-month delivery of up to 16,000 units.
In addition, two second-tier new forces have also exceeded 10,000 units, namely Leap Motor and NIO Automobile. Under the wave of price increases and the impact of the epidemic, it is not easy to achieve monthly sales of over 10,000 units, but whether the trend of exceeding 10,000 units can continue is the key point. Now, let's take a look at the delivery situation of new energy vehicles in 2022 Q1.
As Tesla's domestic sales data for March have not yet been announced, the chart shows Tesla's global sales data for 2022 Q1.
Comments:
As traditional car companies, BYD and GAC Aion performed well in the first quarter of 2022, especially BYD, which just announced the discontinuation of gasoline cars, performed well with pure electric and hybrid models.
As for the new forces, XPeng Motors and Li Auto remained stable in the first quarter, while NIO had a mediocre performance due to the upcoming delivery of new cars on NT2.0 platform and model facelifts, etc.
The most surprising company is undoubtedly NIO Automobile, which surpassed WM Motor, Leap Motor, and other companies, ranking sixth with a delivery volume close to Li Auto. Due to issues such as rising capacity and component supply, Jidu Auto and Voyah Tech's delivery growth remained slow.2022 Q1 has officially ended, and the Beijing Auto Show in Q2 will be a huge event for new car releases. The top three new power players will debut their products in Q2 and begin deliveries in Q3. The real show, however, will start in Q3. In the context of an overall industry supply shortage, fluctuating local epidemics, and rising raw materials prices, sales volumes will better reflect factory production capacity, as well as the supply chain management capabilities of enterprises.
BYD stops production of gasoline vehicles from March
On the evening of April 3, BYD announced on the Hong Kong Stock Exchange that, due to its strategic development needs, it will officially cease the production of gasoline vehicles starting from March 2022. In the future, the company will focus on pure electric and plug-in hybrid vehicle businesses in the automotive sector. At the same time, the company will continue to produce and supply gasoline vehicle parts, providing continuous and comprehensive customer service and after-sales support to existing gasoline vehicle customers, as well as supplying spare parts throughout the entire lifecycle, ensuring worry-free transportation.
Comment:
This marks BYD as the world's first automaker to stop production of gasoline vehicles. It is timely, as oil prices have been rising for seven consecutive years.
In the announcement, BYD also disclosed that in March, the production of new energy vehicles reached 106,658 vehicles, an increase of 416% year-on-year, with sales of 104,878 vehicles, an increase of 422%. Pure electric passenger vehicles produced were 54,684 vehicles, an increase of 266% year-on-year, with sales of 53,664 vehicles, an accumulated YoY increase of 271%. Plug-in hybrid vehicle models produced this month were 51,434 vehicles, with an accumulated YoY increase of 853%, sales of 50,674 vehicles, with an accumulated YoY increase of 857%.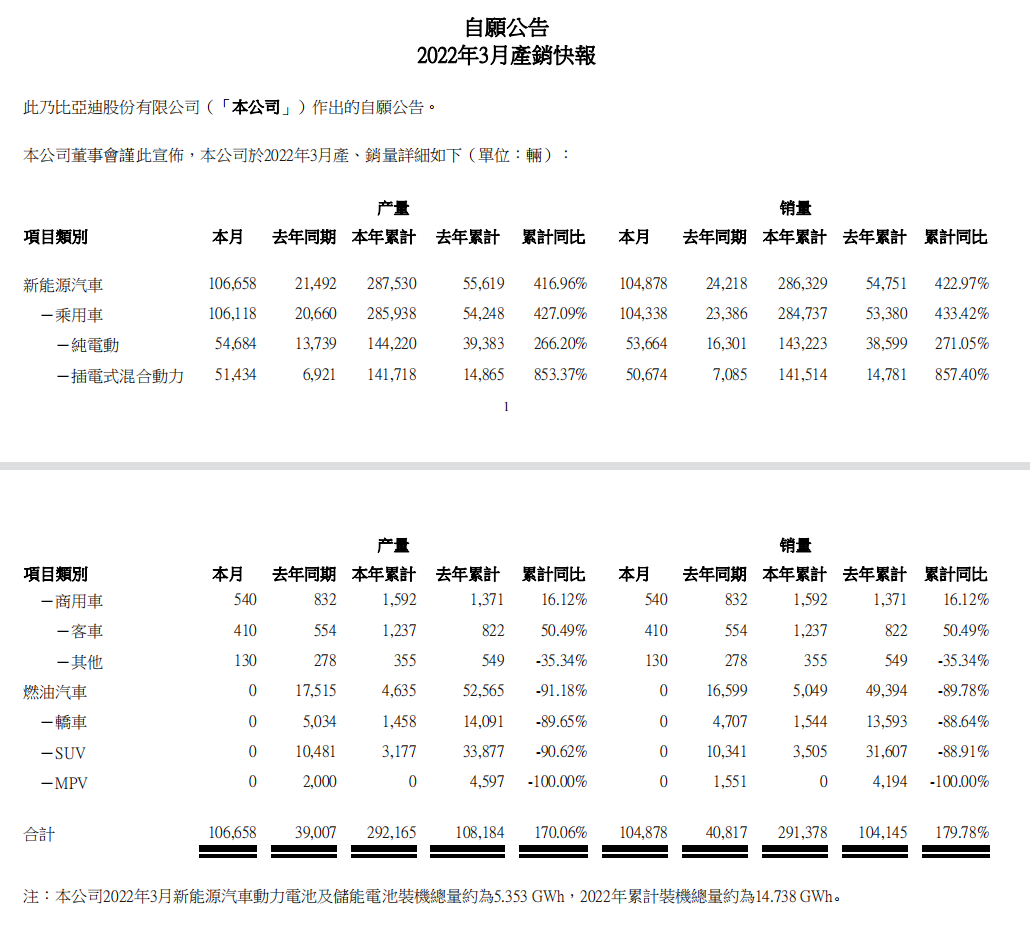 In terms of specific models, BYD's Han series sold 12,359 vehicles in March, an MoM growth of 524.9%; the Tang series sold 9,625 vehicles, with the new generation Tang DM YoY growth of 565.9%; the Song family sold 26,729 vehicles, with the Song DM YoY growth of 2,991.3%; the Qin family sold 24,797 vehicles, an increase of 468.4% YoY, and the Yuan family sold 12,881 vehicles. Combining sales data shows that BYD's sales momentum in pure electric and hybrid vehicles is particularly strong.
Domestic Long-wheelbase X5 and i3 officially launched
On April 1, BMW officially announced the prices of the long-wheelbase version of BMW X5 and the i3.- BMW X5 xDrive 30 Li M Sport Package: 605,000 yuan (imported version: 699,900 yuan);
BMW X5 xDrive 30 Li Exclusive M Sport Package: 635,000 yuan;
BMW X5 xDrive 40 Li M Sport Package: 705,000 yuan (imported version: 754,900 yuan);
BMW X5 xDrive 40 Li Exclusive M Sport Package: 775,000 yuan (imported version: 839,900 yuan);
i3 eDrive 35 L: 349,900 yuan.
The newly designed appearance of the X5 is not significantly different from the imported version. The front bumper uses a new design with inverted L-shaped layout on both sides to enhance the visual width of the front of the car. The chrome decoration and air intake grille complement each other and lower the visual center of gravity to avoid looking top-heavy. The extended wheelbase of 130 mm does not look disharmonious but rather adds a touch of X7's style to the X5 Li. In addition, the new X5 comes standard with the M Sport package and the high-end models are equipped with M Performance components.
As the second domestically produced pure electric vehicle of BMW, i3 is undoubtedly highly anticipated as well as iX3. The new i3 is more similar to the design of the fuel version 3 Series, with only minor changes made to the exterior parts and headlight group details. i3 uses the "boomerang" LED headlights that the fuel 3 Series has not yet released, and the air intake grille is closed. The BMW logo also adopts the blue circle representing electric vehicles and environmental protection.
The rear of i3 is also basically the same as the new 3 Series, with silver/blue decorations outlining the contour similar to a diffuser, and the air circulation openings on both sides of the rear of the ordinary 3 Series have been removed. There's no M package, and the black small tail wing is nowhere to be seen.
Quick comment:
The biggest improvement of the domestic version of the X5 this time is on comfort, besides space, the seats have also been upgraded to relatively soft materials and fillers, becoming an exclusive configuration for Chinese consumers.The new BMW X5 offers heated door handles and central armrest, with the backrest angle of rear seats increased to 31 degrees, and comfortable headrests and redesigned central armrest. The vehicle also provides heating for front and back seats. It is believed that the domestic X5 will continue to maintain its leading position in the same class.
For the domestic i3, many consumers who are interested in this vehicle have the attitude of "I want a BMW" first, and then "I want an electric car." Therefore, the priced at 34.99 i3 is quite attractive for those who want a mid-sized BMW sedan but also want an electric car. However, it is almost impossible for it to form a phenomenon-level sales like the fuel-powered 3 series.
Secrets Revealed about the Ideal L9 Advanced Driver Assistance
On March 30th, a new wave of Ideal L9 disclosures arrived as scheduled, which mainly focused on the advanced driver assistance. In addition to a text description, Ideal released a video showing the world seen by the L9 LiDAR.
The advanced driver assistance hardware for Ideal L9 is generally consistent with the first-tier new forces, with the following core information:
1 128-line LiDAR

4 360-degree surround cameras (2 million pixels)

7 ADAS perception cameras (6 at 8 million, 1 at 2 million)

2 NVIDIA Orin X processors (508 TOPS compute power)

5 intelligent driving assist lights

Capacitive steering wheel

Full-stack self-developed
Quick Comment:
In the arms race of intelligent driving hardware, the hardware for Ideal L9 belongs to the first echelon, but there are no particularly outstanding parameters. However, compared with most models, Ideal still has some thoughts in advanced driver assistance.On the Ideal L9, two front-facing 8-million-pixel cameras with a 120-degree wide-angle coverage range can recognize vehicles, pedestrians, and cones up to 550 meters away, while the vehicle is equipped with 2 8-million-pixel front side cameras, 2 8-million-pixel rear side cameras, and 1 2-million-pixel rear camera, providing 360-degree perception for the vehicle.
As for the LiDAR model, which we know is used in the Ideal, it employs Hesai Technology's AT128 semi-solid-state LiDAR, with 128 laser beams, a laser wavelength of 905 nm, and a maximum detection distance of 200 meters at a 10% reflectivity rate, with a field of view of 120°x25.4°. The highlight of this LiDAR used in the Ideal is its use of 128 laser emitters arranged vertically to form a single laser beam, which is then transformed into a plane by a 1-dimensional mirror to achieve detection of the forward environment. To process the information generated by the sensors, the Ideal uses two NVIDIA Orin X autonomous driving chips, with a computing power of 508 TOPS.
In all the detailed parameters of ADAS perception hardware listed in the Ideal, there is no information on millimeter-wave radar, so we believe that the Ideal L9 is unlikely to be equipped with millimeter-wave radar. As for whether this is ultimately the case, we will have to wait until the start of production and delivery, and rely on actual experience to speak.
Lotus Launches Pure Electric Supercar SUV – Eletre
In the early hours of March 30th, Lotus officially unveiled its new pure electric SUV, code-named Type 132, called Eletre.
Eletre is the first pure electric SUV in Lotus history. While inheriting Lotus's high-performance genes, the SUV identity also takes into account practicality, filling the market gap of "million-level pure electric performance SUVs", so strictly speaking, Eletre does not have direct competitors.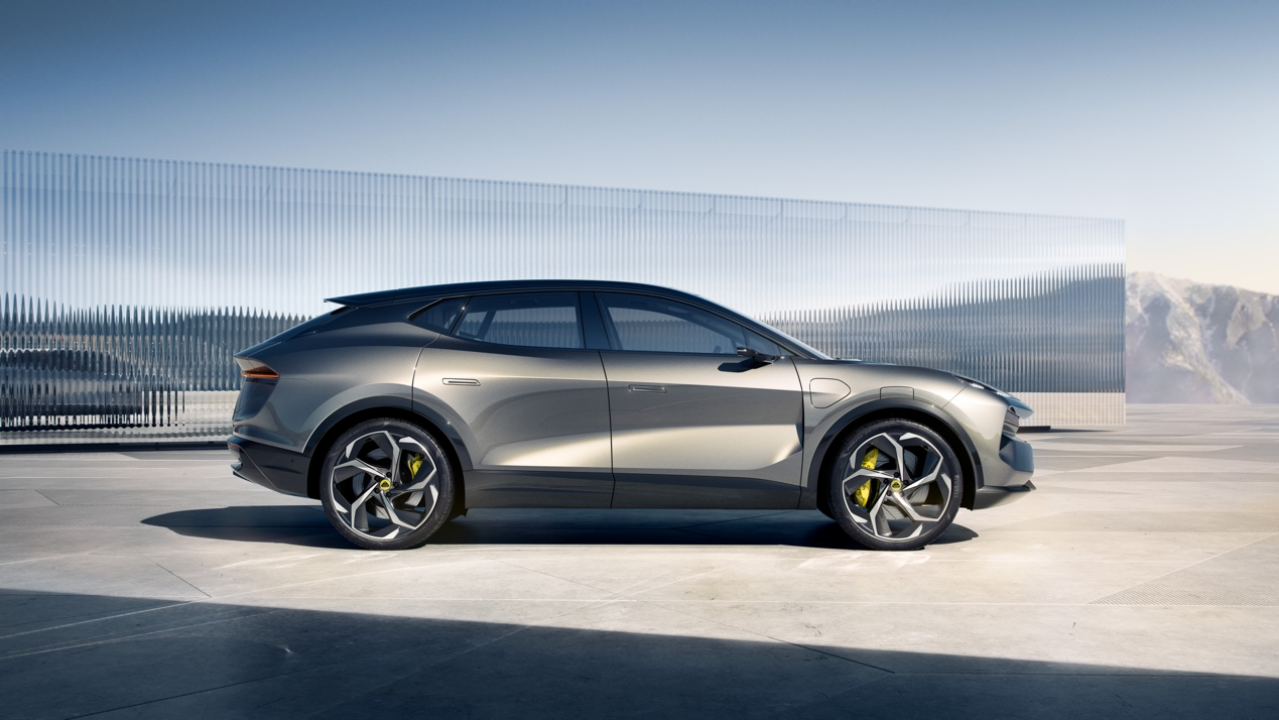 Eletre is built on its exclusive pure electric platform EPA and has a large battery of over 100 kWh, which belongs to the 800V high-voltage platform. Under 350 kW charging conditions, Eletre can achieve a range of 400 kilometers (248 miles) in just 20 minutes. According to WLTP standards, Eletre's maximum range can reach 600 kilometers (373 miles). As a pure electric performance SUV, Eletre has a zero to 100km/h acceleration time of 2.95 seconds, a zero to 200km/h acceleration time of within 12 seconds, and a maximum cornering G-force of 1.1 G.
On top of its powerful performance, Eletre spares no effort in equipping intelligent hardware:
4 128-line LiDARs
7 8-megapixel cameras
2 360-degree surround-view cameras
6 millimeter-wave radars (including 4D millimeter-wave radars)
12 ultrasonic radars
Plus 1 in-car camera
5 digital instrument panels in total: a 15.1-inch OLED central control screen, two 12.6-inch fish screen for the driver and passenger seats (with a resolution of 2,240 x 182 PPI), a 9-inch flip-screen for the rear seats (with a resolution of 1,280 x 720 PPI), and a 29-inch AR-HUD.
Quick review:
From the perspective of "smartness, pure electricity, high performance, SUV", Eletre does fill a market gap and set the first benchmark for million-level pure electric SUVs. However, what really excites me is the "intelligent heart" based on powerful performance. This allows Eletre's category to completely break away from traditional performance comparisons and become a "high-performance technology" product.
The global debut in London this time focuses on history, aerodynamics, and performance. The intelligent aspect is what we're more concerned about, but that's okay. Lotus Eletre will have another launch in China, so let's keep our expectations high.
Release of IM L7 Pro and Locking Orders for Delivery
On March 29th, IM hosted an online communication conference about L7. IM's co-CEO Liu Tao revealed many details about L7's test drives, locking orders, delivery, and rights. At the conference, IM also brought the Pro version of L7.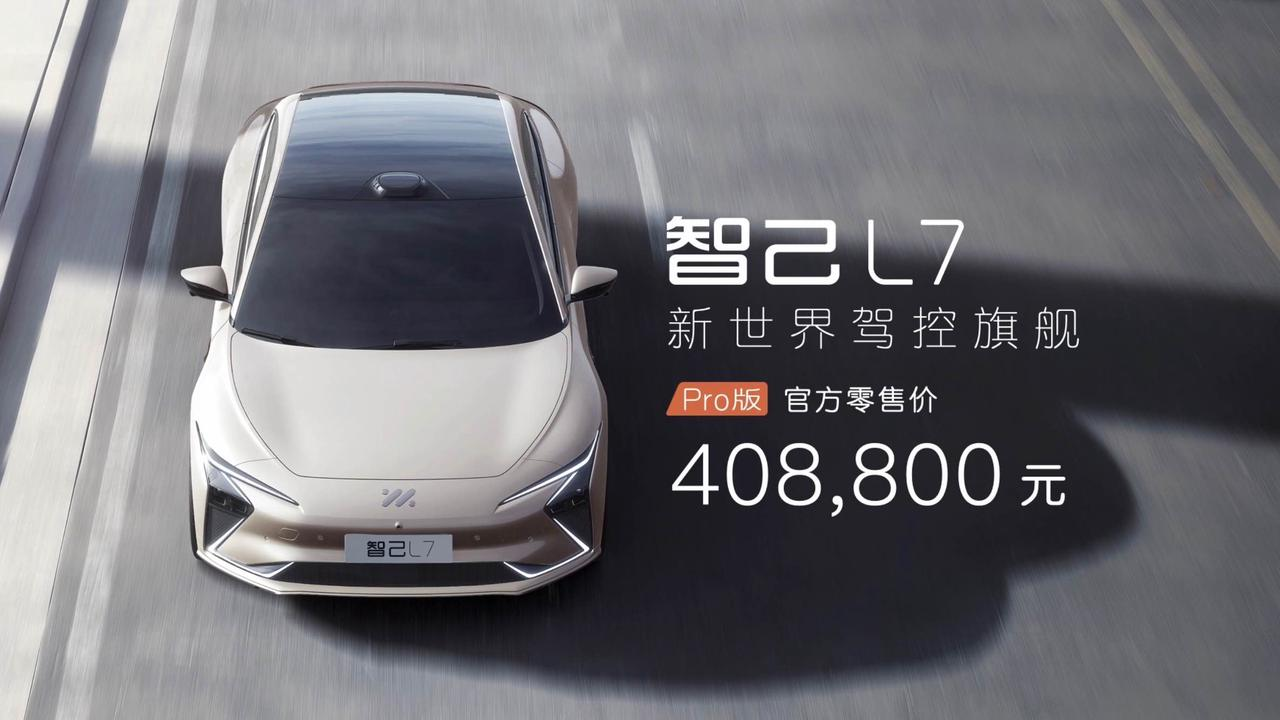 IM's mass-produced first model, L7 Pro, is priced at 408,800 yuan. Liu Tao said at the conference that more versions would be launched in the future based on the needs of users. For now, Pro is the top model for the L7. The previous version, A round, included some configurations and related rights on top of the Pro.
The 93 kWh battery, four-wheel steering system, electric suction door, and a total of 1,120 W of 22 speakers remain standard, and specific configuration information can be seen in the following figure:
Meanwhile, the equity of A-round user configuration is also announced:
Free upgrade to Nappa leather seats (Pro optional 16,000 yuan)

Free upgrade to Brembo four-piston calipers (Pro optional 5,800 yuan)

Free upgrade to massage seats for driver and co-driver (Pro optional 5,800 yuan)

Free upgrade to Raphael tea car paint (Pro optional 9,000 yuan)

Optional half-aniline leather seats for 6,800 yuan (Pro optional 32,000 yuan)
In addition, regarding driving, lock-in, and delivery issues, Liu Tao stated that the Shanghai epidemic has not seriously affected the production progress of SAIC Lingang Intelligent Factory. The test drive car is expected to arrive at the National Experience Center in mid to late April, and the national test drive will begin on April 9. Angel round and A-round users will have the opportunity to test drive first.
On March 29th, ZhiJi unlocked lock-in for Angel round and A-round users. The lock-in period for Angel round ends on May 29th, and for A-round users, it ends on June 17th. Delivery is expected in April of this year. Due to delays caused by the epidemic and other events, ZhiJi will compensate users 1,000 waiting crystals per day.
Fast review:
This communication conference allowed ZhiJi to release information on the car model, price, and configuration as planned. The announcement of the L7 Pro and related rights also allowed users to have a better understanding of ZhiJi's future plans and measures for the L7. We believe that after the crisis of the epidemic has passed, ZhiJi will also hold a grand release conference for the L7.
Although the ZhiJi L7 has already given a high score in terms of driving pleasure and luxury atmosphere, the real test is whether it can provide outstanding service after delivery. Whether the navigation assistance and high-precision intelligent parking can give excellent perceptual experience under the blessing of Momenta is also a point of focus. We will continue to pay attention to ZhiJi L7's performance in terms of intelligence, cockpit, assisted driving, and audio, and see if it can stand firm among the new forces of luxury brands.
Finally, welcome everyone to download the Garage App to learn about the latest new energy information. If you want to have more real-time communication, you can click here to join our community.
This article is a translation by ChatGPT of a Chinese report from 42HOW. If you have any questions about it, please email bd@42how.com.