Author: Chang Yan
Elon Musk once said that humans have not yet fully realized the difficulty of mass-producing new technologies, which is 1000% more difficult than simply producing a few product prototypes.
"Making machines that make machines is more complex than the machines themselves."
This statement made us aware that the transformation opportunities faced by the automotive industry are not only more tempting in terms of the products themselves, but can also catalyze and multiply the power of the latter.
Since then, we have witnessed the Fremont factory ranking first in North American production capacity, the revolutionary structural completion of Giga Shanghai, and Giga Texas' "overtaking on curves" in terms of construction speed.
But in April 2022, nothing is more impressive than the actions of the newly launched Giga Berlin.
Everyone is curious about how a series of new technological revolutions will land here, and how it will stir up comments from the traditional automotive industry in Germany.
As Germany's largest business and economics newspaper, Handelsblatt has recently been given the opportunity to enter and interview employees at Giga Berlin. On April 2nd, they published an exclusive article "Inside Glenn Heights' Gigafactory: Tesla produces a car every 45 seconds", which is fully translated below:
The world's most modern car factory has started in Glenn Heights, where cars are driving off the assembly line at a record speed, and German competitors have a lot to learn.
A ghostly voice often lingers in the halls of Glenn Heights factory (note: referring to Giga Berlin). It is the sound of the stamping workshop, a huge machine that is as tall as a three-story building, with a white exterior and red frame-yes, the stamping machine uses Tesla's corporate colors.
It was built by German suppliers such as WIFA, Schuler, and Herschvogel using Germany's professional knowledge. "50-ton stamping die can produce a body part every 20 seconds at a pressure of 2,500 tons per cycle."Similar stamping machines can be found in other car factories, but Tesla wants to use them to produce parts in a way that other manufacturers don't. In addition to parts such as doors or tailgates, the stamping workshop will soon also produce battery packs – the container for the new 4680 lithium battery.
The battery pack and battery module produced by the stamping workshop are glued together to form the Model Y chassis. This can reduce weight, improve driving characteristics, and increase range. "I've been studying this issue since the company was founded," said Tesla CEO Elon Musk a few months ago.
With new production processes, high automation, and future battery production, Tesla is setting standards in its newly opened Giga Press factory in Grünheide.
Peter Nagel, founder of ANP Management Consulting, a consulting firm, said: "For the German automotive industry, this is an interesting benchmark."
Tesla is manufacturing cars at a record speed
Grünheide is the most modern car factory in the world – and it's also important for Tesla. Analysts expect Tesla to reach a production capacity of two million electric cars per year by the end of this year, a quarter of which will come from Germany.
To achieve this goal, "Giga Berlin" needs to produce a car every 45 seconds by the end of this year, its production peak.
Heiko Weber, a partner at industrial consultancy Berylls, said: "In the automotive industry, the typical production cycle for large-scale production such as the Mercedes-Benz C-Class is a car produced every 70 to 90 seconds.
Tesla is keeping a low profile on how to manage and achieve this, even commanding suppliers to remain silent. But the newspaper was allowed to visit the factory hall and talk to employees.
These, combined with our interviews with experts, evaluations of permit applications, and compilation of information from online forums and other sources, paint a complete picture of a factory that sets new industry standards.
Last but not least, Tesla CEO Elon Musk himself is a great source of news, as he likes to post articles or talk in detail about the production process on Twitter.
The idea of the Giga Press comes from Italy.The aluminum ingots on the tray are queuing up in the foundry workshop. They are feeding for Tesla's two other die casting machines. The huge die casting machine can precisely cast nine aluminum ingots into a one-piece cast of the Model Y tail – the entire process is done in one go and each part weighs up to 81 kilograms.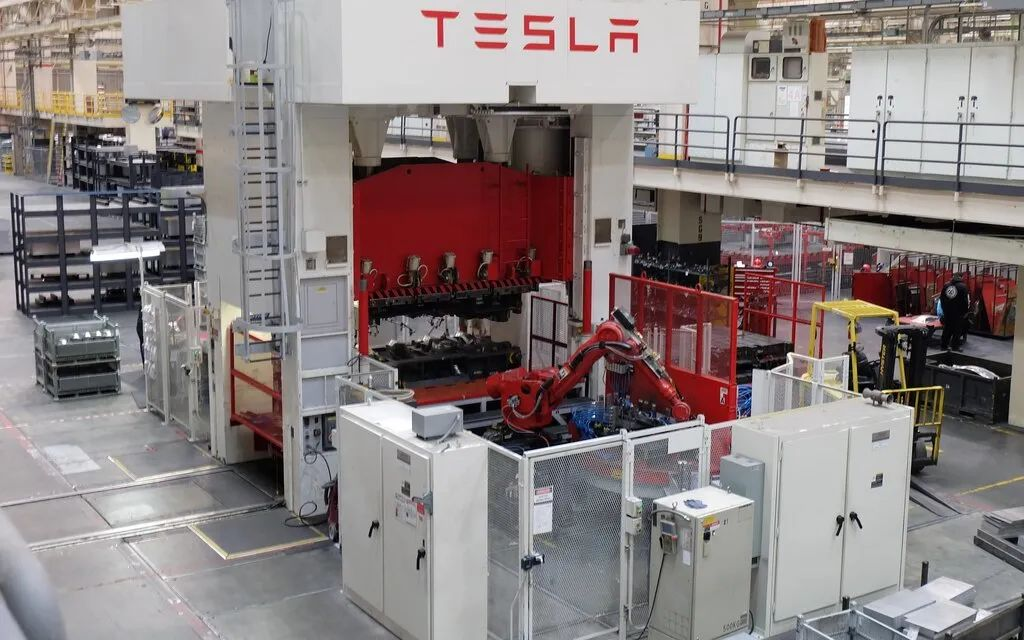 So far, Tesla has been casting and pressing the rear of the Model Y in this way at the Fremont factory, a process that is controversial among experts. In a normal car factory, such body parts are still welded together by many separate parts.
This idea was not proposed by Tesla, but by the Italian mechanical engineering company IDRA. According to manager Ricardo Ferrario, when the Italians showcased the "Giga Press" at a trade show in Berlin in 2019, they encountered a lot of skepticism. A potential customer just smiled and said, "This will never succeed."
But Tesla saw the advantages: the one-piece casting process eliminates 70 production steps. Musk was attracted by this proposal, which is closest to his idea of "manufacturing machines using machines." He worked with Tesla's engineers and IDRA to develop the OL 6100 CS, which now stands tall at the Fremont factory and operates under a pressure of 6,100 tons.
This is just the beginning. Tesla will install six more "Giga Press" machines in the factory this year, bringing the total to eight. The reason for this capacity is that the Model Y will not only have a rear part cast, but also a front part cast in the future.
This makes the Model Y, a crossover SUV, a kit with few parts. Musk came up with the idea when he was looking at toy cars made from matchboxes.
In the future, Tesla's body will mainly consist of three parts: the two one-piece castings at the front and rear, and the battery box connected to them. This method will eliminate a total of 370 production steps. Musk said, "Just the rear part saved us 300 robots."However, this production method also has its drawbacks: if a customer has an accident that deforms the casting, a complete replacement is necessary — which makes maintenance costs higher. Nevertheless, various manufacturers such as Volvo or Chinese startup companies have now announced they will be using Giga Press soon, and Volkswagen is also considering it.
According to the investment bank Bernstein's analysis, by 2030, one out of every two electric cars will be produced using this technology.
Tesla's Fremont factory is already operating at full capacity
Tesla's goal is to produce 500,000 cars per year in Giga Austin or less than 10,000 cars per week.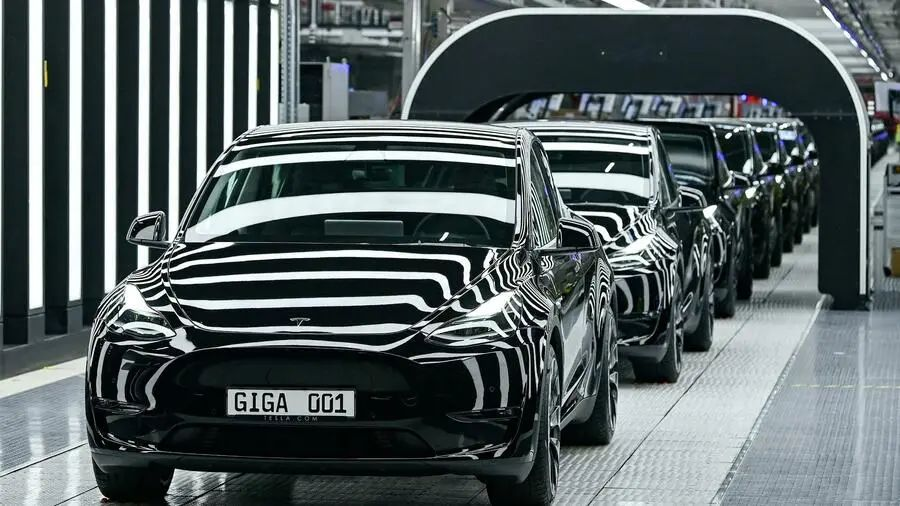 According to automotive expert ANP, the factory is still under construction and is currently producing between 500 and 1,000 vehicles per week. "The factory will be successful," said AP's Nagel, "Tesla is amazingly fast, innovative, and flexible in every aspect."
German automakers are shocked. Herbert Diess, CEO of Volkswagen, has been warning for years about how scary Tesla's superior productivity is.
It takes 30 hours to produce one Volkswagen car, while Tesla only needs 10 hours. This is one reason why Volkswagen is now building a new electric car factory in Wolfsburg. "Without this, we have no chance in competition," said Diess a few days ago.
The Volkswagen boss has a close relationship with Musk and admires the entrepreneur and his factories.
Tesla's capabilities have already been demonstrated at its first factory in California. Tesla currently produces 8,550 cars per week in the former General Motors building under renovation (i.e., Fremont plant). According to Bloomberg's analysis of 70 US car factories, this figure is the highest. Toyota's flagship factory in Kentucky ranks second with a production volume of 8,427 cars, followed by BMW's factory in South Carolina with 8,343 cars.
Batteries still come from China.On the highway, you will find the exit to the Giga Berlin Tesla factory on a mountain.
This is visually dramatic as the factory slowly emerges and grows in front of the windshield. The factory hall is 24 meters high, 311 meters wide, 700 meters long, and cover a total area of 227,000 square meters. It's a big place, but it's meticulously organized.
Expert Nagel said: "Even from the outside, you can tell from the 179 tightly spaced logistics trucks receiving area that this requires complex logistics."
Parts, batteries, and other goods delivered cannot stay in the narrow space for a long time and must be swiftly put into production. 750 employees handle 2 million car parts every day.
Model Y batteries are still being shipped from China. Tesla is currently building a battery factory next to the factory, which may be completed and put into use by the end of this year.
4680 Battery Debut
Giga Berlin will be the first place where the famous 4680 battery cell enters mass production.
Musk showcased these batteries at the "Battery Day" event in 2020, and since then, analysts and experts have been waiting for market launch. They were developed in the United States and may be used for the first time at Giga Berlin.
The diameter of the 4680 cylindrical battery cell is more than twice that of the previous 2170 battery, and the energy density is increased by five times, which increases the range of electric vehicles by 16%. More important is that these large battery cells can be integrated with the vehicle body.
Musk said that until now, batteries were useless and would lay in a car like a "bag of potatoes," while cushioning and insulation materials would make the vehicle heavier.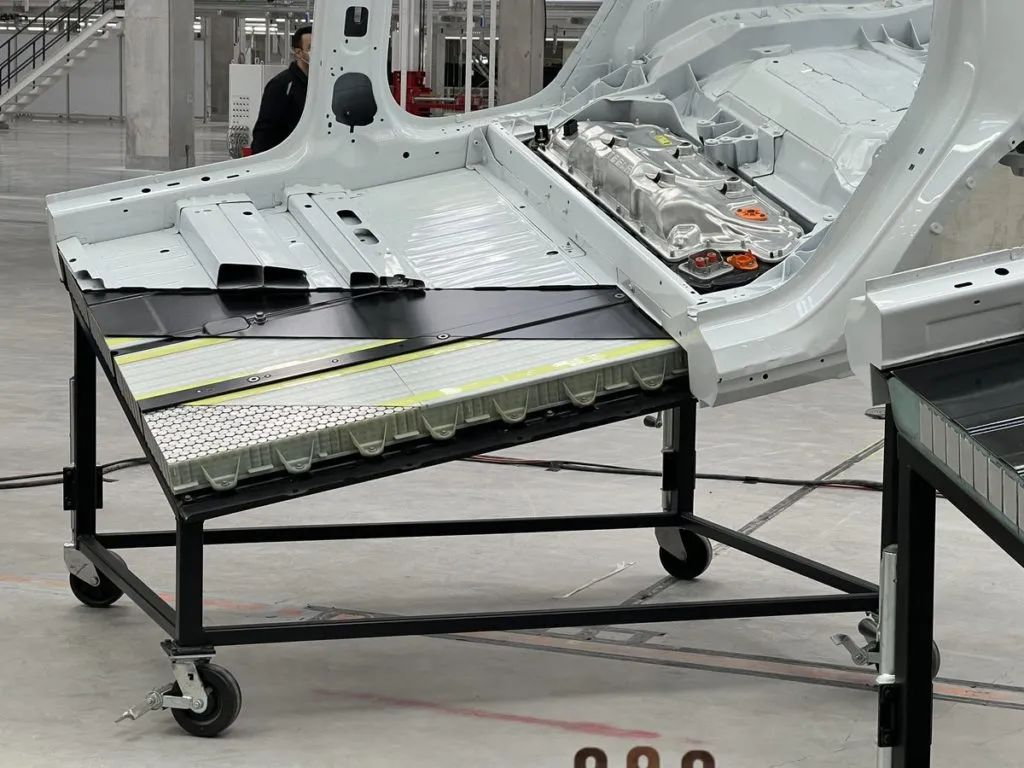 Now, 4680 batteries will be glued together with foam adhesive and treated with fire prevention methods to become part of the vehicle body.
"This is a very good idea," said Christoph Neef, project manager at Fraunhofer System and Innovation Research Institute, "the complexity and cost of vehicles will both decrease."
Speed for SimplicityOne reason for Tesla's fast production speed is the simplicity of its vehicle line.
Gigafactory only produces Model Y, which is a hybrid of sedan and SUV. Up to 70% of the parts are the same as those of Model 3, which can also be produced by Gigafactory without major problems.
When other manufacturers have dozens of models in the market, Tesla is currently trying to establish its position in the market with only a few models and very limited color choices, which also promotes production efficiency.
In fact, Tesla currently only produces black Model Y Performance at Gigafactory. Anyone who orders white, red, blue or midnight silver will have to wait. As Henry Ford once said, "You can have any color as long as it's black" (Note: referring to the Model T, which only produced black models during its decades-long climb to capacity).
Tesla's paint drying speed is also record-breaking
The paint shop only allows observation from the outside, and it requires 70% less energy than the competitor's factory, with a water consumption of 0.58 cubic meters per car, which is a model.
Painting, drying, and curing only takes five hours. In a study, consulting firm ANP highlighted this fact with three exclamation marks.
The color is applied in seven layers, with clear coat and color alternating. For special colors, it should be up to 13 layers. According to Musk, this creates a "flip effect": the effect of the paint changes depending on the viewing angle – a 3D effect is created, which requires special pigments to achieve.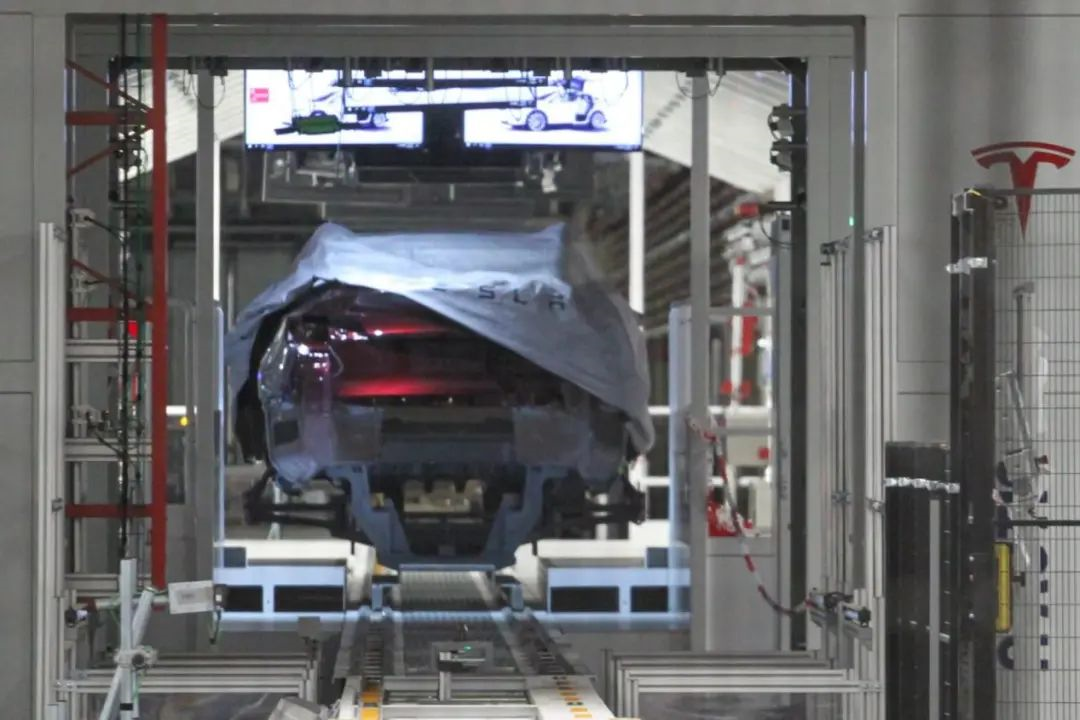 Musk's advertising of "very special red" and "liquid silver" colors is clever. These special colors cleverly conceal the fact that Tesla offers very few choices compared to other manufacturers."We must be cautious in the number of colors, " said Musk himself at the Greenheath production launch. Tesla's highest rule also applies to color selection: produce as simply, quickly, and automatically as possible.
Musk gave reasons. Tesla hopes to sell 20 million cars per year in the next decade, far more than twice the current sales of the entire Volkswagen Group.
For the Berlin factory, this would mean that only a quarter of the area has been used to date, and after the complete construction of the car and battery factories, Giga Berlin will be able to produce 2 million cars per year.
"I think this is challenging, but not impossible," commented Musk on his plans to staff and fans at the Greenheath opening ceremony. The Tesla boss is known for his bold predictions, but these predictions do not always become a reality. But the new factory emphasizes the fact that Musk must be taken seriously with its productivity and innovation capabilities."
This article is a translation by ChatGPT of a Chinese report from 42HOW. If you have any questions about it, please email bd@42how.com.