Quarterly Report of XPeng (XPeng), Li Auto, and NIO Released for 2021
Author: Leng Zelin
Editor: Wang Pan
On March 28, 2022, XPeng (XPeng) announced its financial report for the fourth quarter and the whole year of 2021. Similarly, Li Auto and NIO also released their annual reports for the year.
From the already released delivery data, Li Auto delivered 91429 cars, XPeng delivered 98155 cars, and NIO delivered 90491 cars. Although Li Auto ONE achieved explosive growth in the fourth quarter, NIO still holds the second-place ranking with a narrow advantage. Achieving these results in a year without launching any new cars is not an easy task.
XPeng had a year full of ups and downs in 2021, reshuffling the rankings of Li Auto and NIO.
Overall, these three companies failed to turn a net profit for the year. Although XPeng topped the delivery crown, it turned out to be the loss-making big brother with a net loss of CNY 4.86B.
Li Auto, relying on outstanding operating capabilities, only lost CNY 320M for the whole year and kept a gross profit margin above 20%. In the fourth quarter, it even achieved positive profits. The total revenue gap with NIO is constantly narrowing.
If you want to find a keyword for new energy vehicles in 2021, then "change" should be one of them. This change can be seen not only in the delivery rankings but also in financial data.
Li Auto is not stingy, NIO is frugal, and XPeng is making an effort
Although Li Auto had the least net loss of only CNY 320M in 2021, it still increased by 111.9% compared with the previous year. XPeng's net loss reached CNY 4.86B, increasing by 78% compared with the previous year. Only NIO changed its previous style of spending money from the government and decreased its net loss by 24.3% to CNY 4.02B.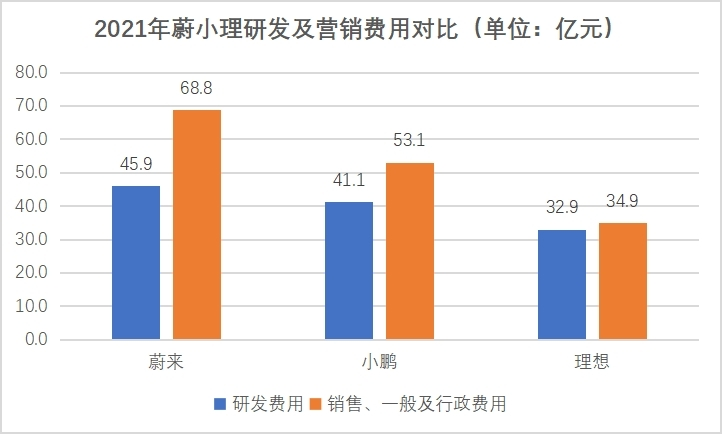 If comparing the R&D and marketing expenses of these three companies in 2021, it is not difficult to find that Li Auto is no longer stingy in the R&D budget department.
During the reporting period, with only one model, Li Auto's R&D expenses amounted to CNY 3.29B, an increase of 198.8% YoY. It is worth noting that in Q4, Li Auto still achieved positive profits despite the short supply of components and the rise in raw material costs. Meanwhile, R&D investment hit its highest level that year, reaching CNY 1.23B.
For marketing expenses, Li Auto also started to make an effort after the launch of the new model ONE in 2021. The number of dealerships increased from 52 at the end of 2020 to 206 at the end of 2021. As a result, its annual sales and general and administrative expenses reached CNY 3.49B, an increase of 212.1% YoY.According to Ideal's official disclosure, the Ideal marketing network will further expand by the end of this year, with a target of 400 retail stores.
Similarly, XPeng's R&D expenses increased significantly by 138.4% last year, with marketing expenses rising by 81.7% YoY. Although the numbers are inferior to NIO and Ideal in terms of growth, XPeng's friendly pricing far surpasses the other two automakers in revenue share.
In 2021, NIO, XPeng, and Ideal had R&D investment-to-total revenue ratios of 12.7%, 19.6%, and 12.2%, respectively.
He XPeng, Chairman and CEO of XPeng Motors, stated that the cumulative research and development investment of XPeng Motors has exceeded 9 billion yuan, and research and development investment in 2022 will exceed the sum of the past one or two years.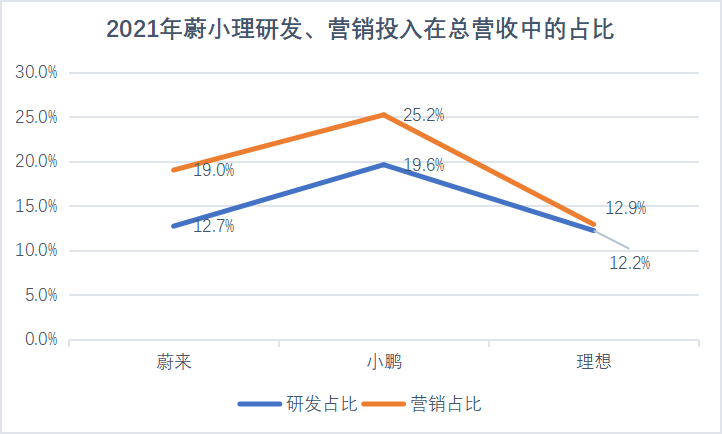 Surprisingly, after calculating the revenue distribution, XPeng also had the highest percentage, accounting for a quarter of total revenue. This overthrows the conventional concept that NIO excels in marketing, and XPeng excels in R&D.
In fact, in 2021, we saw all three companies making up for deficiencies and preparing for the upcoming competition in green energy vehicles. Therefore, it is the most authentic portrayal of the current situation to not view NIO, XPeng, and Ideal through outdated perspectives.
2022, the fog of new energy has not dissipated
Looking back at 2021, upstream raw material prices continued to rise, and new energy subsidies continued to decline, leading several automakers to announce multiple price adjustments. However, Li Bin mentioned in a conference call that NIO currently has no plans to adjust prices.
We speculate that the reason NIO is not making any adjustments is due to the three models on the NT2.0 platform that will be delivered this year. Based on previously disclosed data, the gross profit margin of NT2.0 platform vehicles is generally higher than that of NT1.0 platform vehicles, and is expected to reach 25%.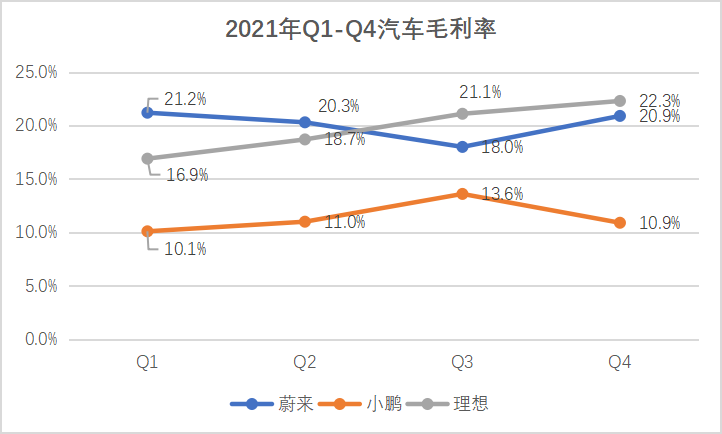 Comparing the gross profit margin in the fourth quarter of last year, only XPeng saw a significant decline, while NIO and Ideal, which are priced above RMB 300,000, continue to maintain a steady rise.
However, despite profit pressure, He XPeng remains optimistic. He believes that by the third quarter of this year, the price of raw materials will not continue to rise, and will even see a slight decrease.
He XPeng also mentioned that, with the backdrop of soaring gasoline prices, the demand for mid-to-high-end electric vehicles will continue to expand, and XPeng will continue to maintain sales growth this year. According to the guidance for the first quarter deliveries of the three companies, NIO 25,000-26,000, XPeng 33,500-34,000, and Ideal 30,000-32,000, XPeng will still firmly hold the first place in Q1 2022 deliveries.And during the teleconference, XPeng raised a long-term gross profit margin target of 25%. However, based on the current situation, XPeng aims to achieve this target not in 2022.
This year, XPeng will begin delivering a large SUV in the third quarter, and at that point, the pricing for the XPeng G9 will improve the current low gross profit to a certain extent. However, to achieve this goal, XPeng should focus on the year 2023.
It was reported that XPeng will launch two new platforms and new models based on these platforms in 2023, covering B-class and C-class vehicles, and introducing ultra-large integrated die casting and other manufacturing processes to further control costs. At the same time, the City NGP will be open in the second half of this year, and XPILOT4.0 smart assisted driving system, which will be launched next year, is expected to improve the overall gross profit margin through software profit.
According to management, the City NGP function will be opened in stages in the second quarter, and about 20% of users have chosen to install the smart assisted driving system for the sold models. In P5 delivered in the fourth quarter of 2021, more than half of the models support XPILOT3.0/3.5.
XPeng also has high expectations for the City NGP and XPILOT4.0 functions.
"The test performance of City NGP far exceeded our expectations." said XPeng.
However, XPeng's Robotaxi business, set to launch on the G9 in the fourth quarter of this year, may not bring positive profit opportunities to XPeng in the short period of time based on the survival situation of past autonomous driving companies.
Another automaker, Li Auto, has also pinned their hopes on their vehicles set to release in 2023. As the only automaker that relies solely on one model, Li Auto will introduce a range-extended large SUV, L9, in the third quarter of this year.
Although Li Auto is good at creating popular vehicles, the rapid changes in the new energy market and the limited reference samples mean that fewer model choices will lead to lower fault tolerance.
Fortunately, in 2023, Li Auto plans to launch two pure electric vehicle models and adopt a high-voltage charging plan. This will enable Li Auto to improve their pure electric vehicle layout, while also making their forces not so "thin."
On the day of XPeng's financial report release, NIO ET7 officially began delivery, and this is only NIO's "first shot" this year. By the third quarter, NIO ET5 and ES7 will also begin delivery. As both ET7/ES7 are produced in the first factory, production capacity may increase slowly, and it is expected to reach normal production capacity in the third quarter.
At the same time, the second production base located in Hefei Xin Qiao Intelligent Automobile Industrial Park will also be put into operation in the third quarter, with a planned production capacity of 60JPH, and ET5 will become the first model to be produced. At that time, the sales and delivery volume of the six models of NIO will increase significantly.## Brand and Channel, Differences Still Exist
Although we see increasing overlap among the three companies in terms of vehicle models and pricing, the XPeng G9 mid-sized SUV, for example, is expected to compete with the Nio ES6 and the Li ONE in terms of pricing. Meanwhile, Nio's ET5, which adopts the Battery-as-a-Service (BaaS) business model, is now priced in the same range as the P7.
In reality, however, there are still differences in branding and channel competition among these three companies.
As of the end of 2021, XPeng has 357 offline stores in 129 cities, including 209 directly operated stores and 148 authorized stores. XPeng is also the only one of the three companies to adopt a "self-operated + franchised" model. In April last year, XPeng established a strategic partnership with China's largest auto dealer, Zhongsheng Group, to expand its sales channels, with particular emphasis on sinking channels.
According to a XPeng phone conference, nearly 80% of XPeng's physical stores in non-first-tier cities were established in the second half of 2021. This also means that sinking channels played a crucial role in XPeng's increasing delivery volume last year.
Considering the relatively high prices of Ideal and Nio cars, it will be difficult in the short term for them to make an impact in the sinking market.
However, XPeng's CEO He XPeng also indicated that XPeng has not yet considered launching car models priced below 150,000 RMB or building a stand-alone luxury brand, which means that XPeng's brand may continue to move upward.
In contrast, Nio revealed that its new brand for the mass market has already completed team building, and the research and development of its first batch of products has entered a critical stage.
Li Bin, CEO of Nio, believes that Nio currently targets the mainstream high-end market, with a price range mainly between 50,000 and 100,000 USD. However, there is still a large market for products in the 30,000 to 50,000 USD range, and this range can achieve a reasonable gross profit margin.
In terms of overseas markets, XPeng is still following the channel layout model in China. In February of this year, XPeng established a strategic partnership with two European car manufacturers and signed agreements for joint retail in the Netherlands and Sweden. XPeng's first overseas brand retail experience store has also opened in Stockholm.
Meanwhile, Nio's products and full-stack services will continue to be replicated in overseas markets, with plans to land in Germany, the Netherlands, Sweden, Denmark, and other countries in 2022. In the first two months of this year, Nio delivered 100 cars per month in overseas markets.
2021 is already behind us. Under the background of rapidly increasing penetration of new energy, the top three new forces in the industry have taken different approaches: some choose to keep a low profile, while others choose to ramp up their efforts. In 2022, the market environment is undergoing dramatic changes, with known factors including rising raw material prices, subsidy reductions, and the pandemic. The future direction of the new energy market is unpredictable.
This article is a translation by ChatGPT of a Chinese report from 42HOW. If you have any questions about it, please email bd@42how.com.