On March 28, 2022, XPeng Inc. released its Q4 2021 financial report and annual report for 2021. Despite the pressure caused by chip shortages and rising costs of battery raw materials, XPeng achieved a year-over-year doubling in deliveries and revenue, and has effectively secured the position of the Q1 2022 delivery champion among the new competitors.
The 2023 new vehicle models, integrated die-casting technology, and advanced XPILOT were some of the promising "highlights" disclosed during the telephone conference.
During the 2022 China Electric Vehicle 100 Meeting, He XPeng, Chairman and CEO of XPeng, commented on the development of electric vehicles:
A new era will begin in 2023, and "human-vehicle co-driving" will enter this era. We will transition to unmanned driving by 2026.
XPeng's intelligent layout relies on XPILOT, and the company is "ahead of most competitors by 2-3 years" in the field of intelligent driving assistance. In terms of R&D investment, XPeng has "accumulated more than RMB 9 billion in R&D investment, with a single-year R&D investment in 2022 exceeding the sum of the past one or two years." Throughout the entire 2021 fiscal year, XPeng's single vehicle gross margin was 11.5\%, and overall gross margin was 12.5\%. The gain in overall revenue from software services such as the XPILOT driver assistance system has already been evident.
Financial and Sales: Increased Profit Margin and Steady Sales Growth
XPeng's core indicators continued to grow in Q4 2021 and throughout the full year of 2021. The automotive business and overall profit margin also made progress. The shortage of automobile chips and the rising cost of batteries hang over all new energy vehicle manufacturers. Reducing costs and pressures from upstream suppliers, stabilizing expected demand from the market, and ensuring product competitiveness in an increasingly crowded new energy vehicle market are issues that all new energy vehicle manufacturers are facing in 2022.
Here are some of the key financial indicators for XPeng in Q4 of 2021:
Total revenue was RMB 8.56 billion, a year-over-year increase of 200.1\% and a quarter-over-quarter increase of 49.6\%;

Automotive sales revenue was RMB 8.19 billion, a year-over-year increase of 199.3\% and a quarter-over-quarter increase of 49.9\%;

Gross margin was 12.0\%, which was higher than the 7.4\% reported during the same period in 2020;

Automotive gross margin was 10.9\%, which was higher than the 6.8\% reported during the same period in 2020;

P7 delivery volume was 21,342 units, a year-over-year increase of 150\%;

More than 50\% of the total P5 deliveries made in Q4 2021 are equipped with XPILOT 3.0 or XPILOT 3.5.- The flagship intelligent SUV G9 is expected to be officially launched in Q3 2022;

As of December 31, 2021, XPeng Motors had 357 operating stores, covering 129 cities;

As of December 31, 2021, XPeng Motors had 772 brand supercharging stations, covering 308 cities in China;
The main financial information for XPeng in 2021 is as follows:
Total revenue was RMB 20.99 billion, a YoY increase of 259.1\%;

Total vehicle deliveries was 98,155, a YoY increase of 263\%;

Automotive sales revenue was RMB 20.04 billion, a YoY increase of 261.3\%;

Gross profit margin was 12.5\%, compared to 4.6\% in 2020;

Automotive gross profit margin was 11.5\%, compared to 3.5\% in 2020;

P7 deliveries reached 60,569, a YoY increase of 302\%, while P5 deliveries reached 7,865.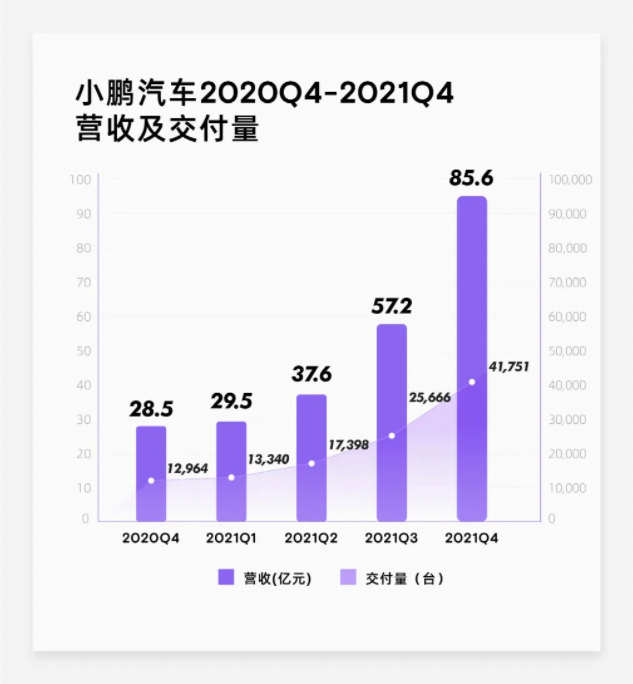 In the first two months of 2022, XPeng's vehicle delivery numbers continued to grow:
In January 2022, the total delivery volume was 12,922, an increase of 115\% YoY, including 6,707 P7s, 4,029 P5s, and 2,186 G3 series;

In February 2022, the total delivery volume was 6,225, an increase of 180\% YoY, including 3,537 P7s, 2,059 P5s, and 629 G3 series;

As of February 28, 2022, the cumulative delivery volume of P7 had exceeded 85,000, and the cumulative delivery volume of intelligent electric vehicles had exceeded 157,000.XPeng Motors disclosed its mid to long-term plan in the 2021Q3 financial report, including the earliest deployment of Robotaxi in the new forces, global acceleration in 2023, and the launch of G9 with a more advanced architecture in 2022. In 2021, XPeng's sales outlets and charging network rapidly expanded, with the mass production deployment of high current and high-voltage 480 kW ultra-fast chargers, gradual transition of existing charging stations from 180 kW to 360 kW to 480 kW, and the coverage of XPeng's supercharging replenishment network will also extend to 337 prefecture-level administrative regions across the country.
For its performance in the fiscal year 2021 and the upcoming 2022Q1, XPeng Motors' honorary vice chairman and president, Brian Gu, expressed confidence in achieving "sustained growth and structural improvement in gross profit margin," with an expected delivery of 33,500 to 34,000 new vehicles in Q1 2022, locking in the new energy vehicle Q1 delivery champion, and an estimated revenue of RMB 7.2 to 7.3 billion.
Vehicles equipped with XPILOT Intelligent Hardware achieving widespread deliveries, sustainable and stable cash flow, as well as cost control brought by future integrated die-casting technology, are the foundation and premise of XPeng's new platform and models, intelligent cockpit, advanced XPILOT assisted driving, Robotaxi, and flying car to be launched in 2023.
Telephone Conference News: Better Cost Control, Margin and Technology
XPeng's focus in 2022: cost control and sales growth. The following are the core information of this financial report:
XPeng G9 has progressed smoothly, and the pre-production samples have been off the production line from the factory. G9 will be officially listed for sale in the third quarter of this year as scheduled, and it will enter a higher price range, further improving XPeng's overall gross margin level. XPeng's medium- to long-term goal is to raise "the overall gross margin of the company to over 25%".

XPeng will release two all-new model platforms and their first models in 2023, the C-Class and B-Class car platforms, respectively.

Better cost control will be achieved through advanced manufacturing techniques such as large-scale integrated design and large-scale integrated die-casting on the new platforms.

System platformization will drive changes in our power system, manufacturing processes, and BOM cost system. With the help of economies of scale and operating leverage, various expense ratios will continue to decline.

The NGP technology will be developed in Q2 2022, and the city NGP-supported cities will gradually expand after obtaining approval from high-precision map-related regulatory authorities.

XPeng will launch the XPILOT 4.0 with significant technological advances in 2023, realizing full-scenario intelligent assisted driving in both high-speed and urban environments.

Collaborate with the leading European dealerships to strengthen global sales and services by adopting an innovative direct sales and authorization linkage model similar to that in China.
In 2021, the shortage of vehicle chips and the rising cost of batteries continue to loom over the electric vehicle industry and are the two key points of the financial report conference call.
Q1: What is the installation rate and growth trend of XPILOT on XPeng Motors' vehicles?
A1: Currently, the delivery of XPeng Motors' XPILOT 3.0 is still affected by the shortage of relevant chips. However, we believe that the penetration rate will increase when the supply is sufficient, especially for XPILOT 4.0 in the future, which supports more usage scenarios and user habits, and its installation rate will be higher.
A2: How does XPeng Motors view the current 4 to 5 month delivery cycle?
Q2: Currently, the epidemic situation in China, especially in Shanghai, which plays an important role in the supply chain, will be the main challenge at present. XPeng Motors will strive to deliver vehicles faster than the expected delivery time.
Q3: What is XPeng Motors' battery strategy?
A3: In 2021, XPeng Motors experienced slow deliveries due to insufficient battery supply, and lithium iron phosphate batteries will account for a large proportion of XPeng's future models. XPeng will work with suppliers to maintain the supply capacity of battery packs. We believe there will be some changes in battery material prices in the first to third quarters. During this period, XPeng will work with partners to ensure that the cost of batteries is in control.
Seize Growth Opportunities and Look Ahead
In 2021, the "Big Three" Chinese new energy vehicle companies have sufficient cash and cash equivalents: NIO, Li Auto, and XPeng Motors hold RMB 55.4 billion, 50.16 billion, and 43.54 billion in cash flows, respectively. In the short term, the primary issue to consider is not profit or loss, but to maintain continuous and strong growth.
On January 7, 2022, the China Passenger Car Market Information Joint Conference revealed data: compared with the same period last year, the retail sales of passenger cars in China decreased by 7.9\% YoY in December, but increased by 15.9\% MoM. Among them, the retail sales of new energy passenger vehicles increased by nearly 1.3 times YoY and over 20\% MoM. The China Association of Automobile Manufacturers predicts that the penetration rate of new energy vehicles in China will be around 22\% in 2022, and the penetration rate of new energy passenger cars is expected to reach about 25\%, with a total volume of over 6 million vehicles.
Regarding vehicle models and production, XPeng plans to release two new platforms and their first models in 2023, and will use integrated die-casting and other advanced production technologies to achieve better cost control. XPeng Motors carried out technical upgrades at its Zhaoqing factory during the Spring Festival shutdown period and resumed production in mid-February as scheduled. The designed annual production capacity will reach 200,000 vehicles. The upgrade allows the orders accumulated by XPeng from 2021 to early 2022 to be delivered faster. However, the 200,000-vehicle capacity design of the Zhaoqing base is clearly not enough to meet future needs, so XPeng will speed up the new factory projects in Guangzhou and Wuhan to ensure that existing vehicle models and future products can meet market growth in terms of production capacity.
The Potential of XPILOT: Robotaxi
Robotaxi— a mythical creature that once caused a sensation in the smart car industry but then disappeared without a trace. Tesla mentioned a creative business model at the Autonomous Day in 2019: "Your Tesla, equipped with the FSD system, will run by itself and make money for you when you don't need your car." This idea caused a big stir. Suddenly, a car that has been idle for 10-12 hours a day becomes a money-making tool for the owner. According to Tesla's statistics, "your Tesla can run as a Robotaxi for 50-60 hours a week". However, the fully developed FSD is not yet launched, and the enormous fleet depicted by Robotaxi remains in the PPT concept.
The research and development of autonomous driving depend on the information data collected by vehicles in real road environments. Unlike the low popularity of Tesla's FSD system among Chinese customers, XPILOT 3.0 (referred to as NGP when used on highways) has an optional installation rate of 96.2% among car buyers, and the NGP penetration rate reaches 62% in high-speed situations. In other words, out of every 100 kilometers traveled on the highway, 62 kilometers are driven by vehicles equipped and turned on with XPILOT. XPeng may have the richest city and highway driving data among China's new energy automobile companies, and using XPILOT as a strong competitive advantage in the future is also logical.
In the Q3 2021 earnings conference call, He XPeng stated "XPeng Motors will start exploring the Robotaxi business in Guangzhou in the second half of 2022. Its short-term goal is to improve the stability and safety of autonomous driving algorithms through operating generalized scenarios." XPeng Motors can create huge commercial value by providing users with revolutionary travel experiences based on pre-installed Robotaxi software and hardware and cooperating with major travel operators.
On February 14, 2022, XPeng established Guangzhou Pengxu Autonomous Driving Technology Co. Ltd., a wholly-owned subsidiary with a registered capital of RMB 10 million, and its business scope includes IoT technology research and development, sales of intelligent onboard equipment, artificial intelligence application software development, and internet data services, etc. Combined with the timeline for the release of XPeng's XPILOT 4.0 with its "obvious technological advantages", XPeng may be quietly pushing the development of Robotaxi forward.The market prospects for advanced autonomous driving are very broad. According to research from China International Capital Corporation, the Chinese high-speed intercity logistics market is worth RMB 3.3 trillion, the autonomous driving service market for travel is worth nearly RMB 1.7 trillion, the unmanned driving market for mining areas is worth RMB 670 billion, the unmanned end delivery market is worth RMB 170 billion, and the market for self-parking services is about RMB 80 billion. If a fleet of vehicles equipped with XPILOT autonomous driving capabilities were assembled, it alone would bring huge profits to XPeng's business.
Choosing the V2X standard
The perception hardware for autonomous driving is constantly improving, and local regulatory laws and regulations are still being constantly improved. In current state of the industry, it is difficult to commercialize products such as Robotaxis. According to a view presented at a previous forum organized by the Electric Vehicle Hundred People Congress, "V2X multi-party collaboration is the technological route, and single-car intelligence is a necessary path." XPILOT, which utilizes laser radar and more powerful computing hardware as well as more advanced electronic and electrical architecture, is a critical step for XPeng as it moves towards "human-machine co-piloting by 2023 and fully autonomous driving by 2026". The high-precision maps required for Urban NGP are also key data for XPILOT to realize V2X (Vehicle-to-Everything) communication.
Tesla is the leader in single-car intelligence, and its strong vertical integration and rapid updates and iterations are key factors in Tesla's ability to realize single-car gross margins of over 30%. China's new forces in smart cars will inevitably not be satisfied with simple market expansion. In addition to achieving self-sustaining single-car gross margins, China's advanced autonomous driving path also carries enormous potential for infrastructure and data.
Compared with the common industry practice of "the one who takes the lead in the market sets the industry standard, and the successful head manufacturers become incumbents in various aspects of the market," in commercial competition, it is believed that in the dynamic land of China, there will also be "ideal co-ordination" for the landing of advanced autonomous driving technology. Not only NIO, XPeng, and Li Auto — the new energy "Big Three" — but all automakers will work together to promote new infrastructure for autonomous driving. A united and cooperative breakthrough by domestic auto companies may be the dawn of infinite possibilities and the future.
Finally, welcome everyone to download the Garage app to stay informed about the latest new energy news. If you would like to have more immediate communication, you can join our community by clicking here.
This article is a translation by ChatGPT of a Chinese report from 42HOW. If you have any questions about it, please email bd@42how.com.