Author: Kenvin
On March 18th, Chery celebrated its 25th birthday.
At the age of 25, Chery is facing a turning point. However, with the tide of change, the bell is tolling for traditional fuel vehicles, and the drums of new energy have already begun to beat. At this critical moment, Chery is deeply embroiled in a transformational quagmire that it cannot extricate itself from.
As the founder and leader of Chery, Yin Tongyue has made great achievements, but he has been caught off guard by the ideological conflict brought about by the changing times, especially when a series of talented people left him alone. The departure of his trusted subordinates, coupled with the cooling of the think tank, has left Chery out of sync with the times. Yin, after all, is too old to keep up with the times. The 25-year-old Chery needs a new leader and pioneer for the future.
Why is Yin Tongyue still obsessed with the limelight while Li Shufu and Wei Jianjun have already retired to the background?
Long-awaited Brand Deployment
According to recent news, Changan New Energy will establish a new brand for new energy vehicles—Qiyuan Automobiles. This means that Changan now has two brands, Qiyuan and Avita, to compete in the new energy market.
In recent years, Changan has been very successful in the traditional fuel vehicle market. Now it has finally opened its eyes to new energy vehicles.
With Changan's new strategy, it means that only Chery among the "Five Great Independents," including Geely, Great Wall, BYD and Changan itself, has yet to launch a new brand for the new energy vehicle market.
With the comprehensive reform of the new energy marketing system and the rapid expansion of traditional independent brand business, launching a new energy sub-brand has become a necessary step for traditional automakers.
Therefore, we have seen that Geely has launched the Geometry and ARCFOXa brands, Great Wall has launched the ORA and Salon Smart brands, GAC Passenger Cars has launched the AION series, and even SOEs such as Dongfeng have launched the Voyah brand.
In addition, foreign brands such as BMW have launched their i and EQ series, and Volkswagen has launched its I.D. series, and so on.
Therefore, the failure to launch a new sub-brand for new energy vehicles has undoubtedly become Chery's biggest strategic gap.
Why has Chery been slow to launch a new brand for new energy vehicles? What caused this huge strategic gap? According to insiders who spoke to reporters from "Electricity Movement," many Chery employees are not unclear about the changes of the times, but they cannot make substantial progress due to various obstacles.
Yin Tongyue also explicitly stated to the media that Chery will not launch a new brand for new energy vehicles. The problem seems to point to Chery's core management team.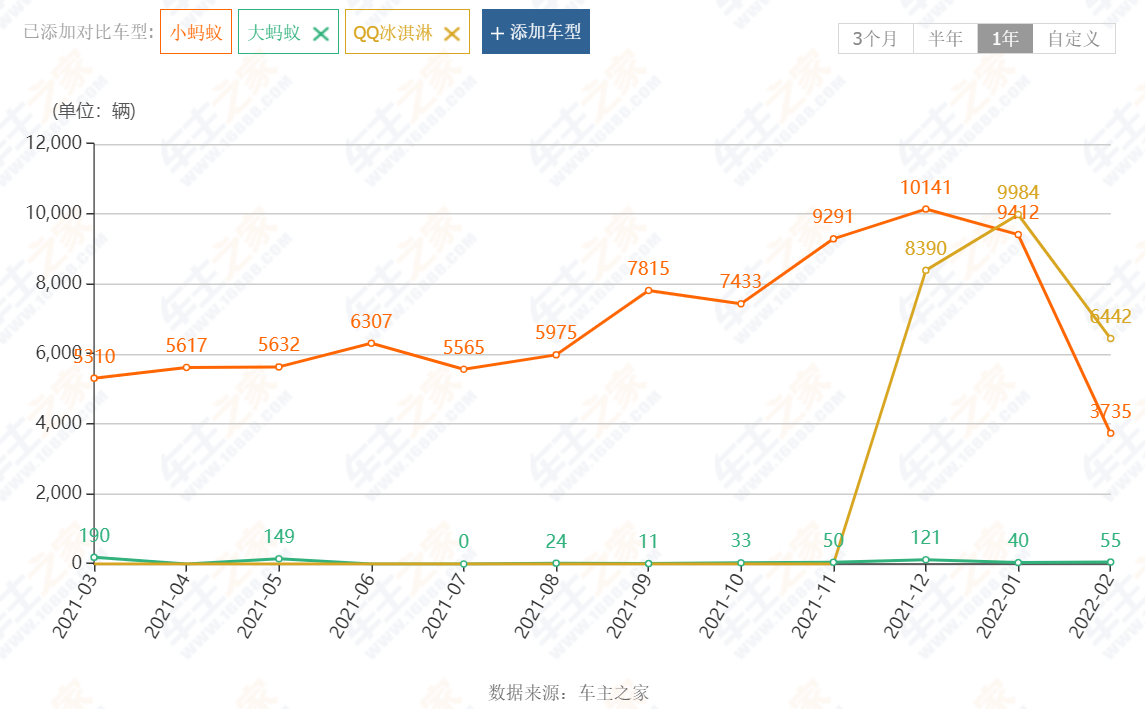 Yes, looking at the market changes in recent years: independent high-end, new energy brands, independent hybrid, sporty sedans, rugged off-road… at each milestone, has Chery really ever been a leader? It has almost always followed the other independents.
Except for one thing – exports. The data shows that in Chery's sales structure, exports account for almost half, which is both a glorious and sad thing.
As Chery's presence in the domestic market becomes lower and lower, how will Chery staunchly stand its ground among independent brands? Some may ask, has Chery become so desolate that it can only increase its presence through overseas markets?
Obviously, the Chinese market is the fundamental and most important market for Chery.
No matter facing external challenges or falling behind in the overall strategy, Chery should immediately awaken, fight back and reshape its former glory as the top independent automobile brand. After all, with new forces in the new energy market, such as Weiyuan Li, there is little time left for traditional brands, including Chery, to act.
Yin Tongyue, refusing to change
Assessing the strategic issues of an enterprise is difficult without examining the leader. For example, does Yin Tongyue realize the enormous changes of the times? Is he following the huge changes of the times? From some of his interview comments, it doesn't seem to be optimistic.
As we all know, the automobile industry is facing unprecedented upheaval, what kind of upheaval is it? What are its characteristics? What kind of future can it shape? All these haven't been mentioned much in the industry.
In fact, a single point can point the way: the nature of automotive companies has changed from an automobile company to a automotive technology company with the addition of the word "technology." Whether it's cutting-edge new forces or traditional brands like Volkswagen and Toyota, they all shout out the slogan of technology.
Although it's only two words' difference, the content has changed enormously.
Based on such a trend in the industry, the automobile is no longer just a means of transportation, but a mobile intelligent terminal. Tech-savvy auto companies can not only manufacture vehicles, but also manufacture mobile phones or other intelligent terminals, which is not surprising.
This is also why Geely has entered the mobile phone market, and Tesla and NIO have also entered the mobile phone market… Of course, changes go both ways, Apple and Xiaomi are also building cars. Although progress may be slow, the trend is unchanged.
In the product definition of technology cars, cars are essentially no different from mobile phones, tablets or computers – they all connect brands with users.
However, Yin Tongyue doesn't seem to have sensed such a revolutionary change in the times.Recently, rumors about NIO making smartphones have been circulating in the industry. When China Entrepreneur asked Yin Tongyue, Chairman of Chery, whether Chery will also make smartphones, he said no. The reason why auto companies make smartphones may be to build an ecosystem, expand their user base, and enhance their connection with users. Although I haven't done much research, we believe that the automobile industry is already a huge market.
Perhaps Yin Tongyue also understands the initial intention of tech companies in the automobile industry making smartphones. However, his conservative nature makes him refuse to change.
This kind of persistence is very frightening.
In recent years, there has been a lot of talk about comparing traditional automotive companies to "Nokia". Regardless of whether this is true or not, it will become a reality, indicating that some people believe it, and belief means possibility.
Letting Yin Tongyue refuse to change, is it because of his personality or his think tank's bias? We do not know for sure. What is certain is that time is moving forward rapidly, and Yin Tongyue's refusal to change can no longer control the fate of Chery or make any substantial efforts towards the future of Chery New Energy.
Between 2012 and 2014, under the leadership of Fang Yunzhou, former CEO of Chery New Energy, the company achieved profitability for the first time in its history, with annual profits reaching several hundred or even one thousand RMB, becoming the first profitable new energy company in China.
At a time when new energy carmakers are still investing heavily, Chery New Energy has already achieved profitability, which is a commercial miracle.
Facing an unprecedented opportunity, Fang Yunzhou knew that Chery New Energy would not be able to keep up with the pace of the times, and he left the Chery family with regret to start his own venture, Hezhong New Energy, which is now NIO. Today, NIO's sales volume is second only to that of the leading new energy car company, making it the darling of the era.
At this moment, we don't know how Yin Tongyue views Fang Yunzhou's journey in the automotive industry. Does he have any regrets?
Internal struggles never cease.
As Yin Tongyue said, the automotive industry is indeed a huge market, but Chery has not been able to benefit much from it. Looking at Chery's recent development, its performance has been fluctuating.
According to its public performance reports, Chery's net profit was a loss of RMB 530 million in 2018, RMB 392 million in 2019, RMB 7.37 million in 2020 and RMB 619 million in the first half of 2021.
Compared with the profits earned by Great Wall Motor and Geely, Chery's performance has indeed been average, which is also the root cause of Chery's inability to go public. Behind the profit lies a lack of strategy, weak product performance, and poor branding.
Reviewing Chery's recent development, whether in the traditional gasoline car market or the future new energy market, Chery has not performed particularly well, except for its export-driven growth. While increasing exports is encouraging, losing the domestic market will pose a problem.# 2021, Chery Group achieved a historic milestone with a total sales volume of 961,926 vehicles worldwide, representing a 31.7% YoY growth. Among them, Chery Group sold 692,772 vehicles in the domestic market, a YoY growth of 12.38%, while exporting 269,154 vehicles, a YoY growth of 136.3%. In addition, the sales volume of new energy vehicles surged to 109,028, a YoY growth of 144.6%.
This indicates that Chery's growth last year was largely driven by exports and new energy vehicles, while its core domestic fuel vehicle market has already hit a growth bottleneck. This dilemma has continued into this year, with Chery Group selling a total of 60,419 vehicles in February, including 19,997 exported vehicles and 10,702 new energy vehicles, amounting to nearly half of the sales volume.
In the fuel vehicle market, JETOUR, a spin-off brand of Chery Group, has become a superstar that outperformed the parent company. In 2020, JETOUR, which specializes in the "travel +" segment, achieved a total sales volume of 154,077 vehicles (including exports), a YoY growth of 17.9%. This performance can underscore a few things.
Yin Tongyue had said, "Chery has accomplished today's success of independent brands." This is undoubtedly something that Chery can be proud of, while also prompting the need for reflection for Yin, Chery Group, and co. As other independent brands are developing quickly, and even emerging powers like Hozon are starting to shine, internal disputes, confusion, and resignations are rampant in Chery's homebase.
Turning to the new energy vehicle market, although Chery's new energy vehicle unit is expanding its sales volume, over 90% of the growth comes from the "small ants," i.e., low-end cars. Meanwhile, the "big ants," i.e., high-end cars, have essentially failed to create any significant presence. Chery's performance in the high-end market is far from ideal compared to emerging powers like NIO and Li Auto.
Outside of the low-end and high-end markets, Chery has launched the QQ ice cream, a micro electric vehicle. However, it was unfortunately accused of copying Wuling's Mini EV. When other independent brands are striving to break into the high-end new energy vehicle market, Yin's move to replicate the success of the QQ could only be seen as a last-ditch effort.
Today, Jidu, Voyah, Avita, and Salon Zhixing are all thriving and poised to take off, along with NIO and Li Auto. Independent high-end vehicle brands have reshaped the landscape and have even challenged the dominance of BBA. It is evident that Chery's failure to seize high-end new energy vehicle growth opportunity is one of the biggest strategic mistakes it has made in recent years.
Yin knows that Chery's overall new energy vehicle development has stalled and is seeking change. However, his focus is on "advanced management" rather than on specific measures or self-reflection.
On February 11, Luxshare Precision announced that it had signed a strategic cooperation framework agreement with Chery, forming a joint venture to specialize in the R&D and manufacturing of new energy vehicles.### 尹同跃表示:
现在正是汽车与 IT 产业高度融合的阶段,双方的合作也不仅仅是技术上、生态上的融合,更多是管理上的融合。立讯精密能帮助奇瑞提升管理的精密度,也希望通过他们引入如苹果这类优秀企业的管理理念,促进奇瑞的变革。
自身拒绝改变的尹同跃,仍然执迷寻找企业的问题,并优化之,问题是,当一个企业已经 25 岁,它还能经得起多么大的折腾?在奇瑞内部,一场新的风暴正在孕育中。
This article is a translation by ChatGPT of a Chinese report from 42HOW. If you have any questions about it, please email bd@42how.com.