Author: Feng Jingang
A few days ago, I told a young colleague that in addition to basic professionalism, it is best to have some passion for work. Only with passion can we achieve excellence.
Interestingly, a car brand has incorporated love into its brand DNA. On February 15, 2017, the new technology carmaker Aiways was officially established, with the slogan "move with love". I think what is reflected behind this is not only the timely response of the Aiways founding team, but also their passion.
Time flies, and Aiways has just turned five years old. Looking back at the past few years of development, Aiways has had its highs and lows, but overall, like other new players, it was not an easy start.
On the one hand, compared with the first group of new players established in 2014, Aiways was established later and missed more brand exposure and financing resources; on the other hand, Aiways unfortunately encountered the new crown epidemic that started in 2020 during the most critical period when its new car was launched. This was like a bolt from the blue for a new brand.
Fortunately, two years later, Aiways is still alive, demonstrating its strong resilience, and has recently received a new round of financing and undergone another round of internal adjustments to prepare for another takeoff.
After eight years of ups and downs in development, including NIO and other new players who have proven that they are not just making cars on paper, but have become the backbone of the global new energy transformation. This transformation is significant, and from the perspective of the common internal driving logic of new players, the existence and future of the Aiways brand are also not a problem; it just needs resources and time to build.
At the right time and in the right circumstances, the story of moving with love will continue to be written.
A major adjustment for faster progress
In the past two years, with the strong rise of new players such as NIO, external perceptions of new players have changed significantly compared to previous years. Among them, traditional giants such as Volkswagen and Ford have even named new players as learning targets. The market analysis of new players by the Passenger Car Association also places them in a unique category.
All of these must be acknowledged. New players have become an important part of the automotive market, especially the new energy vehicle market. This means that new players who started making cars in 2014 have proven themselves with their achievements and capabilities.
Of course, we also see that it is not easy for new players to achieve today's results. They have grown through hardships, traversed history, and faced challenges like Li Bin and XPeng. There is no better saying than this inspiring sentence: "what doesn't kill you makes you stronger."## LoveChic Automobile Raises New Round of Financing to Support Production and Sales
LoveChic, like other new players in the automotive industry, has faced many challenges such as changes in core leadership, difficulties in financing, and limited market access. However, just recently, LoveChic announced that it has raised several hundred million dollars from a new round of financing, which will help the company to expand its overseas and domestic markets and support the production and delivery of its U5 and U6 models.
The financing comes from Chen Xuanlin and his Dongbai Group. Chen, who is a well-known figure in the automotive industry and current Chairman of Shanghai Zhongtong Reide Investment Group Co., Ltd., is highly experienced in automotive investment and operations. After participating in multiple rounds of financing for LoveChic, he will now become the new Chairman of the company, and the former Chairman, Fu Qiang, will serve as the founder and CEO.
Along with the new financing, LoveChic has also made some key personnel changes. Zhang Yang, formerly Vice President of Industry Development at Nio, will join LoveChic as CEO and lead the company's main business operations. The new leadership is expected to bring new development opportunities and enhance the company's market channels, capital operations, user experience, and digitalization.Can NIO's success be applied to Aiways? It remains to be seen.
Compared to previous personnel adjustments, Aiways' latest changes have had a significant impact, resulting in various opinions from the public. Electric momentum believes that adjustments are normal and necessary for new players to develop. For Aiways, if this adjustment can once again inspire fighting spirit and bring the brand back on track, it will undoubtedly be a highly anticipated move by all parties.
Regarding the management's reorganization, Aiways stated, "The new governance structure will greatly assist Aiways in improving company management and product structure, enhancing operational efficiency, focusing on strategic development, and improving corporate competitiveness and influence."
With the establishment of a new leadership team, a brand new image of Aiways has been established, and with the preliminary resolution of funding issues, all aspects of Aiways' work will expand, initiating a new round of attacks and continuing to keep pace with the times.
Overseas markets have performed well, but how to break through the domestic market remains the key.
Last year, the top three new energy vehicle players–NIO, XPeng, and Li Auto–each sold nearly 100,000 vehicles, while WM Motor and Polestar each sold tens of thousands of vehicles. Aiways and Horizon, as the second wave of new energy vehicles established in 2017, sold thousands of vehicles per year. Based on these data, Aiways and Horizon were once deemed to have no opportunity.
Obviously, such criticism is too one-sided and stereotypical. Aiways and Horizon encountered the COVID-19 pandemic as soon as their new models hit the market, which is an undeniable fact. Taking a step back, Aiways and Horizon's performance is not worse than that of the first few new players in the past five years. Therefore, whether judged based on objective facts or the performance of other new players during the same period, it is premature to dismiss Aiways and Horizon as a lost cause.
From the new round of financing obtained by Aiways at the beginning of the year, and the series of financing cooperation just signed by Horizon, it is evident that the capital still has a positive outlook on the two new players. Therefore, for Aiways and Horizon at present, money is not the most difficult issue; rather, the key is how to continue to achieve further development, which involves brand features and market layout and other management elements.
Currently, new energy vehicles have established their position and each has its own characteristics, jointly creating a sense of beautiful coexistence. As for Aiways, being born global is undoubtedly the most significant and core characteristic, including product development, channel layout, and marketing direction, all demonstrating a global style.
Although globalization poses higher demands on brand management, in the long run, products will be more easily favored by consumers. For Aiways, which is only five years old, it is still in the brand management stage, including dual domestic and international market layouts, global product development, and the need for more substantial funding.
Although Aiways has chosen a difficult path, it has achieved remarkable results. Time will not let down those who are moving forward.From May 2020 to the present, in a total of 21 months, Aiways, the earliest new automaker to obtain the EU's new vehicle admission qualification, has successfully entered 11 developed countries in the European Union, including France, Germany, the Netherlands, Belgium, Denmark, Israel, Italy, Switzerland, Spain, Portugal, and Sweden.
In terms of sales, Aiways exported 1,676 new energy vehicles in 2021, a year-on-year increase of 62.9%, with a cumulative export of 2,783 vehicles so far. Furthermore, Aiways has become the best selling Chinese automaker in the EU market and one of the top three electric vehicle brands in the Israeli market.
At 10 p.m. on January 18th, 78 Aiways U5s were gradually being transported to Israel from the Aiways factory logistics center in Shangrao, marking the first batch of new energy vehicles exported by Aiways in 2022. An Aiways staff member said, "From last year till now, there has been overwhelming demand for orders from overseas markets. We are working hard, overtime, to make up for the time lost due to the pandemic."
Today, it was learned from Aiways that 64 Aiways U5s will leave the Aiways factory in Shangrao to be shipped to Europe. In addition, 126 Aiways U5s are ready to be shipped in the next two days to Europe and Israel.
Every brand has a different development trajectory. In the eyes of Aiways, they have opened a fast "lane" with globally recognized quality, product strength and innovative sales strategies, thanks to its forward-looking strategic layout. As of the end of 2021, Aiways had applied for 1,060 patents, providing a solid foundation for its rapid product development and global consumer acceptance.
Currently, the new leadership team of Aiways has yet to speak publicly or give specific details regarding the company's future plans. However, it can be confirmed that regardless of what the next steps for Aiways are, the difficulty will be significantly lower compared to when the brand was established five years ago.
As mentioned earlier in the text, the survival environment for new automakers is much better now than it was a few years ago. Secondly, Aiways has accumulated a good foundation, not only building the brand, but also providing the courage for Aiways people to move forward. Although Aiways is not currently the best-performing new automaker, their hard work is visible to everyone.
On February 17th, the WeChat public account of the China Association of Automobile Manufacturers published an industry article titled "Macroeconomic Data | Top Ten Countries in China's New Energy Vehicle Exports in 2021", with the head image featuring the Aiways U5 offline ceremony.
Perhaps Aiways is not the Chinese new energy enterprise that exported the most last year, but as a young new automaker who dared to seek exports, it is worth remembering and learning from by all Chinese automotive people.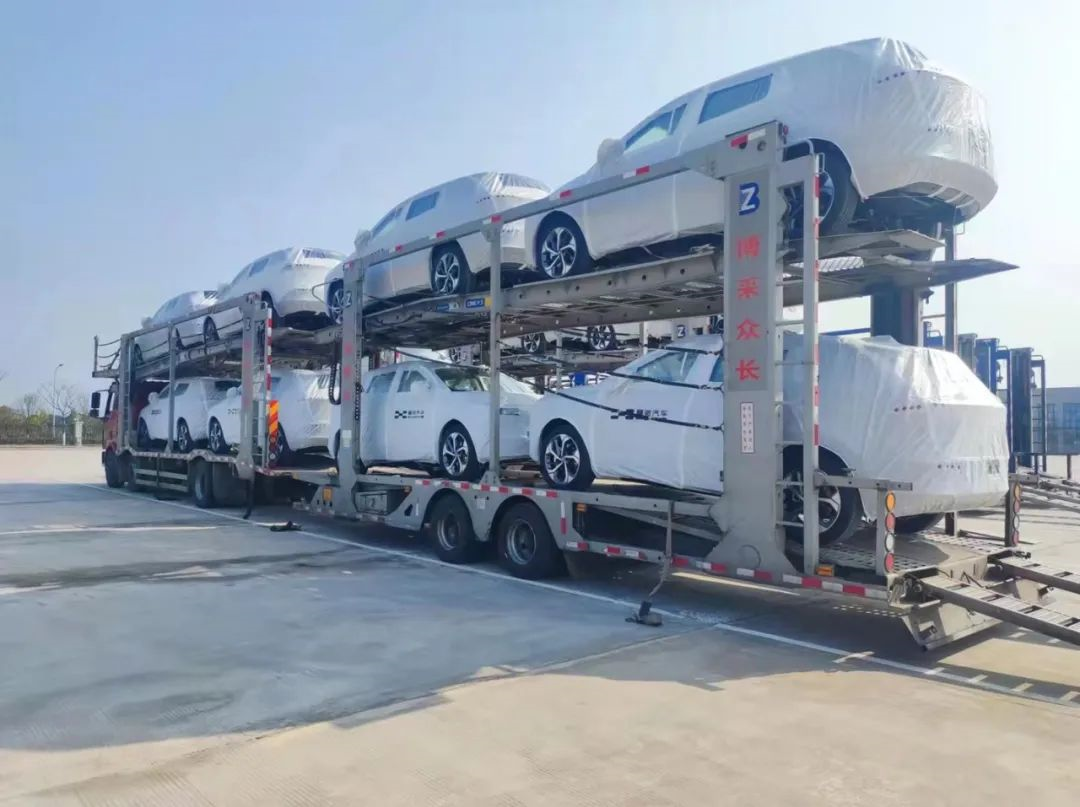 Looking forward to 2022, Aiways intends to continue focusing on the EU and Israeli markets, truly implementing its global strategy. Meanwhile, it will accelerate expansion in markets outside of Europe, bringing Chinese intelligent new energy vehicles to more countries and regions, and leading China's intelligent manufacturing towards the world.
As a brand with globalization in its genes, Aiways will have even more first-mover advantages in the trend of China's new energy globalisation. Once globalisation is implemented, Aiways will undoubtedly make qualitative leaps in systematisation, whether in market leadership or product competitiveness, and breakthroughs in single markets, such as the Chinese market, will be within easy reach.
Of course, Aiways has already made corresponding arrangements for its domestic market. To achieve further breakthroughs, however, more investment and more management skills are needed. Balancing domestic and international resources will be a real challenge. As for how to answer this question, we will leave it to the new leadership team.
This article is a translation by ChatGPT of a Chinese report from 42HOW. If you have any questions about it, please email bd@42how.com.