Author: Deluo
In 2022, there will be many new pure electric vehicles released, and the NIO ES7 and XPeng G9 are probably the two most anticipated models in the market.
Compared with the ES7, G9 has more and heavier responsibilities in supplementing the product line, such as shouldering the brand's upward responsibilities for XPeng's flagship product, demonstrating XPeng's complete smart driving technology, and occupying the ecological position of large pure electric SUV in the new energy market.
Therefore, XPeng hopes to sell G9 as soon as possible, while XPeng's fan users hope to buy it as soon as possible. This kind of bidirectional scenario in the car industry is indeed rare.
Why is G9 racing against time?
To answer this question, we need to look at XPeng's sales and ecological position.
First, let's talk about sales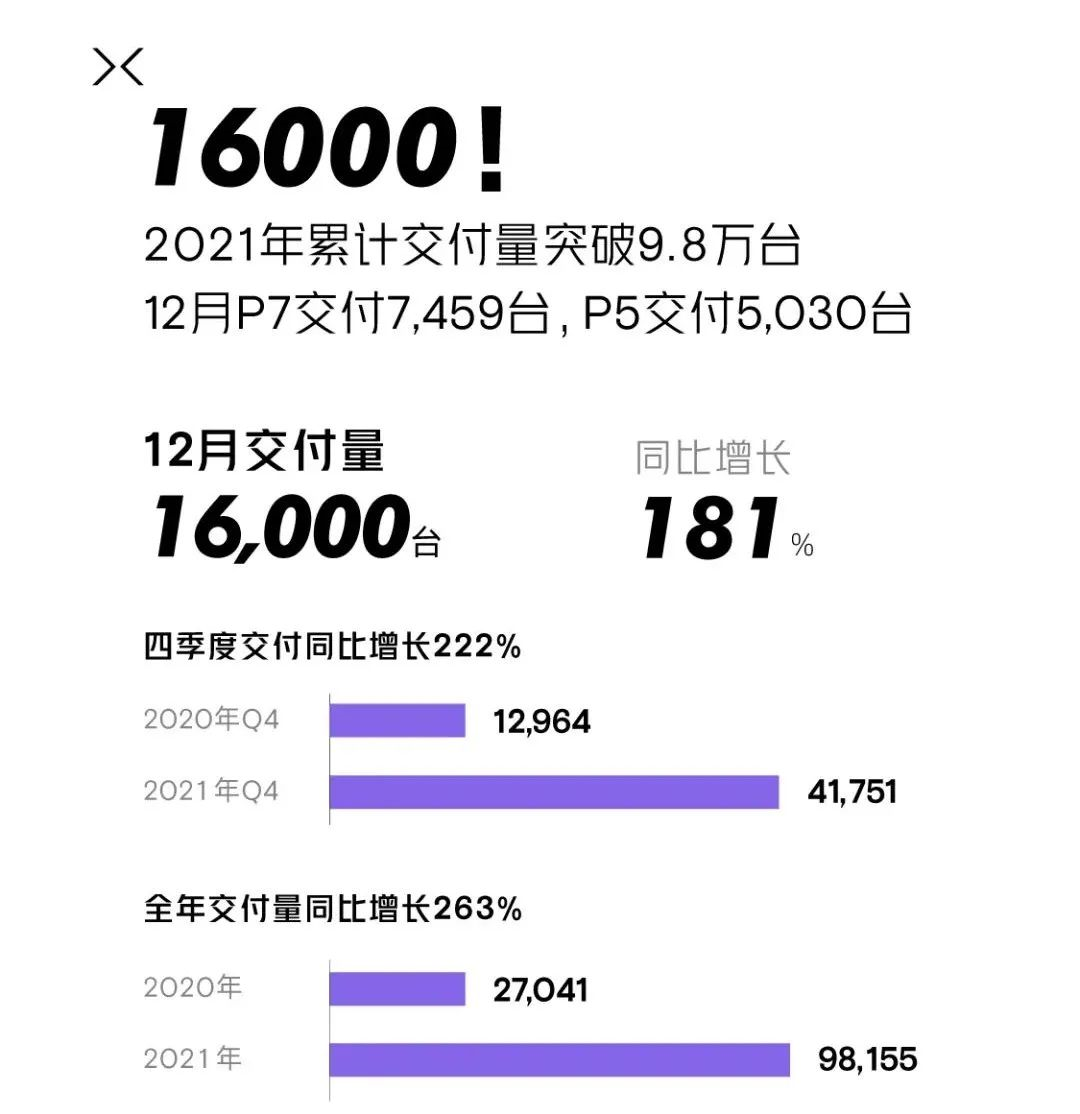 According to XPeng's official data, the total delivery volume of XPeng in 2021 reached 98,155 units, with P7 delivering 60,569 units, G3 delivering 29,721 units, and P5 delivering 7,621 units throughout the year.
With the January delivery volume of 12,922 units, XPeng's historical cumulative delivery volume has exceeded 150,000 units.
One question: Is XPeng's sales data good?
The answer is: good, even very good.
We should know that it has only been three years since XPeng started delivering the G3 in December 2018, which is not easy for a new brand. Just look at Tesla's first-generation Model S to Model 3.
It shouldn't be a problem to continue to produce and deliver at the current pace, right? Don't be impatient, read on.
Next, let's talk about the ecological position
We need to look at the industry to understand this ecological position.
First, let's talk about a few figures:
In 2021, nearly 6.5 million new plug-in electric passenger vehicles (including PHEVs) were added globally, an increase of about 108% over the 3.1 million in 2020. The average market share increased to about 9% (including 6.1% of BEVs), compared to 4% (including 2.8% of BEVs) in 2020.
BEVs: About 4.6 million units (a year-on-year increase of approximately 115%), with a market share of approximately 6.1%;
PHEVs: Approximately 1.9 million units (a year-on-year increase of approximately 93%), with a market share of approximately 2.9%.
In 2021, the registered total of plug-in electric vehicles (including PHEVs) in China is about 3.23 million, a year-on-year increase of about 153% compared to the 1.27 million in 2020.- BEV: Approximately 2.4 million units, accounting for roughly 12% of the total market share (5.1% in 2020);
PHEV: Approximately 800,000 units, accounting for roughly 3% of the total market share.
This is quite interesting. Plug-in electric vehicles in the Chinese market almost account for half of the global market. Therefore, the new energy vehicle market needs to look at China, and the Chinese market needs to look at pure electric vehicles.
If XPeng's delivery volume of 98,155 units last year is calculated against the 2.4 million units of pure electric vehicles in China in 2021, XPeng's market share is roughly 4%. If XPeng's accumulated delivery of 150,000 units is taken into account, the market share will be about 6%. In 2020, this number for XPeng should have been around 2.8%.
Why mention this?
Because, even though new car manufacturers like XPeng, NIO, and Xpeng have performed very well, XPeng is still a "small company" compared to the entire market. Capital usually does not require short-term profitability from "small companies" but rather expects sustained growth rates.
At this point, you may ask, isn't XPeng's growth rate fine? It doubles every year. The problem here is that if you are a U.S.-listed company, your sales cannot just outperform yourself; you also have to outperform the market.
In short, pure electric vehicles are penetrating the Chinese market very quickly. New car brands, including XPeng, need to seize the first-mover advantage at such a critical point, continuously increase their market share, and continue to improve their growth rate.
What does it take to increase the growth rate? Obviously, it's the product.
"Upgrade" and "Occupying a Spot" – Two Key Words
Currently, XPeng is selling the G3i, P5, and P7 models. The main selling model is still the P7, which sells well mainly for two reasons: first, high level of intelligence; second, few competitors.
Starting in 2022, these two advantages are actually weakening. There are not many problems with XPeng's ability to reuse intelligent cockpits, and each model can be easily transplanted. On the other hand, XPeng's proud self-developed intelligent driving technology is becoming a troublesome issue. The NVIDIA DRIVE Xavier automatic driving chip equipped on the P7 can be said to be one of the strongest chips installed before mass production. The self-developed XPILOT 3.0 system has also logically implemented functions such as NGP and become one of the best assisted driving systems on the market.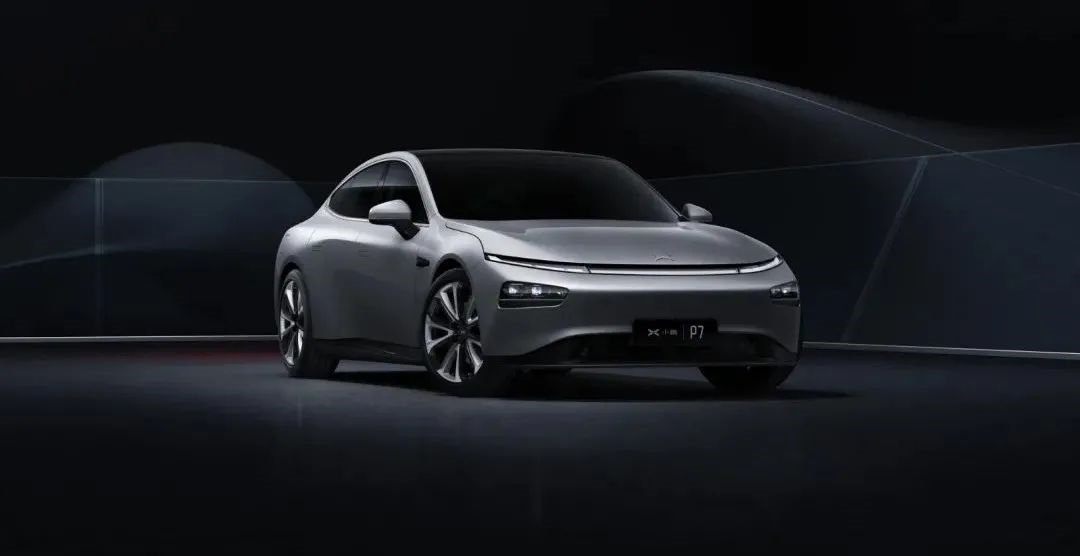 Looking at the P7, it successfully achieved the strongest independent brand automatic assisted driving hardware framework with less than 30,000 RMB, even in 2019 and still today, and implemented the best high-speed navigation assist function.
Compared with NIO and Tesla, whose average prices are above 400,000 RMB and above 300,000 RMB respectively (in 2020), the P7 undoubtedly reflects higher cost performance. What's important is that the B-class pure electric sedan market has few competitors, giving the P7 more space.In P5, this kind of success is even more obvious. During the period from 2021 to 2022, P5 has created the first urban NGP function in China, namely XPILOT 3.5 system, at the price of around 200,000 CNY.
Judging from Tesla's pushing pace, it is still uncertain whether the FSD Beta function can be tested in China in 2022. Therefore, the P5 of XPeng Motors is expected to be the first model to achieve urban assisted driving in China, at a price of less than 200,000 CNY.
So far, everything has gone smoothly. However, the iteration of intelligent driving system requires a more advanced hardware architecture, which is a necessary condition to support high-level systems. The P5, based on the same Xavier chip as the P7 and equipped with lidar, can achieve urban NGP. Wu Xinzhou pointed out that due to the computing power limitation of the chip, the ability of XPILOT 3.5 will not be generalized on other models.
That is to say, P7 needs to replace its hardware to realize XPILOT 3.5. Although XPeng Motors has claimed that P7 supports hardware upgrade to XPILOT 4.0, the probability of the upgrade is low given their execution on "sustainable growth." Therefore, if P7 wants to maintain its sales in 2021, it needs to have a facelift at this stage.
This brings about several questions:
When will the renewal be launched?
Will it directly adopt G9's hardware, or just add lidar?
How will the car price increase after adding lidar?
If the facelift takes place this year, can existing customers' orders be transferred to the new version? If there is no facelift this year, P7 owners can only watch others' XPILOT 3.5 system updates under the current hardware architecture.
If not handled properly, this issue will definitely have an impact on P7's sales, which does not necessarily mean a decline, but also refers to how to expand new orders, especially when Nio ET5 is about to launch this year. Although ET5 has always claimed that its major competitors are Model 3 and BMW 3 Series, there are not many players in the B-class pure electric sedan market, and ET5's configuration is indeed higher than the current P7, resulting in a fraction of their overlapping users.
Apart from Nio, other brands' various segmented models are eager to try, leading to a more diversified market selection, and thus more scattered orders.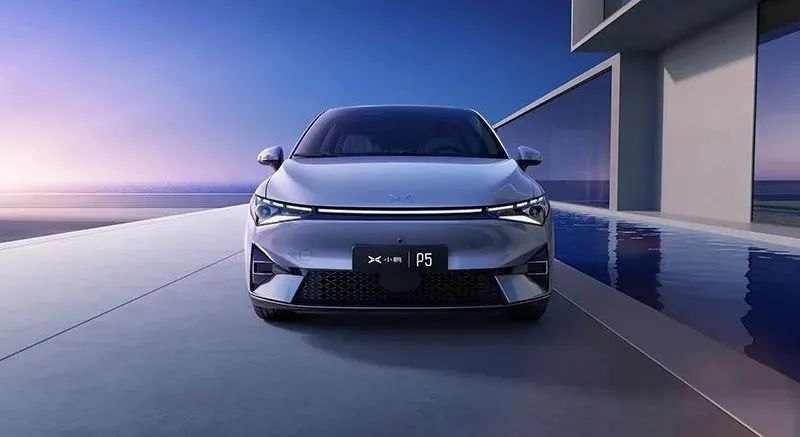 Compared with P7, the P5 still has uncertainties.The P5 is the first smart car to be mass-produced with LiDAR. Don't underestimate the significance of being the first. When the P5 was launched, the market had high expectations that it would be a best-seller.
In reality, the results were as follows: October 2021: 437 units, November 2021: 2154 units, December 2021: 5030 units; January 2022: 4029 units.
The conclusion is that these results are excellent; they demonstrate that the P5 is a success for XPeng Motors (the January drop was probably due to the Chinese New Year).
For the A+ market, which the P5 targets, XPeng hasn't achieved the conversion rate that sells tens of thousands of gasoline vehicles per month. At present, it seems that XPeng may not achieve this in the near future. In the next few years, it will be difficult for the P5 to surpass sales figures of 7,000-8,000 units.
At this point, we can answer the question we raised earlier: XPeng's outstanding performance can be maintained given its current product line. However, as mentioned earlier, investors are interested in sustained growth rate that exceeds the market's benchmark.
XPeng's latest conference call has garnered widespread attention. The minutes of the conference call contained a vast amount of information, including details concerning G9, January order status, battery supply, model price hikes, and sales volume.
I've summarized a few key points:
XPeng's sales guidance for 2022 is 250,000 units (P7: 100,000, P5: 67,500, G3: 47,500, G9: 35,000; P5 B-end sales: 50,000).
Since January 2022, XPeng has raised its vehicle prices by RMB 4,000-5,000 (due to subsidy declines and rising raw material costs).
CATL (Contemporary Amperex Technology) has raised its battery prices by RMB 3,000 per unit. As a result, XPeng will switch to batteries produced by Aviation Lithium Battery Technology (ALB).
G9 presales will begin at the Beijing Auto Show in April 2022. Small-batch deliveries will begin at the end of August 2022, with largescale deliveries starting at the end of September 2022. They predict that 5,000 vehicles will be delivered in October 2022.
The expected monthly sales volume for the G9 is 4,000 units.
Pure electric vehicle sales in 2021 totaled 2.4 million units; it is predicted that this figure will grow to over 4 million units in 2022.
Investors at the conference call focused on the order status and cost issues, which corroborated our earlier statement; that is, investors want companies to make a profit and have sustained high growth which helps maintain stock prices.
According to XPeng's experts, they've stated that their sales guidance for this year is 250,000 units, with an aim towards 300,000. XPeng's models are divided into P7 (100,000), P5 (67,500), G3 (47,500), G9 (35,000), and P5 B-end (50,000).Here's what XPeng can do: speed up the P7 facelift, accelerate the delivery of G9, and push for the city NGP. This is the only way to build momentum for XPeng's product line.
The arrival of the G9 not only adds to the product line, but also improves the brand and increases profits.
According to the minutes, NIO will increase the cost of each vehicle by 3000 yuan this year, which will be a significant blow to XPeng. Experts say that the rise in the cost of supply chain materials can be balanced by the price of vehicles, but it should be noted that if the P7 facelift is to include a LiDAR, which is a significant cost, it needs to be factored into the price of the vehicle.
In addition to the G9, XPeng's current products are all positioned as "cost-effective," so the delivery of high-end products such as the G9 can balance profits and costs.
However, the higher the flagship product and the more advanced the technology, the greater the uncertainty, and the G9 is no exception.
The Two Major Challenges of G9
From the currently released data, the flagship G9 lives up to its name in terms of positioning, with Nvidia Orin chips, LiDAR, and an 800V platform, incorporating almost all of the best hardware available for intelligent electric vehicles.
Using so many great features has its advantages and disadvantages, such as a significant increase in the difficulty of engineering development.
The XPeng G9 uses the XPeng XPower 3.0 power system, which has summarized online five key features:
High voltage, all components in the car are 800V grade and can support 800V high voltage;
Supercharging, XPeng car's maximum charging current can reach 600A or more, which is very difficult to achieve. XPeng has reduced the resistance of the high voltage connection in each link, and also needs to achieve special safety protection in special situations. XPeng has also developed a 480kW charging pile to achieve high current, and a liquid-cooled charging gun to greatly reduce the weight of the gun and provide excellent experience.
High energy, fast charging alone cannot meet the user's vehicle use experience, and high energy is required to meet user needs;
Efficiency, to achieve this goal, XPeng uses silicon carbide to achieve the highest efficiency of the electric drive system, reaching 95%;
Strong power, achieved by combining the electric drive assembly with the battery assembly. In terms of batteries, XPeng must use high-energy-density and ultra-fast charging cells, while also developing a more efficient thermal management system, including battery pack thermal management and overall vehicle thermal management, to efficiently transfer the heat generated during ultra-fast charging to the outside of the vehicle.
According to XPeng's progress, if there are no accidents, the G9 will be China's first mass-produced 800V high-voltage SiC platform vehicle.
Therefore, the two major challenges of the G9 are actually the high-rate battery before mass production and the supply of silicon carbide modules after mass production.
First, let's talk about silicon carbide.Carborundum has emerged almost along with the demand for electric vehicles and high voltage platforms. Simply put, using Carborundum on high voltage platforms has advantages over IGBT in terms of high voltage resistance, high temperature resistance, high frequency, and small volume.
From a technical perspective, the impact of Carborundum on the industry is still relatively small. The key point is the current production capacity. The entire power component industry is also a complex industry. Basic manufacturing, from SiC substrates, epitaxial wafers, devices, and module manufacturing, are mostly occupied by companies such as STMicroelectronics and Infineon.
According to TrendForce's data, there are currently 600,000 Carborundum wafers in the global market, and G9 is the stage when 800V platform models start to explode. At present, Carborundum's production capacity is basically occupied by Tesla alone, accounting for more than half, and other global models may receive even less.
Moreover, the NIO ES7, which was launched at the same time, will also be fully equipped with Carborundum. From this perspective, there may be uncertain factors for Carborundum in suppliers.
Let's talk about high-rate batteries
It refers to the "current value" output by the battery within the specified time to discharge its rated capacity. 1C means the current required to discharge the battery capacity in one hour. 2C means the current required to discharge the battery capacity in half an hour.
Simply put: The higher the rate, the larger the current.
According to the previous report by "latePost":
Xpeng Motors has confirmed that it will use Xinwanda's 4C high-rate power battery in G9 (4C batteries can adapt to fast charging). Xinwanda will be the A supplier of a certain version of G9, with a supply share of more than 50%.

At last year's May earnings conference, Xpeng Motors Chairman and CEO He XPeng stated that the production of lithium iron phosphate batteries was in short supply, causing uncertainty in Xpeng's production. This situation continued until the end of the year.

Car companies do not want to overly rely on a single supplier. Apart from Xpeng's actions, Guangqi Aion, NIO, also used suppliers other than CATL in their new cars. Geely, Xingwanda, Funeng and other battery companies jointly produce batteries. FHT, which was spun off from Great Wall, received 20 billion yuan in financing last year. BYD has been self-developing batteries and building factories.
From this, it can be seen that Xpeng has chosen a diversified supplier solution to ensure production capacity supply. However, there is still a question here. If Xinwanda accounts for 50% of the supply in Xpeng G9, and Xpeng G9 uses high-rate batteries, the possibility of sharing production capacity with other car companies is small. Xinwanda needs to set up an independent production line for Xpeng, so setting up a new production line also takes time.
More importantly, the technical requirements of high-rate batteries are also high. It is known that CATL began mass production of large batteries in the second half of 2021, and it is still unknown whether the performance of Xinwanda's high-rate batteries is different from that of CATL.In summary, these two aspects are the uncertain factors for G9 in mass production and delivery, and they are also the cost that high-performance hardware needs to pay.
Conclusion
XPeng is under considerable pressure this year. On the one hand, there is the pressure of adjusting various product lines; on the other hand, the market is changing, and G9 will face competition from NIO ES and ES7, and P7 will face ET5. There is definitely pressure for overall delivery.
Based on XPeng's guidance, the sales volume of the four models is 250,000 units per year, of which 50,000 units are still in the B-side market. It can be seen that XPeng has expectations for its own pressure.
In addition to brand, profit, and sales, G9's delivery is actually "taking a seat" in the new energy vehicle market, and both new forces and traditional leading companies are doing a task, which is to quickly cover the products of the mainstream segmented markets. G9 is occupying the seat of medium-to-large SUVs in this segmented market, seizing the rare advantage of being the first to market.
In 2022, in addition to advancing intelligent research and development tasks, XPeng's biggest task is to increase the growth rate on the basis of 2021.
This article is a translation by ChatGPT of a Chinese report from 42HOW. If you have any questions about it, please email bd@42how.com.