Author: Turbocharged Little Fatty
When it comes to the Seres Huawei Smart Selection SF5, I believe even an ordinary consumer of new energy vehicles will not feel unfamiliar.
The Seres Huawei Smart Selection SF5 made its official debut at the 2021 Shanghai Auto Show and was also available for purchase at Huawei flagship stores. This move resulted in the sale of over 3,000 units within two days and over 6,000 units within a week.
Regardless of whether you want to buy a Seres Huawei Smart Selection SF5 or not, its popularity at that time can be described as "well-known to all".
However, as time went by, Seres encountered a problem: production capacity. At that time, the longest delivery time was two months. As consumers gradually "lost patience," the actual sales volume of the Seres Huawei Smart Selection SF5 also "ended up in a pitiful state".
But at the end of 2021, a new brand born out of cooperation between Seres and Huawei, AITO, introduced its first model, the WENJIE M5.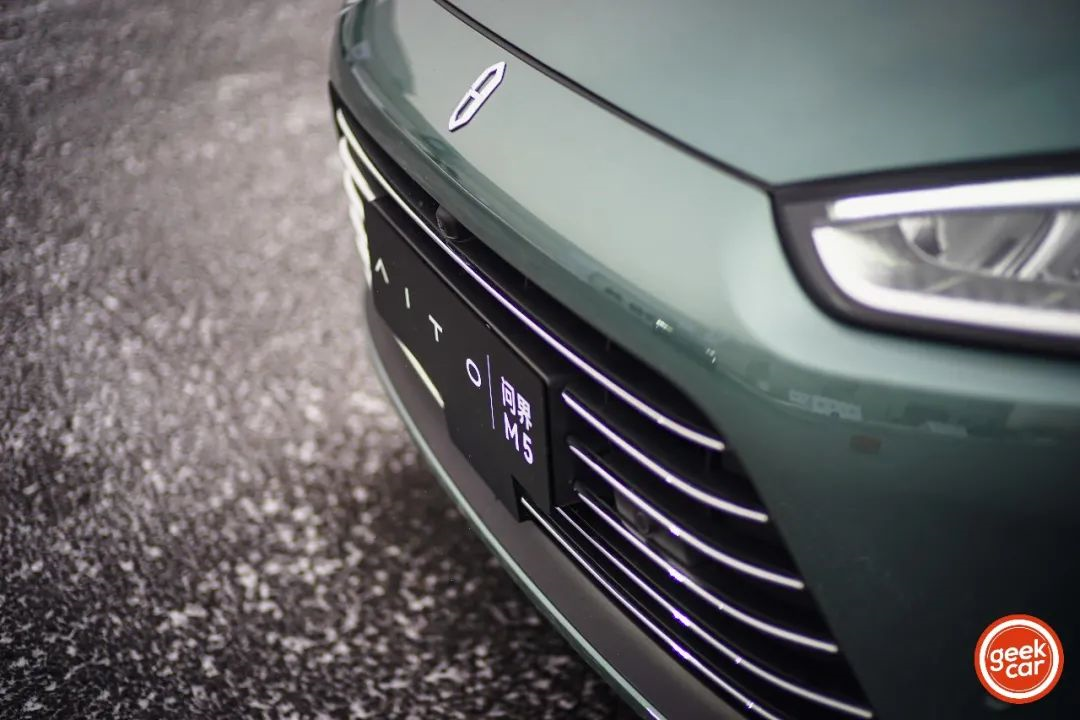 Although this is a brand new brand, Huawei's influence can be seen everywhere on the AITO WENJIE M5, from the motor and electric drive system to Huawei SOUND sound system and Harmony OS cockpit. It can be seen that with the Seres Huawei Smart Selection SF5's"poor performance," Huawei and Seres had to "make another effort."
This time, I participated in the test drive event of the AITO WENJIE M5. Unfortunately, due to heavy snow on the day of the event, for safety reasons, we were not arranged to test drive on public roads. We only had a static experience of the WENJIE M5's cockpit and a dynamic driving experience in the venue.
P.S. The test car for this experience was still a prototype.
Let's start with some pictures
As for the appearance of the car, I won't make too many comments, after all, "everyone has their own preferences." So I'll just share some of my live photos: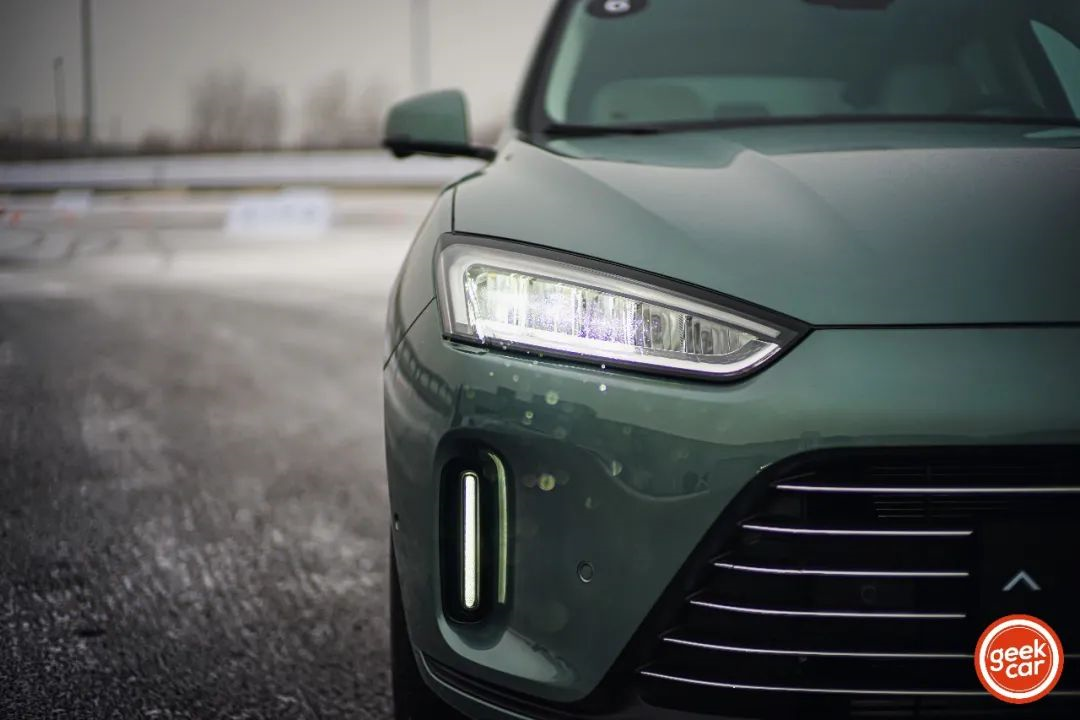 # Putting "Hongmeng Tablet" into the Car
In the first part, let's talk about the cabin, which may be the part that most people are concerned about because the AITO Wanjie M5 is equipped with the Huawei Hongmeng OS car system. As for the overall experience, let's start with a video:
After watching the video, let me ask you a question: Do you remember this sentence?
The 2K resolution refers to the central control screen resolution of 1920*1080. The requirement for a 2K resolution is that the horizontal resolution reaches about 2000 pixels.
Yes, this data comes from the Huawei Winter Flagship New Product Launch in December 2021, and this data was specifically annotated for the resolution of the central control screen of the AITO Wanjie M5, which debuted for the first time. Of course, it has also sparked a lot of controversy.
But at least after my experience this time, I believe that if you look at this screen without the question of "whether it is 2K?", this central control screen has performed well in terms of clarity, color, and transparency. It does indeed have a good display effect.
As for why I said it looks too much like a "tablet"? Then let's take a look at how many wallpapers and screensavers the Hongmeng OS car system of the AITO Wanjie M5 provides.
With my point of view, the metaphor of "a tablet" is mixed with both joy and sadness.
What do I mean by "joy"?>First of all, many of the users who have been following and ordering the Seres Huawei Smart Selection SF5 are Huawei users and "Huafans", so they are more in line with their daily habits of using mobile devices when using such a car system, and can easily get started.
>
To sum up in one sentence: Huawei users have a higher acceptance rate.
What is "Worry":
Unlike other car homepage designs like "Map as Homepage" or "Card-style UI Filling the Screen", the homepage of the Wanjie M5 with HarmonyOS car system is more like a mobile device, and the screen utilization rate of the homepage is not actually high. We can see that most of the screen space is reserved for the wallpaper.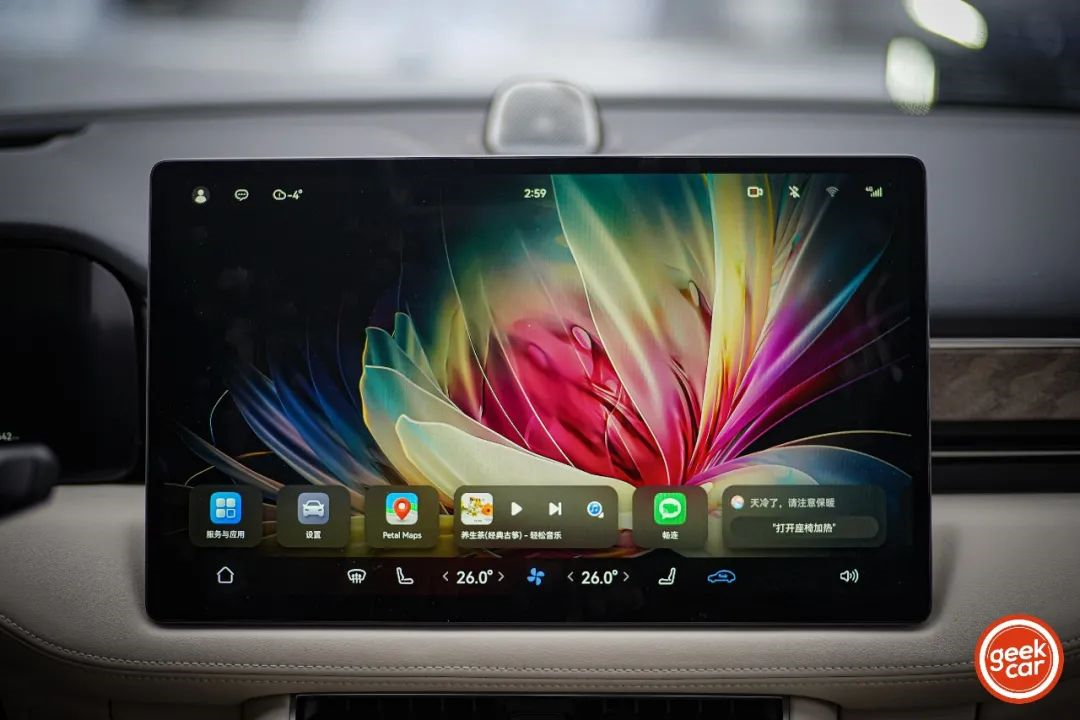 Now let's take a look at the Smart Dock bar. Its size is not large, and it should be the smallest in the card-style UIs of the car systems that I have experienced. Such "cards" are not very convenient for interaction in driving scenarios, especially during driving. Personally, I think the card-style components of the Smart Dock bar should be appropriately enlarged.
After talking about the homepage, let's take a look at other functions and applications in the Wanjie M5 cabin.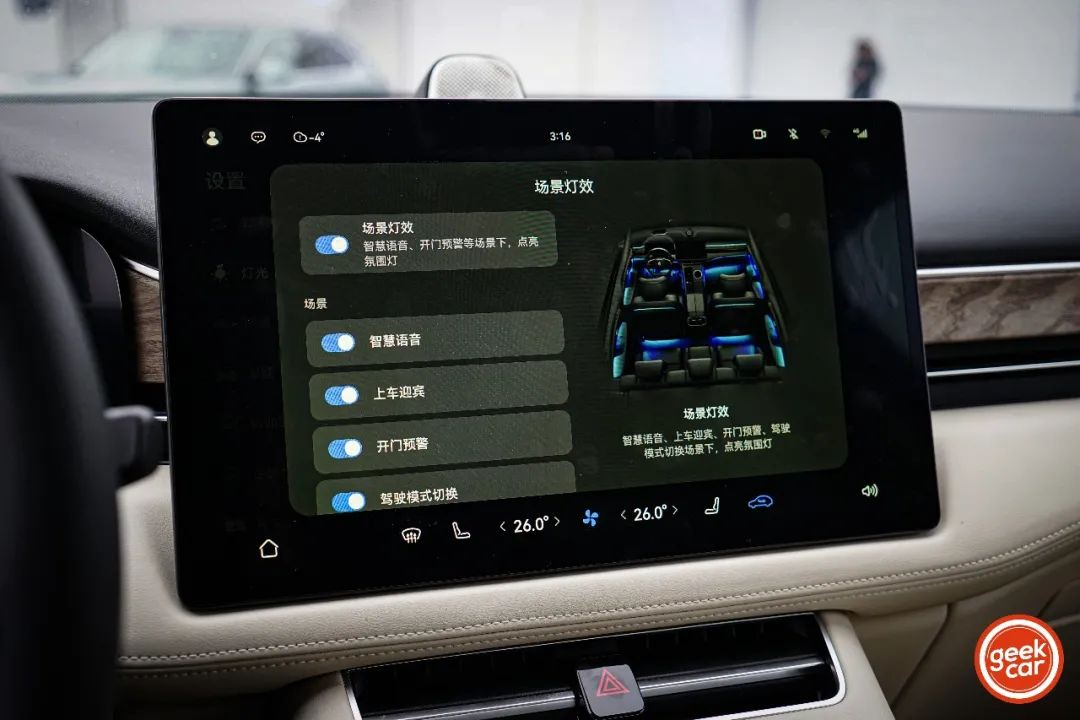 In addition to the 128-color ambient light, the Wanjie M5 cabin is also equipped with scene lighting effects that can be matched with scenes such as voice interaction, driving warnings, and driving mode switching. However, as this was a test drive inside the venue, I did not find a darker place, so I did not experience this function.
In terms of cabin interaction, what I value more is voice interaction, because in this era where screens are gradually replacing physical buttons, the most convenient and fast interaction method is voice.
The voice assistant used by the Wanjie M5 is Huawei Xiaoyi, which supports four sound recognition zones in the cabin. Like Huawei mobile devices, you can use "Xiaoyi, Xiaoyi" for voice wakeup, and you can also modify Xiaoyi's tone, wakeup words, and responses.
Currently, Xiao Yi can control navigation, multimedia, phone, and air conditioning in the car. In the setting of intelligent voice, you can also choose to turn on/off intelligent listening, voice wake-up, and incoming call voice broadcast.
When intelligent listening is turned on, Xiao Yi can support 60 seconds of continuous conversation, during which there is no need to wake up multiple times. However, the experience of this function is not very good because after the voice interaction is completed, Xiao Yi will maintain the listening state. If certain keywords are "hit" during the conversation of occupants in the car, Xiao Yi will make incorrect judgments, or give you voice feedback that cannot be executed.
However, there are also surprising parts of the Xiao Yi intelligent assistant in Wenjia M5. In the setting, you can turn on "service recommendation based on location information". At this time, Xiao Yi can provide more proactive services based on the vehicle's location information, such as:
When the vehicle is about to pass through a tunnel, Xiao Yi will turn on the air conditioning's internal circulation function;

When the vehicle is about to arrive home, Xiao Yi will remind "there is an uncollected package" and remind you of the pickup code and other information.
Based on the user's habits, Xiao Yi will conduct deep learning and provide more accurate proactive services in the driving scene. And this proactive service is actually a development trend of future intelligent cabins.
In addition to the aforementioned, the Wenjia M5 cabin is also equipped with HUAWEI SOUND speakers with 19 speakers, supporting 7.1 surround sound, headrest focus/private mode, and so on.
I had a simple experience, and I think this set of speakers can achieve sufficiently "deep" bass and not "shrill" treble, which is better than most brand audio not equipped with aftermarket car products on the market.
However, compared to the Harman Kardon, BOSE, Bower & Wilkins, and Mark Levinson, which cost tens of thousands of RMB, that I have experienced, there is still a certain gap, the main point being that it did not provide a clear sense of transparency and atmosphere.
P.S. I am not a professional audio and digital blogger, just expressing my personal views.
Unexpected Driving Experience
The test drive on the track coincidentally encountered a heavy snowfall, which fully demonstrated the performance of the power and four-wheel drive system of the M5 in a harsh environment. Let's first watch a video:
The M5 is equipped with the next-generation DriveONE pure electric drive and range-extended platform, which is equipped with a 1.5T four-cylinder range extender. According to official information, the range extender can achieve 3.2 kWh/L, and the full-tank electricity output can reach 173 kWh. If combined with the 40 kWh battery capacity, the total electricity can reach 213 kWh in full-tank and full-charge conditions. Therefore, the total cruising range of the M5 under the CLTC conditions can reach 1242 km.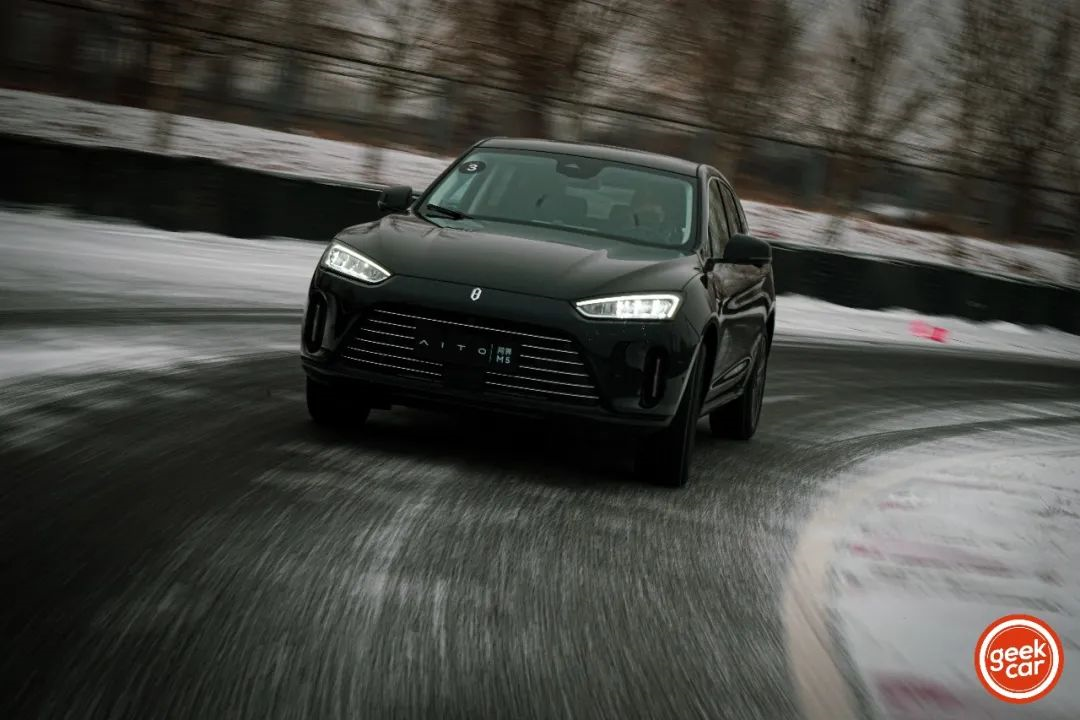 The M5 adopts an intelligent four-wheel drive system composed of front asynchronous AC motor and rear permanent magnet synchronous motor. The system peak power can reach 365 kW, peak torque 675 N·m, and zero-to-100 km/h acceleration ability is 4.4 seconds. In terms of chassis, the M5 uses a front double wishbone suspension and rear multi-link suspension, with a well-balanced comfort and sporty tuning for the overall chassis performance.
In the video, we can see that when the M5 undergoes continuous obstacle avoidance and the elk test, the overall performance is very stable. In the scenario of wet road surface, the intervention of the four-wheel drive system and the vehicle stability system is very timely, and there is only a slight swing of the car's tail during the elk test.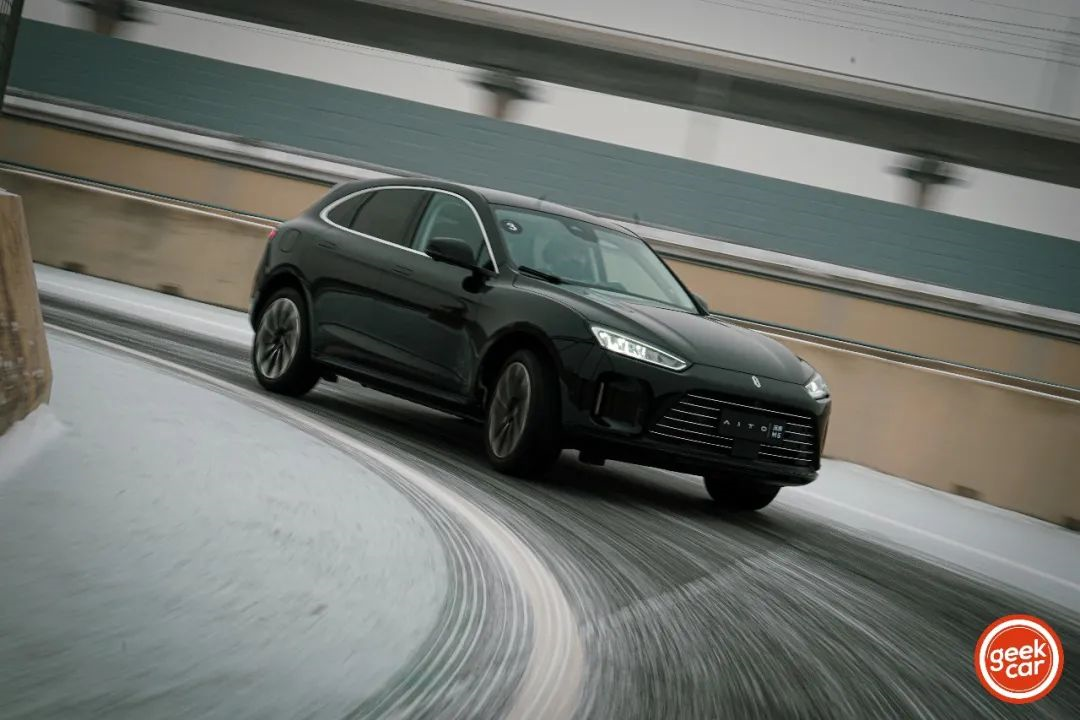 When driving on the track, facing multiple accelerations and brakes, the power and braking systems of the M5 did not exhibit obvious attenuation, and the chassis had a relatively good support in the cornering. In one turn, due to the car's speed being too fast and pressing on the snow, there was a slight slide (push heading), but after the vehicle stability intervention of the M5, we could easily regain "control" of the car.Overall, I personally think that there is nothing wrong with the driving performance of the AITO WENJIE M5 based on a short test drive on the track.
Battle of the Extended-Range EVs?
Someone asked me before about AITO WENJIE M5 and Li Xiang ONE, mainly because the prices of these two models are close, and both are extended-range electric vehicles.
In fact, I personally think that these two models are not exactly competitors since there are many audiences who do not overlap.
First of all, the most distinctive feature of Li Xiang ONE's product attribute is "family", so the vast majority of its audience is purchasing a vehicle for their family. Therefore, Li Xiang ONE's body size is larger, the seat layout is more versatile, and many details are considered for use as a family vehicle. At the same time, Li Xiang ONE's equipment for intelligent driving is currently stronger than that of AITO WENJIE M5.
On the other hand, AITO WENJIE M5's most distinctive feature is "intelligence", with the main reason being the Hongmeng OS car system, so its audience is not too explicitly "family-oriented", and the level of AITO WENJIE M5's car model is also slightly smaller. Apart from the Hongmeng OS car system, AITO WENJIE M5 also has an advantage in terms of power performance and driving performance.
However, it is precisely because the number of extended-range electric vehicles that have been mass-produced and put on the market is not many, there will inevitably be some share-grabbing in this "extended-range blue ocean."
Finally
Let me briefly summarize AITO WENJIE M5. The experience was not complete this time, but I still want to share with you what I experienced and felt.
In fact, whether it is the cabin of WENJIE M5 or the Hongmeng OS car system, it is obvious that they are prepared for Huawei's ecosystem, or in other words, for "Huafen" – that is, Huawei fans.
The biggest feature of the Hongmeng OS car system is that it breaks the "gap between mobile phones and car systems" and far exceeds the "mobile phone mapping" level of Apple CarPlay and Baidu CarLife. On the WENJIE M5, Hongmeng OS is no longer a single system, breaking down the barriers between different devices, and is a terminal that can seamlessly flow and remotely interact between mobile devices such as smartphones, smartwatches, and even IoT smart homes.When it comes to driving, my former colleague previously test drove the Huawei Select SF5 by Seres in "Mountain City" Chongqing and told me that the driving performance of that model was quite good. This time, it was my first time test driving the NIO ES6. Despite my colleague's recognition of it, the driving performance of the ES6 still exceeded my expectations.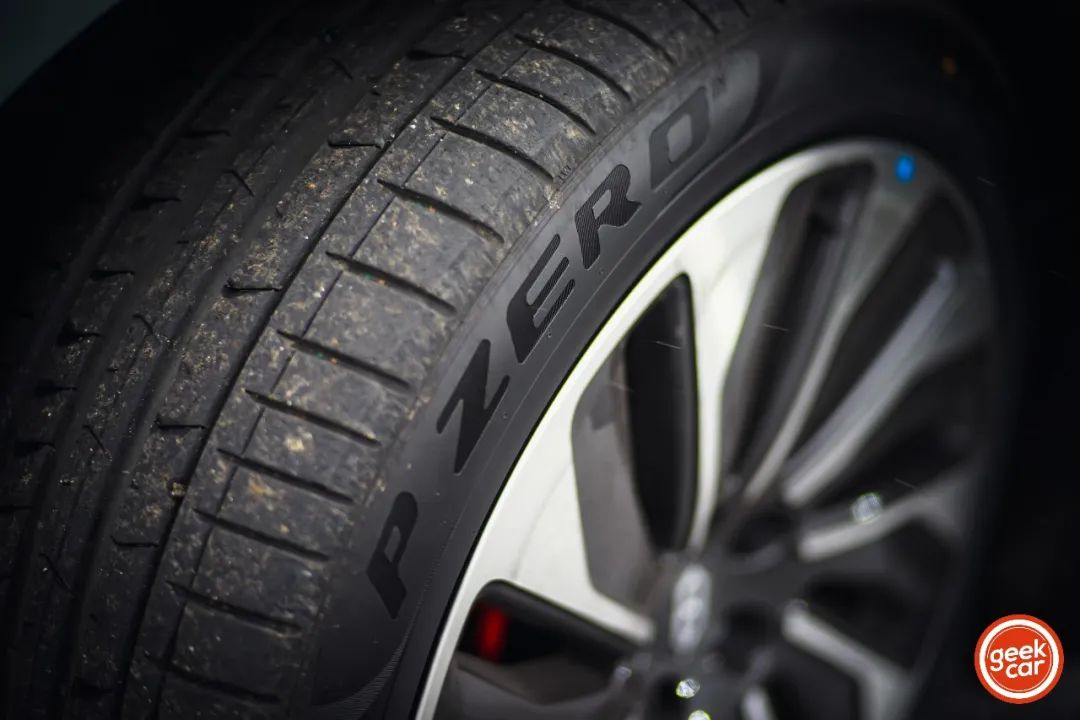 Therefore, when I have the opportunity to come into contact with the ES6 again, I will focus on the functions and applications that I did not experience this time, the performance of the intelligent cockpit in driving scenarios, and the energy consumption performance in actual driving scenarios to complete my understanding of this model.
This article is a translation by ChatGPT of a Chinese report from 42HOW. If you have any questions about it, please email bd@42how.com.