Researching the automotive semiconductor market, I believe there are several good entry points currently. On the one hand, the automotive industry generally believes that the tight supply of chips will continue until 2022. At the same time, global automotive companies have begun to directly contact automotive chip partners based on their thinking about the next-generation architecture. The expectation of automotive companies is to decouple software and hardware and be able to replace chips as needed.
I would like to focus on the changes and thinking in the second direction, especially in the current stage where automotive chip financing is relatively hot.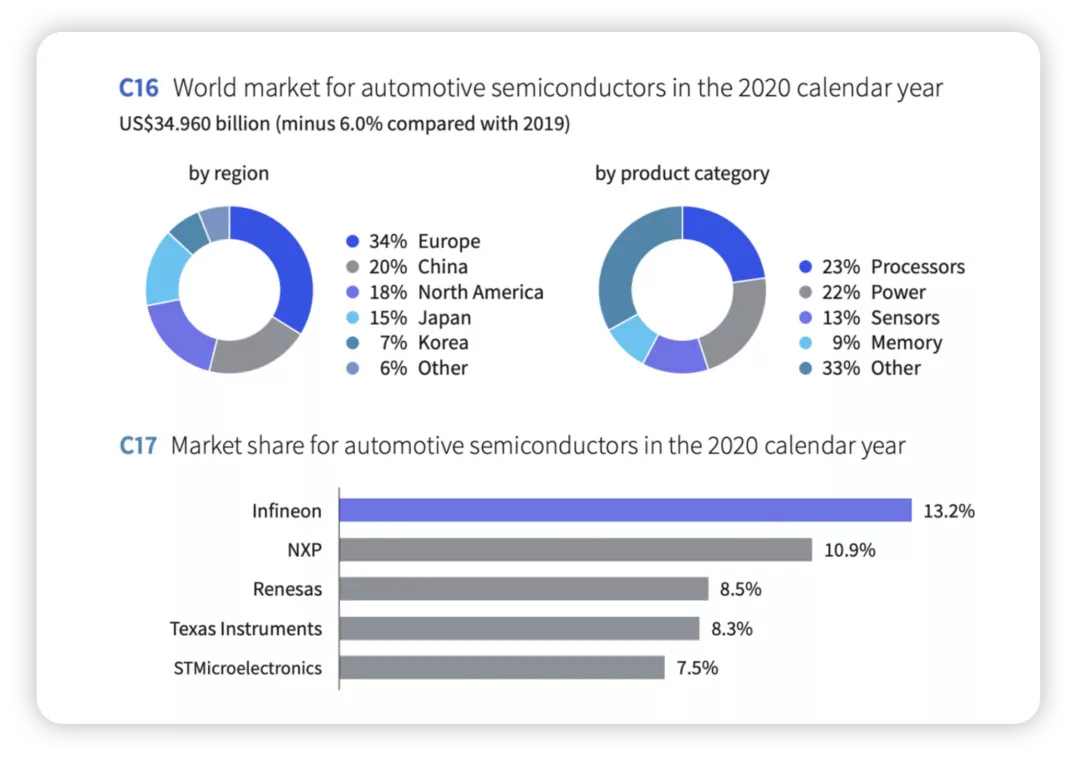 Semiconductor Business Structure of Enterprises
● Automotive semiconductor business structure
As mentioned above, the scale of the automotive semiconductor business in 2020 was $34.96 billion, and in 2019 it was $37.1 billion. By listing the actual revenue share of major automotive chip companies and their income from 2019 to 2021, it can be found that several businesses have increased significantly under the conditions of chip shortage.
At present, the main focus of the automotive semiconductor business is on MCU (7 billion dollars) processors and power devices, with a small amount of sensor and storage businesses. The remaining 33% is quite dispersed.
Therefore, for large companies such as Infineon, NXP, Renesas, ST, and On Semi, the proportion of their automotive business is over 30%, with some even reaching 50%. In this sense, the accumulation of automotive business in most chip companies is accidental. They started with layouts for industrial and consumer use, and gradually iterated to specialize in the automotive industry. If the semiconductor business is carried out solely for automotive purposes, the entire product category and business scale will be limited, and the biggest problem is that automotive companies have begun to gradually change.
● Automotive companies are starting to lay out upstream
General Motors is collaborating with seven chip suppliers to develop three new microcontroller series, which will reduce the number of custom chips on future cars by 95%. General Motors has designated six chip suppliers, Qualcomm, ST, Renesas, NXP, Infineon, and On Semi, as its partners and is working with TSMC to anchor production.
Ford is cooperating with chip manufacturer GlobalFoundries to improve the supply of Ford and the U.S. automotive industry.## The market size of automotive MCUs in the short to medium term
According to the predictions made by Infineon and NXP in 2020, the market size of MCUs is expected to reach about 7 billion USD. The annual growth rates for power train, chassis, ADAS and domain controllers are 5.7%, 11.5%, 34%, and 50% respectively.
However, under the trend of centralized computing power, this prediction may only apply to Infineon's AURIX chip. The overall MCU market is being replaced by SOC chips with high computing power that achieve the same functions through ECU virtualization.
In Infineon's product line, the TC39x series is mainly used for secure backup, and is widely adopted by most automakers for its robustness in power train and chassis safety.
Note: The deployment of new architectures in power train and chassis is relatively slow.
NXP estimates that the number of processing nodes used in the Zonal architecture will continue to increase, possibly reaching up to 60. These processing nodes may not necessarily appear in the form of MCUs, but may evolve into specialized chips with computing cores.Summary: As we track changes in this market, both domestic and foreign automotive companies are beginning to limit their use of semiconductors, constraining the platform selection rights of Tier1, and moving towards greater reusability and decoupling of hardware and software. This inevitably leads to further "Matthew Effects" in the automotive semiconductor industry, so it's really important to consider what the ultimate outcome of investing in this field will be.
This article is a translation by ChatGPT of a Chinese report from 42HOW. If you have any questions about it, please email bd@42how.com.