On January 15th, 2022, as part of the "Super Charging, Truly Understanding You" theme, Great Wall Motors held the 2022 Wei brand User Fan Festival at the Haval Technology Center in Baoding.
Currently, Wei brand has over 450,000 users. As of January 10th, the number of registered users on the Wei APP has exceeded 1.4 million, with nearly 900,000 new user registrations achieved in the year 2021, and the number of active APP users exceeding 10%.
Companion Xiao Wei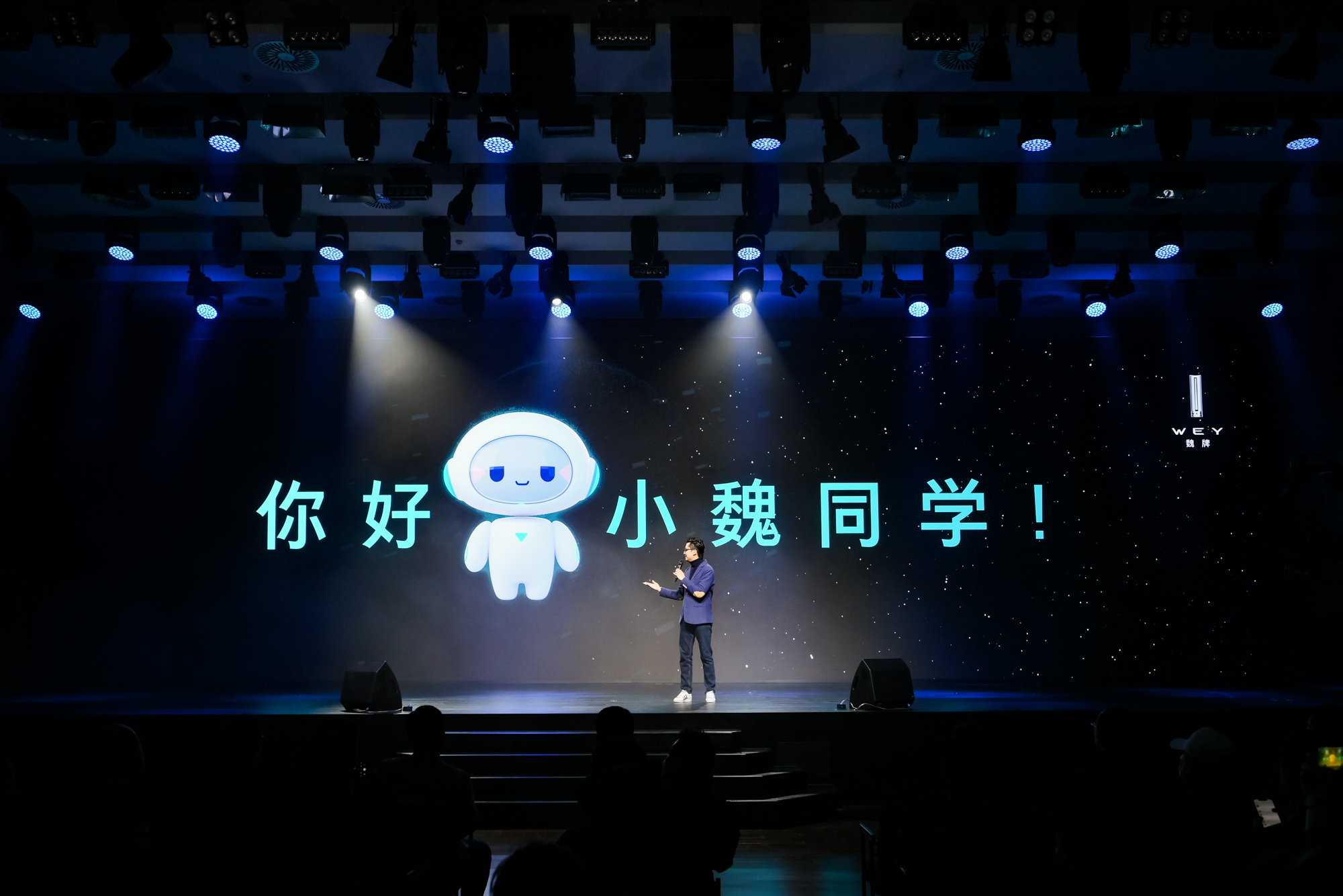 Great Wall Motors also unveiled the new vehicle infotainment system image "Companion Xiao Wei 2.0" at the event. In the BUX 1.1 version that has already been released, it can achieve the following functions:
Support 20 seconds of continuous dialogue after activating Xiao Wei Companion;

Have context-awareness capabilities, such as: when activating Xiao Wei Companion, the command "a little higher temperature" can be used to adjust the air conditioning temperature, and users can continue to give commands such as "a little higher" or "a little lower" without explicitly stating the temperature, and the system will automatically adjust the temperature based on the context;

Visible control. In the vehicle settings interface, users can directly say the displayed content to achieve voice control without activating Xiao Wei Companion. For example, if the current interface displays "driving mode," users can directly say "sports" to switch to sports mode;

Voice control vehicle settings and vehicle interaction capabilities. Currently, 14 vehicle settings and vehicle control capabilities can be controlled via voice. For example, voice-activated parking. Wei brand users can activate Xiao Wei Companion via voice and say "I want to park" or "open automatic parking," and the vehicle will automatically search for a parking spot. After the automatic parking function is activated, it will prompt the user whether they want to start parking or remote control parking. The user can then say "start parking" via voice, and the vehicle will automatically park into the corresponding parking spot;
In the upcoming BUX 1.2 version, the voice actor for Companion Xiao Wei will be optimized. The cloud-based speech synthesis technology based on Microsoft's deep neural network will be used to obtain a brand new voice tone.
Wei Brand Smartwatch?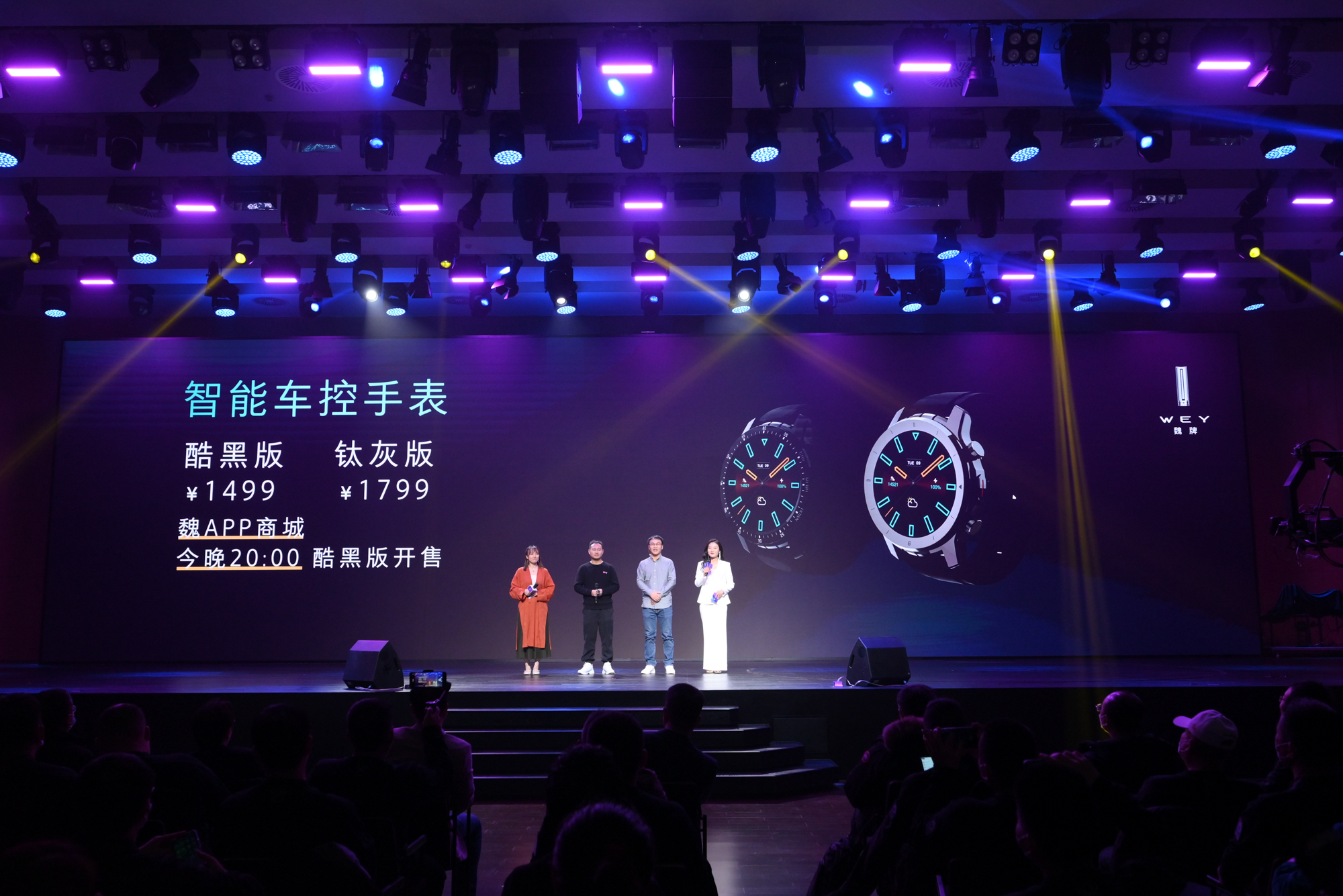 In addition to Companion Xiao Wei 2.0, Great Wall Motors also launched a smart car control watch co-created with users during the Fan Festival, which officially went on sale at 8:00 am on the same day.# The First Smart Car Control Watch by WEY Brand
The first smart car control watch by WEY Brand is independently developed by the Great Wall Intelligent Interconnect Department. It is made of ceramic and stainless steel materials, and has a lightweight design that perfectly matches the original car key system, achieving the following functions:
Car key function: It can be matched with WEY's all vehicle keys to achieve functions such as lock/unlock, one-button start, one-button window up, tailgate opening, remote vehicle control (vehicle status, smart locking, smart unlocking, remote vehicle control, real-time car condition), etc.

Health monitoring: It can match with the vehicle key to achieve functions such as lock/unlock, one-button start, one-button window up, tailgate opening, etc.

Sports management: The watch supports 10 sports mode management, from running, swimming to mountaineering, accurately recording daily exercise and tracking various indexes.

Waterproof and dustproof: The watch has a 5ATM waterproof rating, which can be briefly soaked in daily water without taking it off during daily wearing, sweating, and hand washing.
About the development of this smartwatch, WEY Brand has a user story:
On September 13, 2020, the user Yanyin in the WEY APP posted a message, hoping to develop a smart car key watch. After receiving the requirement, WEY Housekeeper feedbacked to the relevant R&D department, and the R&D department quickly responded and launched the watch development work. On May 29, 2021, the watch was announced to have completed the R&D and entered the testing phase during the WEY Brand Creation Academy Conference. Now, this product is available for official sales.
TO C User Experience Mode
WEY Brand plans to create a user experience mode that directly faces customers.
The first part is about order inquiry. By constructing an online transparent order system that links 13 key nodes of R&D, production, supply, and marketing systems, the system is linked with multiple channels such as the APP and SMS, allowing users to dynamically control their order status in real-time.
The second part is to plan to create a "Service OTA Growing User Service Experience":
Create a "Smart Enjoyment Housekeeper" service system, and launch a proactive service system that is fully interconnected and online at all times.
The first limited Smart Enjoyment Housekeeper entitlement package is released, which includes two basic maintenance services per year, comprehensive road rescue service, replacement car, and six-fold discount coupon for car networking renewal. The original price was 1,799 yuan. On January 15th, at 19:00, limited 2,000 packages will be sold on WEY APP, and each package costs 299 yuan.
"Quick-response" user problem closed-loop mechanism.
After the user's problem appears, the front-line staff completes problem transmission within 10 minutes, the corresponding department completes problem tracing response within 30 minutes, and the user problem handshake feedback is achieved within 2 hours. A negotiated scheme that satisfies the user is achieved within 12 hours, and a satisfaction survey is conducted within 24 hours to implement a closed loop for user problems. Major problems can reach the negotiated scheme approved by the user within 7 days.- An "advanced" intelligent marketing platform that integrates mobile phones, vehicle systems, smart wearables, and terminals to achieve continuous iteration and advancement of services, create active service capabilities for all-time interconnection and real-time online interactions through intelligent computing power;
The "active" user digital experience building for the entire journey, upgrading passive services to intelligent active services, including the launch of a new series of smart services such as intelligent car viewing, predictive diagnostics, one-click intelligent maintenance, and one-click intelligent claims.
The third section is to build a brand imagination IP system with "City of Imagination" as the core:
In 2021, user-generated products represented by car-controlled smartwatches have been launched, covering a variety of scenarios from car-controlled smart terminals and in-car systems to travel and daily life.

The imagination academy constructed by user co-creation to build the "user's self-iterative ability" with the integration of brand, user, and terminal resources has held a successful 6 sessions, providing users with more advanced experiences, beyond just car.

According to the needs of community users, the brand has created a series of user clubs, such as the Mocha Magic Barista League, the Latte Super Dad League, and the Magic Teacup Horse Breeding Union, to construct a user's living paradise.
The fourth part is the establishment of the "Wei Ciyuan Space Station".
Conclusion
It can be seen that Wei brand has invested heavily in user operations. Not only actively connecting and promoting relationships with users with a variety of car-related surrounding intelligent products, but also planning many interesting and clear benchmarking tasks for the future of user operations.
However, user operations require not only funds but also careful attention. Wei brand has absorbed many advantages of new forces such as Weixiaoli, but we still need to observe the effectiveness of this approach.
Source: Great Wall Motors
This article is a translation by ChatGPT of a Chinese report from 42HOW. If you have any questions about it, please email bd@42how.com.