The content of this article is sourced from 42how and has been translated by ChatGPT
On January 13, 2021, IM Auto created by SAIC, Zhangjiang Hi-Tech, and Alibaba was simultaneously released in Shanghai, Las Vegas CES, and London, UK. On January 13, 2022, IM Auto held its annual brand sharing event again. Let's take a look at what exciting new things have happened in the past year.
When can we see the mass-produced version of the car that users care about the most?
Static experience of IM L7 will be available at its experience centers in Shanghai, Suzhou, Nanjing, Hangzhou, and Wenzhou from January onwards. In February, it will also be available in Shenzhen, Guangzhou, Ningbo, and Beijing.
Dynamic experience or test drive of IM L7 will be available for reservation from around February 28th. Priority will be given to angel round investors. For more details, please contact the store consultant in advance to make an appointment.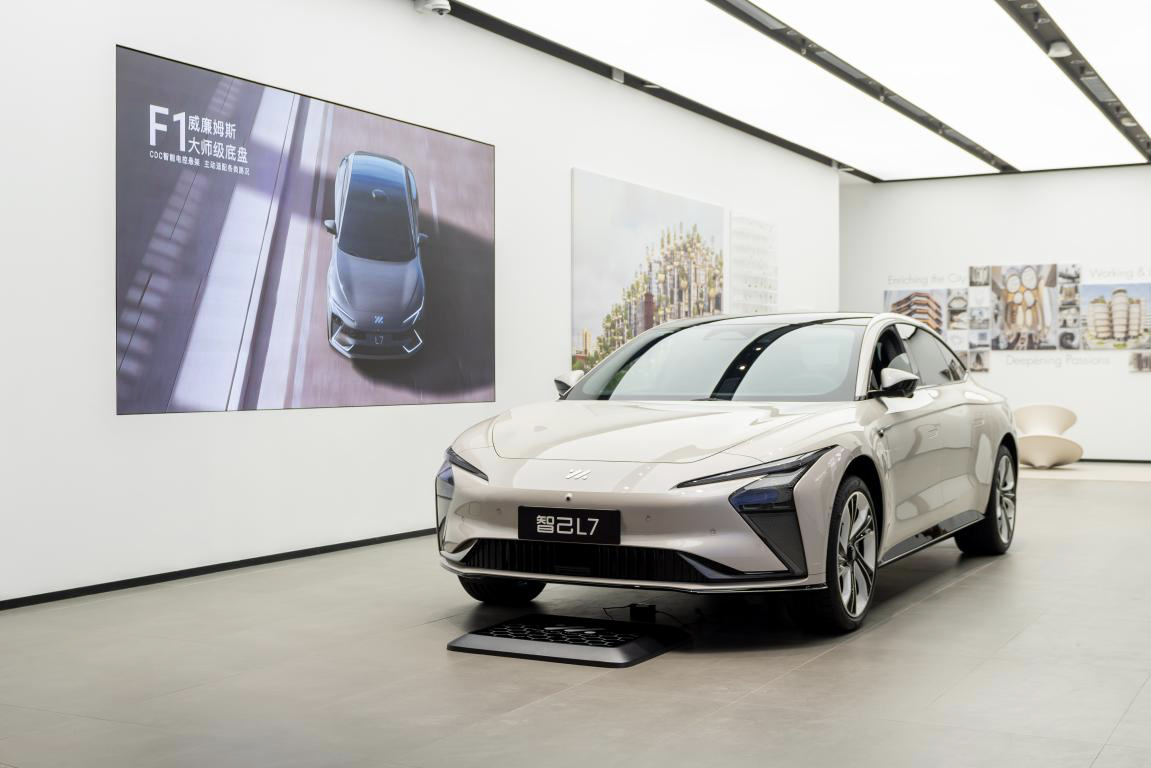 What is the deadline and delivery time for IM L7?
The deadline for IM L7 is also around February 28, and delivery will begin in April.
关于智己 L7 车主的权益问题?
布局 44.2 万根充电桩(涵盖上汽自建充电桩以及第三方资源);
Layout 100+ supercharging piles (planned and built by SAIC Group, hoping to see exclusive charging stations for IM in large commercial areas and office buildings in the future, enjoying high-quality services). Series A and angel round users will also enjoy 3 years of free charging rights, totaling 3,000 degrees per year (1,000 degrees for public charging piles and 2,000 degrees for self-built charging piles).
Free installation of home charging piles, and a 30-meter charging cable will be provided during the installation. IM Motors has launched 5 styles of home charging piles for the first time, and the installation and later maintenance of home charging piles will be completed by IM Worry-Free Service.
Now, it's time for the highlight of this sharing session. IM has launched the "IM Care One-Click Reach" worry-free service for the first time, and Series A and angel round users can enjoy a pre-booking price of RMB 8,999. The service system will cover more than 360 cities.
Some meticulous users may ask, doesn't NIO also have their own "No-worry Services"? Which company actually provides better service? Let's take a look at what "IM Care One-click Reach" from IM has to offer first!
One-click Reach service content:

Providing home door-to-door fine cleaning package including interior (once a month, 12 times a year, without specific instructions on whether it can be used multiple times a month);

Four times of remote charging throughout the year;

Unlimited vehicle maintenance, unlimited pick-up and delivery services for all scenes and unlimited maintenance replacement services;

Unlimited on-site tire repair (without indicating charging situation, should be free);

One-year branded car insurance (compulsory insurance, third party liability 2 million, vehicle damage insurance, liability insurance 10,000/seat);

Insurance claims (no need to contact the insurance personnel, it is after-sales service, and will handle maintenance throughout);

4 health checkups (all-time intelligent service system).
Let's take a look at the differences between NIO's Worry-free Service and its One-click Reach Service.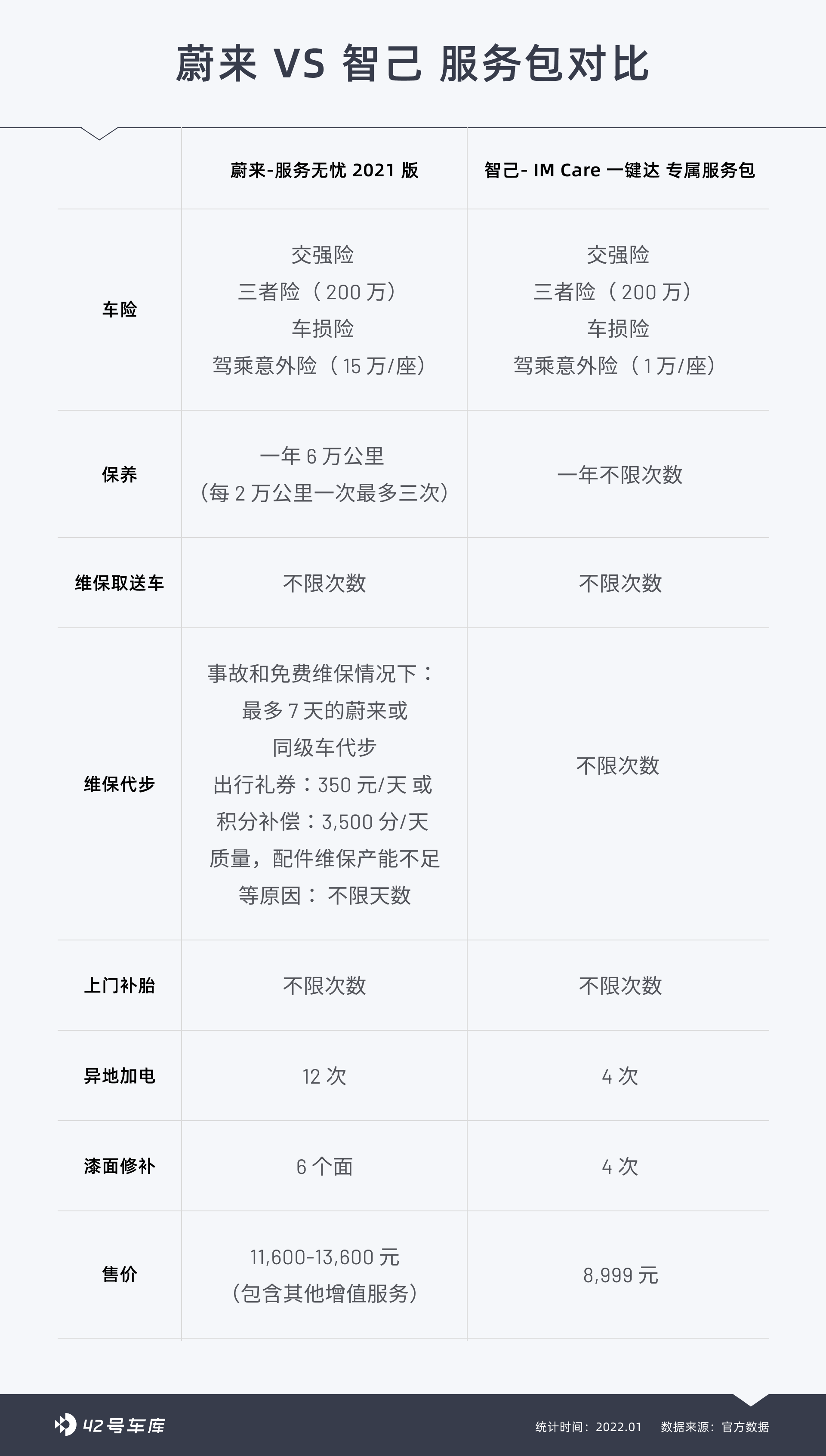 It is clear that IM has advantages in maintenance and service, but NIO has the upper hand in remote charging and other value-added services (car washing, chauffeur service, airport parking, etc.). However, based on my use of NIO's worry-free service last year, the frequency of most value-added services and remote charging was not very high. More often, it was free unlimited battery swaps, and the points were used to redeem value-added services after the service ends.
IM clearly took this into consideration and conducted in-depth research on high-end users. The analysis of the special in-depth research on high-end electric vehicle users showed that high-end users in their travel expectations more hope to have freedom of time, transparent trust and just-right services. So IM optimized some of its projects and launched "One-Click Reach." The price also controlled at 8,999 yuan, about 2,000 yuan cheaper than NIO's worry-free service.
All-Time Intelligent Service System
So someone may ask, what is this All-Time Intelligent Service System?
"IM Care One-Click" relies on powerful domain fusion computing power, including remote health management, parts maintenance, battery safety, car life, and basically covers all aspects of user car use.
The 7 × 24h intelligent guard management mode is the software support for achieving "one-click reach".
Remote health management for vehicles: IM Care can remotely and in real-time identify abnormal operation of the vehicle's electric system, proactively alert regarding faults, and perform remote diagnosis and analysis of faults based on vehicle operating data analysis to ensure safe maintenance decisions.
Component maintenance: Predicting the accurate service life of commonly worn components such as wipers and brake pads using big data algorithm models, and providing free door-to-door one-click maintenance services.
Comprehensive and round-the-clock battery management services: Create an end-to-cloud integrated battery safety monitoring system to comprehensively ensure the safety of battery operation. Cover battery monitoring in parking scenarios to achieve 24/7 management.
Car Life: Intelligently remind users of car washing, maintenance checks, etc., based on weather conditions and vehicle usage.
What I'm looking forward to is not just the content released this time. The IM AD intelligent driving system developed by Zhi-Ji has auxiliary driving abilities, which I believe everyone has seen more or less in the video. The actual on-the-road effects are really exciting.
Moreover, there is the "Yuanshigu" plan of ZhiJi, which is currently the closest user value confirmation system and community order model to the Metaverse concept in the automobile industry. The data is sourced from every vehicle user, achieving true data ownership for users that complies with national policies and matches the value creation of the user community.
If you had 400,000 yuan, would you choose ZhiJi?