Weekly Index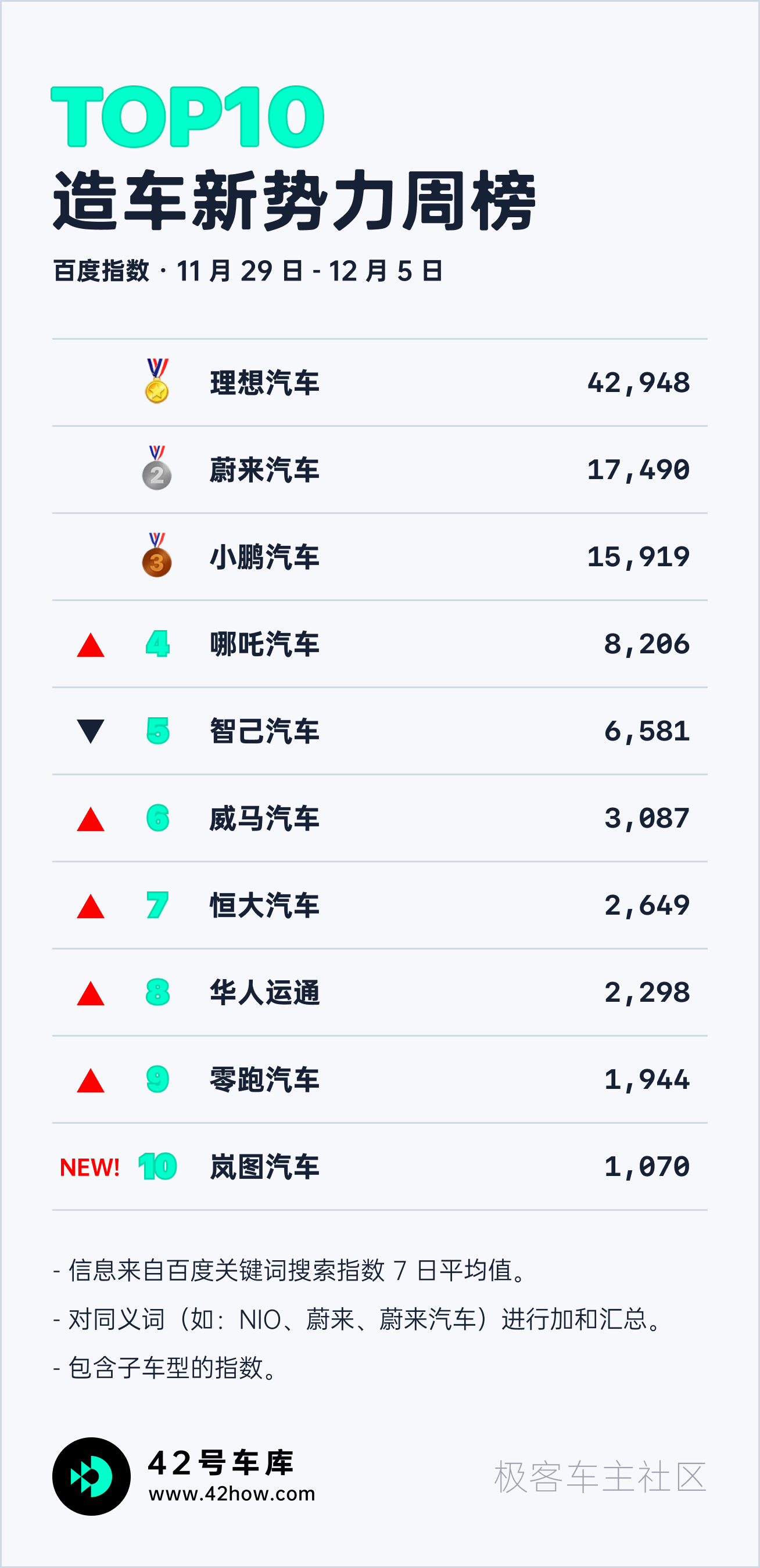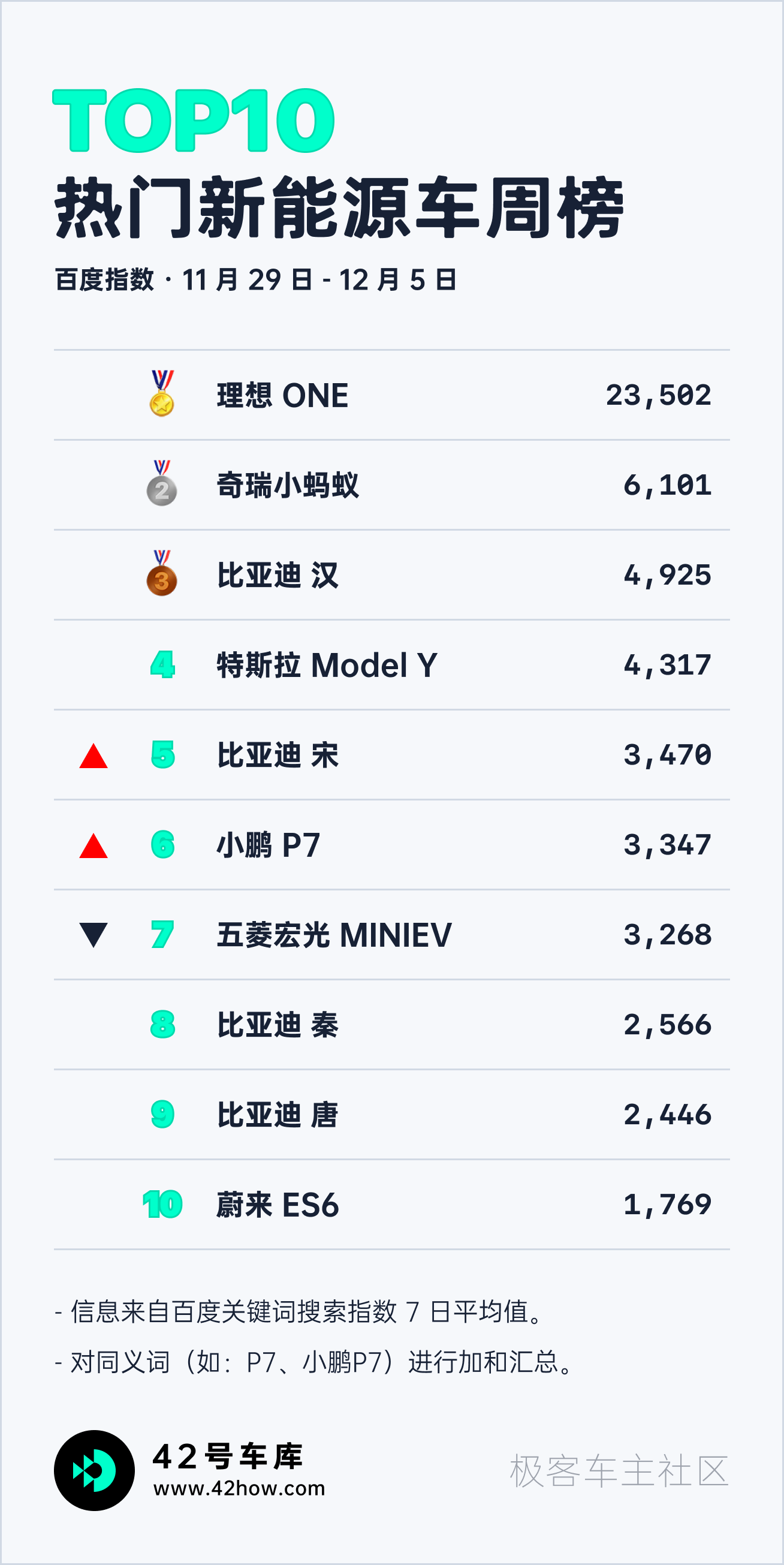 Weekly News
Li Auto releases Q3 2021 financial report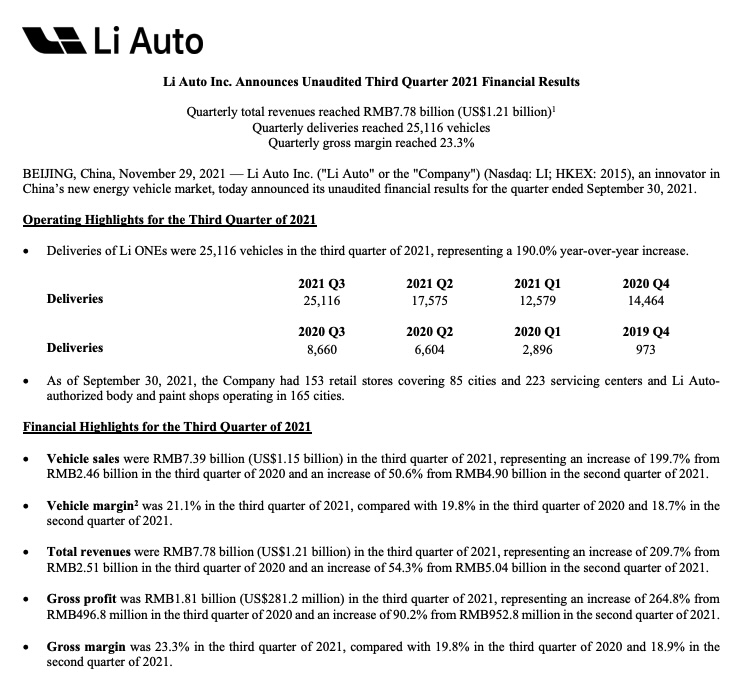 On November 29, 2021, Li Auto released its Q3 2021 financial report. The company delivered 25,116 vehicles in Q3 2021, an increase of 42.9% quarter-over-quarter and 190% year-over-year, with total revenue of RMB 7.78 billion.
Li Auto's sales revenue was RMB 7.39 billion, with gross profit of RMB 1.81 billion, up 264.8% year-over-year. Its per vehicle gross profit was 21.1%, and the overall gross profit margin was 23.3%.
In October 2021, Li Auto officially announced that its Beijing factory will start production in 2023, with an annual capacity of 100,000 units. Li Auto also acquired 100% of the equity of its Changzhou factory in November 2021.
Comment:
Li Auto set new highs for quarterly and monthly (November 2021) sales. The financial performance of Li Auto in Q3 2021 was impressive, with a net loss of RMB 21.5 million, a decrease of 79.9% year-over-year. As of September 30, 2021, Li Auto had 153 retail centers covering 85 cities, and operated 223 after-sales maintenance centers and Li Auto's authorized body and spray painting centers in 165 cities.
For Li Auto, the top priority now is to survive the lull period before the official launch of the X01 model. After the start of production next year, Li Auto may face new challenges in its supply chain management.
Nissan announces 2030 vision# Nissan announces "Nissan Automotive Vision 2030" with an investment of ¥2 trillion
On November 29, 2021, Nissan Automotive Company announced the "Nissan Automotive Vision 2030" plan, expecting to invest ¥2 trillion (approximately RMB 110 billion) over the next five years to accelerate its electrification plan.
Nissan plans to launch 23 electrified models by 2030, including 15 pure electric models, where electric models for Nissan and Infiniti brands will account for more than 50%.
Nissan plans to launch electric models equipped with all solid-state batteries (ASSB) by 2028 and build a pilot plant in Yokohama, Japan in 2024.
By 2030, Nissan plans to equip its entire new model range with the next-generation LiDAR system.
Quick Comment:
Following the announcement of various European manufacturers' pure electric declarations this year, Nissan has also announced its 2030 plan. From the content of the press conference, Nissan has made detailed plans in the introduction of pure electric vehicle models, development of solid-state batteries, construction of charging infrastructure, ADAS technologies, LiDAR installation rate and overseas production capacity. As a traditional Japanese automotive brand with an earlier layout of pure electric vehicle models, Nissan will accelerate its embrace of electrification.
NIO, Ideal, and XPeng – the top three emerging automakers – announced their November delivery results
On the first day of December 2021, the top three emerging automakers announced their delivery data for November as follows: Ideal delivered 13,485 units, XPeng delivered 15,613 units, and NIO delivered 10,878 units.
XPeng set a new record for single-month deliveries. He XPeng's goal of "15,000 sales in December" announced in the Q2 financial report of XPeng Auto in late August was achieved.
After delivering more than 9,000 vehicles in August, Ideal's deliveries were limited in September and October due to a shortage of millimeter wave radar. After two months of dormancy, Ideal finally exceeded ten thousand deliveries in November, with Ideal ONE delivering 13,485 units in a single month.
In November, NIO delivered 10,878 units, setting a new record for single-month deliveries. Among them, ES8 sold 2,683 units, ES6 sold 4,713 units, and EC6 sold 3,482 units. NIO DAY this year will feature the delivery of the highly anticipated ET7 in the first quarter of next year, as well as the rumored ET5.
Quick Comment:All three of China's emerging electric vehicle giants achieved monthly deliveries exceeding 10,000 units in November, becoming the first month in which all three companies simultaneously achieved this feat. However, a sharp decrease in deliveries has been observed in the second half of this year, indicating the severity of the chip shortage situation.
Overall, the upward trend demonstrates that the penetration rate of new energy vehicles is growing at an astonishing rate. As more models equipped with laser radar and high computing power platforms are launched in 2022, the market competition for new energy vehicles will become increasingly intense.
After Model 3, domestically made Tesla Model Y is also being recalled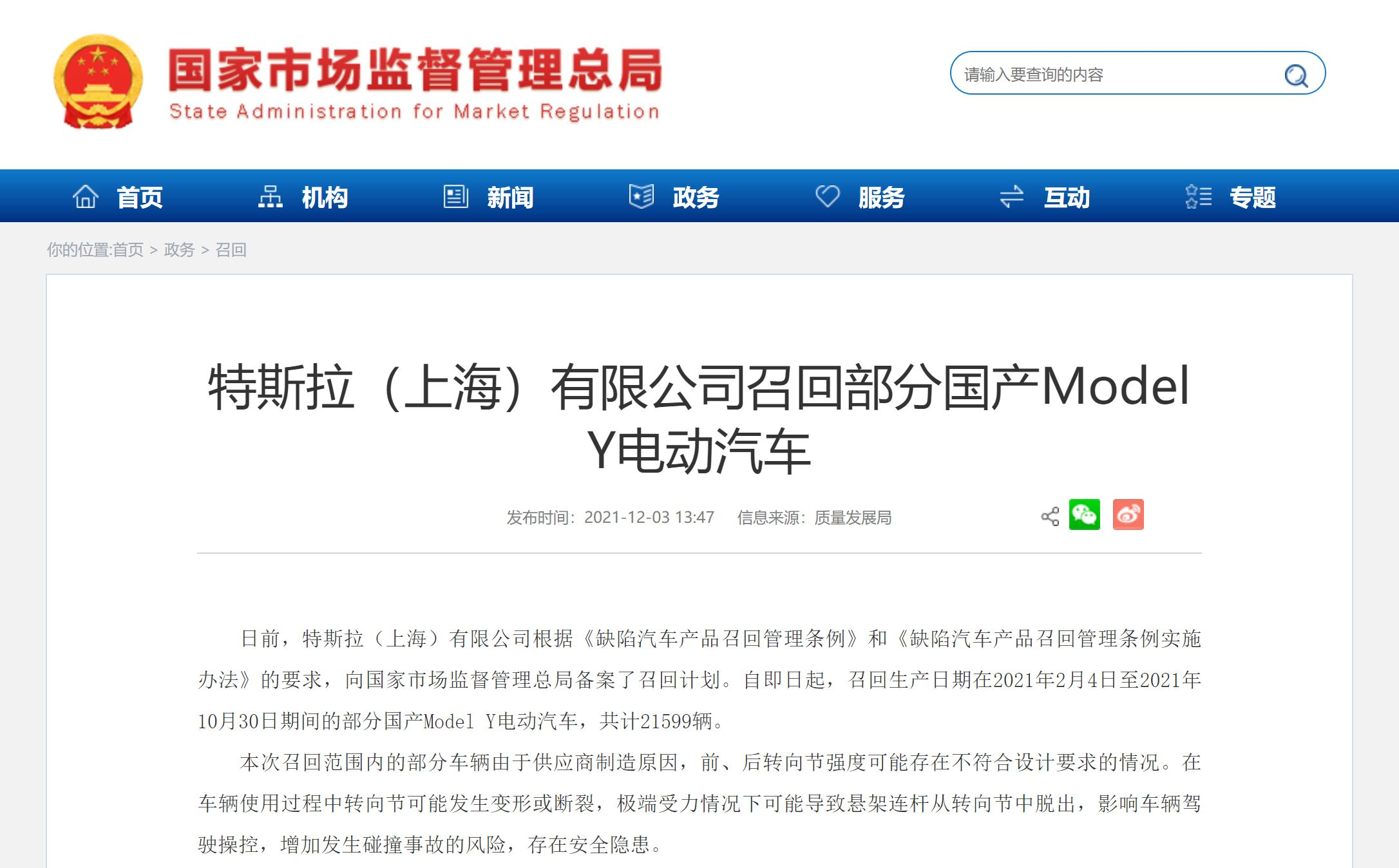 Tesla (Shanghai) Co., Ltd. will recall a total of 21,599 domestically produced Model Y electric vehicles manufactured between February 4, 2021 and October 30, 2021.
According to Tesla's statement, due to manufacturing issues by Top Group, a supplier, some vehicles within the scope of the recall may not meet the design requirements for the strength of the front and rear steering knuckles. In the process of using the vehicle, the steering knuckles may become deformed or fractured, and under extreme conditions, the suspension rod may detach from the steering knuckle, affecting vehicle driving control and increasing the risk of collision.
Tesla (Shanghai) Co., Ltd. will conduct a free inspection of the front and rear steering knuckles of vehicles within the recall scope, and replace the knuckles that do not meet the required strength to eliminate potential safety hazards.
Quick comment:
Due to chassis issues, Tesla has already carried out several recalls in the United States. With the expansion of Giga Shanghai next year, the launch of the German Giga Berlin, and the market launch of the Cybertruck with its four-motor/stainless steel exoskeleton structure, Tesla will face the challenge of global quality management as delivery volumes continue to increase rapidly in the next few years.
This article is a translation by ChatGPT of a Chinese report from 42HOW. If you have any questions about it, please email bd@42how.com.