Recently, the first product of the premium EV brand ZEEKR has been unveiled, and the industry is amazed at its impressive numbers: having been launched for only half a year, the brand has delivered over 2,000 units in the first month, covering 150 cities. Based on the latest delivery schedule announced on December 4th by ZEEKR's parent company, it is expected that the delivery volume will exceed 4,000 units in December.
Undoubtedly, this achievement demonstrates ZEEKR's "speed of extremeness" in delivering high-end pure electric vehicles. A first-month delivery of more than 2,000 units is impressive compared to other pure electric vehicle brands. For example, the first three months of IDEAL ONE's deliveries were just over 1,000 units each, and it was only in the fourth month that more than 2,000 units were delivered. Similarly, it took NIO's ES6 and EC6 about 3-4 months to exceed the delivery level of 2,000 units.
It is worth mentioning that as of now, all the orders for ZEEKR 001 that can be delivered in 2021 have been sold out, with an average price of 3.35 million RMB per unit. Regardless of the unit price or the average order amount per user, ZEEKR 001 has set a new benchmark for independent luxury brands.
Speed has become ZEEKR's label, but progress is made step by step. Behind the lightning-fast deliveries is ZEEKR's six-month growth journey to transform itself and its independent brand's products and ecosystem in various dimensions such as intensity, strength and temperature.
Efforts on Product R&D
In fact, the sleek SUV design, over 700 km of range, 3.8-second acceleration from 0 to 100 km/h, automatic doors, air suspension, digital chassis, latest generation of smart driving chips, 5G network and other product features are enough to explain why there are so many pre-orders for the vehicle.
However, for smart EVs, delivery is often just the beginning.
OTA is the soul of a smart vehicle. Vehicle owners will constantly experience the joy of upgrades. Under the logic of "extreme intelligence manufacturing", ZEEKR 001 has adopted a phased OTA upgrade approach for its ZAD smart driving assistant system to ensure the integrity of the active safety function verification cycle. The OTA upgrade plan will be based on the market demand, product life cycle, and sales policy.
Behind this plan, ZEEKR has embedded the ZAD smart driving assistant system hardware in all ZEEKR 001 vehicles, enabling ZEEKR to gradually achieve high-speed autonomous navigation, city autonomous navigation, and unmanned parking scenarios through OTA upgrades. In terms of smart driving assistance, ZEEKR 001 uses Mobileye's purely visual solution and is equipped with two Mobileye Q5H chips.From software to hardware, ZEEKR 001 is highly competitive, which gives confidence in intelligent manufacturing. It is produced by a Geely-owned plant located in Ningbo Hangzhou Bay New Zone, with an annual production capacity of 300,000 units.
As a benchmark intelligent factory in the Chinese automotive industry in 2021, it relies on 5G+industrial internet platforms and uses digital twin technology to create an intelligent manufacturing system integrating smartness, agility, and transparency, while also having industry-leading production manufacturing capabilities and strict quality inspection standards.
For instance, the aluminum body of ZEEKR 001 poses considerable challenges to assembly, but the plant overcame this by automating its process and building a high-quality painting workshop, with the first DuPont circular light gallery in China. The workshop is equipped with DuPont robots and uses high-quality and precise painting processes to achieve automatic and high-quality painting of the vehicle's interior and exterior, while ensuring energy efficiency and environmental sustainability.
In addition, thanks to Geely's accumulated technology over many years, the quality of ZEEKR products is further assured.
The CEVT China Euro Vehicle Technology, acquired by ZEEKR, has been in operation since 2013 and provides a complete technical system for Geely, as well as cultivates thousands of global technical talents. It will serve as an incubator for ZEEKR, giving continuous support for architecture, chassis, powertrain, transmission systems, and exterior design of the vehicles produced. Moreover, after acquiring 30% stake in SEA Haohuan Energy Co., ZEEKR can conduct secondary development of the SEA's architecture.
The Strength of a Robust Ecosystem
If the research and development capabilities are the first line of defense for ZEEKR's sales, then the efficiency of constructing its industrial chain system is another critical weapon for its success.
ZEEKR has achieved so much under unprecedented global supply chain pressure. For instance, ZEEKR 001 uses over 2000 different types of chips and more than 10,000 chips, including seven global first-of-a-kind chips, posing a significant challenge for the company's deliveries.
To address different customers' requirements, ZEEKR 001 also offers various optional configurations, such as perforated leather seats, high-lighting dawn steering wheel, and stitches-free center consoles, all of which are product upgrades that are calibrated based on customer needs- a huge test for their initial flexible production capacity.The survival rule of the fittest does not apply to the automobile industry in the second half. For the era of intelligent automobiles, building an ecosystem that can empower each other is the most important thing.
From its inception, Xpeng has been building a large automobile ecosystem. The chip that Mobileye launched was also used in Xpeng's 001 car. In August of this year, five ecological partners, including Intel Capital, CATL, Bilibili, Hong Kong Xinyi Group, and UCAR, signed a strategic investment agreement. This agreement is closely related to Xpeng's overall planning and strategy for the future, and is not simply for a 500 million investment. By working with global high-quality ecological partners, Xpeng will promote the ecological layout of intelligent and pure electric fields with its partners.
This is also the first time Bilibili has stepped into the automobile industry. Bilibili and Xpeng match each other's user groups very well and reflect Xpeng's determination to transform.
As for CATL and Luoyang Molybdenum, they are thinking more about long-term goals. According to the plan, Xpeng's sales volume in 2025 will reach 650,000, making it one of the top three high-end pure electric markets in the world. To achieve this goal, it is necessary to consider the stable supply of power batteries and upstream raw materials. Luoyang Molybdenum is the world's second-largest cobalt miner and can become a resource stand for Xpeng.
Recently, Xpeng reached a strategic cooperation with RoboSense, a global leading intelligent LiDAR system technology enterprise, to explore a form of deep integration of the industrial chain, which will bring Xpeng more imagination space.
In the current Internet era, users not only dominate consumer goods but even lead the transformation of the manufacturing industry. Xpeng's goal is to be a "user-oriented enterprise" in the era of intelligent electrification. Xpeng's CEO, He XPeng, believes that in the era of intelligent electric vehicles, the relationship between the manufacturer, supplier, and consumer has undergone great changes. The transformation from the product manager to the user experience officer shifts the focus from the product to the user's needs. From the establishment of the brand, he personally participated in the communication and co-creation with users, holding "co-creation communication meetings" in major cities and communicating with users on an equal footing.
This is why the ZEEKR 001 has achieved 342 optimizations beyond the concept car, based on user feedback and suggestions, realizing more than 60 product experience improvements and changes, with more than 2000 or even more products, how to operate this huge system when more and more users join, and how to solve the urgent needs of users related supporting services, should be one of the most important cores of user enterprises.
Therefore, at the Guangzhou Auto Show, Xpeng launched its user service brand ZEEKR Care, covering three major service highlights of "Intelligence, Efficiency, and Exclusivity." Relying on big data and intelligent digital means, ZEEKR Care will bring users a more intelligent, attentive, efficient, comprehensive, and exclusive pure-electric car experience.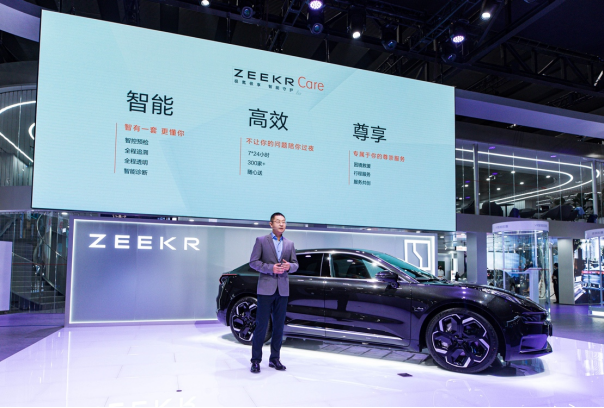 With the accumulation of delivery volume and user base, Zeekr has taken the most critical step, and in the future, with the gradual easing of the global supply chain tension, the gradual release of Zeekr's factory production capacity and the increasingly mature channel service system, Zeekr's all-round service capabilities will be further validated.
This article is a translation by ChatGPT of a Chinese report from 42HOW. If you have any questions about it, please email bd@42how.com.