Over the weekend, I wanted to take a closer look at the development of Europe's supercharging network, IONITY, and do some sorting on the configuration of IONITY charging stations. I also wanted to describe and explain the liquid-cooled charging gun and cooling solution.
Compared with China, the urgency to develop stations similar to IONITY's 150/350 kW stations in Europe is much greater due to the scarcity of charging stations. In addition, electric vehicles have been designed with 150 kW power since 2020, breaking free from the limitation of about 70 kW commonly seen in China.
I feel that I have underestimated the difficulty of developing an 800V ultra-fast charging network in China. The difficulties mainly focus on the power load of the distribution grid, as well as the time node of the charging interface standard and the compatibility with the previous network.
Note that the voltage of most charging modules in 2021 is 950V, which can actually charge at 800V without too much worry. The main issue is still the power problem.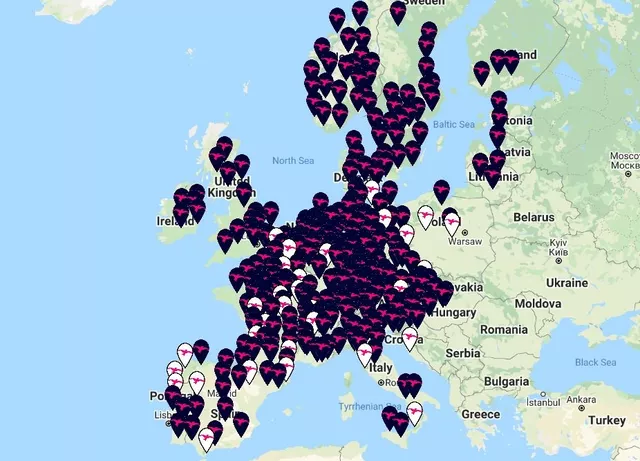 Financing and Development of IONITY
IONITY is a European hyper-fast charging network operator that recently announced a total of €700 million in investment.
This hyper-fast charging network company was founded in 2017, joint venture by BMW, Ford, Mercedes-Benz, Volkswagen, Audi, and Porsche. Later, Hyundai and Kia joined the venture, and BlackRock's Global Renewable Power platform became the first non-carmaker shareholder to officially join.
The goal of the €700 million investment is to help this supercharging network operator increase 5,000 charging piles by 2025.
IONITY 2025 targets:
Over 1,000 charging stations, with new sites with 6-12 charging piles
7,000 independent charging piles installed along high-traffic areas with high charging demand, including additional charging piles installed at existing sites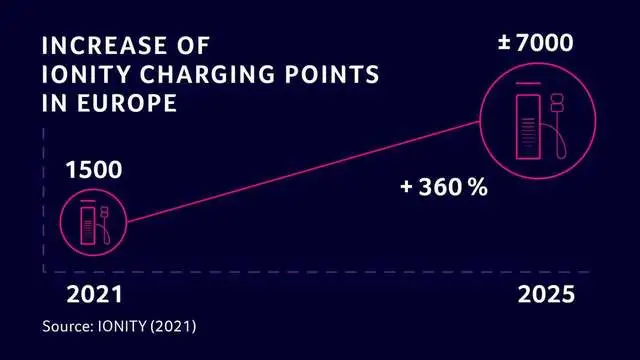 I found some information here:
The general specifications of Ionity's charging piles are as follows. The voltage range is 200-920V (China generally requires 950V), and the maximum current is 500A. The input power of a station is generally 1.25MW.
The construction of the charging station is shown in the figure above. It should be noted that all Ionity stations separate the charging power module from the charging pile. The charging pile is just a simple part. Even if the car owner reverses and damages all the charging piles, the loss is not significant. This design with a power module and a charging pile separated has been implemented in Europe for a long time.

Typically, one power module corresponds to two charging ports, and two power modules divide the power. According to the total input power of 1.25 MW, the input power of each power module is 416 kW, and the maximum output power is 350 kW, which can be divided into a single 150 kW output.
For future business models, I think power can be obtained through bidding, that is, different input power can be purchased according to different bidding rules. The second scenario below is particularly interesting.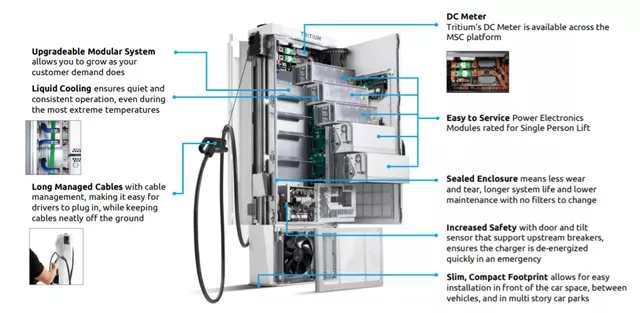 From a large perspective, such high-power demands will inevitably require energy storage sites to balance, and the introduction of photovoltaics can further reduce the overall power load.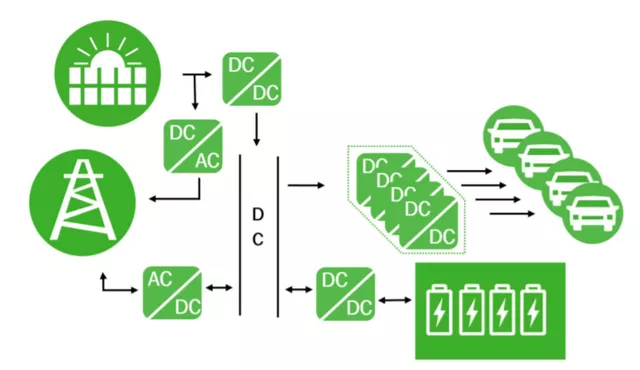 Ionity's ISO 15118 plug-and-charge feature
Ionity has another interesting feature:With the introduction of the ISO15118 protocol, Ionity users with vehicles that have Plug&Charge capability (such as the Taycan, Mach-E, and Mercedes EQS) can simply plug in their charging cable at the charging station, and the vehicle will automatically identify and authorize the charging process. This means that, based on PLC communication, Europe has started to fully adopt charging billing that is directly read from the vehicle and protected by a digital certificate.
Currently, there are two approaches in this field. One is similar to Tesla's independent controller, while the other is to incorporate the protocol into the vehicle's domain controller. It is estimated that in the future, it would be more reasonable to leave a charging protocol converter on the vehicle computing platform.
In summary, Ionity's development speed is still very rapid. Logically speaking, compared to building a battery swapping network or creating an ultra-fast charging network paired with energy storage in China, this solution will be more effective and universal in the long run.
This article is a translation by ChatGPT of a Chinese report from 42HOW. If you have any questions about it, please email bd@42how.com.