Author: Wang Hui
Introduction
Smart electric vehicle tracks have great potential for Chinese brands. If Gaohe can gain a foothold in the luxury market, it will be one of the most important additions to the Chinese brand in the smart electric vehicle market. If Chinese car companies fail to do a good job in high-end brands, it will be gone forever.
Financing in China's New Energy Vehicle Industry
Since ancient times, behind the uprising, there has always been the support of the financial resources of a certain family. Starting a business in the new energy vehicle field is like a rebellion, and it is not enough to support it to the end without sufficient funds.
In recent years, the frequency and scale of financing in China's new energy vehicle industry have continued to rise. As players flock to the game of new energy vehicles, they are all trying their best to attract market financing in various ways.
According to Enterprise Check data, there have been a total of 897 financing events for new energy vehicle brands in the past decade, with a disclosed financing amount of 384.11 billion yuan.
However, there is a special case in this financing wave. Not only did it not start financing at the beginning, but it also lasted for four years. This brand with a difference is Gaohe Automobile, a subsidiary of Huaren Intellitronix.
Introduction to Gaohe Automobile
Huaren Intellitronix is a travel technology innovation company focused on the future intelligent transportation industry, founded by Ding Lei in 2017.
Gaohe Automobile generally refers to Gaohe HiPhi, a product brand registered by Huaren Intellitronix Holdings Co., Ltd., which creates travel tools from a brand-new perspective and framework, defining a new category of intelligent cars. In addition, Gaohe is positioned as a luxury smart electric vehicle brand, higher than NIO.
On July 31, 2019, Huaren Intellitronix announced the new luxury intelligent pure electric brand Gaohe HiPhi, and the first production-ready car, the HiPhi 1, debuted globally, positioning as a luxury all-around intelligent pure electric super SUV. On August 11, 2020, Gaohe HiPhi X was launched globally at the Beijing Auto Show.
Unique Approach to Financing
As mentioned earlier, most new energy vehicle brands are desperately seeking financing after their launch, but interestingly, Gaohe Automobile did not immediately start financing after the brand was released.
In October 2018, Huaren Intellitronix held a press conference, showcasing Gaohe Automobile's corporate strategy, car-making philosophy, and car-making team to the public, but did not mention the progress of fundraising like other new breeds of carmakers.
Ding Lei, founder and chairman of Huaren Intellitronix, said that the company had not yet launched a private placement plan in the community or had multiple rounds of financing until the project had no substantial progress. Later, Gaohe Automobile's development over the years also did not disclose financing trends.
It wasn't until November 7, 2021, that Huaren Intellitronix (Shanghai) Co., Ltd. and the Shanghai branch of Bank of Communications reached a strategic cooperation and would receive 5 billion yuan of intention credit from the Shanghai branch of Bank of Communications.Based on the strategic partnership agreement, Shanghai Branch of Bank of Communications will provide strategic support to Human Horizons Holdings Limited (Shanghai) and its affiliated companies, including financial services such as corporate settlement, international business, corporate business, investment banking business, personal business, e-banking, etc., to actively provide financial services for various economic activities, such as production, sales, reserve, product development, and technological transformation.
The HiPhi X of Human Horizons is the company's first-ever globally-evolvable supercar SUV, which officially went into production and delivery starting from May this year and has gained a warm market response. It has been leading in the monthly sales chart for luxury electric cars priced over 500,000 RMB. In September, it surpassed Porsche Taycan and became the first in the domestic market for the sales of luxury electric cars priced above 500,000 RMB, which also earned Chinese domestic brands a place in the 800,000 RMB luxury car club.
Motor vehicle insurance data shows that Human Horizons has accumulated 2,051 insured vehicles from January to September this year. Although HiPhi X is not cheap, its product strength and novelty can attract many consumers.
Regarding the delivery performance of Human Horizons, Ding Lei believes that the company has seen preliminary results. He said, "We have climbed up to the shore at once, started mass production and delivery, and completed this closed loop."
On November 6th, Human Horizons globally released its second flagship and futuristic-looking Digital Mech – the HiPhi Z, which is also the world's first Digital GT with digital life in the mass-produced car market.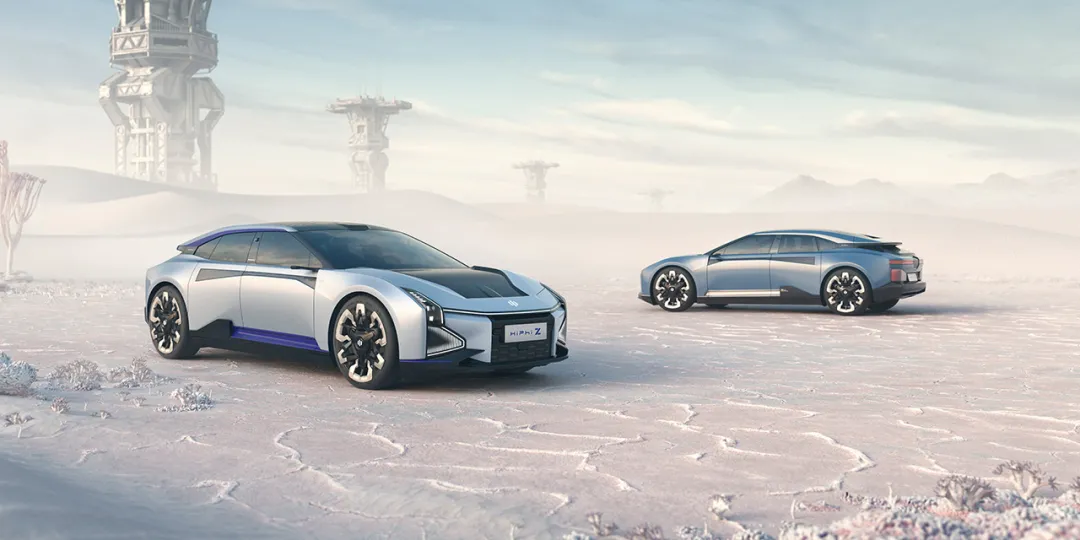 Human Horizons stated that it will continue to build luxury car models with a dual flagship strategy waterfall style, hoping to stand firmly in the forefront of the new world.
All of the above are the basis for Human Horizons to obtain the 5 billion yuan credit financing from Bank of Communications this time.
This strategic cooperation undoubtedly announces to the outside world the trust and support of state-owned banks for HiPhi, not only affirming HiPhi's status but also assisting Human Horizons in continuously building the highest-end new energy pure electric brand based in China and facing the world, as well as the business operation and expansion of Human Horizons in the "three intelligences" strategy of new energy intelligent cars, intelligent transportation, and smart cities, and a new round of corporate development.
In the smart electric vehicle racetrack, Chinese domestic brands have great potential. If Human Horizons can gain a foothold in the luxury market, it will be one of the most important supplements for Chinese brands in the smart electric vehicle market. Once Chinese car companies cannot do high-end brands well, it will be gone forever in the history.
This article is a translation by ChatGPT of a Chinese report from 42HOW. If you have any questions about it, please email bd@42how.com.